As business practices and technologies change, so does the field of project management. To get better at managing projects, you need to be on top of these changes. Because one thing is sure: you can't be at your best by using outdated PM tools and techniques.
In project management, you'll hardly make progress by staying put.
You need to be where the best practitioners are exploring new trends and setting the next standards of excellence.
Want to be a successful project manager?
Get your free ebook covering the six major aspects all project managers should know!
There are great PM blogs and resource sites to help you with that.
Better yet, there's a calendar of exciting events where you can personally learn new insights, gain new friends, and have lots of fun. Incidentally, joining project management conferences is an awesome way to build up your PDUs (professional development units) for certification renewal.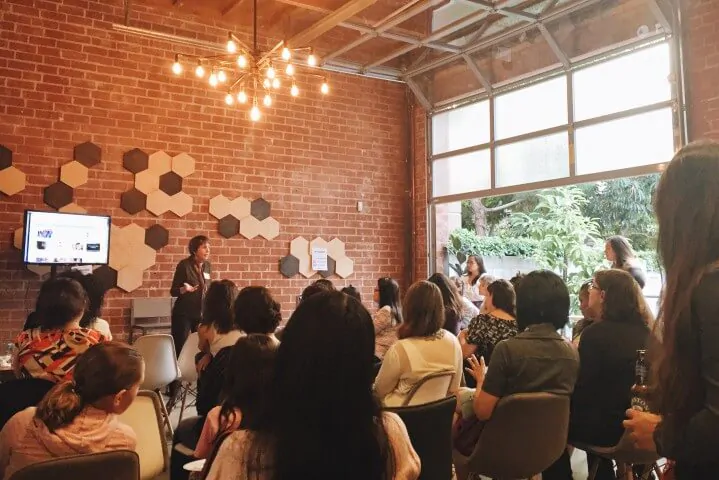 So here are some of the most noteworthy events on project management held in 2020.
Pick the ones you like and make your presence count!
Mark these upcoming project management conferences in your calendar:
January
Fees start at €250
Computer algorithms run much of the world and modern life, making software development a staple area of coverage for project managers. This event brings together leading practitioners, researchers, and academics who will explore and present fascinating aspects of software project and resource management. Organized by WASET, the conference is a great way to deepen your knowledge, extend your professional connections, and earn PDUs.
Fees start at €250
Next to budget and timeline, quality is the most important benchmark for assessing a project's success. This conference focuses on the cross-sections of project management and quality control. The two-day event features talks on lean manufacturing, the political and legal implications of business innovation, time and cost-efficiency analyses, and other fascinating topics.
February
Fees start at €250
Organized by WASET, this conference draws some of the world's best practitioners, researchers, and academics to present emerging trends and explore different aspects of risk management as they relate to the development and success of projects. This year, the event features various research including the relationship between person-environment fit and corporate financial performance. Other topics include water resource governance, knowledge sharing in manufacturing companies, and cost-effective approach for the development of mid-size enterprise software.
Fees range from US$59 (before November 7), US$79 (after November 7)
This online conference draws professionals and domain experts around the world to explore issues, discover trends, and find solutions for intriguing challenges in the field of project management. Sharpen your competencies in Agile, Scrum, and Project Leadership. You can join the event and watch video presentations wherever you are via your computer or smartphone. Organized by the International Institute for Learning, this online conference provides an opportunity to earn as much as 26 PDUs.
Fees start at US$484 (early bird, until October 15)
More than 600 practitioners, researchers, and thought leaders attend the Regional Symposium organized by Singapore chapter of PMI. Join, connect, and collaborate with these professionals to explore new trends, solve challenges, and grow opportunities in program and portfolio management. Earn up to 16 PDUs. The 15th regional symposium features sessions, workshops, and talks on every aspect of project management including best practices and techniques in the handling of risk and change. "Adaptive Mindset Leadership: Bringing PM into a New Decade" is the theme for the regions 15th most sought after annual conference.
Fees range from US$773 (member, 1-day participation) to US$3687 (non-member, 4-day seminar)
The SeminarsWorld® program provides hands-on learning in the management of projects, programs, and portfolios. Organized by PMI, this event is an accredited method for earning PDUs. Learn with peers and world-class PM instructors via small-group seminars on selected topics closely aligned with the PMI Talent Triangle.
March
Passion for Projects Congress March 9-10, 2020 Malmö, Sweden
Fees start at 2950 SEK
If you love working on projects, then this conference is being organized to meet many of your expectations. Spearheaded by the Swedish chapter of PMI, this event represents Scandinavia's largest gathering of practitioners and thought leaders in the field of project management. Slated to feature around 25 breakout sessions and 4 keynotes, the event is also an opportunity to earn PDUs.
Fees range from US$773 (member, 1-day participation) to US$3687 (non-member, 4-day seminar)
This instance of PMI's SeminarsWorld® program features 15 seminars designed to enhance your leadership and management skills. Earn PDUs while learning new techniques, tools, and tactics that can help you lead projects smarter. The San Antonio event covers fascinating issues such as common-sense leadership, productivity and organization, agile transformation, and office politics.
April
Fees range from US$773 (member, 1-day participation) to US$3687 (non-member, 4-day seminar)
PMI's SeminarsWorld® programs consist of in-depth seminars designed to advance the skills, network, and careers of project-oriented professionals. Delivered in a small group setting and using real-world projects, each seminar ensures hands-on, face-to-face learning for each and every participant. Topics for 2020 include leadership development, structuring teams, motivational storytelling, and simultaneous management of multiple projects.
Fees start at € 250
Kanban is one of the most recognizable concepts in manufacturing, project management, and organizational dynamics. Introduced in Japan, it has come to symbolize the ideals of simplicity and efficiency. In April 2020, the International Conference on Kanban and Project Management provides an interdisciplinary platform for professionals, academics, business leaders, researchers, and policymakers to explore the many aspects of management and find new ways to drive the efficiency and impact of projects. A number of key topics are expected to spark insightful conversations including success factors for data quality, PM process modelling, and changes in Six Sigma implementations and lean standards.
May
Fees range from US$1,450 (Member), US$1, 650 (Non-member)
Connect with hundreds of Scrum practitioners from around the world and from every sector you can think of. Enhance your current proficiencies and learn new techniques that will help drive your team to ever-higher levels of performance. Attend talks, case studies, and hands-on sessions on leadership, innovation, enterprise agility, and other fascinating subjects. This annual conference is hosted by the Scrum Alliance.
Fees range from €225 (Early Bird) €395.00 (RRP)
Organized by the PM Summit Ltd., this one-day, multi-track event features global leaders from a variety of industry sectors. The talks and sessions will cover staple topics such as techniques, soft skills, trends, tools, and methodologies.
SeminarsWorld® in Pittsburgh May 18-21, 2020, Pittsburgh, Pennsylvania, USA
Fees range from US$773 (member, 1-day participation) to US$3687 (non-member, 4-day seminar)
This PMI's SeminarsWorld® program will earn you up to 29.5 PDUs and 2.95 Continuing Education Units. The small-group, topic-intensive seminars will cover valuable topics such as emotional intelligence in leadership, team member engagement, and influencing without authority.
June
Fees start at £345
Organized by UK-based Wellingtone, this event attracts some of the best PM practitioners and thought leaders. Spend a day filled with insights, tactics, and inspiration to spur your project management chops. Discover new trends, challenges, and techniques that will transform how you plan, execute, and complete a project.
Fee details to come
Hosted by PMI, the European congress will cover the concepts, skills, and behaviors to help shape the future. The conference attracts hundreds of project managers from all over the world, making it a great hub for networking.
Fees start at $110
Organized by Boston University, this two-day conference will cover how project managers better implement their knowledge in the real world. The speakers will cover topics from both a business and an academic perspective. The conference will also be available online and PDUs will be offered.
July
Fee details to come
The annual Agile conference is intended for women who are guided by Agile principles and want to level up their abilities in the practice.
October
Fees range from US$762 to US$2820
How do you select and develop the right people for your Agile teams? This conference presents and dissects answers to such questions as the workplace and the world of business become more diverse. Join insightful sessions to learn how to apply practical tools and techniques to your own projects.
Fees range from US$650 (student, full conference pass) to US$1750 (non-member, full conference pass)
For the vast majority of project management professionals, this is the ultimate event for learning, networking, and building your credentials. It's also a great way to maintain your PMP certification, giving you the opportunity to earn as much as 18 PDUs. You can earn even more PDUs by attending the coinciding SeminarsWorld® courses in Seattle.
Fee (summit only): US$1,099
Organized by Bureau of Digital, this three-day conference provides opportunities for learning, solving problems, and building strong communities of project-oriented professionals. Join presentations, break-out sessions, and face-to-face interactions centering on PM methodologies, approaches, and trends. Discover smarter ways of motivating your team, accelerating projects, and keeping all stakeholders happy.
November
Details to come for 2020. The 2019 fees started at $2,750
Organized by the Project Management Institute (PMI), this event is the perfect venue for leaders who aim to win the future by building their skills and broadening their networks.
Fees vary per seminar, starting at US$750
This PMI's SeminarsWorld® will earn you up to 28 PDUs and 2.8 Continuing Education Units. If you register before September 28th, you will secure their discounted early bird rate. Topics for this SeminarWorld include business value realization, capturing customer requirements, and managing complex projects.
Fees range from AU$1,950 (member), AU$2,399 (non-member)
This three-day event may well be Australia's largest conference on project management. Connect with more than 600 project leaders and decision-makers across industries. Choose from 35 professional development sessions to attend.
December
Fees vary per seminar, starting at US$750
This PMI's SeminarsWorld® will earn you up to 28 PDUs and 2.8 Continuing Education Units. If you register before October 26th, you will secure their discounted early bird rate. The Las Vegas event covers fascinating issues such as advanced leadership development, lean/agile for IT, agile transformation, and confidence-building.
Conclusion
The finest project management professionals go out of their way to build skills, discover new tools, and continuously refine their techniques. There's still time and a lot of opportunities this year to do all of that. Any one of the foregoing events can make a difference in your career and personal development.
Whichever conference you decide to participate in, make sure that the benefits outweigh the cost of joining. You know the drill: set goals, stick to a budget, and don't forget to have fun while learning.
No travel plans yet? No problem. You can spruce up your project management credentials with accredited online courses.
Not a project manager? No big deal. You can still benefit from learning the basics. Get started today and watch your project management career flourish.
Prepare to get certified in project management
Start learning today with GoSkills courses
Start free trial