Project management involves a complex system of tasks that require careful analysis and management so that projects are completed on time, on budget, and with the highest level of quality. Risk analysis and risk management are a vital part of this process, since they enable project managers to proactively identify and address potential risks that may arise during project execution. This is why the concept of risk triggers is so important.
Understanding the various risk triggers within a project can help project managers take early preventative action, which can help projects stay or get back on track and reduce the likelihood of project failure.
What is a risk trigger?
Risks are events or conditions that disrupt a project's progress and outcomes. Risk triggers are the root cause of risk, for example, a situation or action that will cause a risk to take place.
Identifying risk triggers helps your team ensure the appropriate risk mitigation strategy is implemented at the right time. Once the triggering situation or action has been observed, it is recommended that the implementation of mitigation strategies begin.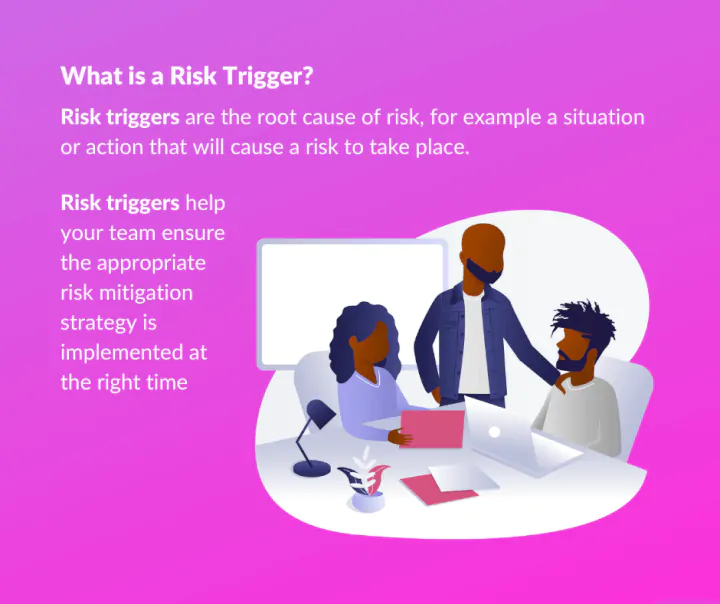 Risk triggers additionally mark the moment to initiate risk response actions known as contingencies; these are only implemented if some triggering event or condition has shown that the risk probability has gone from unlikely to likely.
Risk factors vs. risk triggers
Identifying risk factors contributes to understanding the full landscape of risks facing your project. Unlike risk triggers, however, risk factors are not direct causes of the risks you've identified. Instead, risk factors highlight conditions or situations that may increase the likelihood of risk. To dive deeper into the differences between risk factors and risk triggers, review these common examples of both that are observed across various industries:
Risk trigger examples:
Changes to government regulations.
Approaching peak server capacity.
Receiving a complaint from a customer.
The unavailability of required project inputs.
Key project team member becomes ill.
Risk factor examples:
Team has a lack of experience working on project type.
Critical information isn't documented for the team to review throughout the project lifecycle.
No cost/benefit analysis has been performed.
The project involves several organizational units.
Performance measures are unclear, missing, or difficult to quantify.
---
Risk factors highlight conditions or situations that may increase the likelihood of risk.
---
How to detect and identify risk triggers
To detect and identify your risk triggers, you must first identify your project risks. An example project risk is a "change to industry standard", while an example risk trigger is "the release of a new standard from the EU". The practice of identifying positive and negative conditions that may occur within the project is an essential first step to identifying risk triggers. Risk identification is covered in detail in our Project Management for Engineers course.
Once you have an established list of risks, look at each and additionally capture what would be the indication that risk has occurred or is about to happen; these are your risk triggers. Capture both the risks and accompanying risk triggers in a centralized, documented location. This document is referred to as a risk register and is used to record information about the risks of a project.
How to monitor risk triggers
The risk register not only helps to identify risk triggers but also to monitor them. For each identified risk, your document in the risk register additionally provides a response plan if a risk trigger is observed, as shown in the "Risk Response" column above.
This action serves as a crucial input to your risk management plan. Having a robust risk management plan in place is key to mitigating risks.
Risk management plan
A risk management plan includes an end-to-end outline of your risks and response to them, covering risk identification, risk evaluation, risk mitigation, and, ultimately, contingency plans. Once all of these steps are developed and documented by the team, the responsibility of monitoring triggering events for risk must be assigned. This individual or team is responsible for regularly reporting the status of triggering events to stakeholders and among team members. Once these triggering events are observed, the mitigation strategies should be deployed.
Project managers who understand risk triggers that can disrupt a project's success and correctly identify, monitor, and respond to them can avoid costly risks, ensure project success, and achieve the desired results. Ultimately, a comprehensive risk management plan underpins the success of any project by providing a system to identify risk triggers and respond to them in a timely and effective way.
---
GoSkills is a Project Management Institute Authorized Training Partner. Get certified in project management with the help of GoSkills' CPD-accredited courses.
Prepare to get certified in project management
Start learning today with GoSkills courses
Start free trial