Work-life balance is often described as an elusive goal. Something that's within your reach but slips out of your grasp the more you try to attain it. Or like a hidden level of a game you'll unlock once you find and enter the secret code.
In reality it may be a struggle, and you may not have found the perfect formula yet, but don't be discouraged. There are practical, daily steps you can take to achieve work-life balance.
To help you get into the right mindset, we've put together a collection of work-life balance quotes from successful leaders, writers, entrepreneurs, and other professionals who have valuable lessons to share with us.
What is work-life balance?
Put simply, work-life balance is achieved when the amount of time and energy you spend on your personal life and professional life is equal. While the scales may tip at times in either direction, it's important to strive for that balance so that you can stay healthy and productive in all areas of your life.
Many of us are guilty of letting work emails and notifications infiltrate our evenings, not making time to pursue our passions, or on the flip side, watching Netflix instead of actively gaining the skills and knowledge to advance our careers. This imbalance is further exacerbated in companies that prize a hero culture or have unrealistic workload expectations based on employee sacrifices.
Thankfully, younger generations have learned from mistakes of the past, with millennials considering work-life balance as one of the most important factors for choosing and staying with a company.
Now, let's get into the advice. We hope the following work-life balance quotes will give you some food for thought and offer some perspective and inspiration for your own journey.
---
Want more productivity tips?
Take your productivity to the next level with our comprehensive (and free) ebook!
---
40 best work-life balance quotes
1.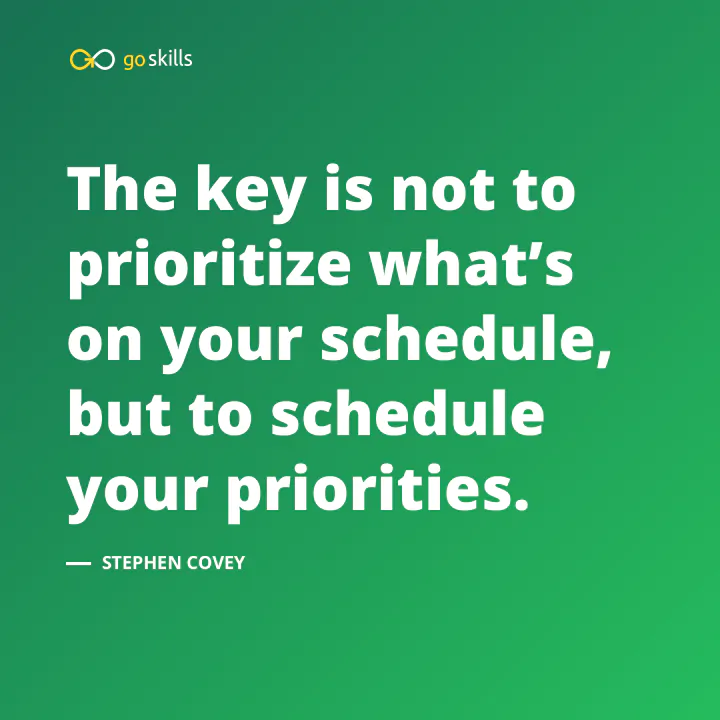 The key is not to prioritize what's on your schedule, but to schedule your priorities.
- Stephen Covey
2.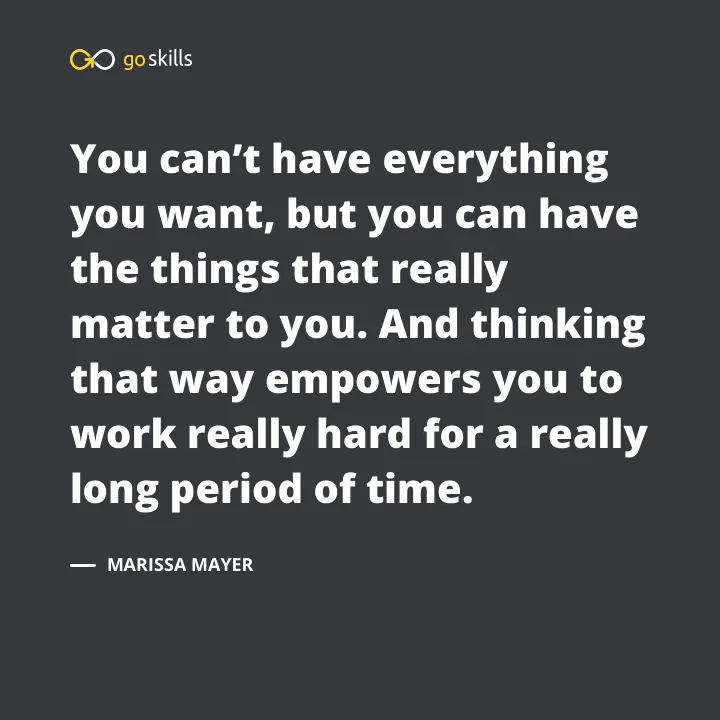 You can't have everything you want, but you can have the things that really matter to you. And thinking that way empowers you to work really hard for a really long period of time.
- Marissa Mayer
3.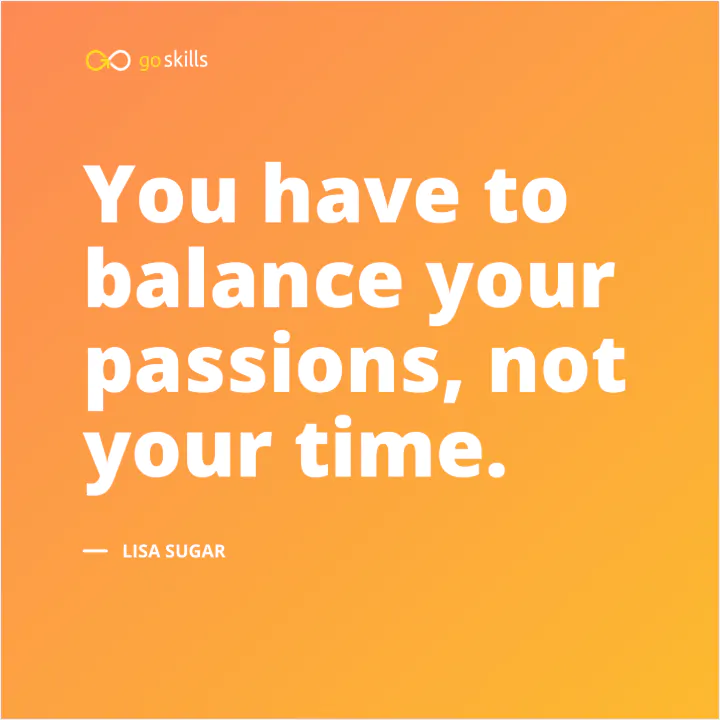 You have to balance your passions, not your time.
- Lisa Sugar
4.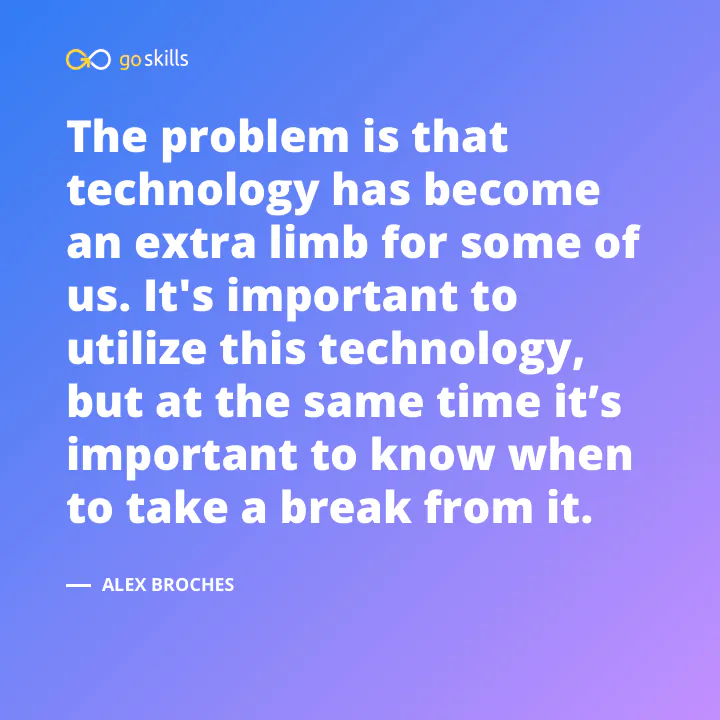 The problem is that technology has become an extra limb for some of us. It's important to utilize this technology, but at the same time it's important to know when to take a break from it.
- Alex Broches
5.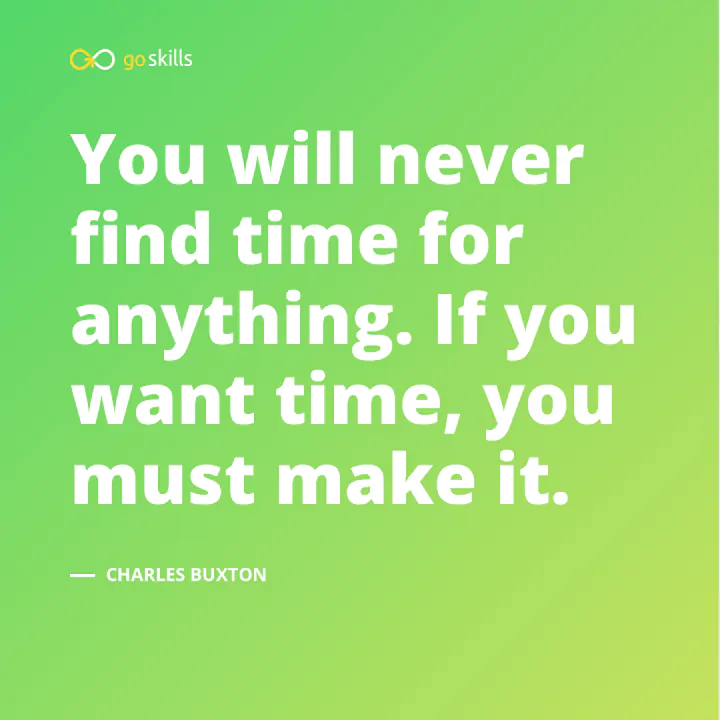 You will never find time for anything. If you want time, you must make it.
- Charles Buxton
6.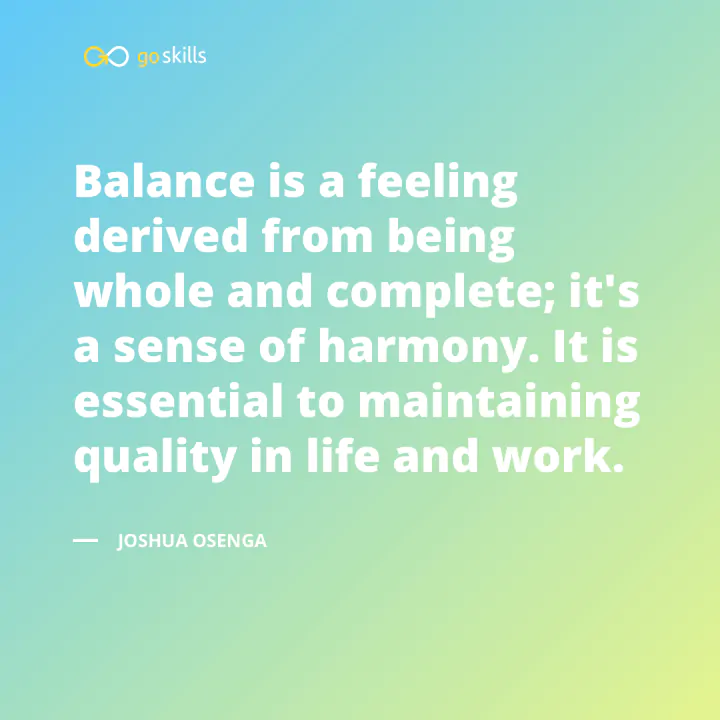 Balance is a feeling derived from being whole and complete; it's a sense of harmony. It is essential to maintaining quality in life and work.
- Joshua Osenga
7.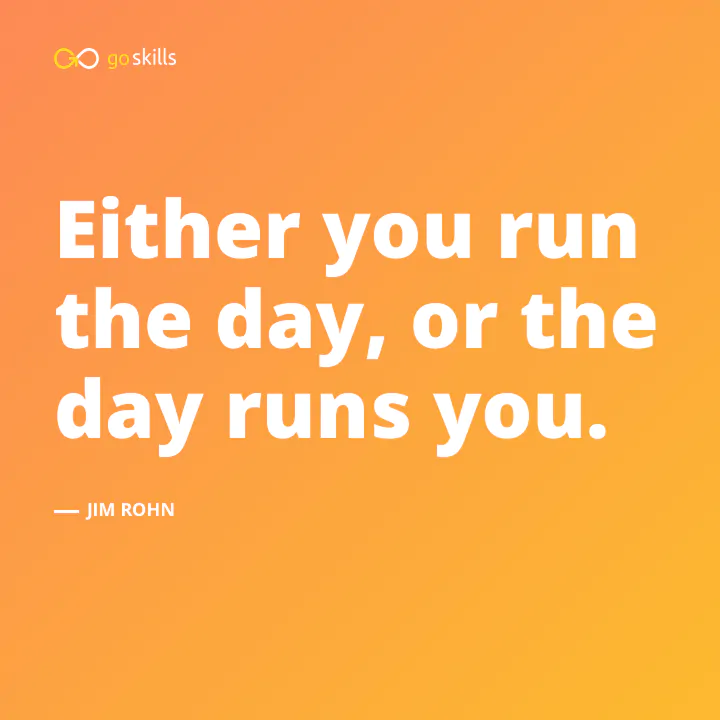 Either you run the day, or the day runs you.
- Jim Rohn
8.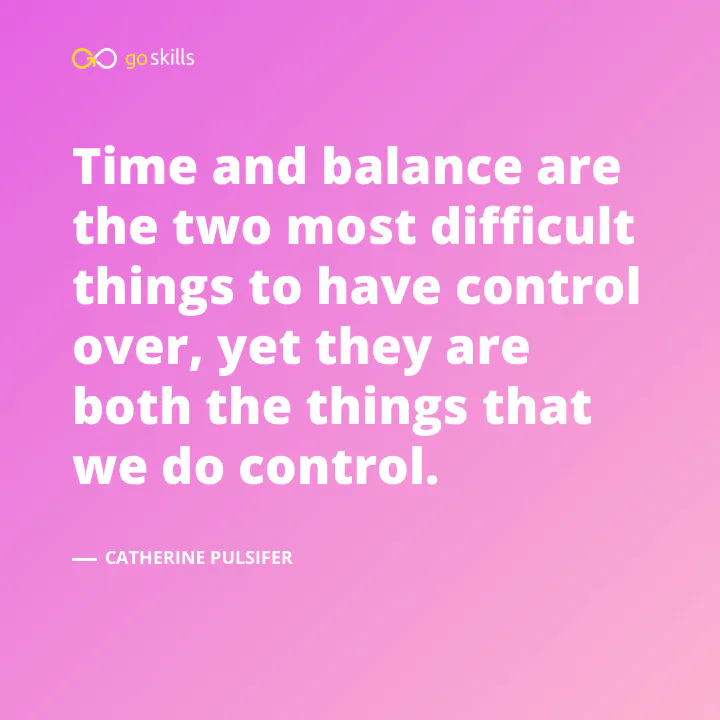 Time and balance are the two most difficult things to have control over, yet they are both the things that we do control.
- Catherine Pulsifer
9.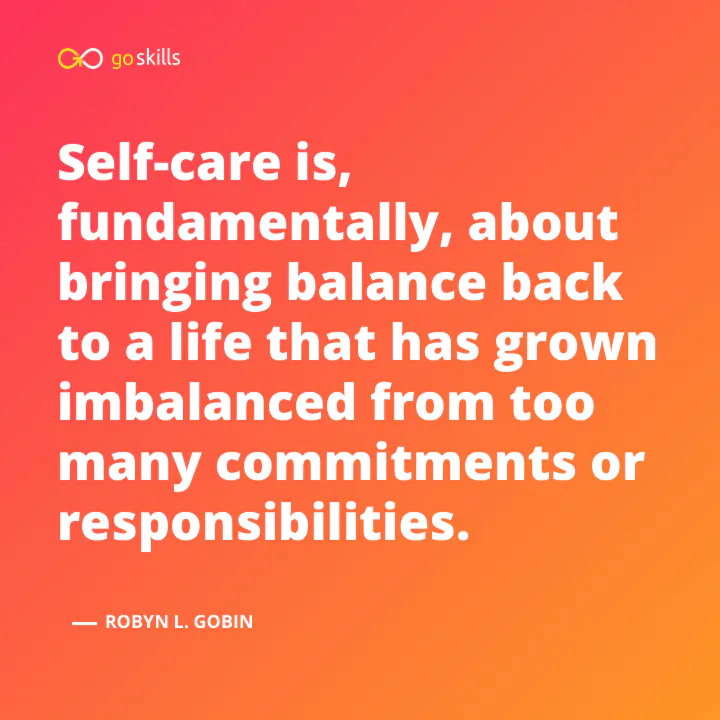 Self-care is, fundamentally, about bringing balance back to a life that has grown imbalanced from too many commitments or responsibilities.
- Robyn L. Gobin
10.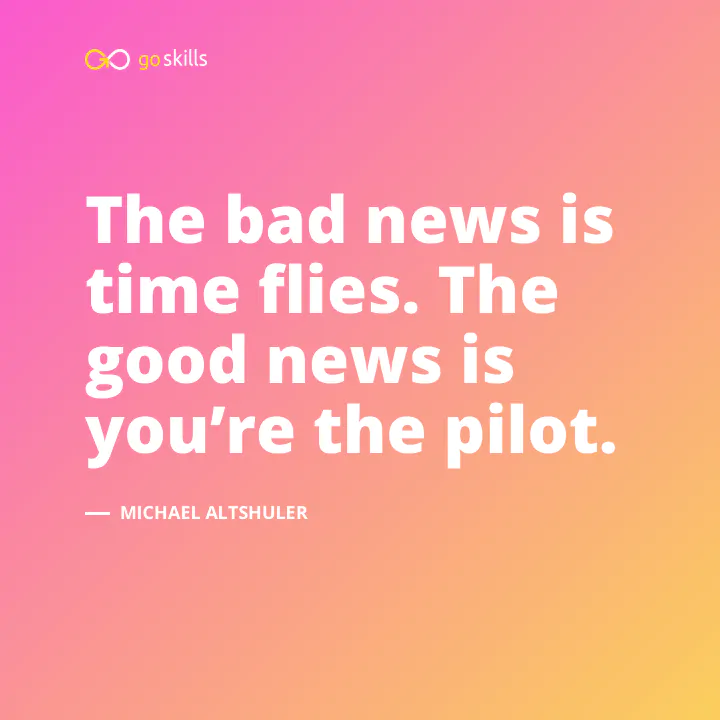 The bad news is time flies. The good news is you're the pilot.
- Michael Altshuler
11.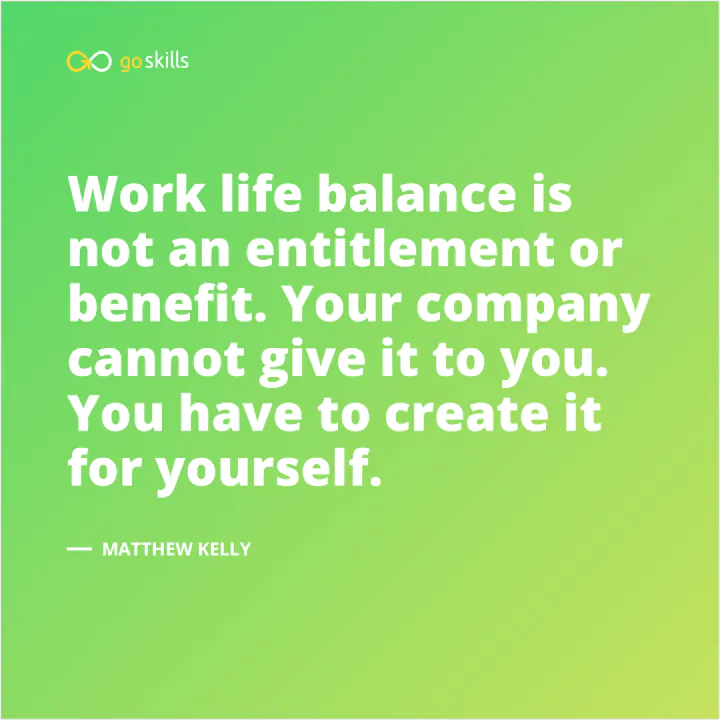 Work life balance is not an entitlement or benefit. Your company cannot give it to you. You have to create it for yourself.
- Matthew Kelly
12.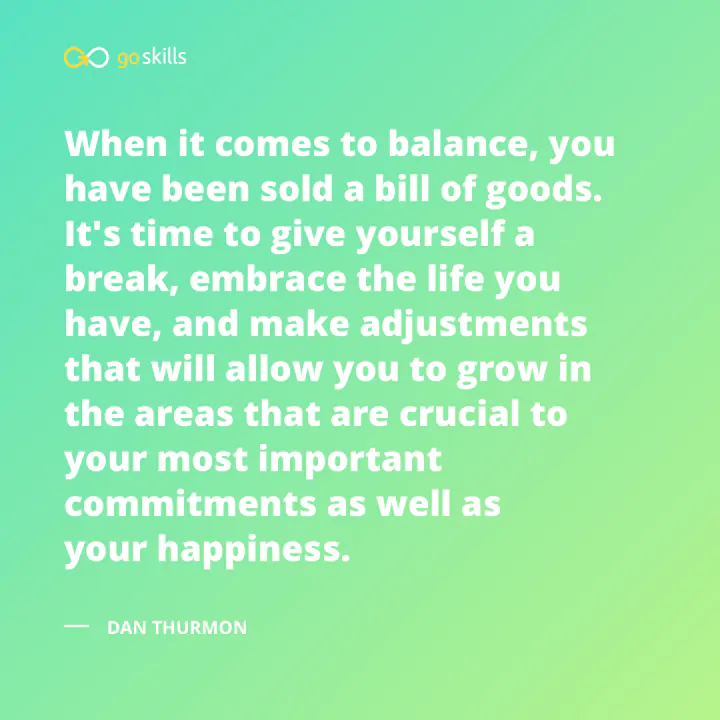 When it comes to balance, you have been sold a bill of goods. It's time to give yourself a break, embrace the life you have, and make adjustments that will allow you to grow in the areas that are crucial to your most important commitments as well as your happiness.
- Dan Thurmon
13.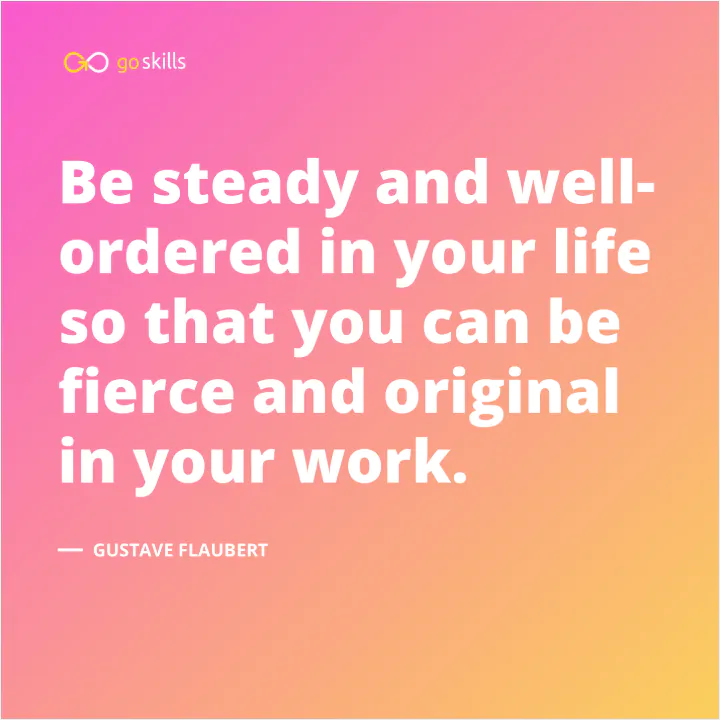 Be steady and well-ordered in your life so that you can be fierce and original in your work.
- Gustave Flaubert
14.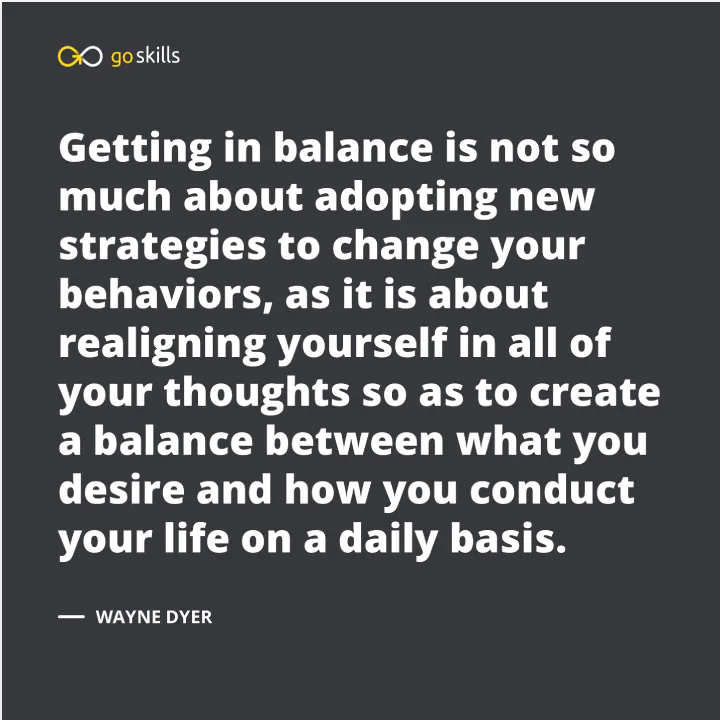 Getting in balance is not so much about adopting new strategies to change your behaviors, as it is about realigning yourself in all of your thoughts so as to create a balance between what you desire and how you conduct your life on a daily basis.
- Wayne Dyer
15.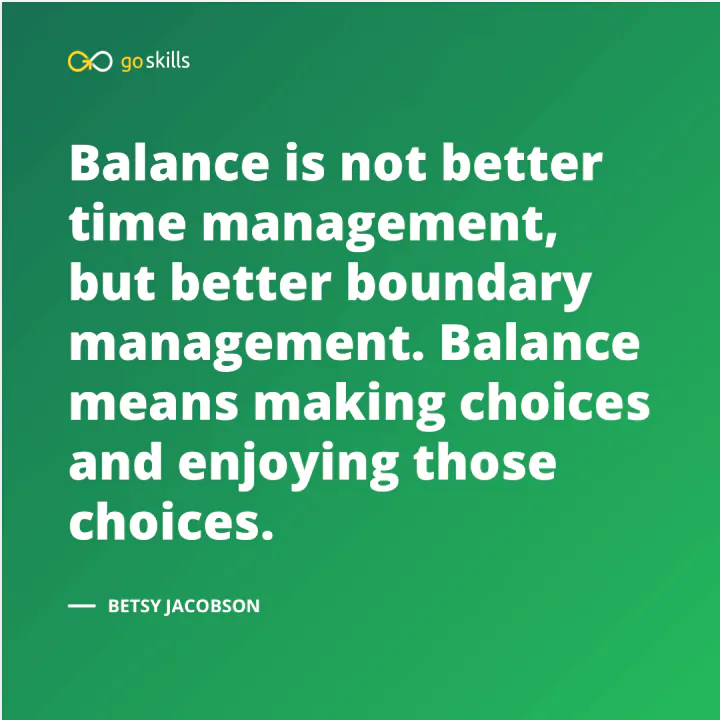 Balance is not better time management, but better boundary management. Balance means making choices and enjoying those choices.
- Betsy Jacobson
16.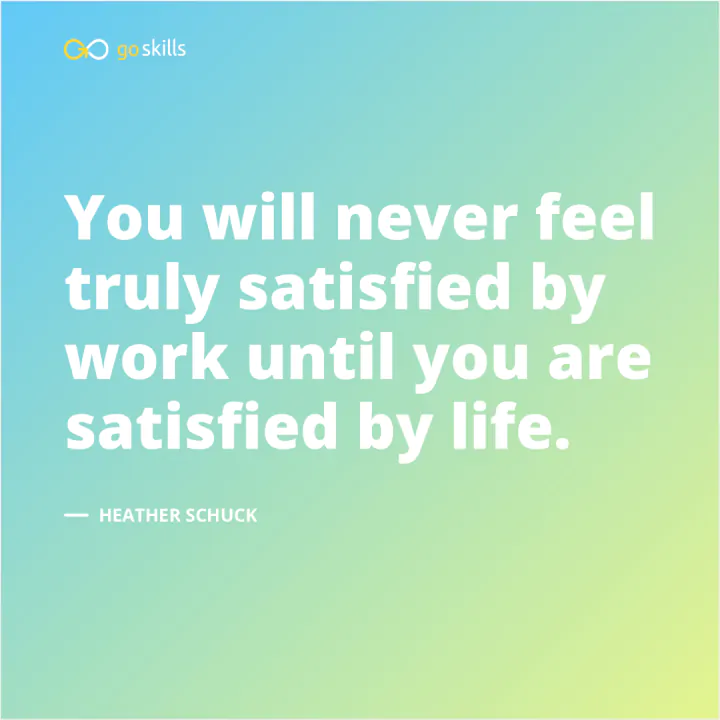 You will never feel truly satisfied by work until you are satisfied by life.
- Heather Schuck
17.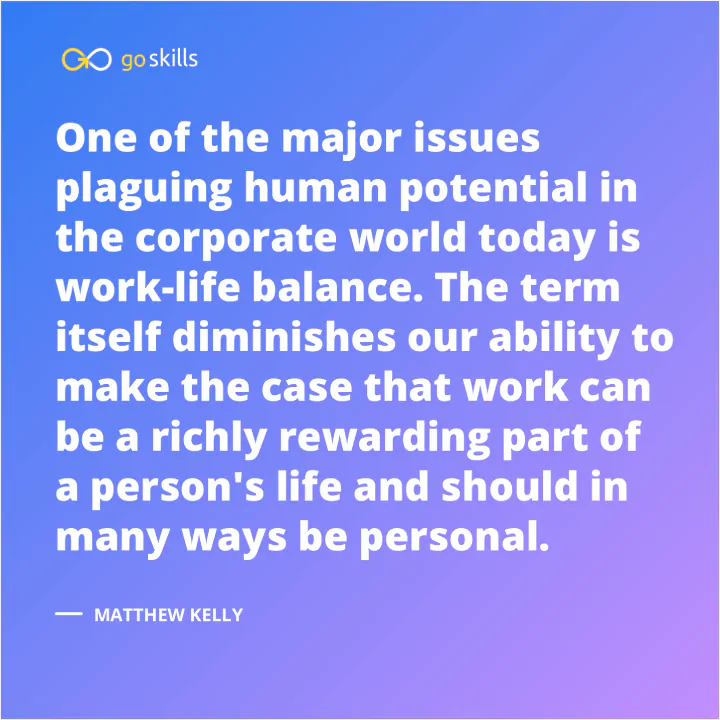 One of the major issues plaguing human potential in the corporate world today is work-life balance. The term itself diminishes our ability to make the case that work can be a richly rewarding part of a person's life and should in many ways be personal.
- Matthew Kelly
18.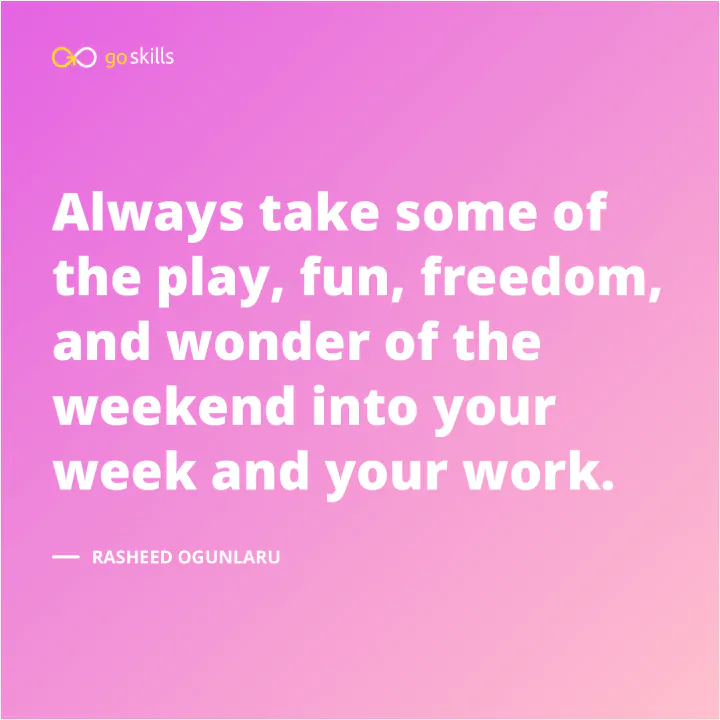 Always take some of the play, fun, freedom, and wonder of the weekend into your week and your work.
- Rasheed Ogunlaru
19.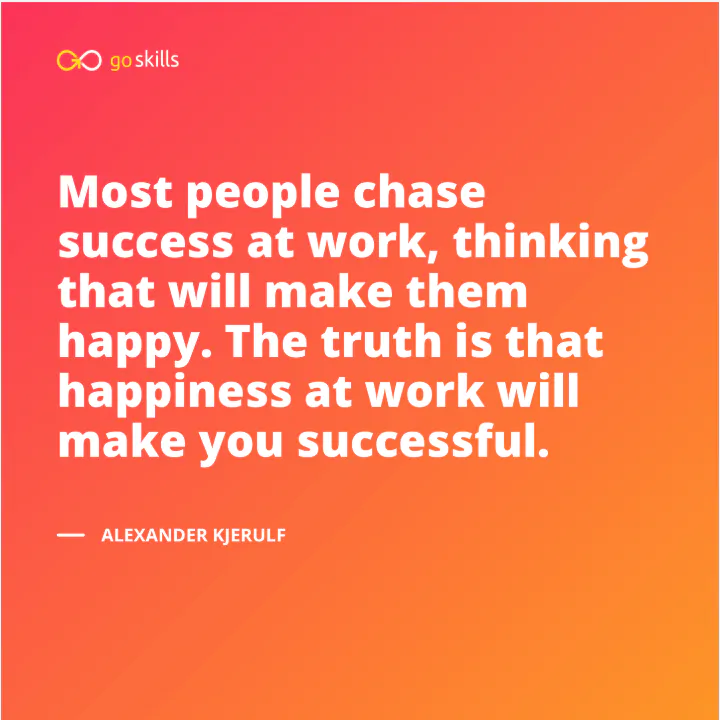 Most people chase success at work, thinking that will make them happy. The truth is that happiness at work will make you successful.
- Alexander Kjerulf
20.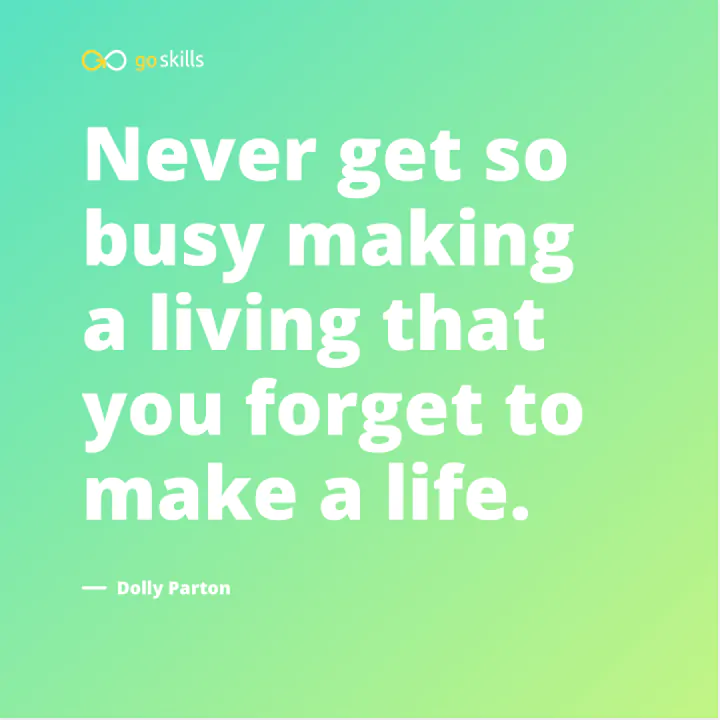 Never get so busy making a living that you forget to make a life.
- Dolly Parton
21.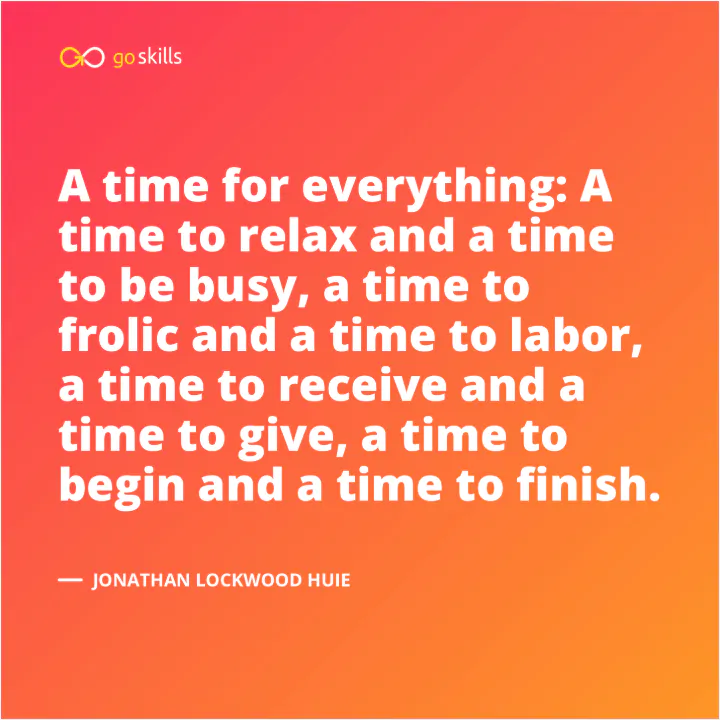 A time for everything: A time to relax and a time to be busy, a time to frolic and a time to labor, a time to receive and a time to give, a time to begin and a time to finish.
- Johnathan Lockwood Huie
22.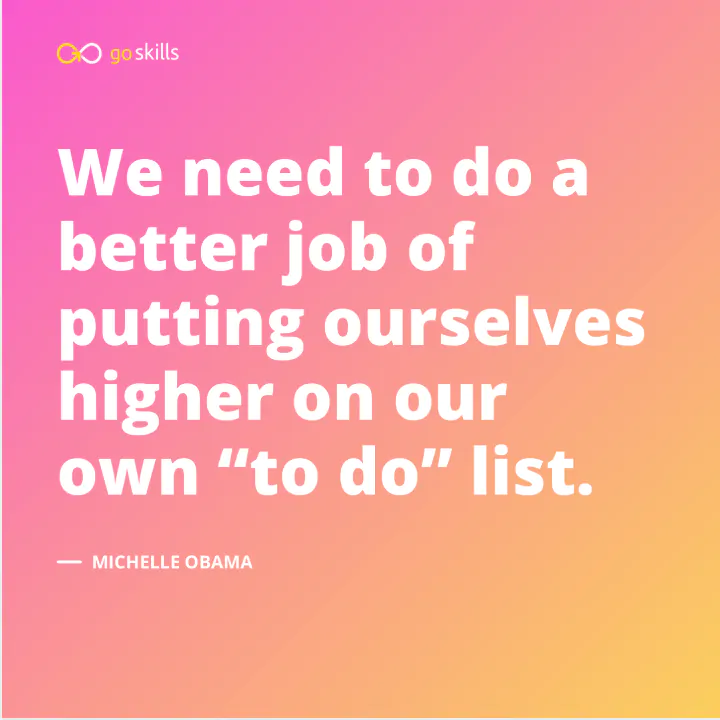 We need to do a better job of putting ourselves higher on our own 'to do' list.
- Michelle Obama
23.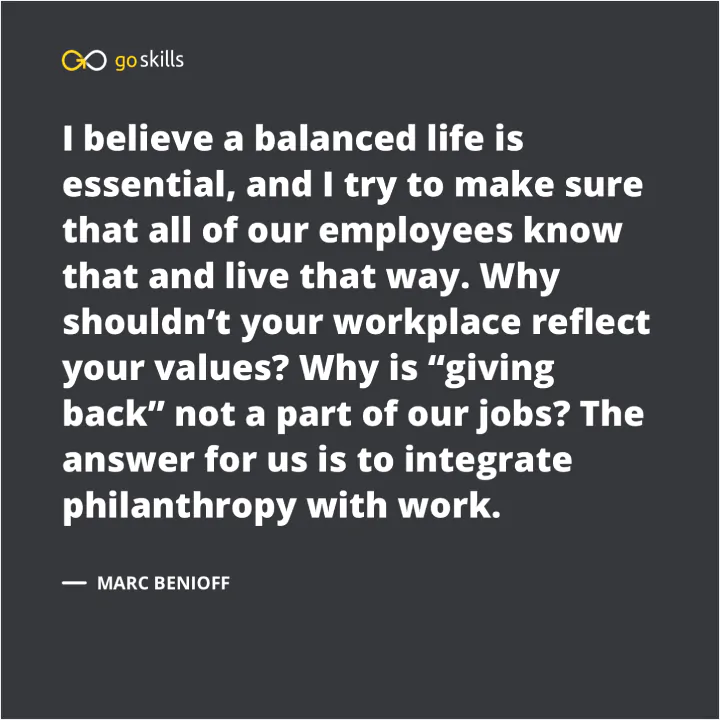 I believe a balanced life is essential, and I try to make sure that all of our employees know that and live that way. Why shouldn't your workplace reflect your values? Why is 'giving back' not a part of our jobs? The answer for us is to integrate philanthropy with work.
- Marc Benioff
24.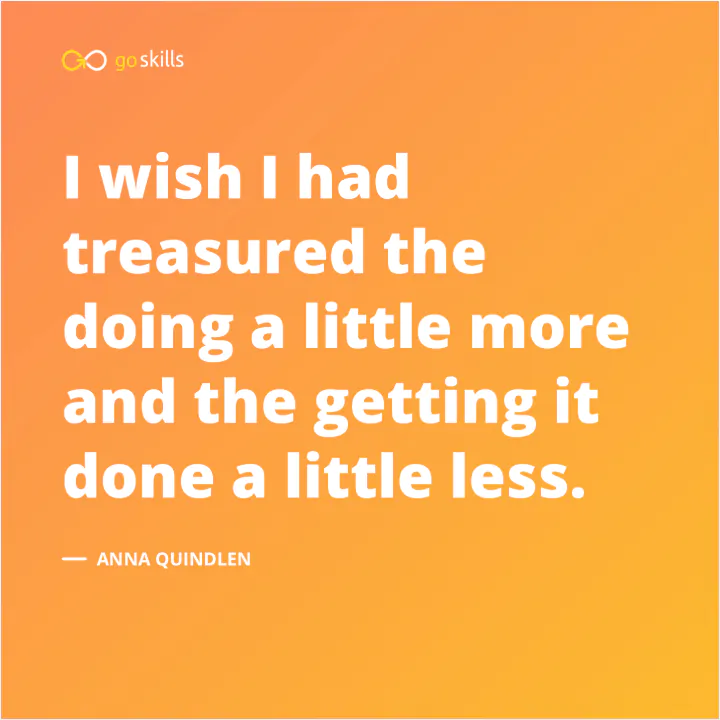 I wish I had treasured the doing a little more and the getting it done a little less.
- Anna Quindlen
25.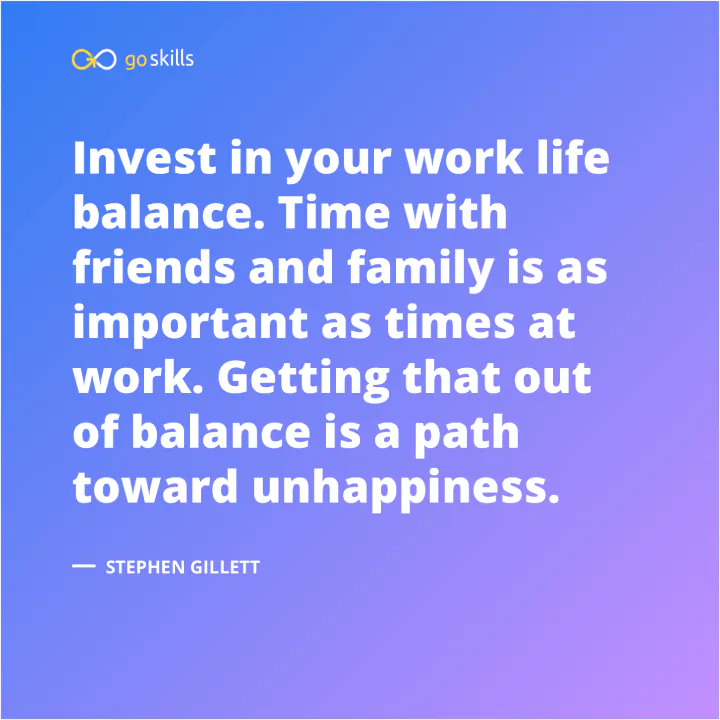 Invest in your work life balance. Time with friends and family is as important as times at work. Getting that out of balance is a path toward unhappiness.
- Stephen Gillett
26.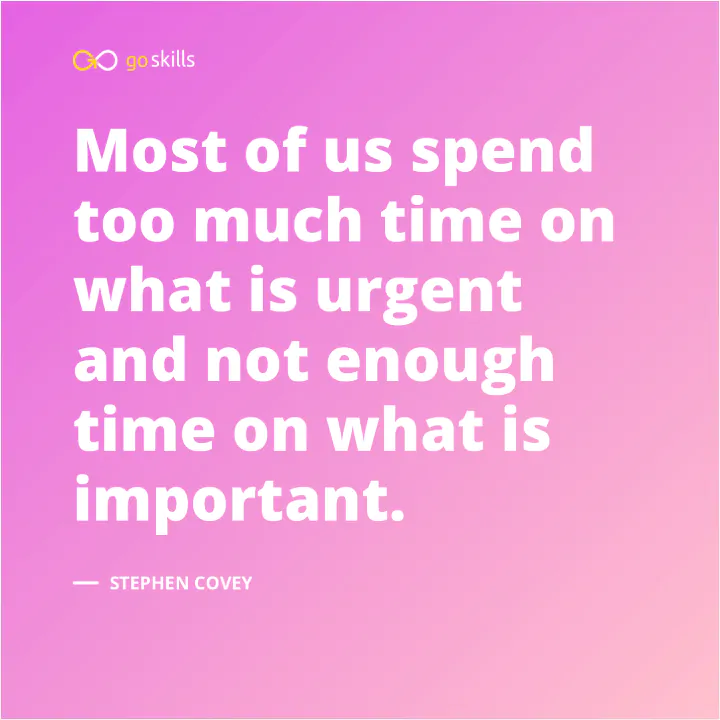 Most of us spend too much time on what is urgent and not enough time on what is important.
- Stephen Covey
27.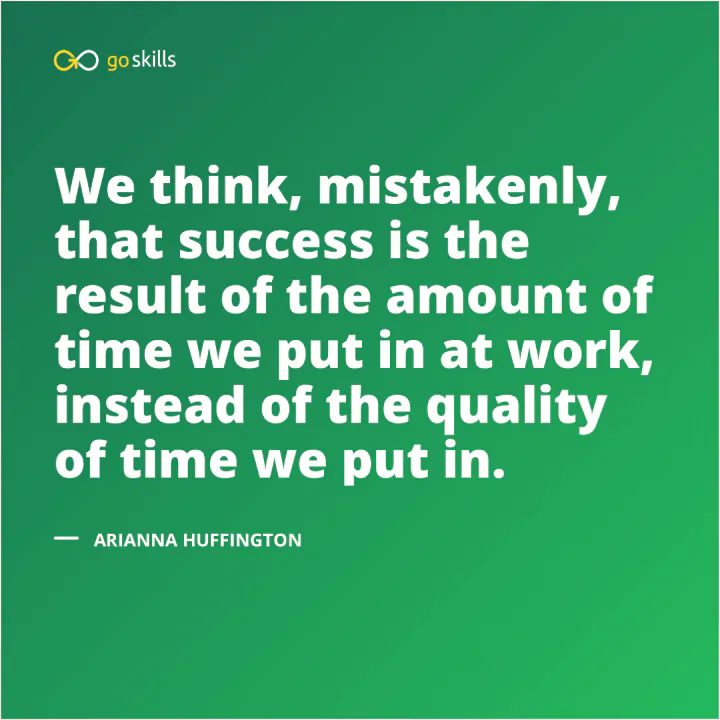 We think, mistakenly, that success is the result of the amount of time we put in at work, instead of the quality of time we put in.
- Arianna Huffington
28.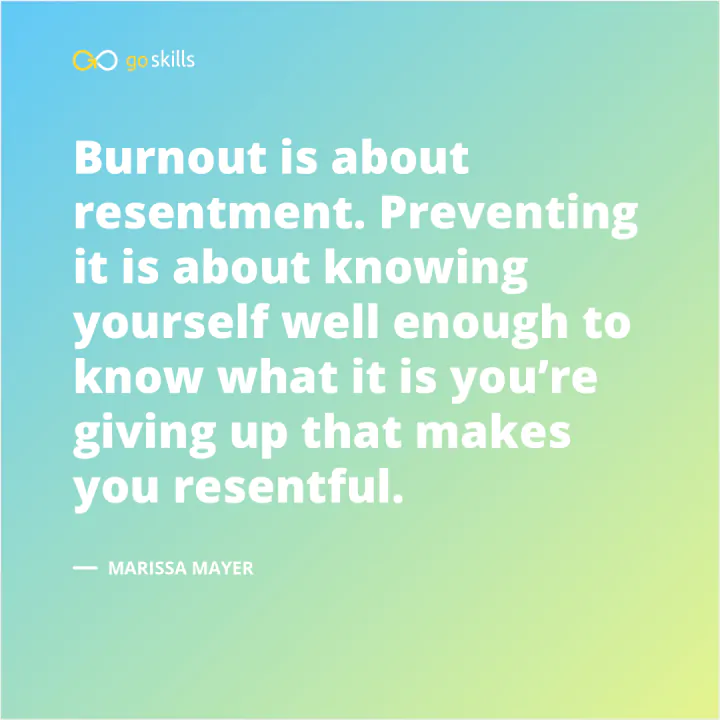 Burnout is about resentment. Preventing it is about knowing yourself well enough to know what it is you're giving up that makes you resentful.
- Marissa Mayer
29.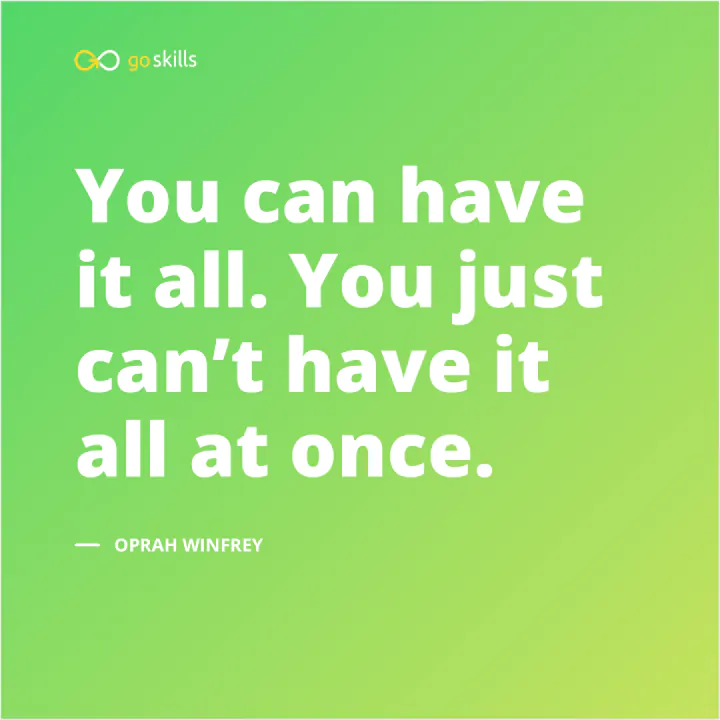 You can have it all. You just can't have it all at once.
- Oprah Winfrey
30.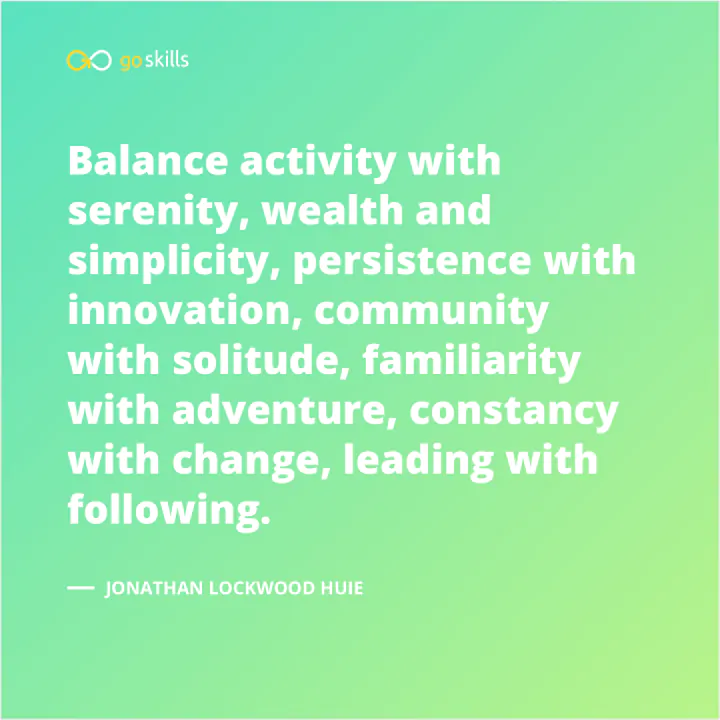 Balance activity with serenity, wealth and simplicity, persistence with innovation, community with solitude, familiarity with adventure, constancy with change, leading with following.
- Johnathan Lockwood Huie
31.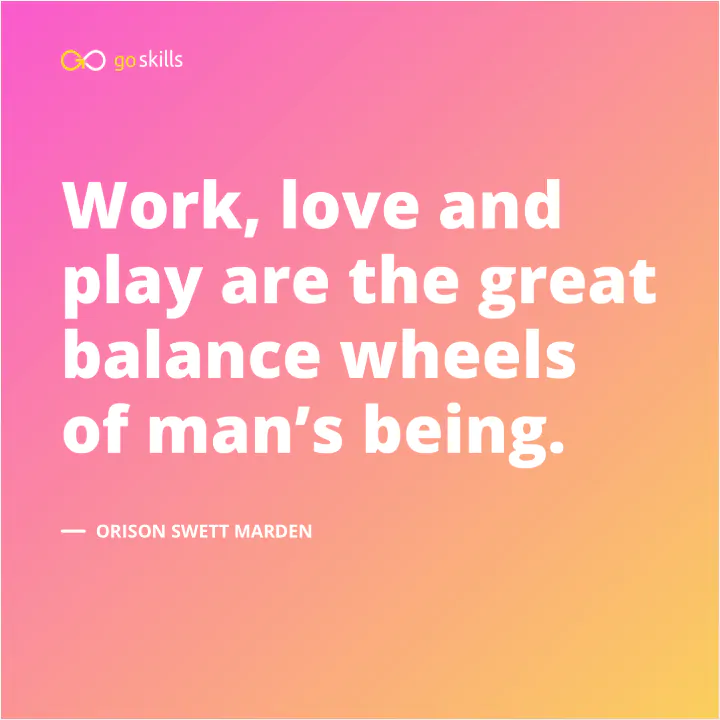 Work, love and play are the great balance wheels of man's being.
- Orison Swett Marden
32.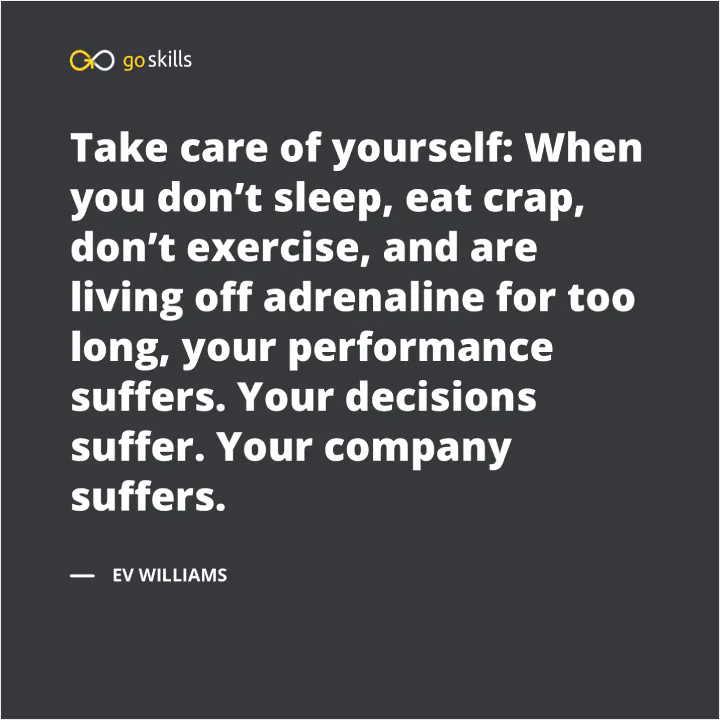 Take care of yourself: When you don't sleep, eat crap, don't exercise, and are living off adrenaline for too long, your performance suffers. Your decisions suffer. Your company suffers.
- Ev Williams
33.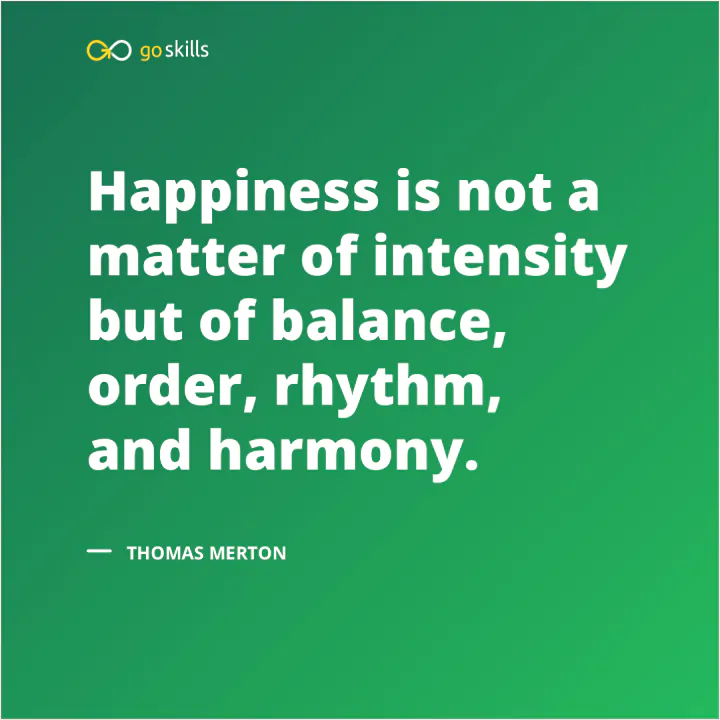 Happiness is not a matter of intensity but of balance, order, rhythm, and harmony.
- Thomas Merton
34.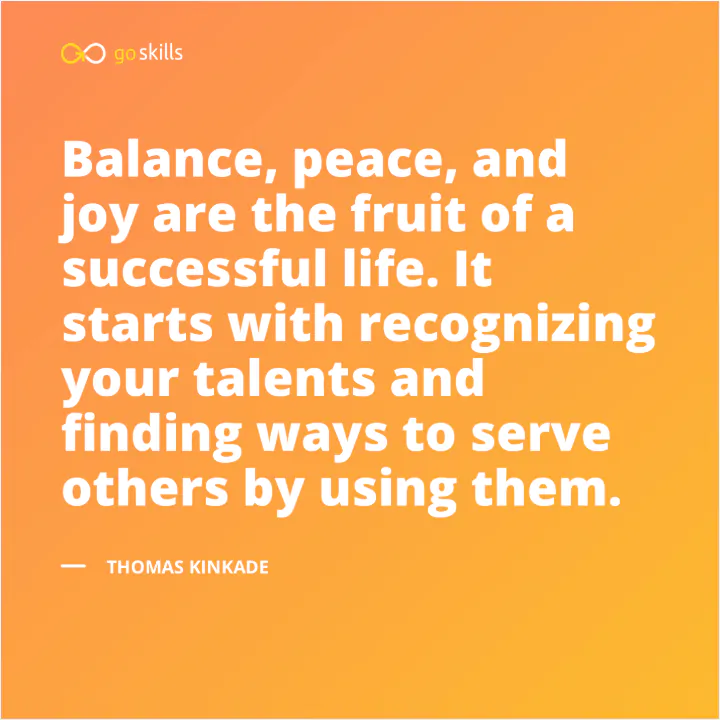 Balance, peace, and joy are the fruit of a successful life. It starts with recognizing your talents and finding ways to serve others by using them.
- Thomas Kinkade
35.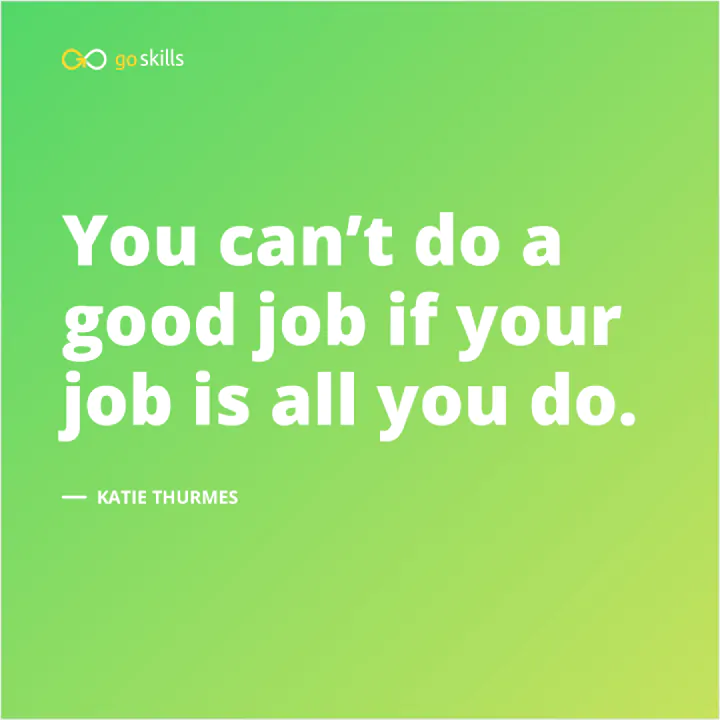 You can't do a good job if your job is all you do.
- Katie Thurmes
36.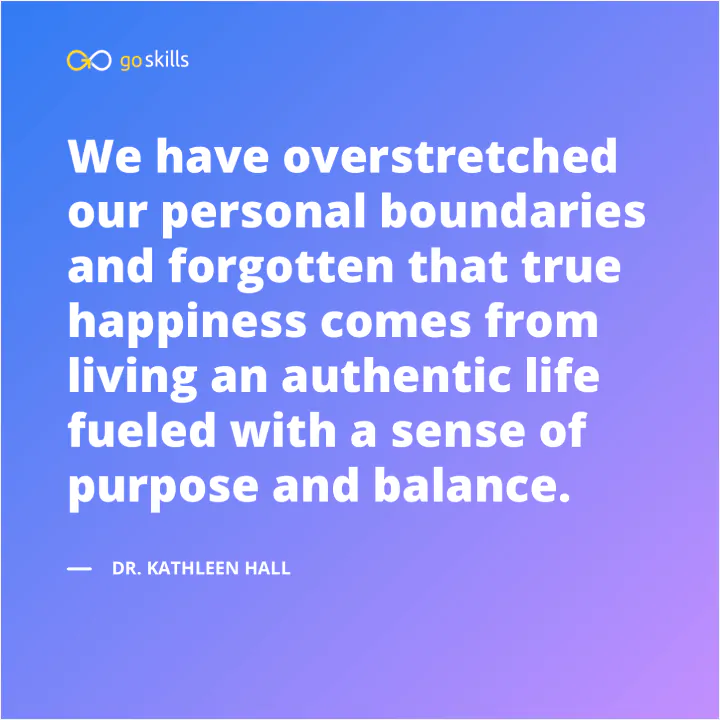 We have overstretched our personal boundaries and forgotten that true happiness comes from living an authentic life fueled with a sense of purpose and balance.
- Dr. Kathleen Hall
37.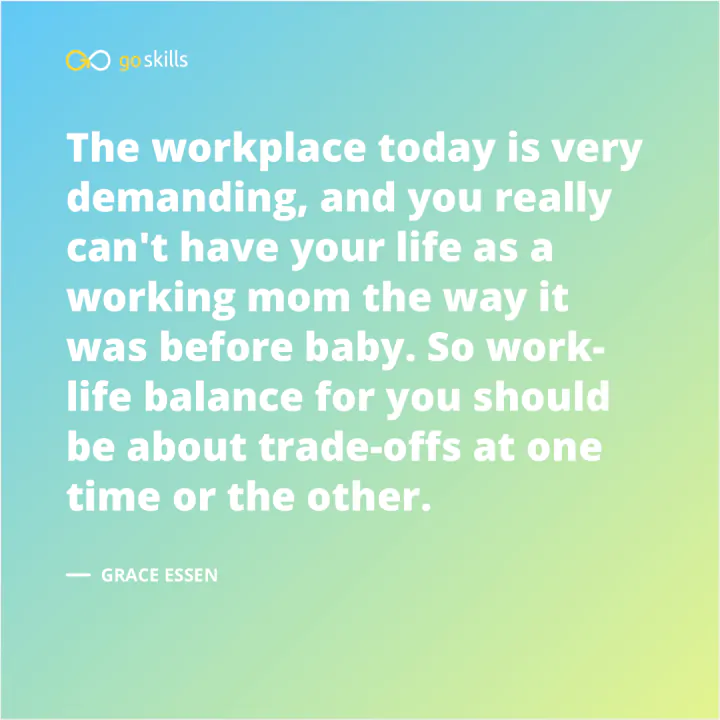 The workplace today is very demanding, and you really can't have your life as a working mom the way it was before baby. So work-life balance for you should be about trade-offs at one time or the other.
- Grace Essen
38.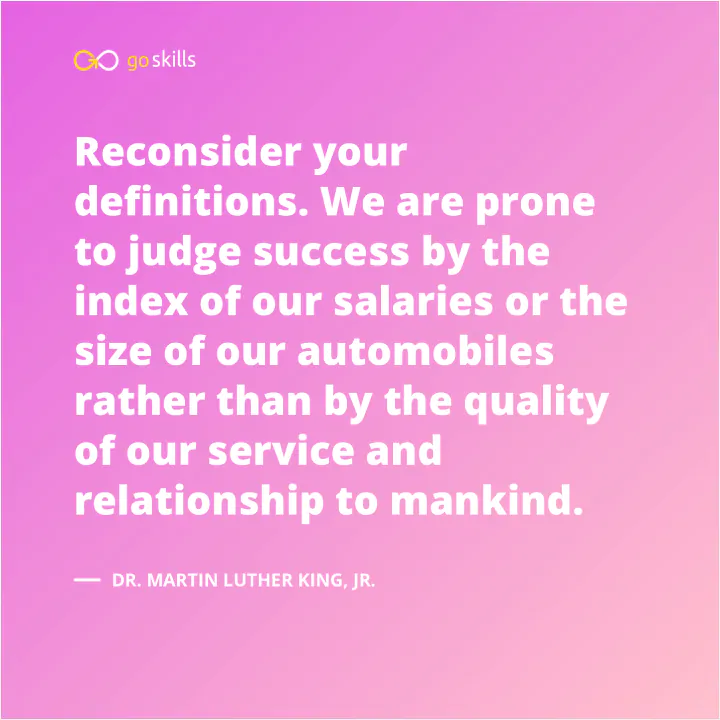 Reconsider your definitions. We are prone to judge success by the index of our salaries or the size of our automobiles rather than by the quality of our service and relationship to mankind.
- Dr. Martin Luther King, Jr.
39.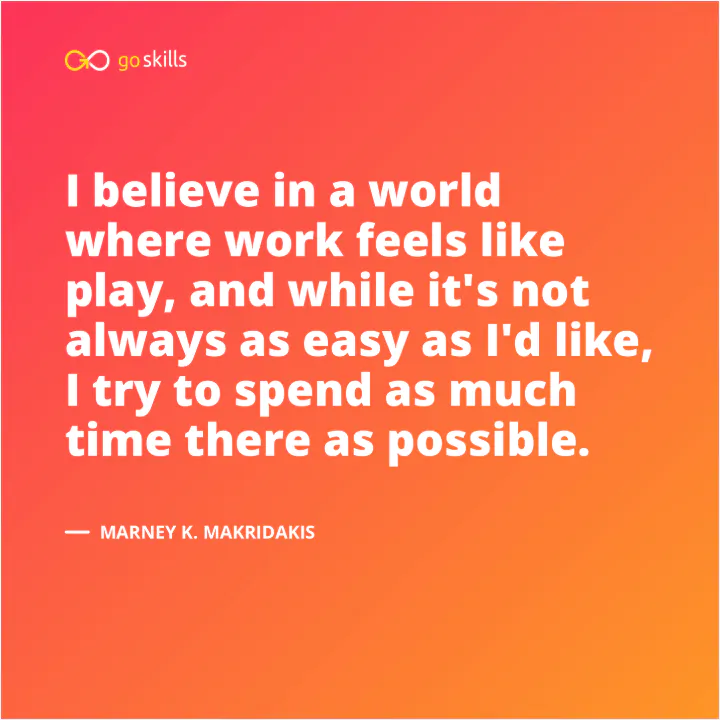 I believe in a world where work feels like play, and while it's not always as easy as I'd like, I try to spend as much time there as possible.
- Marney K. Makridakis
40.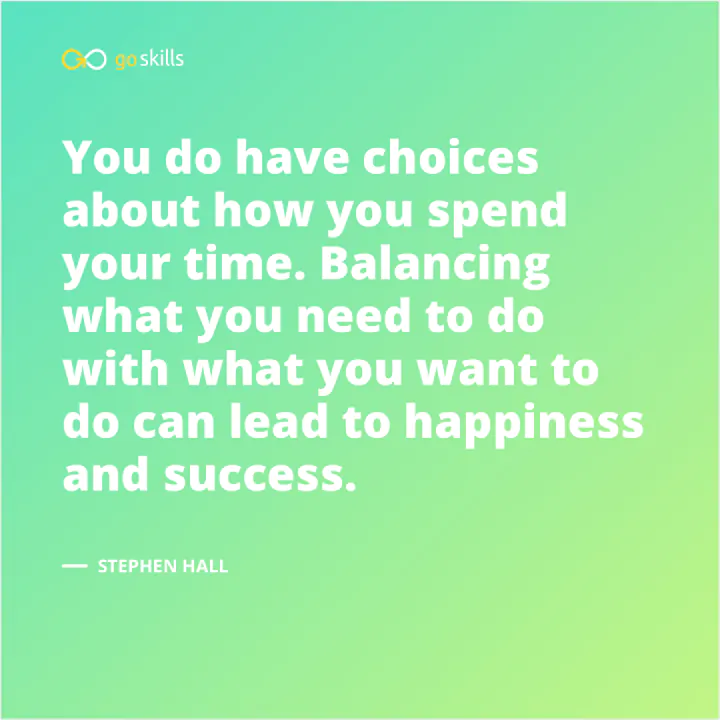 You do have choices about how you spend your time. Balancing what you need to do with what you want to do can lead to happiness and success.
- Stephen Hall
Over to you
We hope you enjoyed these work-life balance quotes. Whenever you're feeling overwhelmed, they can serve as a reminder to assess your priorities and focus on achieving your ideal work-life balance.
If you're looking for more inspiration, check out these motivational quotes for students (also applicable to anyone trying to be their best self), as a morale booster.
We've found that one way to achieve balance is by working smarter, not harder, to get tasks done. Download your free productivity guide below to learn the four key productivity killers and their respective remedies, three steps to jumpstart your productivity, the top productivity methods, and so much more.
Boost your productivity
Start learning productivity tips for free today with GoSkills courses
Start free trial