GoSkills did it once more — G2's Winter Report 2023 featured us as a high performer!
GoSkills Awarded 17 badges
G2 published its Winter 2023 Report, and we are honored and humbled to have received 🥁…17 badges!
GoSkills received badges across the following categories:
Online Course Providers
Technical Skills Development
Corporate Learning Management Systems
In all of these categories, we ranked as a High Performer. In addition, as an online course provider, we were named a Momentum Leader – given to the top 25% of vendors in this category – and also granted an Easiest To Do Business With badge.
Additionally, GoSkills was recognized as a High Performer in the Small-Business Grid® and Mid-Market Grid® across all three categories, as well as the Enterprise Grid® as an Online Course and Corporate LMS provider.

What is G2, and what is its Winter Report?
G2 is the largest and most trusted software marketplace, as it features more than two million timely reviews from real users.
Every quarter, G2 Grid® Reports provide a high-level overview of software companies and products, pinpointing those with the most satisfied customers and largest presence in the market. G2 badges are received every time a product is featured in these reports.
Thanks to our learners, dedicated team members, and the continuous support of our business partners, we are proud recipients of dozens of G2 badges awarded to world-class products.
What do users love about GoSkills?
"Everything! The content, the way it is presented, the PDF files with notes, the files to work upon, and many more! In a couple of hours, you will have an excellent knowledge of the selected topics and certifications accredited by reputable institutions," says Dimitrios G, one of our learners.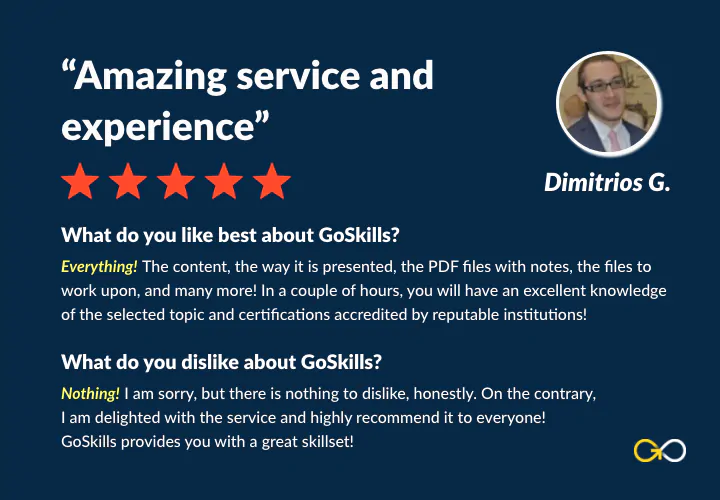 From the content to how it's delivered, our learners are delighted with every single experience on our platform and grateful for all the doors that have been opened to them, thanks to our bite-sized learning approach.
Because of these reviews, we've also been awarded the Users Love Us badge. Discover what each of these learners is saying about GoSkills, and head to G2 to see all of our customer reviews.
A better way to train
It's easier than ever to track and manage your team's training with the GoSkills LMS.
Start for free