The benefits of online learning go beyond a collection of certificates. Online education can transform lives and shape destinies in ways you might not have imagined. To uncover them, we'll share the testimonial of one of our learners and most active social media fans: Arjanita Berisha. Thanks to GoSkills, she now sees online education through a different lens, and so do we.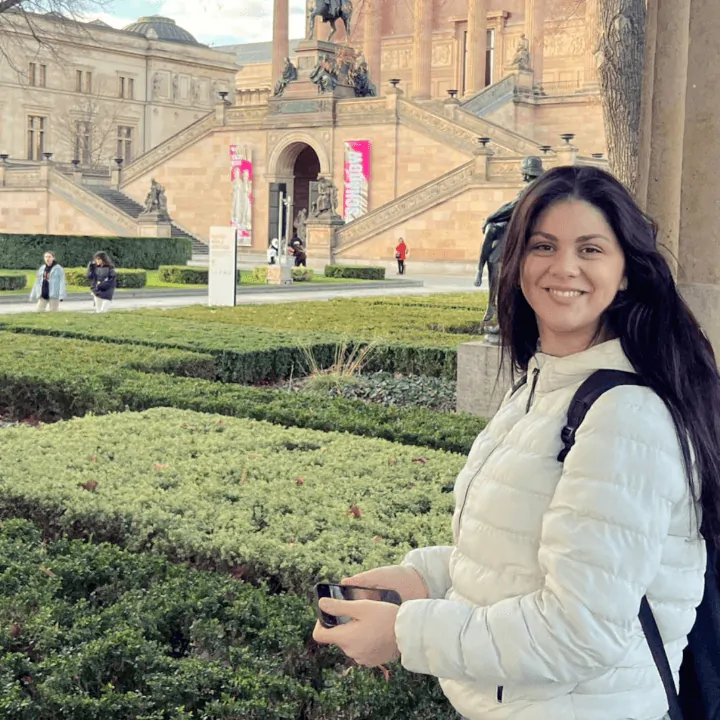 Arjanita is a 25-year-old software tester living in Berlin. She first heard about GoSkills on LinkedIn. Her desire to learn something new encouraged her to try out the platform.
Every minute spent learning on the platform is so worth it.
The thing is, Arjanita not only enjoyed and made the most out of our bite-sized tutorials, but she was also able to gain confidence and a set of habits and skills that have changed her life for good.
I've been integrating all the knowledge I have gained with GoSkills at work, and thus I feel more confident performing certain tasks. It has also helped me develop key communication and remote working skills.
So, with these encouraging words, let's dive into the five life-changing benefits of online learning!
5 life-changing benefits of online learning
1. Improved concentration and focus
In a world where social media, news, emails, and phone calls compete for our attention, concentrating on one thing is easier said than done. The good news is that microlearning—a method that breaks down learning topics into more manageable pieces—is the ally of improved focus. Bite-sized online lessons allow learners to concentrate on one topic at a time, which enhances their ability to stay engaged and absorb information effectively. Research shows that microlearning supports long-term retention by up to 80%.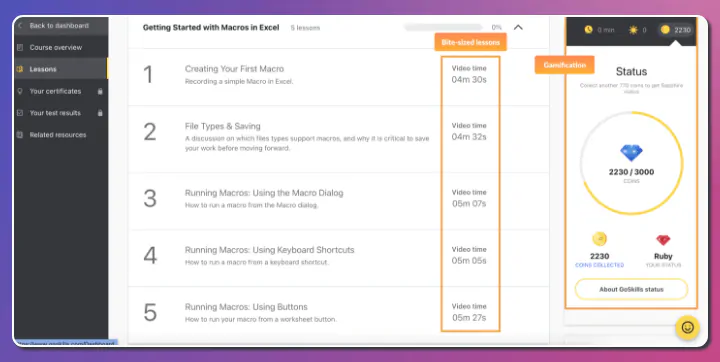 At GoSkills, we believe in the huge role microlearning plays in any online learning experience, and that's why our tutorial videos are three-to-five minutes long, which you can play and replay at any time.
With bite-sized online courses, you can learn at your own pace and on your own schedule, which can be especially helpful for busy people.
2. Enhanced problem-solving skills
Arjanita also loved other features of the platform, like the quizzes and exercises at the end of each lesson, alongside the final exam.
I liked that you have quiz questions after each lesson to know where you stand or if you have understood the material.
Quizzes and exercises don't have to be intimidating but rather the perfect chance to test your skills and develop two key transferable skills: problem-solving and critical thinking.
By solving hands-on exercises on our platform, you'll expand your capacity to dissect challenges, explore creative solutions, and apply your knowledge effectively in diverse personal and professional contexts.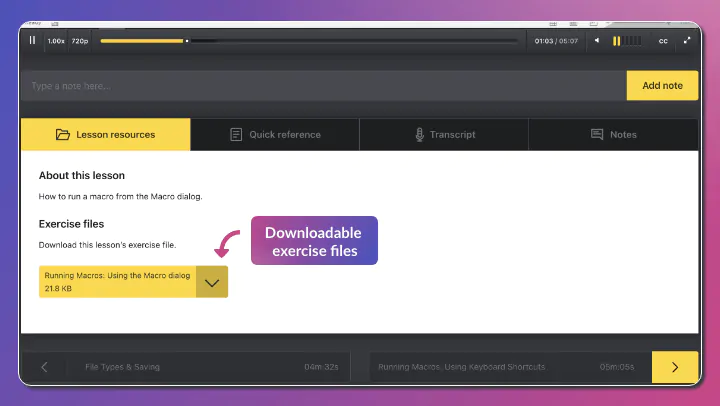 3. Better time management
Self-paced and bite-sized learning experiences carry another benefit besides improved concentration and focus. Shorter lessons can be woven into anyone's schedule. Microlearning empowers students to allocate time more effectively and organize their learning journey. This contributes to better comprehension and productivity and helps them to balance learning with their other responsibilities.
For me, balance is mainly about prioritization and flexibility. I plan every Sunday, set my weekly priorities, and plan what to do before and after work. That way, I can track whether I have progressed or regressed.
4. Open-mindedness and curiosity
Knowing how to embrace new ideas is paramount in a rapidly evolving world. Online learning is a powerful catalyst for nurturing open-mindedness and igniting curiosity, as it creates the ideal environment for learners to explore diverse subjects and engage with a global community of peers.
Online communities—such as forums, discussion boards, and collaborative projects—foster the exchange of ideas and empower learners to challenge assumptions, engage in meaningful conversations, and navigate complex issues with an open mind.
Learning with GoSkills has made me realize education isn't just about passing exams. It's also about being more receptive to new ideas, acquiring new skills, and gaining practical knowledge.
5. More savings
Picture this: do you ever wonder how much money you could have saved in the past by simply skipping the daily commute to college or bypassing the overpriced cup of coffee you indulged in on your way? It might have been a lot! Online learning also brings a wave of cost-saving opportunities that can leave you pleasantly surprised.
Online learning platforms eliminate the need for costly commutes, pricey textbooks, and additional expenses typically associated with traditional education. With these savings, you can redirect those funds toward your personal growth.
Now, various courses are available at affordable prices, and some online learning platforms, like GoSkills, even offer unlimited access to them for flat monthly or annual fees. You can also try our platform for free to see whether our learning style suits you.
Wrapping it up
We hope you see online education differently after reading about these five benefits. The flexibility and self-paced nature of online learning makes it one of the best options forgaining knowledge and—especially—life skills.
So now, it's time to start enjoying these benefits and advance your career.
Gain the soft skills employers want
Start learning for free with GoSkills courses
Start free trial