GoSkills is proud to announce that we have been selected as part of Training Industry's 2021 Top Online Learning Library Watch List.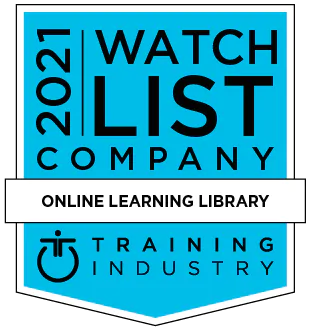 The Watch List recognizes companies from across the globe, demonstrating excellence and innovation with their on-demand course libraries and content for corporate and individual learning and development.
Each company that participates undergoes extensive research, including a thorough analysis of their capabilities, experience, and expertise.
"The organizations featured on this year's Online Learning Library Companies Watch List represent a strong set of companies responding to businesses' need for virtual training," said Danielle Draewell, market research analyst at Training Industry, Inc. "Through new course offerings, repurposing existing content, and reinforcement tools, these companies are delivering top on-demand content to organizations worldwide."
Selection for this year's Training Industry Online Learning Library Companies was based on the following criteria:
Breadth and quality of courses and content.
Quality of features and capabilities.
Industry visibility, innovation and impact.
Strength of clients and geographic reach.
Company size and growth potential
The GoSkills course library features curated, expert-led online courses in microlearning format, proven to increase learning retention and increase engagement. The course library is designed to equip learners with the essential business skills they need in today's workforce, including Excel, Data Analysis and Soft Skills.
The GoSkills team is honored to be recognized for our unique strengths and capabilities in the online education space.
Learn more about the award and the other celebrated winners here.
Check out the GoSkills learning management system to find out how your team can learn together, or at their own pace, with our bite-sized award-winning courses.
A better way to train
It's easier than ever to track and manage your team's training with the GoSkills LMS.
Start for free