Did you know that on average, every corporate job opening attracts 250 resumes?
Keeping the tough competition in mind, it's becoming increasingly important for candidates to craft a winning resume that attracts attention and stands out.
One of the ways to achieve that is by creating a video resume.
As the name suggests, a video resume is a resume presented in a video format. Not many candidates consider creating this kind of resume, so this can help set you apart from the pack.
When executed well, video resumes can show a lot more about you and your personality than a traditional resume can ever convey.
If you're looking for a job that involves a lot of creativity or presentation skills, or you just want to stand out from the crowd, then you should certainly consider creating a video resume.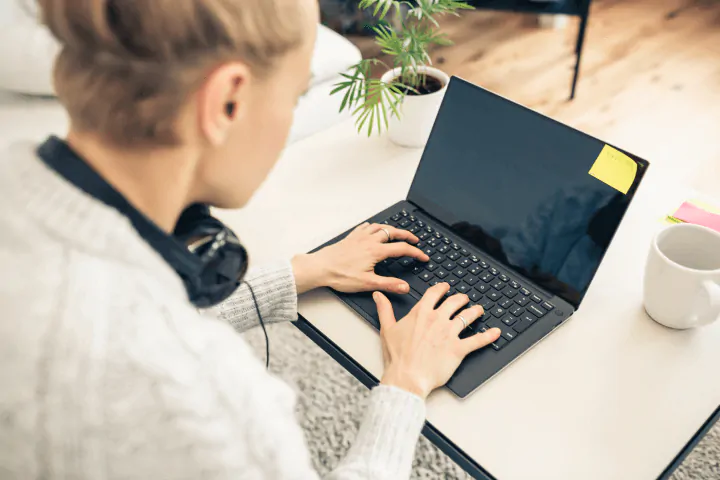 Why make a video resume?
As per Glassdoor, an average recruiter spends just about 6 seconds to scan through a resume while screening a potential candidate.
That means, your resume needs to do all the 'talking' and leave a lasting impression in those crucial 6 seconds to take you to the next round.
You may be the best in the business, have rich experience, and relevant skills to demonstrate, but how do you convey that to your recruiter in just 6 seconds on paper?
This is where a video resume can be of great help. Not convinced? Here are five key benefits of creating a video resume.
1. Adds credibility
A video resume adds credibility to your profile because it makes you and your skills more personal. The recruiter gets to see the person behind the resume first-hand, making it easier for them to consider your skills and experience.
Another smart way to lend credibility is by including short testimonials by your ex-colleagues or managers, reaffirming your capabilities and strengths. Consider utilizing top-notch video services to make your video resume look professional and appealing, thereby enhancing your chances of standing out from the rest even further.
2. Demonstrates communication skills
Irrespective of the nature of your job role, communication skills are an asset to any employee. What could be a better way to demonstrate your communication skills other than a video resume? Whether you choose to make it text and animation focused or in talking head format, your video resume will show potential employers exactly what you intend to communicate - so make it count!
Not confident about speaking in front of the camera? Why not brush up on your public speaking or body language skills?
3. Highlights creativity
Creating a video resume lets you throw light on your creativity, something that is highly appreciated if you're applying for a job in the creative field. For instance, let's say you're applying for the role of an animator and you send an animated video resume. If done well, that's half the battle won.
Even if your role is not design focused, a video resume can be a great asset. For example, if you're applying for a marketing position, submitting a video resume highlights your ability to think outside the box and sell yourself.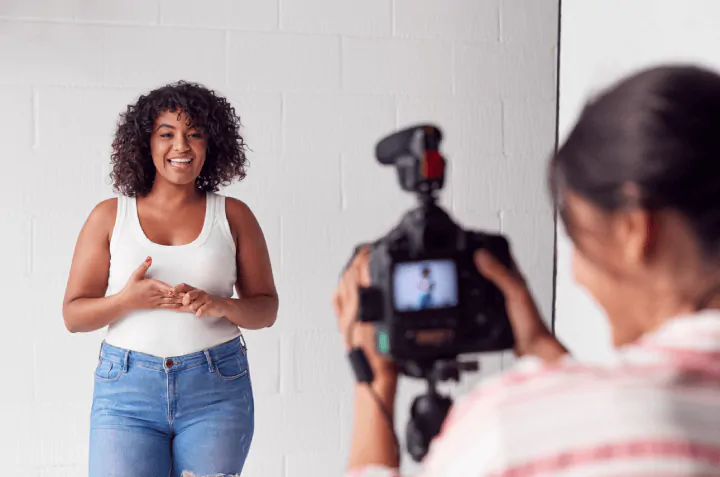 4. Shows enthusiasm and proactiveness
The very fact that you decided to go the extra mile and send in a video resume shows how passionate you are about the role. Your enthusiasm and proactiveness comes through, both of which are extremely important qualities required for any role.
5. Engaging
It's a well-known fact that visuals communicate more effectively than words. Taking a cue from that, it's no surprise that a well-scripted and produced video resume will manage to grab the recruiter's attention and keep them engaged as compared to reading chunks of text.
Want to learn more?
Take your soft skills to the next level with our comprehensive (and free) ebook!
8 video resume tips that will get you hired
Video resumes are becoming popular among job seekers and are a great way to stand out from your competitors. While there is no fixed formula to follow while creating your first video resume, here are some video resume tips that will help you get hired.
1. Ensure it's suitable for the role
While video resumes are a unique way to get noticed, the first question you should ask yourself is whether it's relevant and suitable for the role you're applying for. Sending a video resume for every role or position is not the best idea.
For instance, if you're applying for the role of a chartered accountant, sending a video resume might be a risky move. However, if you're applying in the advertising, marketing or public relations space, a video resume will certainly make better sense.
So, it hugely depends on what your role is and the industry you're applying to. The last thing you want is for your video resume to be met with an unwelcome reaction.
2. Keep it short and sweet
Consider your video resume as a trailer to introduce yourself. Recruiters do not consider a video resume as a final interview. They are used just like any other resume - to screen and shortlist candidates.
So get creative, introduce yourself in a crisp and succinct manner. As per experts, the ideal length of a video resume is around 1-2 minutes.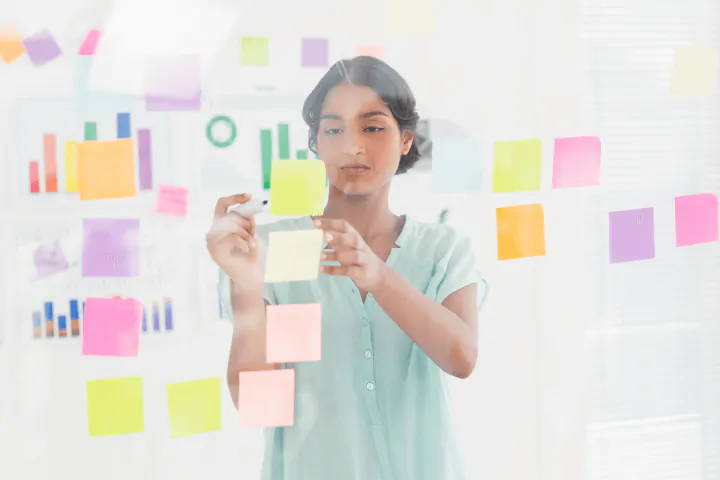 3. Start with a plan
A great video resume starts with a well-laid-out plan.
Think about how you want to shoot your video resume - will you be comfortable talking on camera or do you want someone to get you interviewed? Do you want to put together some slides rather than appearing on camera? What would you like the tone to be - humorous or straightforward?
It's important to give these questions a thought as they will set the tone for the resume, letting you execute with ease.
If you want to boost your resume, consider getting the skills that are required for the role. From Microsoft Office and Photoshop to business writing and HTML, GoSkills has the courses you need.
4. Get creative
It's not enough to recite your resume - you need to feel passionate about what you're saying. Think of creative ways to present your skills and experiences through stories. For instance, if the role you're applying for requires strong remote working experience, make sure you share stories that validate your skills.
Apart from the content, it's also important to think creatively while presenting or filming it. Every video resume does not have to be of you talking, you can also create animated video resumes with a voiceover, create a montage with visuals or have someone interview you.
In fact, you can create an enticing video resume in PowerPoint, with a voiceover or some background music. Check out our collection of the best free PowerPoint templates for inspiration.
5. Prepare a solid script
Now that you know the goals behind the video resume and how you plan to present it, it's time to work on a detailed video resume script.
This will help you organize your thoughts, give the video structure and ensure it flows in a logical manner. That's not all, when you are well-prepared, you also tend to be much more confident while shooting the video.
In addition to a script, it's a good idea to also create a storyboard, laying out every scene with visuals and the corresponding dialogues. It might seem time-consuming but it's certainly worth it.
6. Pay attention to the technical details
Nothing is more frustrating than watching a video resume where you can barely make sense of what the candidate is saying.
So, pay special heed to the technicalities such as the background, sound and lighting. Make sure you use the right equipment and don't settle for anything substandard.
Find a well-suited background, ensure there is enough light, and use a mic that can capture your voice loud and clear. Your recruiter should be able to see and hear you clearly.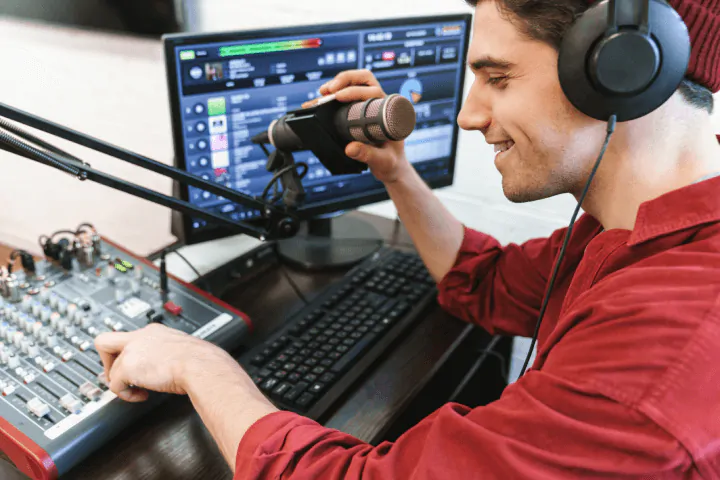 7. End with a clear CTA
It is a great idea to end your video resume with a clear, distinct, and straightforward call-to-action to encourage the recruiter to proceed to the next step.
You can conclude it by sharing your contact details or a link to your portfolio where the recruiter can take a look at your work, or view your LinkedIn profile to refer to your background and employment history.
8. Ask for feedback
Asking for feedback on your video resume lets you get another person's perspective which can prove to be helpful and eye-opening. So, make sure you show your resume to a couple of people and understand if there are any fixes you should make before submitting it to job openings.
5 creative video resume examples to take inspiration from
Ready to create your first video resume? Here are some stunning examples to take inspiration from.
1. Sajita Nair
What stood out in this resume was the sheer simplicity with which she spoke about herself, without overdoing it or going overboard.
She has highlighted her public speaking skills while eliminating fluff and keeping the video short, crisp, and to the point.
2. Tran Dai Duong
This creative resume showcases the candidate's expertise in animation and motion graphics. It also highlights his creative side. If you're looking for a marketing job, designing, or any other job that requires creativity, this format is certainly a good idea.
3. Cristina Castro
Here's another example of a creative resume. The peppy background score certainly fits in well with the overall theme of the video.
If you do not feel comfortable speaking on camera, this format will give you an idea on how to go about creating a video resume.
4. Tyler Angel
What stood out in this video was its storytelling format and the fun animations. The video also has a clear call-to-action at the end, encouraging the recruiter to get in touch with him.
5. Wael Mckee
This video resume starts with a strong hook and manages to capture the viewer's attention early on. A special mention to the way he cleverly lists down his core skills and ends with a strong call-to-action.
Wrapping up
While a video resume has the potential to create a positive first impression, it can go the other way, if not done well. We hope you use the helpful tips and examples above to create a spectacular video resume of your own to wow potential employers.
Remember, when submitting a video resume to a recruiter, make sure it's accompanied by a text resume as well. If you're looking for a resume template to complement your video resume, take your pick from our collection of the best free Word resume templates.
Looking for the skills and certifications to stack your resume and impress employers? GoSkills offer engaging and practical bite-sized online courses that can help. Start learning essential skills like Excel, project management, business writing, public speaking and coding with a 7 day free trial to all courses on GoSkills.
Gain the soft skills employers want
Start learning for free with GoSkills courses
Start free trial