Not just a pretty resume
Give your resume more substance with in-demand skills and certifications.
Start free trial
When it comes to resumes, every professional knows that the template and how work is presented is just as important as the skills and experience that the resume itself spells out. Trying to design a resume from scratch can be a challenge, especially with very few design skills.
Need a little help? Check out these 50 free (yes, FREE!) Microsoft Word resume templates that you can easily download to your computer, edit to include your experience, and hand in with your next job application. No recruiter or hiring manager will be able to say no.
Can't wait to view them one by one? We've put together a selection of the best free resume templates in one easy download below.
Get your free resume templates
Professional templates perfect for any industry
1. The basic resume template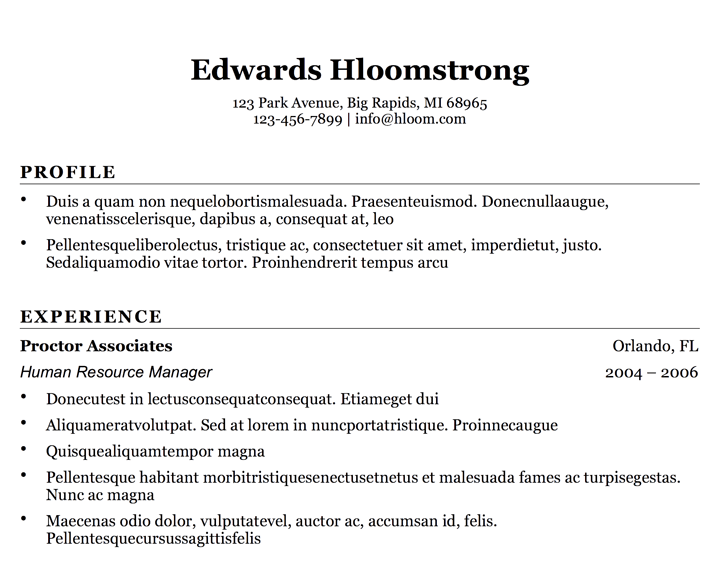 Want a basic resume to get yourself started? This is a great one for inputting your objective statement, experience, and skills. Download
2. Skill-based resume template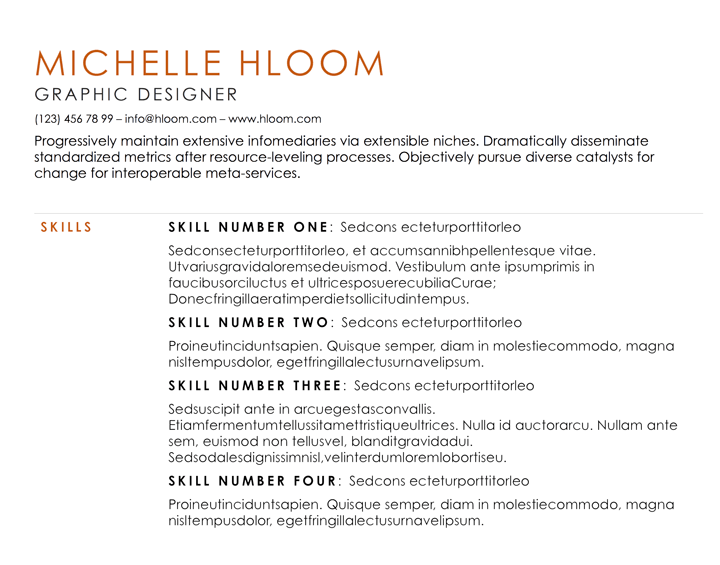 What makes this resume template great is that it has a little color but it's also perfect for any industry. Download
3. The chronological resume template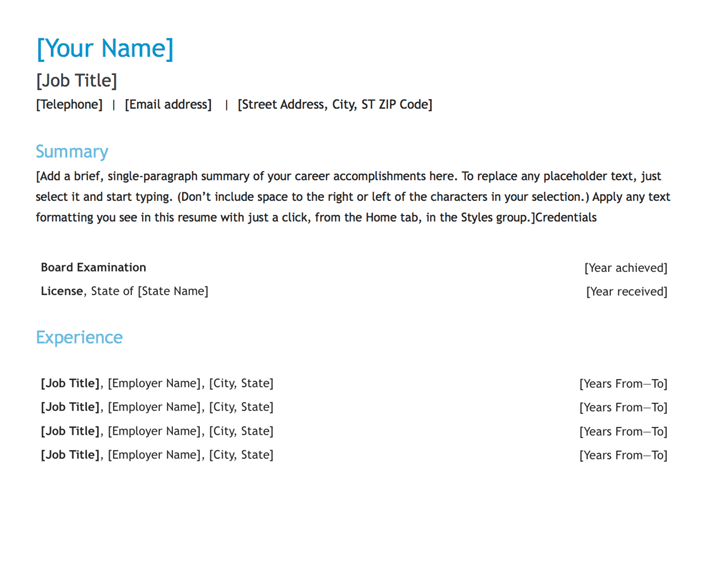 Want a resume that makes it easy to put your jobs in chronological order and send it off? This is the straightforward template you're searching for. Download
4. Another traditional resume template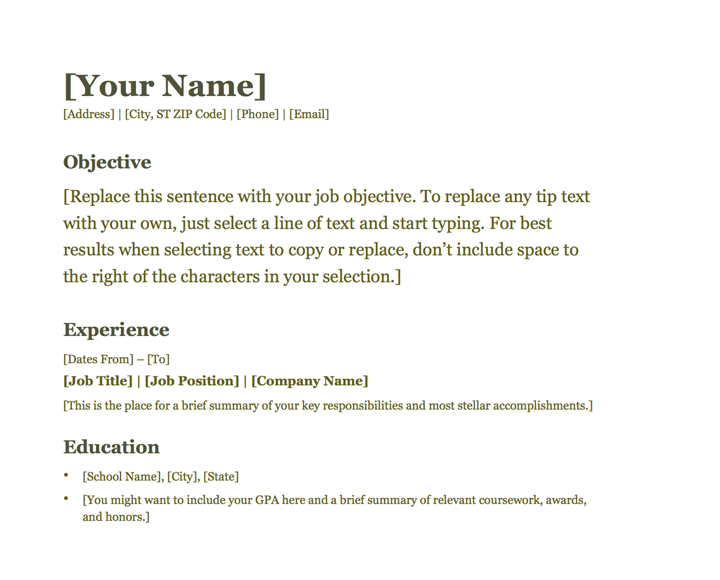 Want to spruce up your resume without changing too much of the formatting? Try putting either your headings or subheadings in a different font. Download
5. The black-and-white resume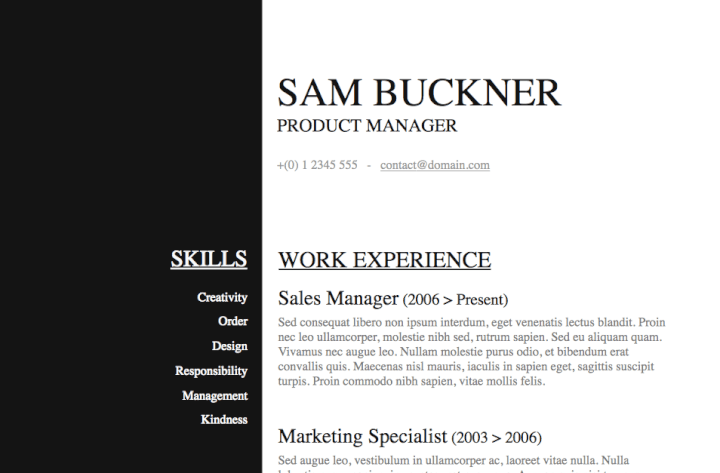 This black block will stand out amongst a sea of white resumes. Download
Get your free resume templates
Professional templates perfect for any industry
6. Orange resume template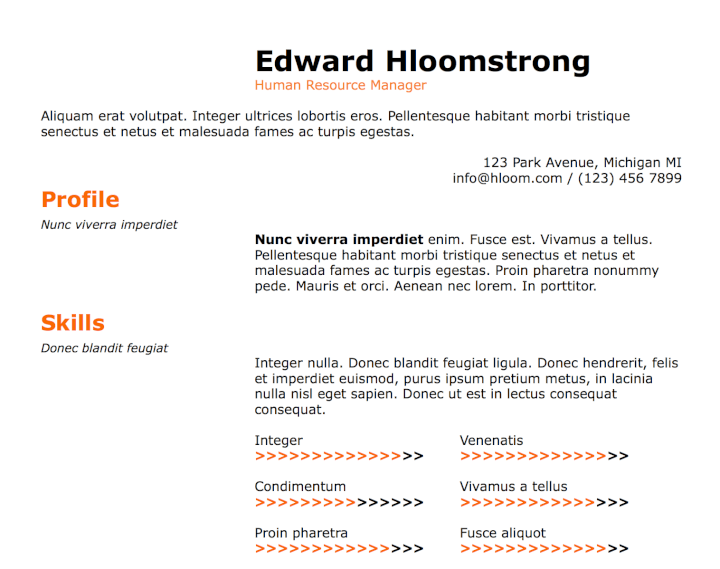 This resume layout is actually optimized for applicant tracking systems, so you'll be able to pop in keywords for the position you're applying for and get yourself to the next round. Download
7. Peach resume template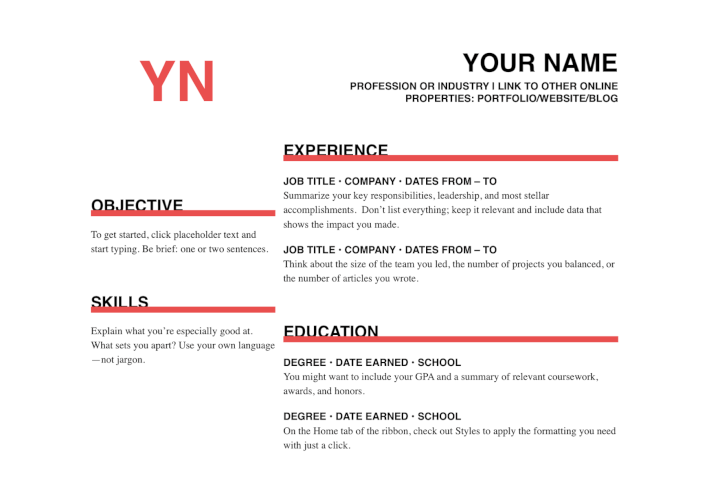 Adding in colorful lines to your subheadings or your personal logo can add special touches to your resume without taking away from the content. Download
8. Creative resume template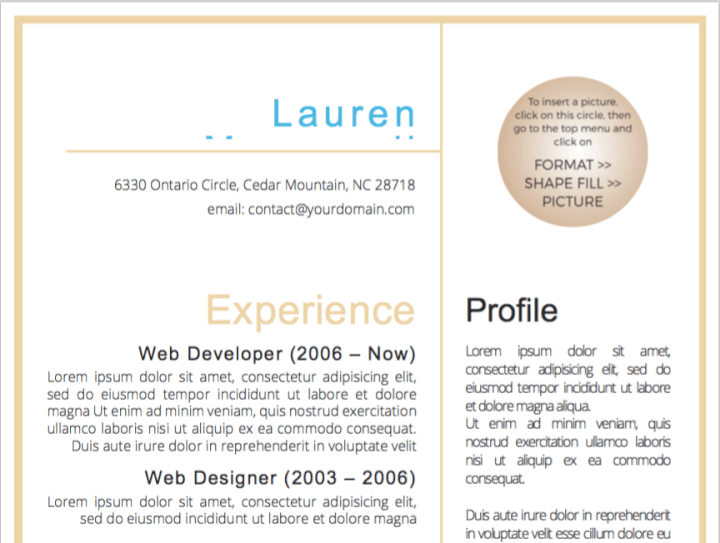 Borders are an easy way to add more color to your resume and also take up space without being distracting. Download
9. Formal resume template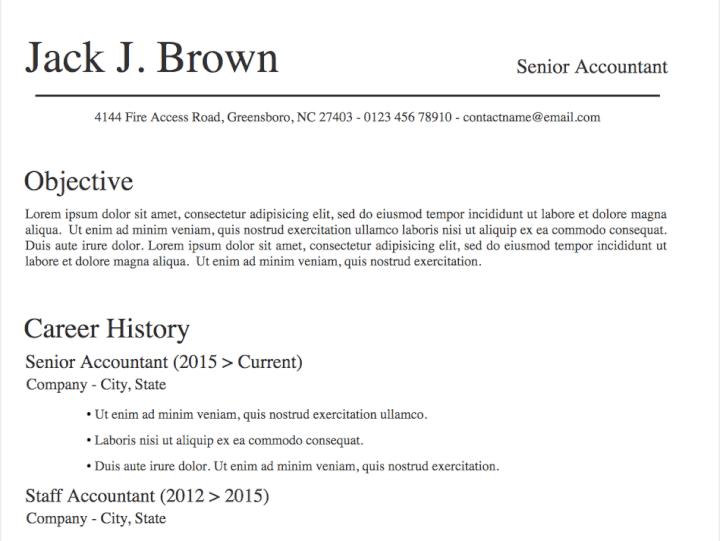 If you're working in a more formal industry, resumes like this one give you the ability to add color while still being professional. Download
10. Profile resume template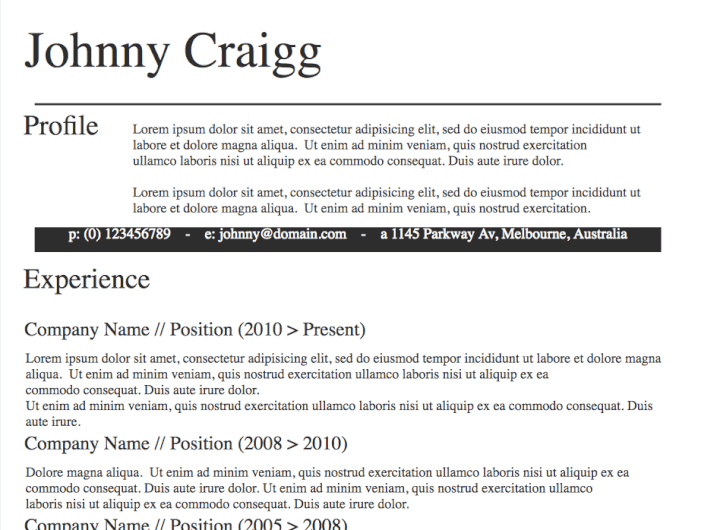 This resume is another universal option that'll help you look great no matter the field you're applying for opportunities in. Download
11. Colorful resume template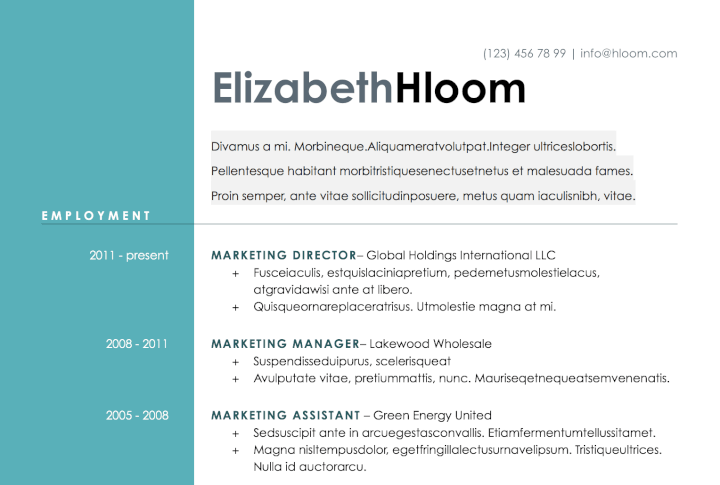 You can add a little color on your resume without making it the color of a highlighter. Download
12. Grey and white resume template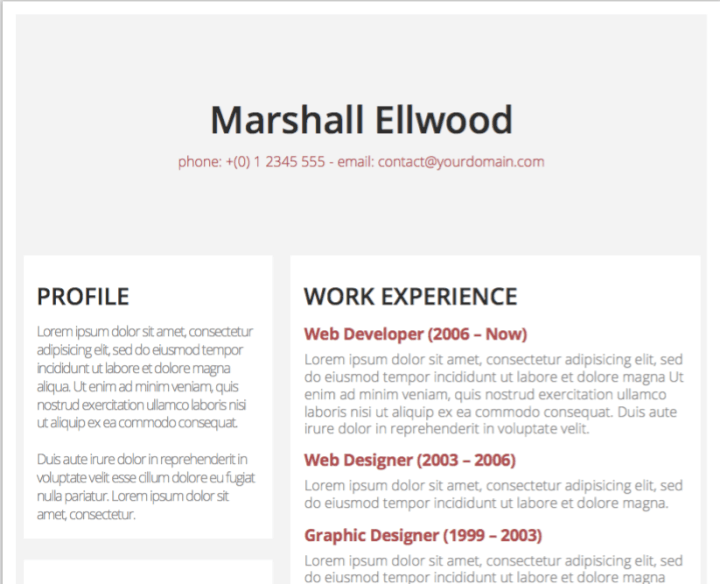 This resume template is made for professionals who want an elegant yet modern resume. Download
13. Newspaper resume template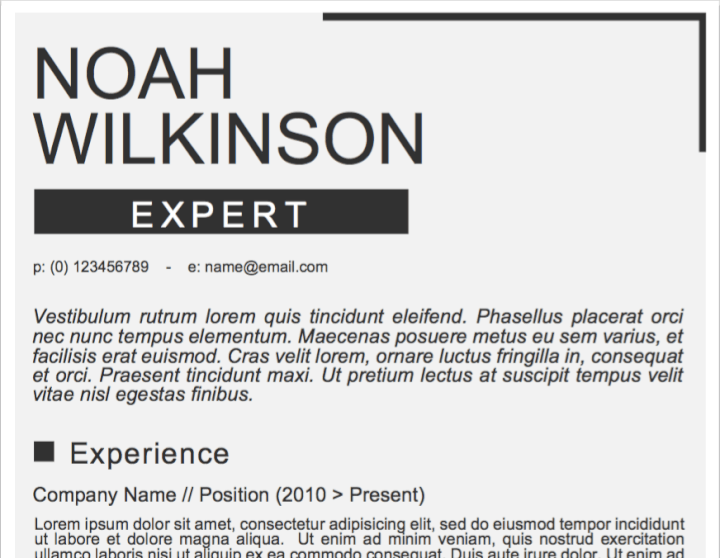 Journalists and copywriters can lean on this template to both showcase management experience and also their skill sets. Download
14. Monogrammed resume template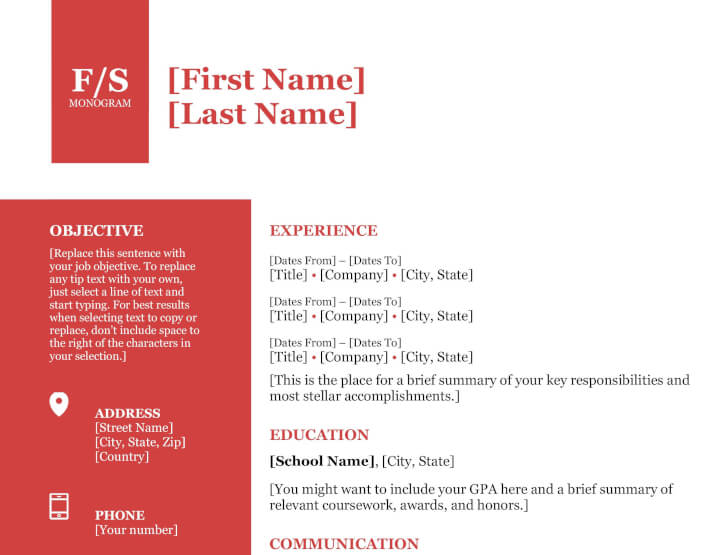 Want to stand out? This template is great for catching the eye of hiring managers. Download
15. Technical resume template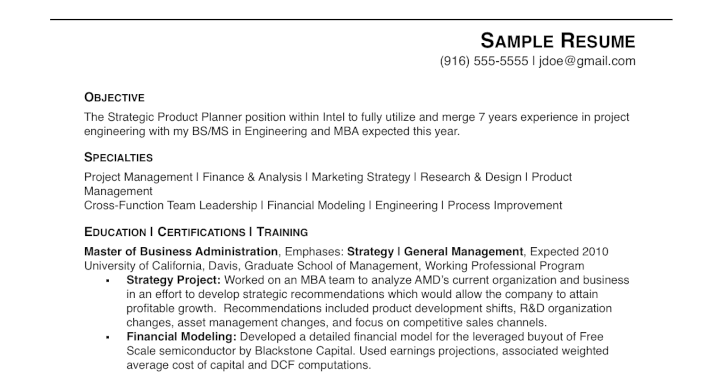 Technical resumes can be difficult to format, but they don't have to be impossible. Download
16. Pink resume template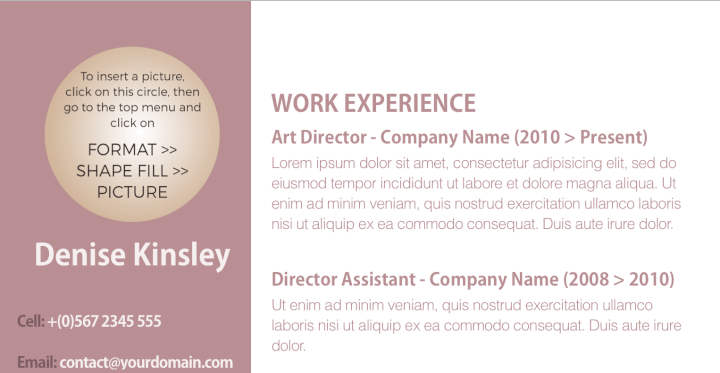 Elle Woods isn't the only one with a pink resume; if you work in an industry where creativity and color can get you a long way, why not try it? Download
17. Visual resume template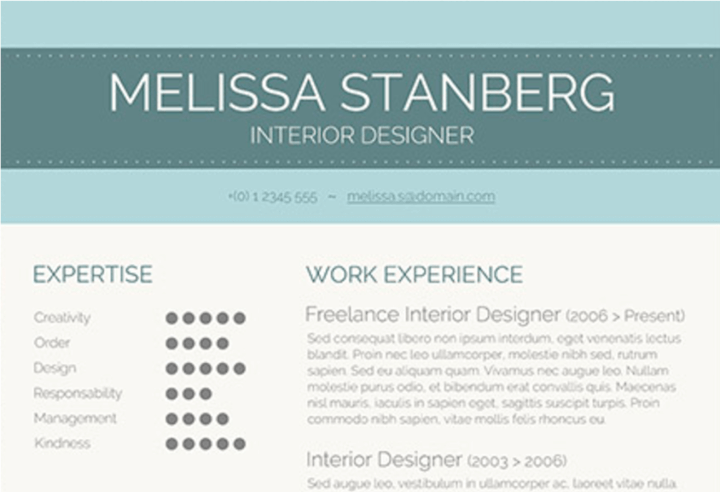 You can use visuals to show your expertise, which might come in handy when you're applying for jobs where you need to flaunt what you've got. Download
18. Creative peach resume template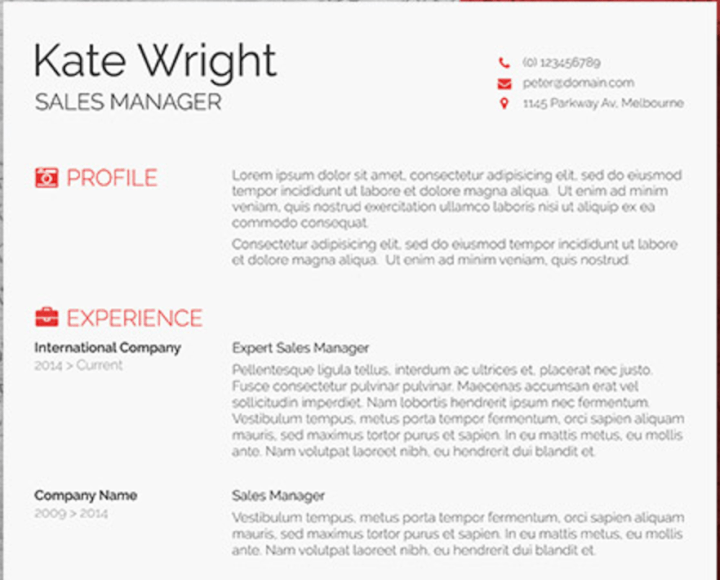 Adding a few icons can be a nice touch to a resume, especially one for creative or design positions. Download
19. Minimal resume template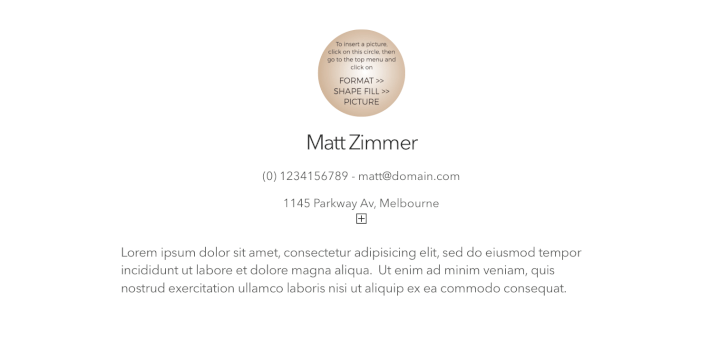 Want a more minimalistic resume design but don't have a ton of experience to show? This template makes your resume look a little more chic. Download
---
Are you looking for the best free PowerPoint templates? Check them out here:
---
20. Light pink resume template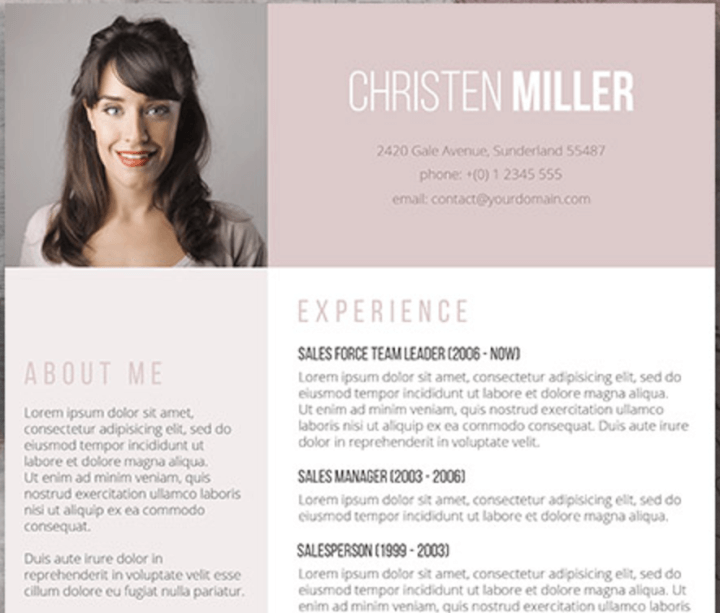 Pastels are your thing? Then you've found your perfect resume. Download
21. Bold resume template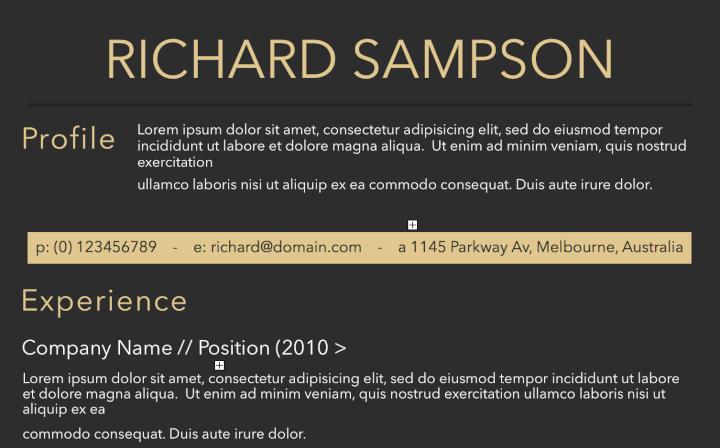 Feeling bold? Submit a black resume and see what happens. Download
22. Long profile resume template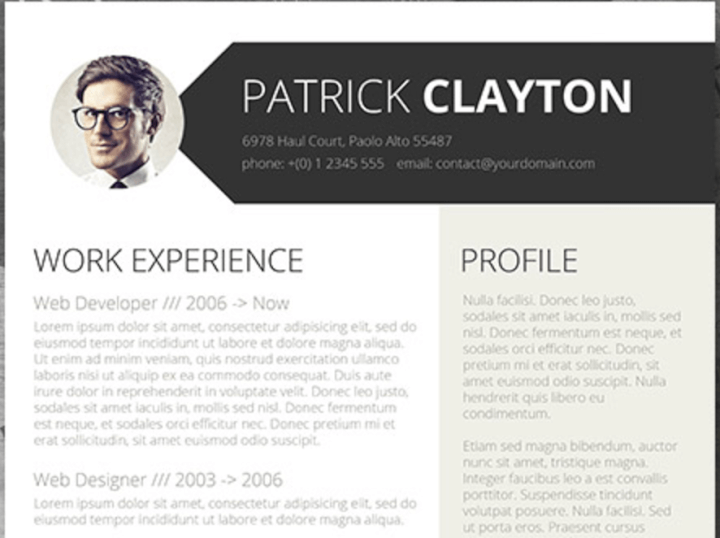 Want to add a longer profile about yourself to your resume? This template lets you do it. Download
23. Plain, but trendy resume template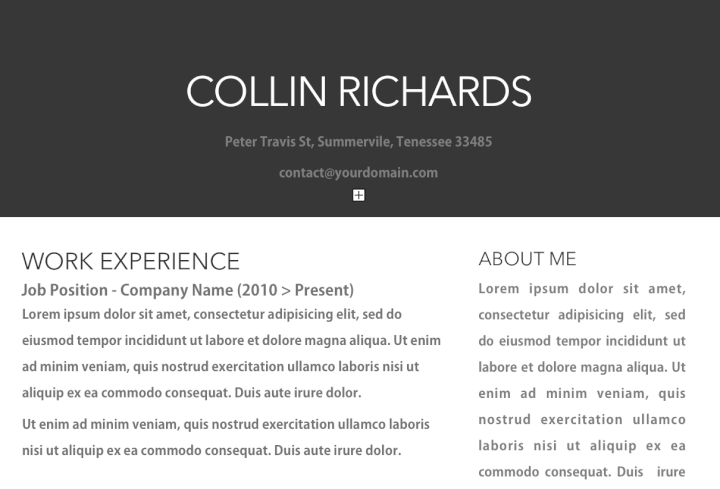 This resume is called "plain but trendy," and it'll make you look put together. Download
24. Green resume template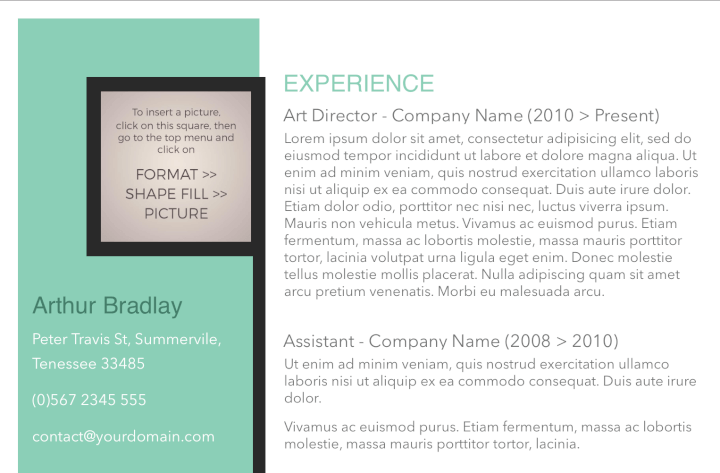 A little splash of bright green color can't hurt, especially if you're applying to more creative positions. Download
25. Light pink resume template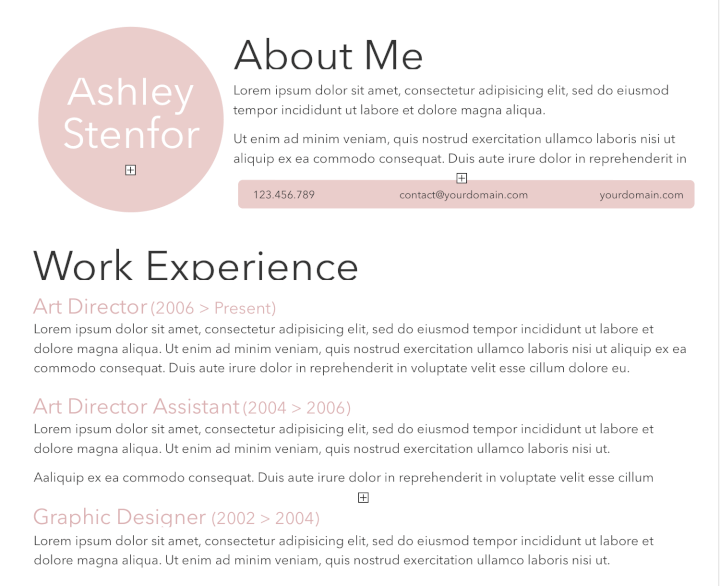 If you're applying to jobs where showing off your personality more is an asset, this resume template could do the trick in landing you that perfect gig. Download
26. Colorful blue resume template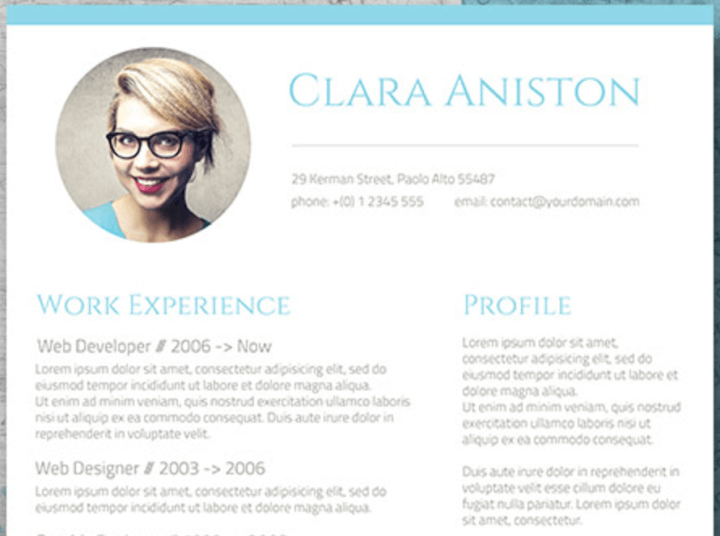 This resume is colorful, straightforward, and easy to read. What's not to love? Download
27. Unconventional resume template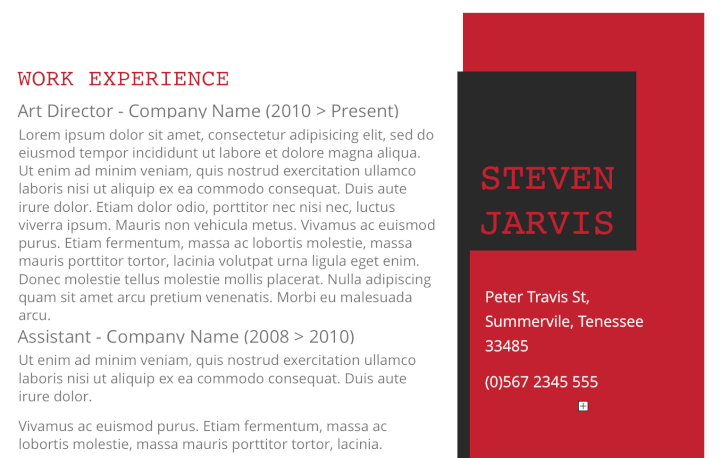 You'll wake up a drowsy recruiter with this red and black template. Download
28. Fancy emerald resume template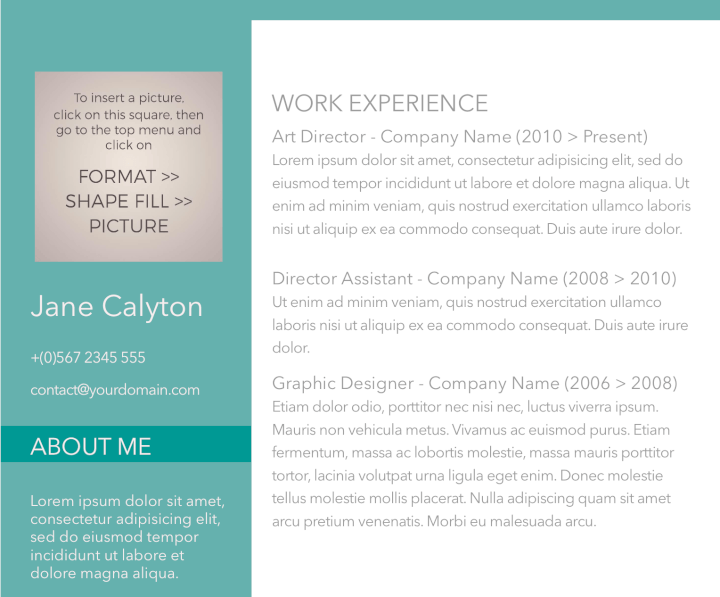 Feeling blue? A hiring manager sure won't after checking out this resume template. Download
29. Simple resume template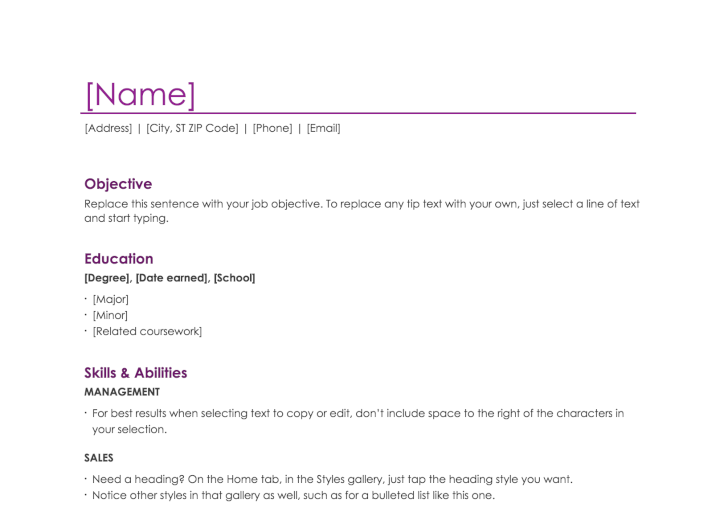 Don't let this simplistic resume fool you; it can help you go far in your job search. Download
30. Splash of blue resume template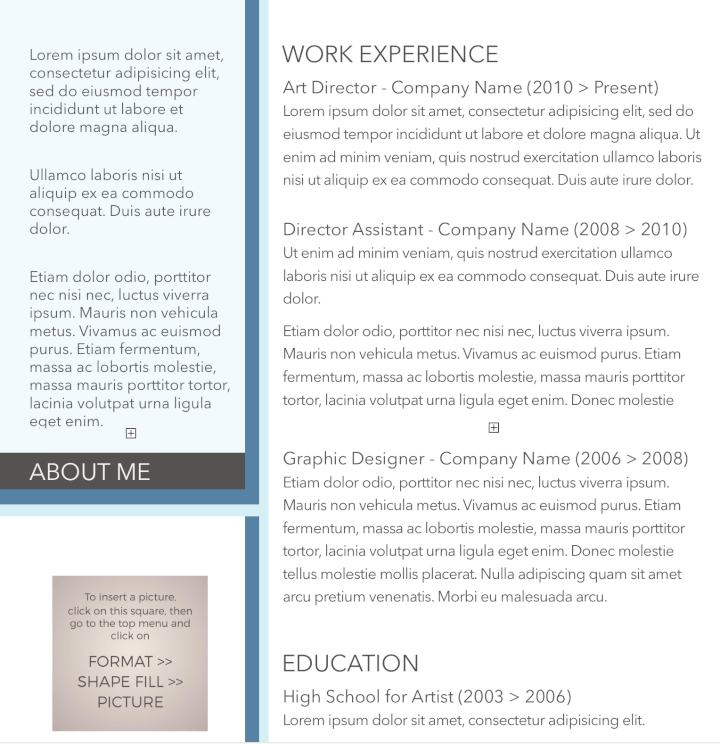 This template flips the typical resume setup on its head, which could work in your favor during the application process. Download
31. Creative resume template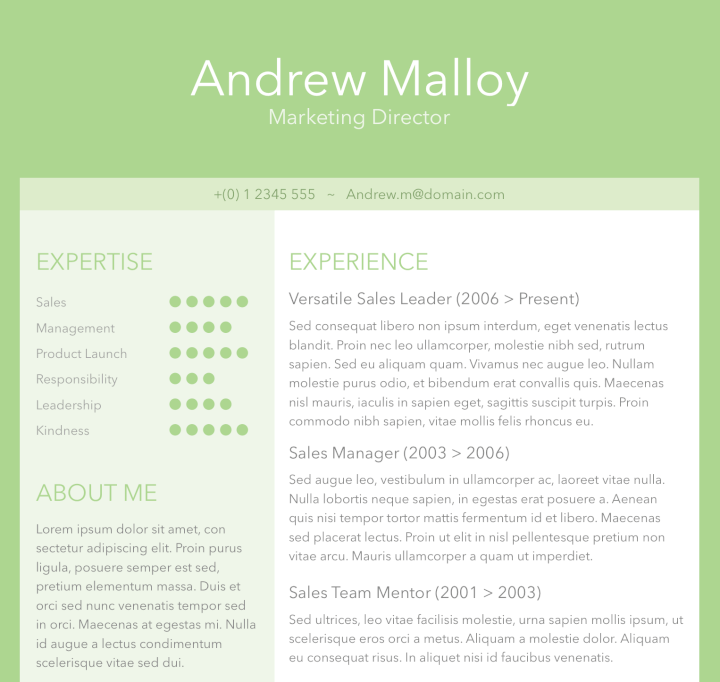 The color's a little unorthodox, but now's not the time to bore recruiters. Download
32. Mint resume template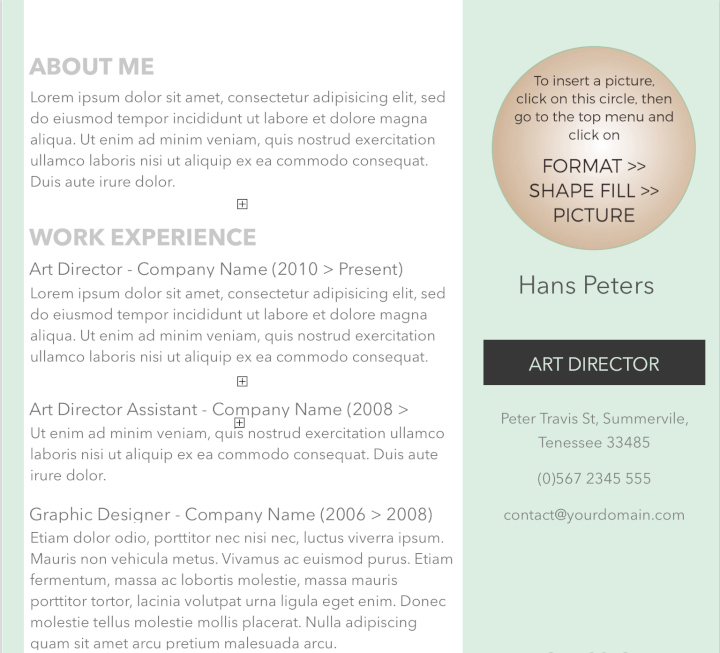 This resume is so cool, recruiters will be stunned with amaze-mint (get it?). Download
33. Purple resume template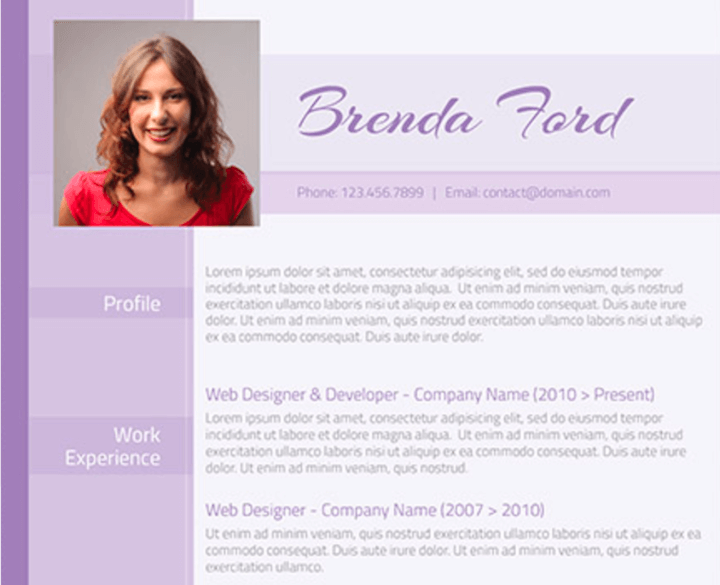 Purple is an unconventional resume choice, but it may serve you well in some professions. Download
34. Yellow resume template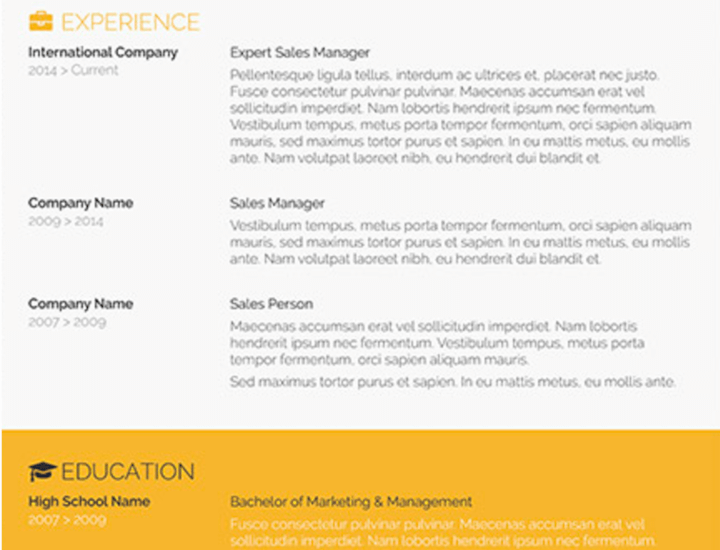 This resume's surprise is the pop of color at the bottom. Download
35. Classic resume template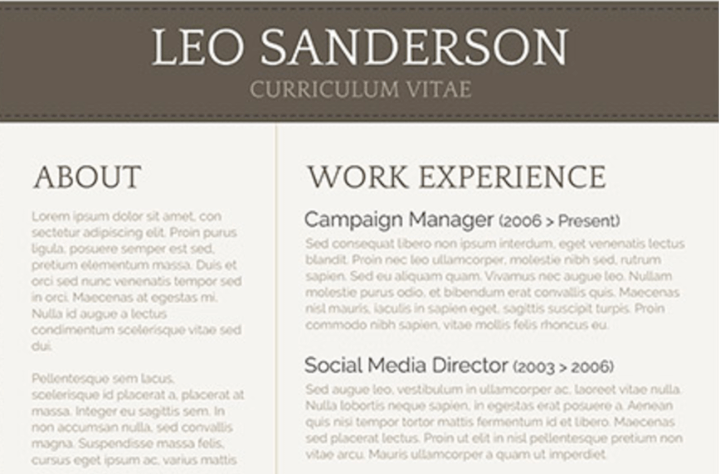 This design's a little more classic than others but still has an interesting neutral color scheme. Download
---
Looking for PSD resume templates instead? We've got you covered:
---
36. Simple pink resume template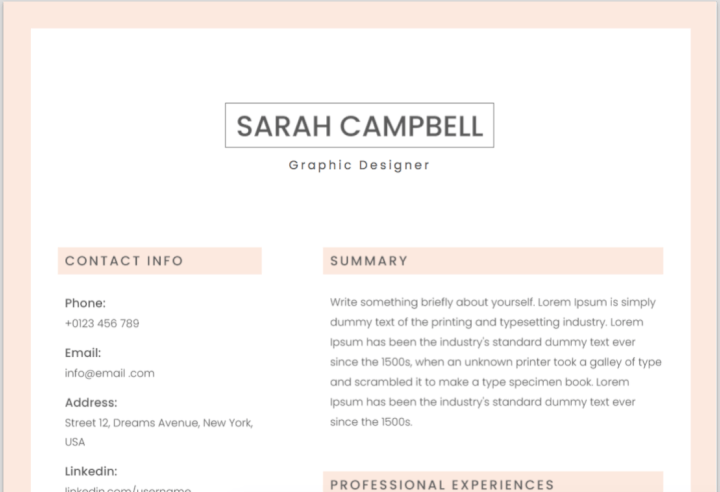 This resume template includes a summary section, which is ideal if you are changing careers or have recently graduated. Download
37. Creative profile resume template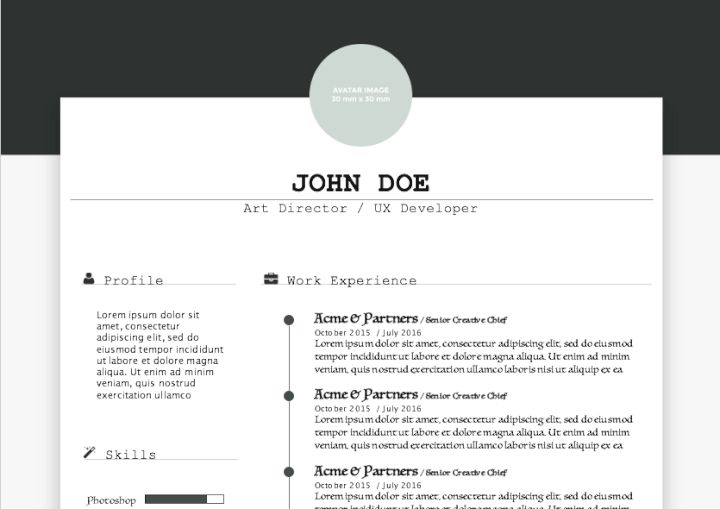 This template is particularly customizable – the header image, activity icons, and fonts can be changed fairly easily (especially if you're proficient in Adobe Illustrator or Photoshop). Download
38. Dark sidebar resume template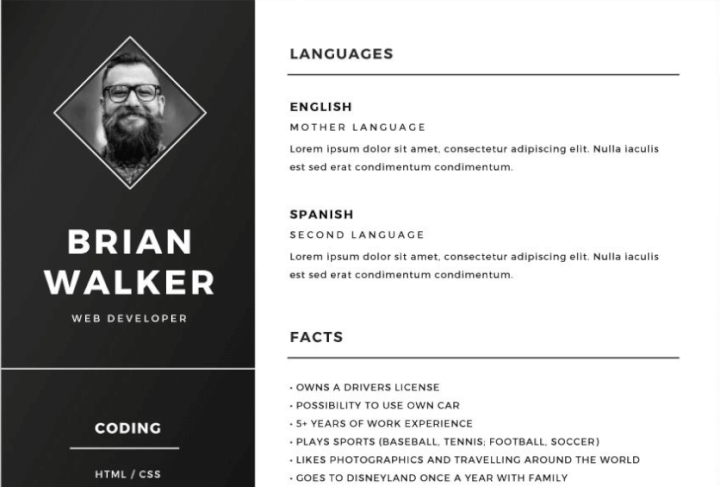 This sleek design keeps your personal branding consistent across the board. It comes with both a resume and cover letter template. Download
39. Light resume template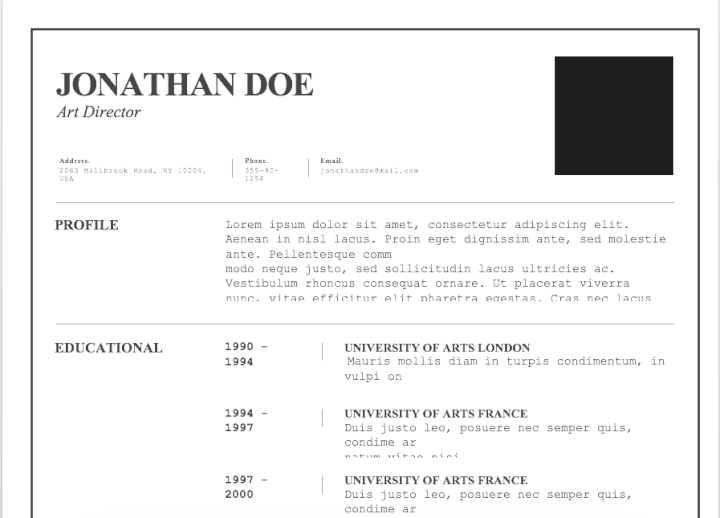 If you want a creative resume that isn't too colorful, look no further. This light resume template features clean lines and ample white space to let your credentials shine. Download
40. Colorblock resume template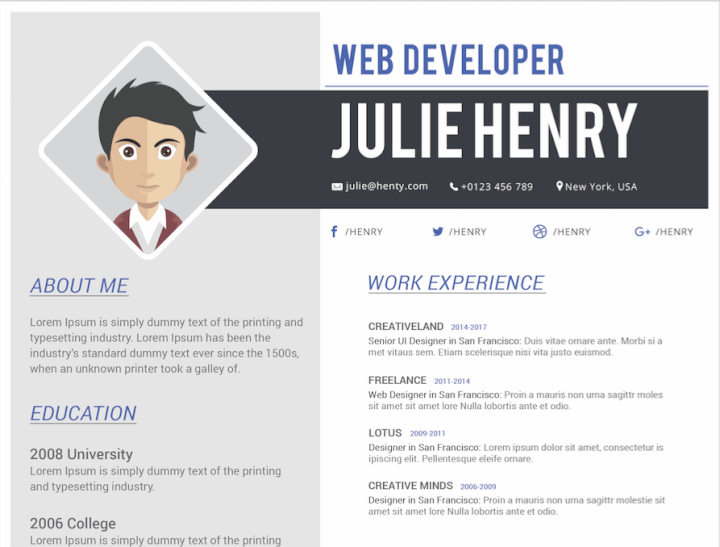 This colorblock template is ideal for creatives who want their resume to stand out. Download
41. Minimalist resume template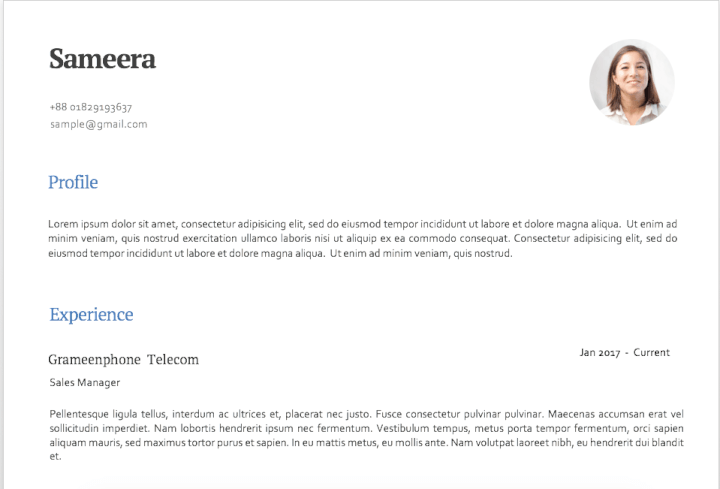 If you're looking for a role in a more formal industry, this template is ideal. Its text-centric layout coupled with colored headings makes it professional, but not too serious. Download
42. Bold Blue resume template
Ideal for jobseekers who have a myriad of information to present. There is a section for a summary, education, experience, awards, skills, social media, and contact details. Download
43. Appleseed resume template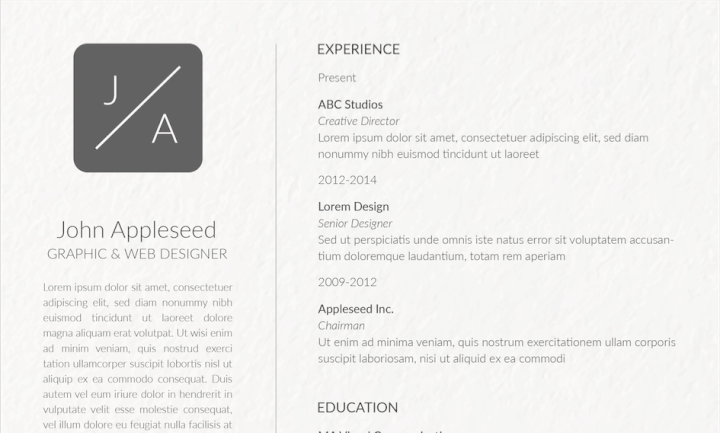 This clean template has a section to chart your skillset. Download
44. Timeless resume template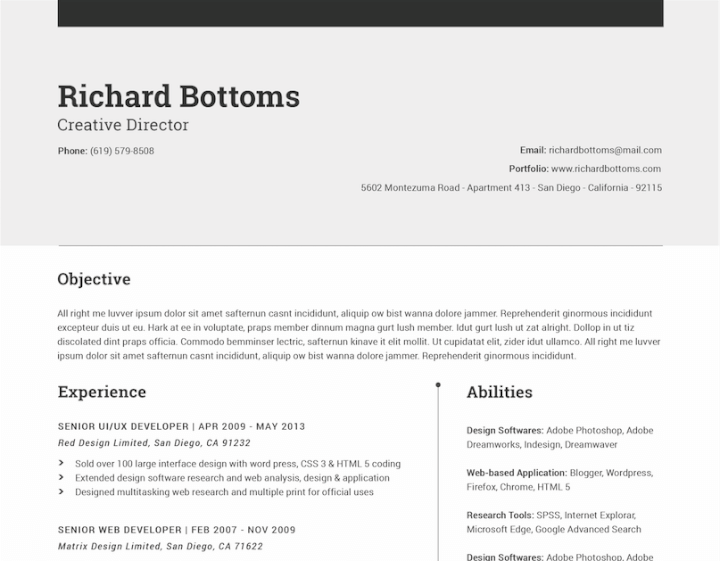 It's named the 'Timeless' template, and it's easy to see why. The understated, yet elegant, layout is something you can use throughout your career. Download
45. Modern resume template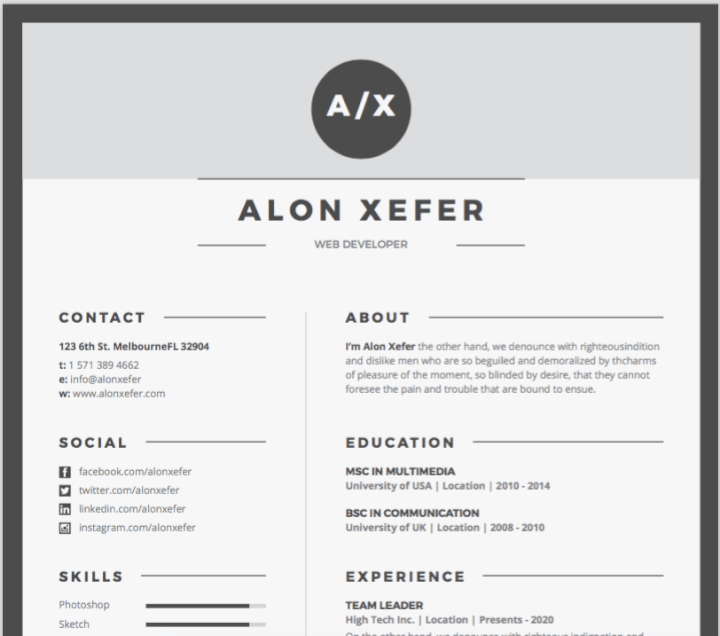 The large heading font and logo makes your name stand out more. Download
46. Colorful infographic resume template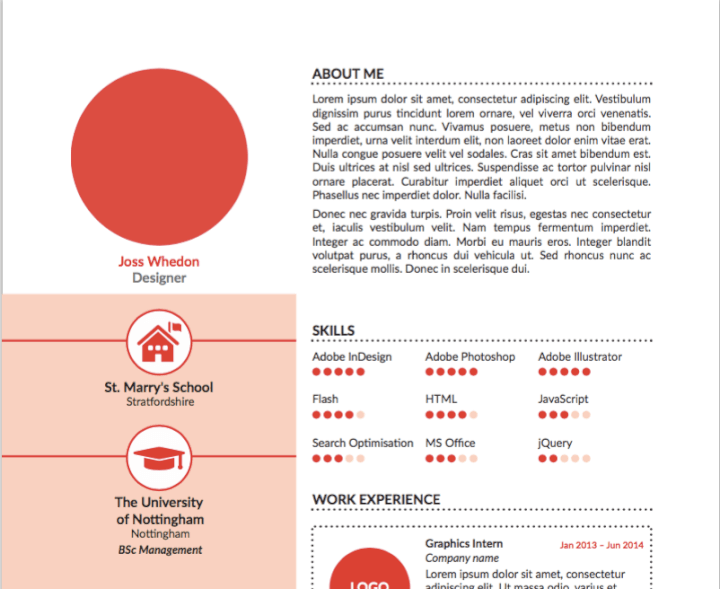 Best suited for jobseekers in less formal fields. Download
47. Mint block resume template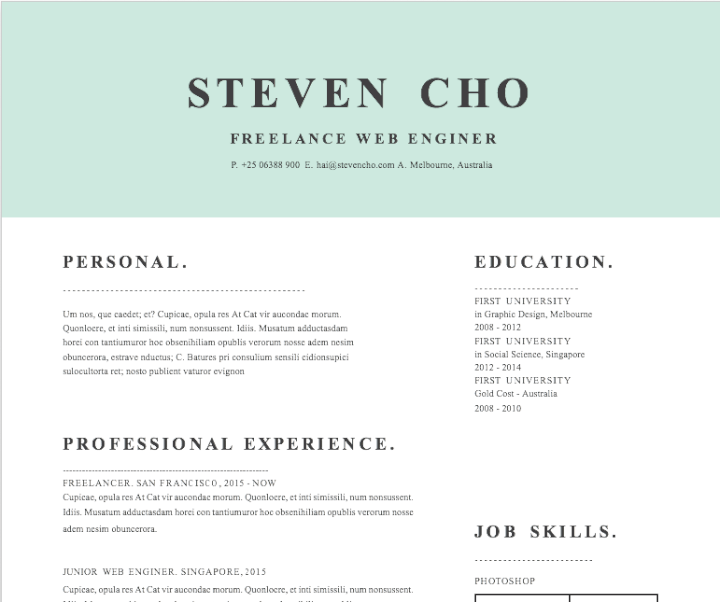 This stylish resume features a calming blue header and comes with a matching cover letter template, too! Download
48. UX resume template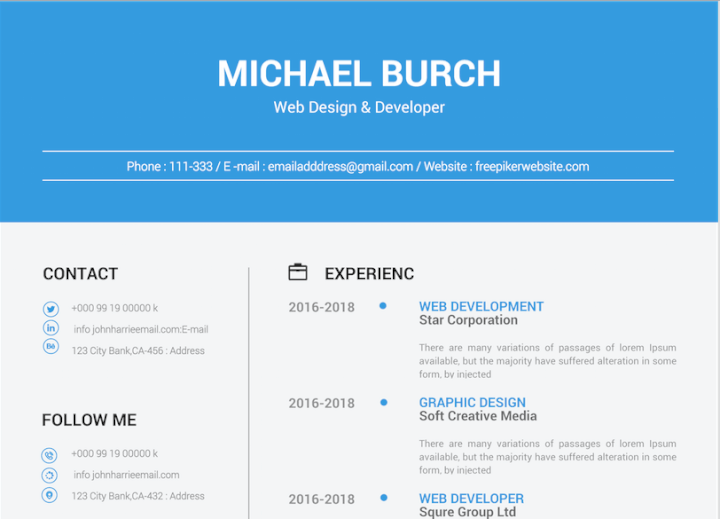 You can use icons and progress bars to visually demonstrate your skill set, language ability, and hobbies. Download
49. Venn diagram resume template
This template features a unique way of presenting your professional skill set – a Venn diagram! It also comes with an accompanying portfolio and cover letter template. Download
50. Monochrome resume template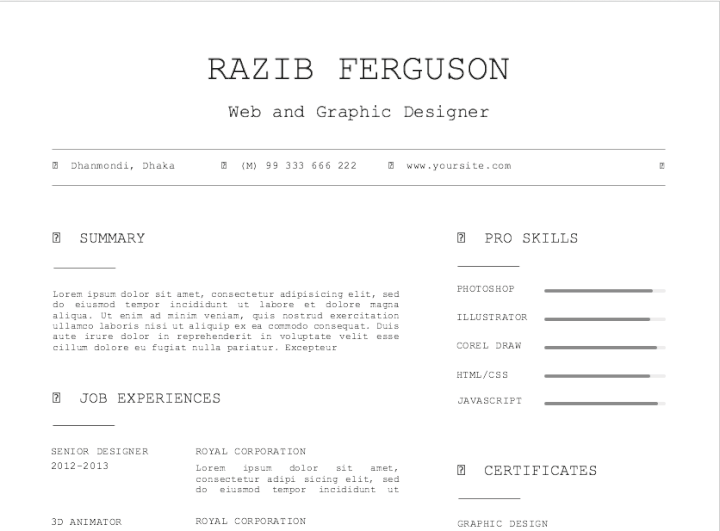 This comes with an accompanying cover letter template – perfect for design-minded employers and jobseekers. Download

Download your free Word resume templates
Need a variety of resumes at your fingertips? We've put together a selection of the best free resume templates in one easy download below. And don't forget to check out our handy cover letter template too!
Get your free resume templates
Professional templates perfect for any industry
Get the skills you need to land the job
If you really want to impress employers, you need the right skills. GoSkills offers a range of bite-sized business courses taught by award-winning instructors to teach you the practical skills you need to thrive in today's workplace.
Learn some of the most in-demand skills that many hiring managers expect to see on your resume with our on-demand online training. Master Microsoft Word, become an Excel ninja, start managing projects like a pro, or learn to code – the choice is yours.
If you're interested in building your resume using another Microsoft product, look no further than this Excel Resume builder.
Start your 7 day trial today to get FREE access to ALL courses on GoSkills!
Please login or sign up to comment
Michael Liguori

This is stupid why can't I download them form the web page. #fakenews

Alex

Great article, but please never add photo to your resume! It's a huge no-no. I would also recommend to check the www.fullstackresume.com service to build your Full Stack Resume in less than 30 seconds. Instead of writing all the content by yourself the service will generate it for you based on your unique experience using minimalistic A/B tested template.

Muhammad

Fantastic collection, I like it. Find few more free and premium templates in Microsoft Word here: https://usedtotech.com/templates/

ResumGo

Thanks for this nice selection of resume templates... However, I would like to introduce you to a brand new website that offers a whole collection of free resume templates: https://www.resumgo.com/ ResumGO is more than 50 free resumes available in several formats: DOC + PPTX + KEY + Google Slide Hoping that it can help your community…

GoSkills User

Make a free resume, get multiple CV exports and apply on as many jobs as you want! https://jobee.pk/account/register it's a completely free resume builder tool/website with different resumes templates

Ryan Walsh

You rock! But, you MUST already know that. =) I hope you have a great rest of your summer. Thank you.

Alejandro Rodríguez Suárez

Thanks Lily! I fould also this website https://www.my-resume-templates.com with Free Resume Template for Word.

Abid

I would like to request to include few more templates from another free web resource; http://www.wordstemplates.org/category/resume-templates/