Prepare to get certified with Lean Six Sigma courses online
Lean Sigma qualifications are highly valued throughout a number of industries, resulting in higher pay and better job prospects. Learn the time-tested methodologies, principles, and tools to lead a Lean Six Sigma project with our expert-led Lean Six Sigma courses online.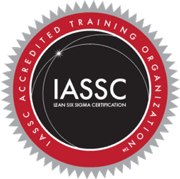 Instructed by veteran business leader and certified Black Belt, Ray Sheen, the courses are designed to prepare you for the International Association of Six Sigma Certification (IASSC) Yellow Belt, Green Belt, and Black Belt exams. The IASSC has reviewed and accredited all GoSkills Lean Six Sigma courses. Our Yellow, Green, and Black belt courses have been accredited by PeopleCert.
You can also earn contact hours or PDUs from the courses to put towards gaining or maintaining certification with the Project Management Institute (PMI).
All GoSkills Lean Six Sigma courses online feature bite-sized video lessons accompanied by a quiz and practical exercise, meaning that you can test and apply your know-how as you go along.
Browse courses below and start your journey to success with this proven improvement process methodology.