Every engineering project relies on the combined expertise of countless people. Your firm's well-oiled machine falls apart without careful adherence to guidelines, regulations, and expectations.
To keep your experts on the same page, a reliable learning management system is crucial.
While many options exist, you'll find precious few meet the strict expectations of the engineering field. Fewer still qualify for the unique needs of your firm.
This article shows you how to choose the best LMS for engineers. You'll learn the different types, needs to consider, and features to look for.
Understand different LMS models
Different types of LMSs exist, varying widely in purpose and structure. In this section, we'll break down the main differences among them.
Cloud-based vs. On-site
Cloud-based
A cloud-based LMS exists fully in the provider's server network. They're SaaS-based, no-hardware solutions with a set subscription fee for access.
GoSkills LMS, for example, is cloud-based. This model offers:
Flexibility. No complex setup is required to upgrade a cloud-based system.
Safety. Unlike legacy options, cloud-based LMSs offer top-quality security from a dedicated team.
Effortless migration. It's a breeze to migrate your data to cloud systems if you're using an in-house solution. Many providers will handle this for you.
Future-readiness. With a cloud-based LMS, you won't have to worry about outdated technology (thanks to constant provider upgrades).
On-premise
LMSs have largely moved to the cloud, but some on-premise options still exist. Their main advantages are one-time pricing and compliance with closed-system security regulations.
In-house systems can be useful to some engineering firms, but most can't manage the maintenance.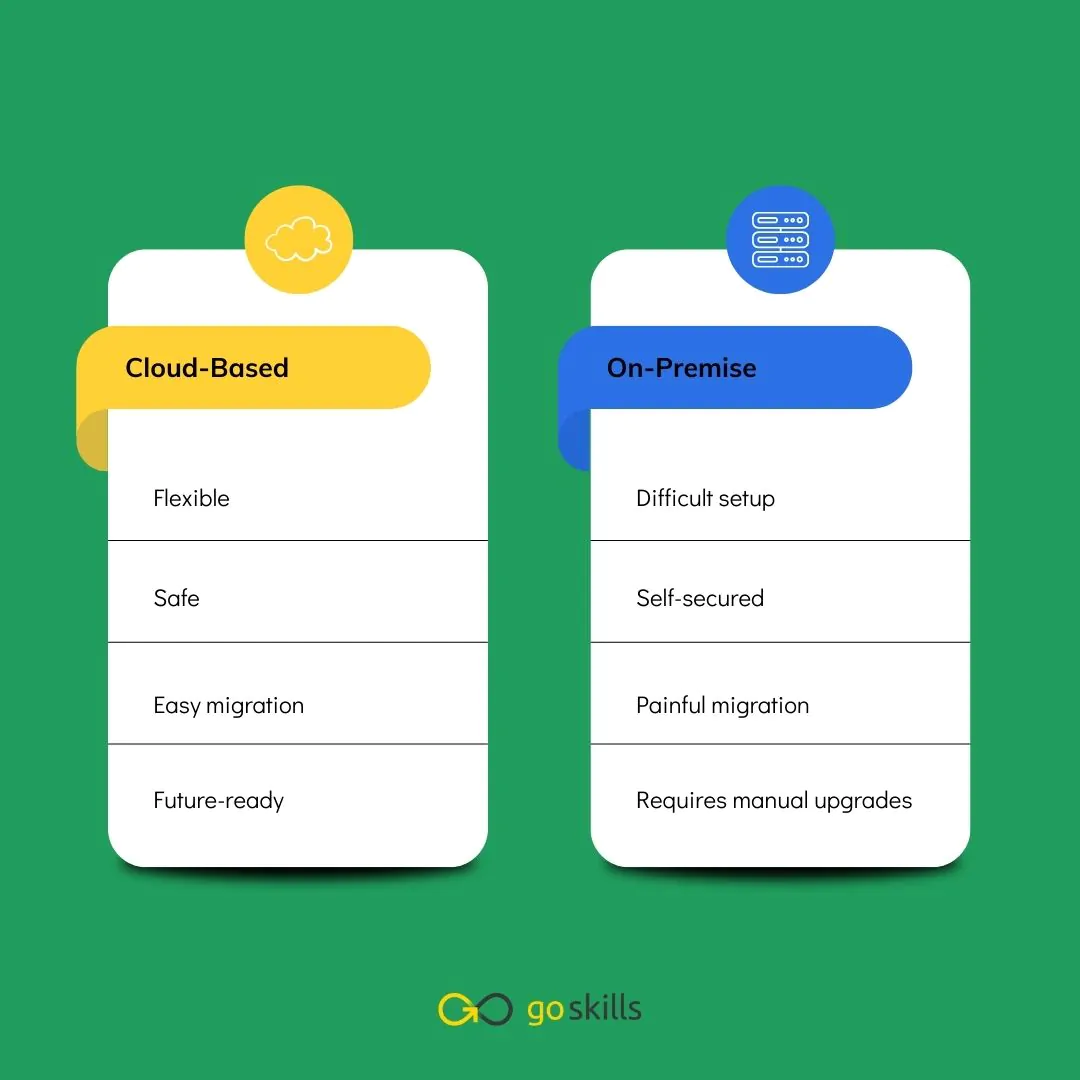 Open source vs. Commercial
Open source
An open-source LMS is a free resource, usually developed as a public project.
While they're open to everyone without cost, they require you to install, host, operate, and upgrade them yourself. Open source platforms aren't friendly to new users either, so you'll need an experienced developer to help you.
These complications generally cancel out any perceived savings from free licensing.
Commercial
Unlike open-source platforms, a commercial LMS is closed-source and offers robust features and technical support. That said, they're only as reliable as their provider.
To pick an ideal commercial option, consider these factors:
Quality technical support. Only the provider can fix commercial LMS bugs and crashes. If they don't provide good support, your system could become unusable. Setup requires good support as well.
SCORM compliance. SCORM provides software standards for eLearning products. This makes creating, uploading, and launching courses on your LMS easy.
Transparent pricing. Choose a platform that outlines all fees upfront. Many commercial options seem cheap but have hidden fees.
Identify priority needs
Your engineering team needs an LMS that fits your specific needs. For example, a basic solution won't work for a business with 1,000 consultants. Consider things like:
Company size. Some LMSs work for small businesses, others for large ones. Still others, like GoSkills, are for anyone.
Setup. Do you want to install and maintain your own LMS or outsource it to a SaaS provider?
White labeling. Do you want to host the LMS on your domain, use your branding, and customize user dashboards?
Budget. If cost is a main concern, many platforms won't fit your budget.
Consider key features
Every LMS serves a different audience. Some are small, barebones solutions for small companies. Others provide enterprise-wide learning management to large organizations.
But regardless of your firm's size, certain LMS features make learning more effective for everyone. Make sure your LMS has these functions: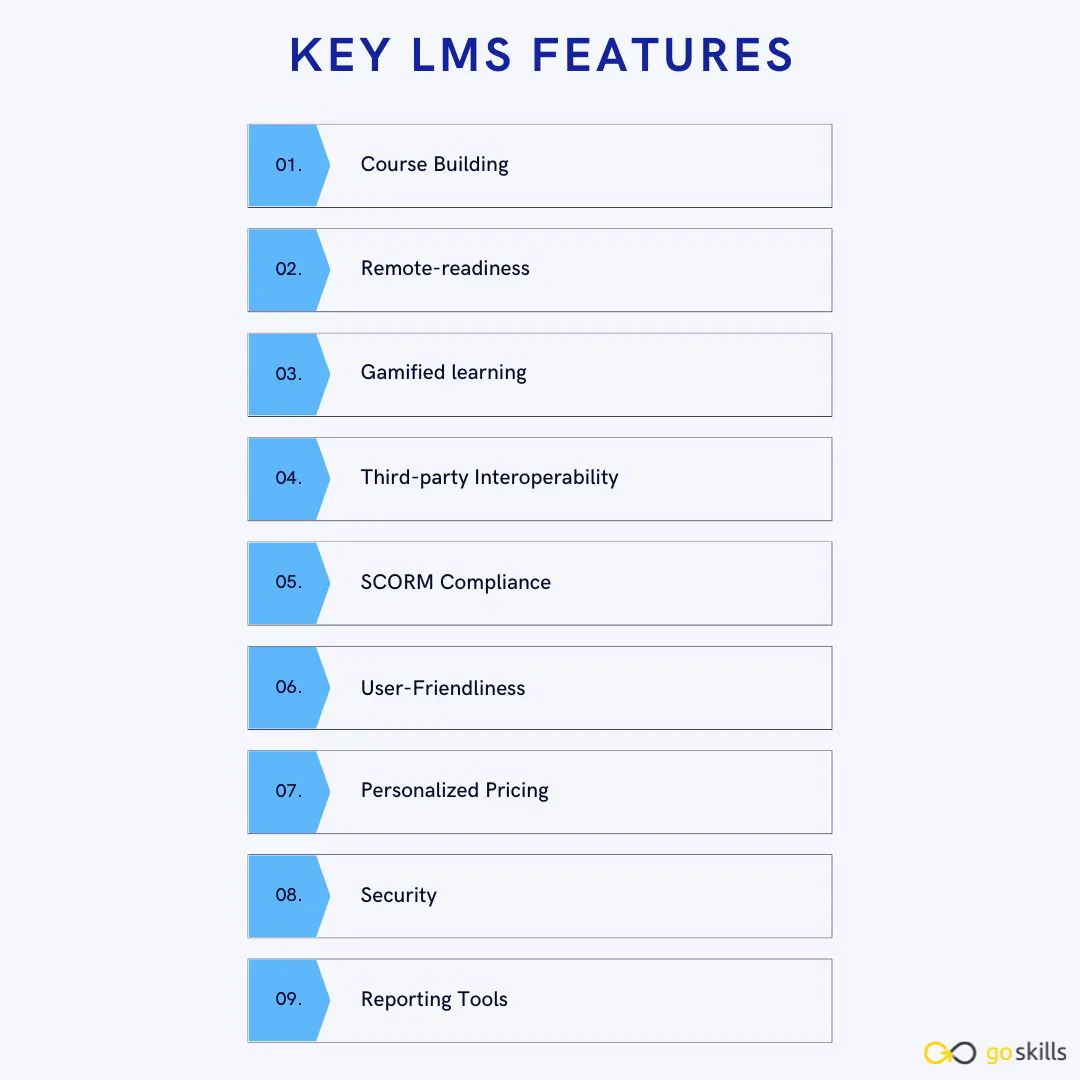 Course building
Using course builders, L&D professionals can create learning materials directly on their LMS.
Thanks to curated templates, anyone can make high-quality courses using videos, presentations, interactive content, and more.
GoSkills takes course building to new heights with features like:
Role-specific content
Certificates of completion
Interactive content, such as quizzes and flashcards
Other LMSs have course creation, but none offer as much customization as GoSkills LMS.
Remote-readiness
Remote work exploded in the wake of the 2020 Pandemic, with remote learning following suit.
This means your LMS must support multiple learning environments. Even if your firm mainly works in an office, you might also offer online training. Someday, you might move to a hybrid model where you only work in the office a few days a week.
Whatever your situation, choosing a remote-ready LMS gives you flexibility. Here's what you need to teach away from the office:
SCORM and xAPI compatibility. Integrates easily with other eLearning software.
Gamification. Boosts engagement in remote learning.
Simple navigation. Accessible material minimizes frustration.
Accessibility functions. Creates a disability-friendly classroom environment.
Gamified learning
Many companies struggle to keep their employees motivated during training. Unlike the traditional "do it or you're fired," gamification makes training fun so employees want to stick with it.
In L&D, you can use game design elements (points, rankings, etc.) to enhance learning comprehension. GoSkills LMS offers full course gamification, incorporating features like:
Log-in streaks
Progress bars
Time tracking goals
In-game currency prizes
Customizable rewards for status tiers
It's a complete solution for engaging trainees effectively.
Third-party interoperability
Third-party software, such as CRM and analytics tools, should integrate with your LMS. This opens up countless possibilities, like:
Content personalization powered by CRM systems like Hubspot and Zoho
Improved performance analysis using Google Analytics and other analytics apps
Adding existing content to online courses with YouTube
API access so developers can build apps based on LMS data
Engineering firms using an LMS without third-party support miss out on massive potential.
SCORM compliance
Standard Content Object Reference Module (SCORM) is an exchange protocol between a course and an LMS. Courses send and receive commands in this language, making it universally compatible with any SCORM-compliant platform.
This makes your content:
Reusable. SCORM lets course developers create content once and reuse it across different platforms.
Secure. Test result legitimacy is guaranteed with SCORM-based content.
Consistent. SCORM makes learners follow a fixed path through their courses by design.
User-friendliness
Any LMS must be easy to use. Learners spending hours figuring out how to navigate your course have no time to focus on your content.
In the past, people hated LMSs because they were hard to set up and lacked now-essential features, like reporting tools to track employee training. Modern LMSs like GoSkills break the mold by providing:
Customized dashboards
Smooth navigation
Mobile-friendly design
Quick and easy course building
Gamification
And more
User-friendliness eliminates any friction in the learning process, letting users focus on furthering their careers.
Personalized pricing
Pricing plays a major role in choosing an LMS due to the sums involved.
Since LMSs serve so many learners at once, they quickly rack up huge sums. Bigger companies might pay a fortune to have thousands of learners on their subscriptions.
These are the main pricing schemes you'll find:
Pay-per-learner. Pay for a fixed number of learners, regardless of activity.
Pay-per-active-leaner. Only pay for active employees each billing cycle.
One-time licensing. Pay for software licensing once (usually for open-source models).
Pay-as-you-go. Only pay for what you use (learners, courses, etc.)
If you don't want to overspend, pick an LMS that only charges for what you use.
GoSkills saves clients thousands by only charging for each learner. They can reduce or increase learner accounts whenever they need to adjust their scale.
Security
Airtight security is crucial for your LMS since it stores employee information and company secrets. Look for:
SSL encryption
Multi-factor authentication
User permissions
IP Blocking
SCORM compliance
ISO compliance
GDPR compliance
Complex password requirements (no "ABC123" passwords)
Regular updates
Data backups
Single Sign-On (SSO)
TLS and HTTPS
Antivirus
By prioritizing security, you avoid disastrous and costly data leaks. Engineering firms should prioritize systems in compliance with standards like SCORM and Tin Can.
Reporting tools
LMS reports provide insight into the training process through data collection and analysis. In effect, they tell you how effective your L&D is, plus how to improve it.
You can do a lot with reporting tools:
Content analysis. Understand your training effectiveness through interaction behavior, time spent on modules, and testing results.
Progress monitoring. Learn how quickly employees complete your courses.
Administrative reports. Provide investors, directors, HR execs, and other administrators with measurable training data.
Employee issue recognition. When an employee makes a mistake, reporting lets you trace the blunder to training issues. Imagine a marketing employee breaks a privacy law, which you trace back to their failure to complete privacy compliance training.
Choose your LMS
Choosing the best LMS for your engineering firm isn't simple—it requires tons of research and consideration.
Identify your core needs first, as this will eliminate platforms that don't fit them and narrow down your choices. Next, filter your final options based on their feature set. Some platforms might seem extensive at first, but a closer look reveals they lack all the features you want.
But the real secret to picking the best learning management system for engineers? Choosing GoSkills LMS.
As an industry leader in secure, efficient employee training, GoSkills LMS lets you educate your workforce to the highest standards. Book a demo today and see how we transform learning and development firsthand.
A better way to train
It's easier than ever to track and manage your team's training with the GoSkills LMS.
Start for free