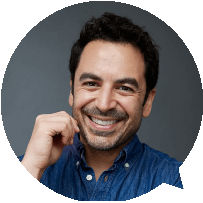 Eric Vasquez
GoSkills.com
Art Director and Designer
Awards & achievements:

Visual Designer for Major League Baseball
BA in Graphic Design from the New England Institute of Art in Boston
Founder of Teach Me To Design

Expertise & interests:

Adobe Illustrator
Adobe Photoshop
Adobe InDesign
Adobe After Effects
Graphic Design
lllustration
---
Eric is an Art Director, designer and multidisciplinary artist who has worked for a variety of high profile clients including Nickelodeon, Oxygen, World Wrestling Entertainment, Spike TV, and Major League Baseball.
Eric has been in two art exhibits including The Art of Fashion at Webster Hall and he is a member of two international art collectives - Cosmosys and the Luminarium. He is an active member of the online design community with many of his designs being featured on popular design blogs, and has also had his work published in Advanced Photoshop Magazine.
Eric is the founder of Teach Me To Design, where he helps aspiring designers by giving them the skills they need to take control of their personal projects, brands, and businesses. Eric works and lives in New York with his girlfriend and their awesome Boston Terrier/Chihuahua: Lenox.
Art is more than learning the tools we use to create, it's about bringing your ideas to life.