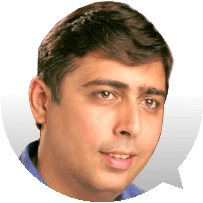 Geetesh Bajaj
GoSkills.com
PowerPoint MVP
Awards & achievements:

13 Microsoft MVP (PowerPoint) Awards
Author of Cutting Edge PowerPoint for Dummies
Author of Office 2008 for Mac All-In-One for Dummies
Author of Office 2011 for Mac All-In-One for Dummies

Expertise & interests:

PowerPoint
Office Systems
---
Geetesh Bajaj is an awarded Microsoft PowerPoint MVP (Most Valuable Professional) for over a decade now. He has been designing and training with PowerPoint for 15 years and heads Indezine, a presentation design studio and content development organization based out of Hyderabad, India.
Geetesh believes that any PowerPoint presentation is a sum of its elements – these elements include abstract elements like concept, color, interactivity, and navigation – and also slide elements like shapes, graphics, charts, text, sound, video, and animation. He explains how these elements work together in his best-selling book Cutting Edge PowerPoint for Dummies. He has also authored three subsequent books on PowerPoint 2007 for Windows, and two on Microsoft Office for Mac.
His Indezine.com site attracts more than two million page views each month and has thousands of free PowerPoint templates and other goodies for visitors to download. In addition, Geetesh also issues a bi-weekly PowerPoint newsletter on Indezine.com that has over a hundred thousand subscribers.
Geetesh runs another PowerPoint related site at Ppted.com – this site provides designer PowerPoint templates.
He has authored content for the Microsoft, Presentations.com, Presenters University, TechTrax, Infocomm and other web sites, undertakes training and consultancy for PowerPoint, creates custom PowerPoint presentations and templates and is a featured speaker on presentation technologies.
In addition, Geetesh has also been part of the PowerPoint Live industry event since its conception and a contributing editor to the Presentations magazine for which he has authored several Creative Techniques columns.
PowerPoint is the glue that holds so much together that you can see – your message and your supporting content – but it is also something that holds your structure, story, presence, and flow in place – and that's something you cannot see, just experience!

– Geetesh Bajaj