Supercharge employee productivity with world-class business courses
Award-winning training courses with an easy-to-use LMS to increase your team's productivity.
Rated 4.8 out of 5 stars on G2
GoSkills has been selected by G2 as a Winter 2023 High Performer in the online course providers, technical skills development, and learning management systems categories. We are a High Performer in several categories including small business, mid-market, enterprise, and for the Asia region. As an online course provider, we also earned recognition as Momentum Leader and Easiest to Do Business With. We've also been offered the Users Love Us badge for consistently receiving high ratings from customer reviews.
Trusted by more than 7000 organizations worldwide




---
Extensive course library
Unlimited 24/7 access
110+ business courses
More than 3,000 bite-sized lessons
Over 200 hours of expert-led video content
Taught by award-winning instructors
Just-in-time learning
Easy-to-digest content is available on
any device, right when you need it.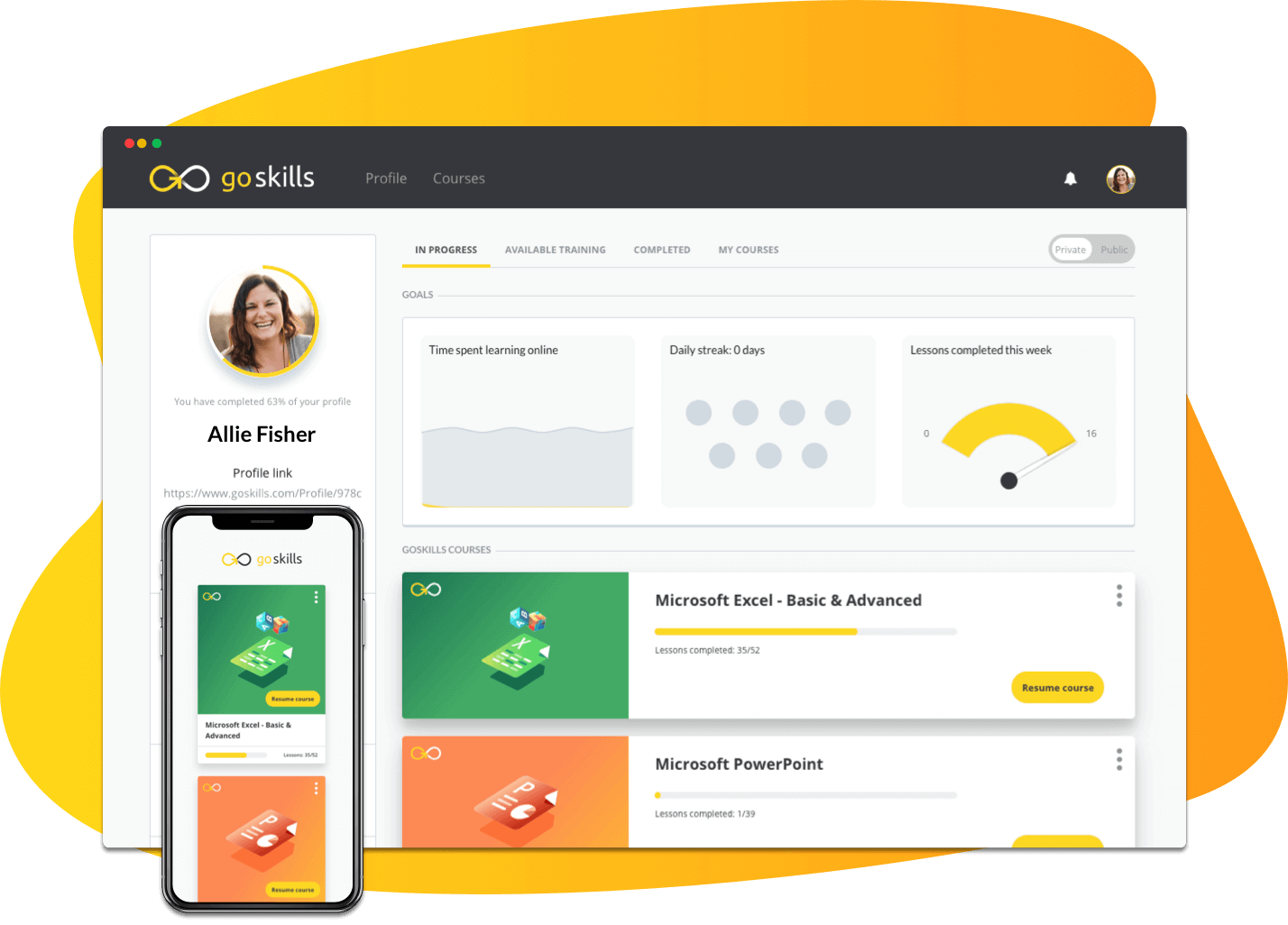 Bite-sized lessons
All courses are broken down into 3-5 minute video lessons, followed by a short quiz. This approach has been shown to increase retention by 20% and learning speeds by 28%.*

Gamification
Make learning fun with time-tracking goals, daily streaks, GoSkills coins and personalized rewards. Tailor your own reward system when learners reach status tiers!

Reports & Analytics
Get extensive reporting and analytics for both individuals and teams. Track time spent learning, test scores, completions, engagement and measure improvement.
Have a small team?
You can get started immediately.
Includes a 14-day refund guarantee.
Included:
Unlimited access to all GoSkills courses
Learners can take courses anytime, anywhere
Bite-sized lessons to help retention and learning speeds
Gamification to make learning fun
Insightful reports to make better decisions
GoSkills' award-winning Learning Management System (LMS) to manage all your training needs in one place
Exclusive access to our Course Builder, where you can seamlessly create and manage your own courses
FAQs
What do I get with a GoSkills Courses subscription?
GoSkills Courses gives you everything you need for effective employee training and development. You will get access to a library of 110+ award-winning courses, user-friendly reporting and analytics, and responsive support. You can choose from monthly or yearly subscription plans, and pricing is completely transparent with no minimum learners, no lengthy contracts and no hidden fees.
Can I integrate with my LMS?
GoSkills provides seamless LMS integration. You can bring GoSkills courses to your LMS simply and easily. Contact us or email us at support@goskills.com for more information.
What courses are available to my team?
Your organization will have access to GoSkills' growing library of 110+ award-winning courses to accelerate your online employee training.
The courses fall under nine categories, which are: Microsoft Excel, Microsoft Office, Soft Skills, Office Productivity, Finance, Project Management, Development, Design, and Lean Six Sigma.
The courses are expert-led, bite-sized, and come with a variety of learning aids, including quizzes and practice exercises.
Can I use GoSkills at my school?
Yes, you can. We work with several schools, colleges and universities to provide GoSkills online courses to staff and students.
We provide flexible options for school administrators and teachers to provide access to students. You can do this either by purchasing licenses for your students, or allowing students to purchase and sign up themselves as a prerequisite to your classes.
You can contact us at support@goskills.com or call us on +1 650 822 7732 to discuss options for how this might work for you.
How does micro-learning help retention and learning speeds?
Microlearning improves retention for three key reasons: courses are accessible on-demand, modules are short, and lessons are designed to be actionable.
As opposed to classroom-based training, microlearning can be accessed online at any time and anywhere. This means information can be obtained at the point of need, thereby increasing its stickiness.
Our brains aren't made to maintain focus for long periods. Microlearning accommodates that with short lessons designed to match our working memory capacity. This prevents cognitive overload, which is especially useful when learning about difficult topics.
Finally, bite-sized lessons are created with a specific learning outcome in mind. This sets up each lesson to be highly actionable, and enables your team to apply the knowledge they learned immediately on the job.
Can I create teams and assign courses to groups of people?
Of course! Our "Teams" feature allows you to create different groups of people (e.g. Finance team, Marketing team, or any grouping of individuals you like). You can then assign specific courses you would like each team to complete (e.g. Excel course for the Finance team). You can add as many courses as you like for each team. And individuals can belong to multiple teams.
This high level of flexibility allows you to assign courses to groups of people, and track the progress of each group easily.
Can I select specific courses for my team?
Yes! You can create a team and assign specific courses to the individuals within that team. Each individual learner will then see these courses under 'Recommended for you' on their learning dashboard when they sign in to their GoSkills account.
How can I make better decisions with reporting?
The Reports dashboard gives you access to a variety of insightful training statistics that can inform your decision making. At a glance, you're able to identify top performing learners and teams, lessons and courses completed, test scores, as well as the most impactful type of content.
What is GoSkills' award-winning LMS?
GoSkills' award-winning Learning Management System (LMS) is a cloud-based, mobile-friendly, and convenient solution that utilizes proven training techniques to advance your team's capabilities.
The platform allows you to assign courses to individuals and teams, and track their progress and qualifications with robust yet easy-to-understand reporting.
Aside from providing access to the GoSkills course library, you can also easily create your own internal training courses or import third-party courses using SCORM or xAPI.
The GoSkills LMS has received many top honors including Gold and Silver in Brandon Hall's Excellence in Learning Management Technology awards, ranked as a Top Learning Management System by Capterra and eLearning Industry, and named an exceptional Corporate Training Solution by EdTech Digest.
Can I try the courses before starting a subscription?
Yes! You can start a free trial without a credit card required. Your free trial will allow you to check out the GoSkills training platform and to preview the entire course library. You can invite learners under the free trial, and each learner will be able to set up their own account and get access to 10 free lessons from every course in the GoSkills library.
Can I partner with GoSkills?
Yes, you can. We have several partnership arrangements to provide GoSkills courses to your clients either as a reseller or an affiliate.
If you're a corporate training provider or online courses provider, you can complement your existing training program by providing GoSkills courses to your clients. Please contact us to learn more about being a GoSkills Authorized Reseller.
If you're a publisher or you have an online course catalog, you can link to GoSkills courses and earn cash for every referral by becoming an online affiliate. GoSkills is a merchant at Shareasale.com (merchant ID: 67055).
Can I speak to a real person?
Yes, we would love to hear from you! You can contact us at support@goskills.com or give us a call on +1 650 822 7732. A customer success manager will help you with any questions you may have.
Am I able to create my own courses?
With our new Course Builder, you can easily create and manage your own online courses. All you need to do is register for a team plan, you'll then gain access to your Creator portal, where you can start building modern, interactive and mobile-friendly courses that your learners will love.