Since 90% of offices use Microsoft Excel, getting certified in this tool can be highly beneficial. It shows employers that you are proficient, can easily perform Excel-related tasks in your job and that you are dedicated to self-improvement and lifelong learning.
Why should you get certified in Excel?
Microsoft Excel isn't just relevant for those in accounting or finance related roles. Excel is used in practically every industry, and if you possess the right skills, can open many doors for career growth.
Getting certified in the software can make you more efficient at your job and set you apart from other candidates. Here's just a few of the benefits you can expect from gaining an Excel certification:
Secure a competitive edge
The GoSkills Microsoft Excel certification will set you apart from your peers and give you the competitive advantage during job interviews. It shows hiring managers that you have the desired qualifications to do the job.
Increase your salary
Research shows that certifications can increase starting salaries. According to an RHI survey, being Certified in Excel will earn you on average 12% more than your non-certified counterparts.
Advance your career
Earning the Microsoft Excel certification from GoSkills demonstrates your initiative to improve your skills. Software is constantly changing and staying updated on the latest changes by earning your certificate gives you the confidence to succeed.
Recognized worldwide
Microsoft Excel is a tool that is used throughout the world in various industries. The Microsoft Excel certification from GoSkills is recognized throughout the world.
How to get your Excel certification online
The most convenient and cost effective way to get certified is to take an Excel certification course online.
GoSkills online Excel courses are broken down into bite-sized video tutorials, accompanied by exercise files and quizzes so you can immediately put your new skills into action. This microlearning format promotes information retention and allows you to zero in on skills that are most relevant and useful to you.
There are courses available for every skill level, whether you are a complete beginner, in need of a refresher, or delving into more complex tools for business intelligence and data analysis.
You will be taught by an expert - Ken Puls, 13 time recipient of the prestigious Microsoft Excel MVP award. This distinction is given by Microsoft to only the most exceptional Excel experts who share their incredible knowledge with the community.
GoSkills Excel courses are designed to be completed in your own time, at your own pace. How long it takes you to get your certification is completely up to you, and the amount of time you have available to learn.
Example certificate
You will be recognized for your hard work with an accredited Certificate of Achievement or Certificate of Training for your resume or CV or LinkedIn profile.
GoSkills courses are accredited by the Continuing Professional Development Certification Service. This means all of our courses have been examined and scrutinized to meet industry-wide standards for continuing professional development.
You can earn Continuing Education Units (CEUs) and Continuing Professional Development hours (CPDs) from all GoSkills courses.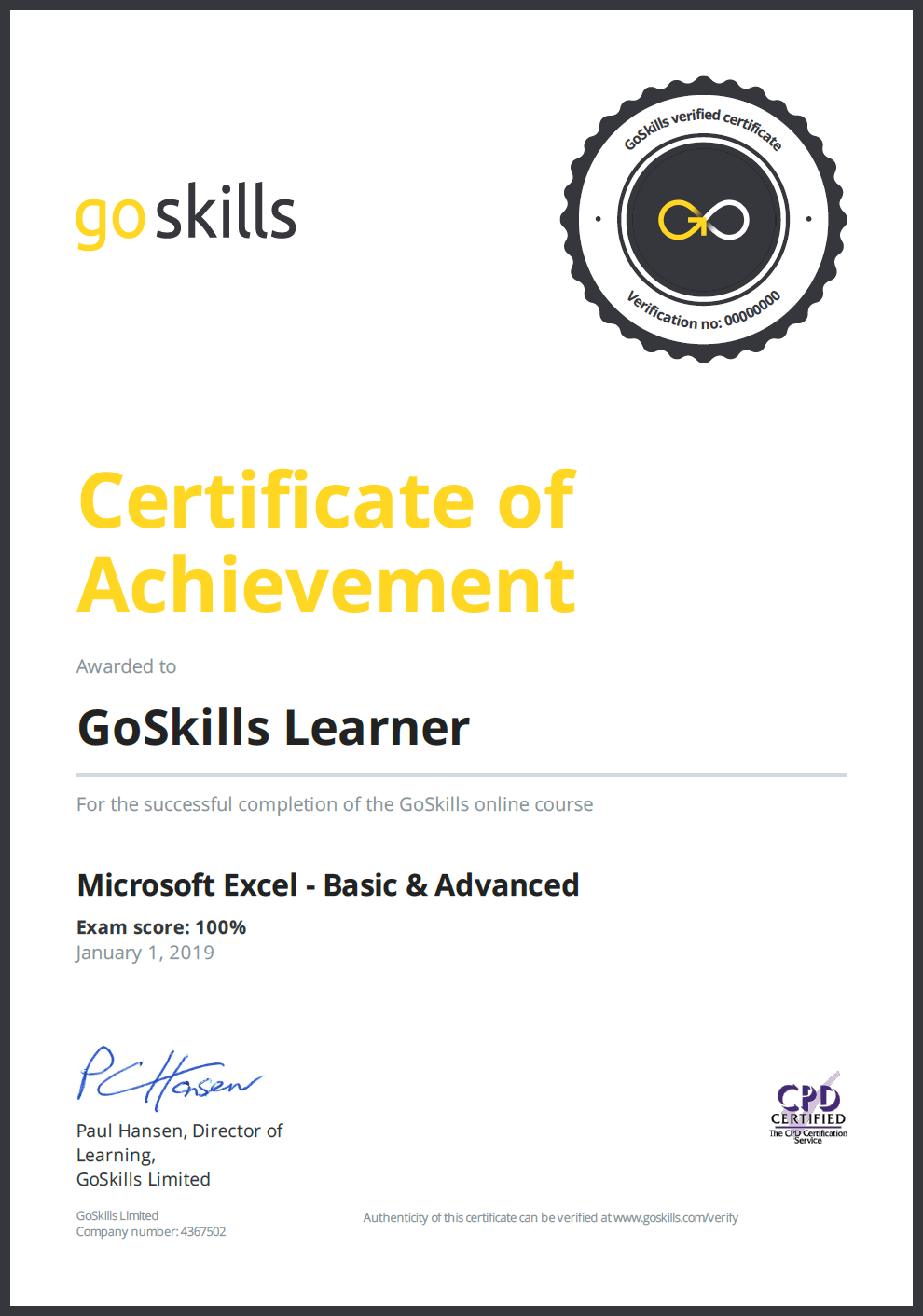 Gain the skills to propel your career forward
Are you ready to master Excel, and gain the sought-after skills to advance your career? Become a certified Excel ninja with GoSkills today.