Elevating your career can seem like an overwhelming challenge sometimes, but it's entirely possible with the right resources and commitment. So, in this article, we will share a story that will inspire you to start your online learning journey with GoSkills and three valuable tips on staying consistent.
How Chris Sanchez came across GoSkills
Chris Sanchez is currently one of GoSkills' most active learners. In 2019, he came across GoSkills while looking for Excel courses that could get him a certification. He tried our platform for free and enjoyed how the lessons were structured, so he enrolled in the yearly subscription.
Since then, Chris has run what we could call a "learning marathon"—he did run a real one, though, which was last year. Throughout his learning journey, he not only tried almost every single Excel course on our platform but also experimented with others like Finance for Non-Finance Professionals, Leadership Training, and even Introduction to SQL.
By taking all these courses, he was gaining more than just knowledge. He boosted his self-confidence by taking on challenges he knew he had the skills to tackle.
Having the ability to use Excel techniques and formulas to tackle projects my managers assigned me is something I will never forget.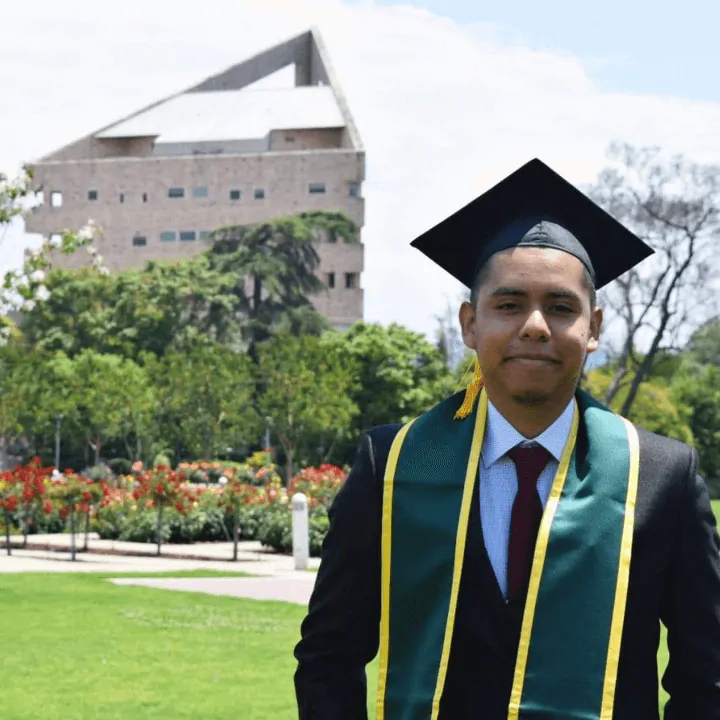 But you might be wondering how Chris completed so many online courses. The answer is a single action: setting a small fraction of his day to do it.
30 minutes of daily learning
While thirty minutes might seem like a tiny portion of your day, they're not insignificant. Learning for 30 minutes daily, five days a week, would add up to 600 minutes monthly. With that, you could watch bite-sized video lessons of GoSkills courses. Imagine what you could achieve in 3, 6, or 12 months.
Can you get a promotion by investing 30 minutes of daily learning time? Let's get Chris to answer this question:
I got the promotion largely because of the skills I could develop, thanks to the GoSkills courses I took. I set aside at least 30 minutes daily to invest in myself and my professional growth. Seeing how much this has helped me become a more efficient employee is a big motivation.
Now that you know the power of 30 minutes, another question arises. How can you stay consistent toward your goal of completing an online course?
Take note of the following three tips.
3 tips for (successfully) completing an online course
We acknowledge that remaining consistent can be a hard one. Here are three tips on completing an online course by making the most out of the gamification features in our platform.
1. Commit to a daily learning time
Setting specific and achievable goals is a cornerstone of effective learning. goals offer a clear path toward progress and help keep motivation high. Significant progress can be made over time by dedicating 25 to 30 minutes daily to learning—Chris is living proof of that.
At GoSkills, you can set a daily learning goal that fits your potentially busy schedule. The more time you decide to commit, the more coins you will earn if you meet it.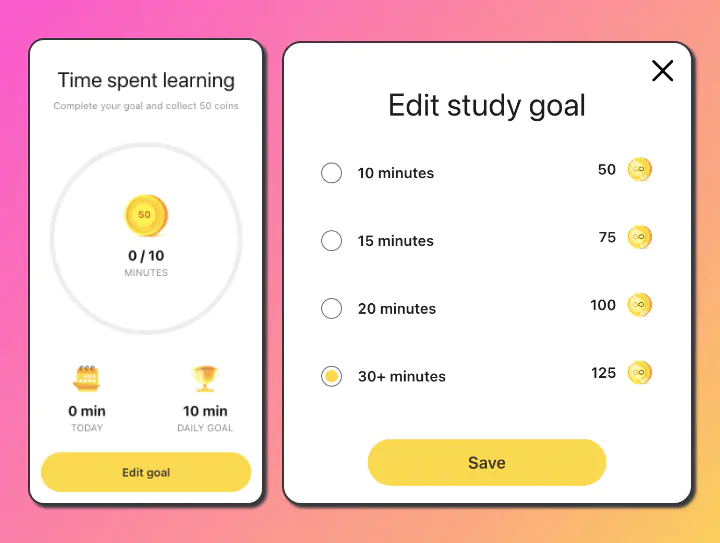 2. Make learning a daily habit
What better way to create a habit than being rewarded for repeating a behavior daily? GoSkills' Daily Streak feature helps you with precisely that. Each consecutive day you complete a lesson, you'll earn GoSkills coins and see your streak grow.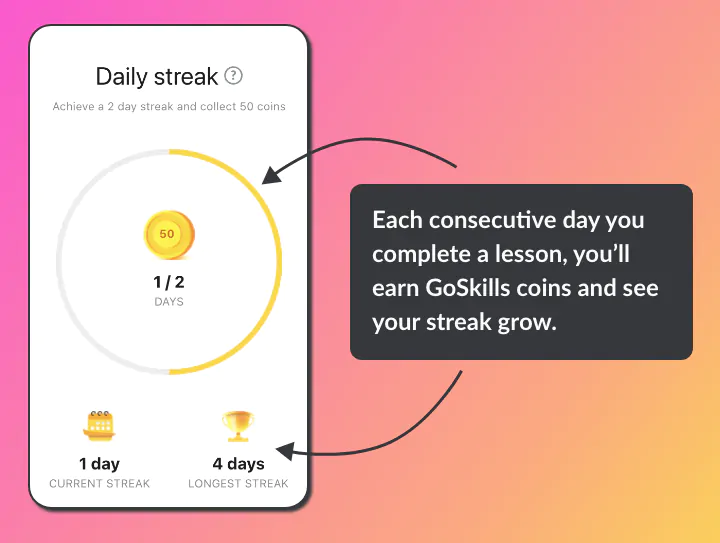 3. Reward yourself
We reward your accomplishments on our platform with coins and progressing status. But you should reward yourself too. After finishing a course, get yourself that cup of coffee or buy that piece of clothing you had your eye on.
On the other hand, business admins can customize rewards in our platform so the incentives employees receive for achieving their learning goals are tailored to their organizations.
These tangible rewards will keep you, or your team, going. However, the best reward is the self-confidence you build by achieving your goals. Always remember that!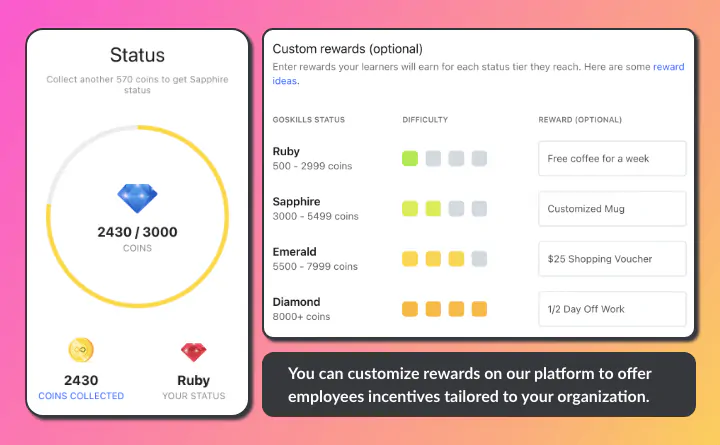 Wrapping it up
Thirty minutes a day of learning new skills can have a powerful long-term effect. Just take Chris Sanchez's story as a reference. By spending half an hour daily taking our Excel courses, he was able to get promoted last year. If you want to remain consistent on your learning journey, as Chris did, it's essential to follow three tips: commit to a daily learning time, make learning a daily habit, and reward yourself. GoSkills can help you stick to these tips through its gamification features. Are you ready to try our platform?
Not just a pretty resume
Give your resume more substance with in-demand skills and certifications.
Start free trial