As technology continues to grow in presence in our everyday lives, technology driven learning has opened the door to an enhanced, more flexible learning experience.
In 2016, the education market was worth over $5 trillion – 8 times larger than the software market – and by 2020, the EdTech market is expected to reach $252 billion.
However, despite the immense worth of education technology, only 2% of education is digitized, with many businesses slow to adopt some form of online learning.
Access to innovative learning technology aids educators, businesses, and organizations to provide a cost effective training solution that improves learning outcomes in several different ways.
As a result, blended learning, which is the practice of mixing traditional face-to-face education with technology, has grown in popularity. Let's take a look at some blended learning benefits.
Blended learning benefits for educators
1. Modernizes communication
An increasing percentage of the workforce has grown up with technology. In business and non-business contexts, communication is often carried out via email, text, and social media.
Retaining millennial talent is essential, and blended learning enables educators and businesses to communicate in a way that is both familiar and accessible.
2. Enables the use of EdTech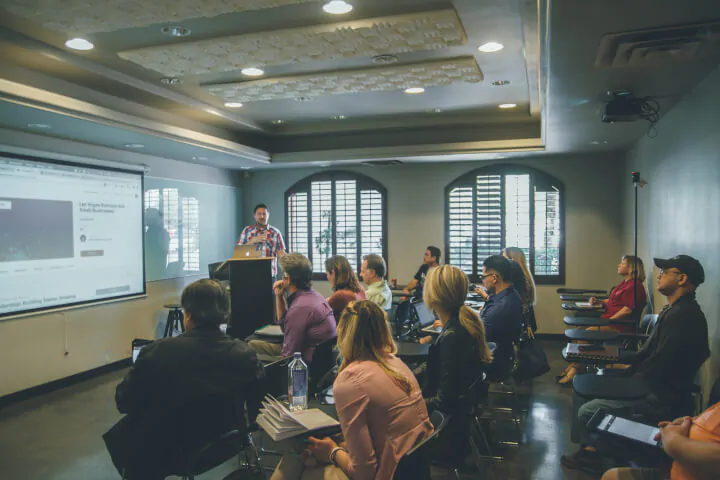 At present, educators and businesses can employ the use of microlearning, gamification, personalization, and AR/VR to improve learning outcomes.
Microlearning, as its name would suggest, breaks down lessons into smaller, actionable sections. Lessons are typically 3-7 minutes long, which matches the capacity of our working memory. The shorter format enables learners to fit lessons to short "windows" of time while also improving information retention.
Gamification, which is often used alongside microlearning, creates an engaging environment where learners can acquire information. Gamified learning can be carried out in a number of different ways. On GoSkills, learners can collect badges and track stats or learning streaks as they progress through a course.
Personalization allows learners to work smarter, not harder when learning a new skill.
AR/VR creates an immersive learning experience and in some cases, improves access to education. Learners can conduct hands-on experiments without expensive STEM equipment or go on excursions without leaving the classroom. Risky or expensive experiments that were previously taught through theory can now be experienced through VR, which has proven to improve learning outcomes.
As mentioned earlier, the EdTech market is forecasted to continue growing rapidly. Adopters of blended learning benefit from further developments in the already-innovative space.
3. Enhances personalization
The National Center for Education Statistics reported that the student-to-teacher ratio has risen to nearly 27 students per teacher. In classes of this size, it can be difficult to understand individual needs and personalize lessons accordingly.
Blended learning enables educators to provide a personalized learning experience to students and employees at a fraction of the cost and time. Placement tests, such as the one shown below, or adaptive learning, can be used to emphasize modules that need more work and deemphasize modules that learners have mastered already.
Having a personalized online curriculum allows teachers to spot learning trends and adapt the curriculum accordingly. It also enables students to reinforce information they may not have understood in their own time.
4. Saves time
Blended learning empowers educators to save time when planning out curricula. There are plenty of online course providers that have existing courses and lessons that have proven to be effective. Educators and admins can save time by purchasing licenses for skills-based courses, such as Excel, instead of creating them in-house.
The time saved by doing this can be put toward other L&D initiatives, such as mentorship programs or instructor-led workshops.
5. Tracks engagement
Educators are able to visualize and track student progress with the aid of EdTech. They can readily identify skill gaps or low-performing modules and adjust their online and offline training approach to work on weaknesses.
On the other side of the coin, educators can also learn about the type of modules that engage learners the most. By doing so, they're able to iterate the format of other modules to increase engagement.
Blended learning benefits for learners
6. Accessible and flexible
The average employee only has time to devote 1 percent of their workweek to professional development, Deloitte reports. For those who work 40 hours a week, this translates to just 4.8 minutes a day. ​​​​​​
Blended learning allows busy, 21st-century learners to supplement learning in their own time. Moving course information online increases accessibility to those who work remotely or have scheduling conflicts. The relative ease of accessing courses on smartphones, tablets, and PCs proliferates the number of places learning can occur.
7. Increased satisfaction
Blended learning accommodates different types of learners better than just traditional classroom learning. Learners have the opportunity to learn in-person and access supplementary resources online to cement their knowledge.
For example, GoSkills lessons come with closed captions, transcripts, reference guides, downloadable exercise and answer files, and quizzes. These features provide visual, aural, and verbal learners with a "buffet" of resources to optimize their learning experience.
The relative anonymity of online discussion helps to "level the playing field" for quieter learners.
8. Enhanced retention
Because modules can be accessed anytime and anywhere, supplementary learning can take place at the convenience of the learner. Having course materials outside of the classroom or seminar hall allows learners to revisit content outside of regular hours and cement the information. For example, if learners are taking a Lean Six Sigma seminar at work, they can cement their knowledge by taking a corresponding online course.
9. Peer support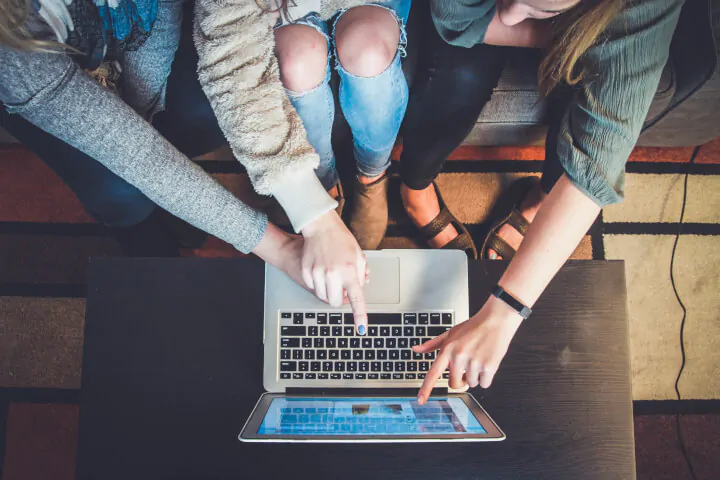 Blended learning enables learners to connect even when they're outside the classroom. In Aspden and Helm's study 'Making the connection in a blended learning environment,' they found that online communication, through a blended learning environment, improved social aspects of students."
Discussions that take place outside the classroom can help students discuss problem areas and share insights with each other.
10. Boosts soft skills
Time management and digital literacy are critical skills for excelling in a blended learning program. Learners will have to master the digital skills required for the course while also balancing work assigned in-person and online.
These skills, when improved upon, improve employability outcomes outside of the course.
Over to you
Blended learning benefits educators, businesses, and learners alike by bringing together the best aspects of online and offline learning. Businesses benefit with a better ROI on education and save time, while learners benefit from a more engaging and tailored learning experience.
Want to give blended learning a shot?
Check out the GoSkills learning management system for your online training needs. It's easy to assign GoSkills courses or create your own, and quickly customize learning for every employee with just a few clicks. Try it for free today!
Train any size team
It's easier than ever to track and manage your team's training with the GoSkills LMS.
Start for free