Ever since the first computer was developed, humankind has stepped into the next stage of evolution. A century ago, no one would have thought about spaceships, automatic house helps, humanoids, and now even robot teachers with the help of artificial intelligence (although this is still under debate). Whether one views the impact of technology on education for the better or worse, the fact remains: technology in education takes many forms and is here to stay. In view of that, this article will examine the use of technology in business education, and offers insights into its development and impact.
Rapid growth
Until the period of the COVID-19 pandemic, technology in education was integrated into the system as a small part of delivery. For example, some accredited online accounting schools like Northwestern University or Pennsylvania State University offered degrees that were accepted by a small segment of employers for the development of their employees. Demand escalated during and post-pandemic, and there were compelling reasons for that.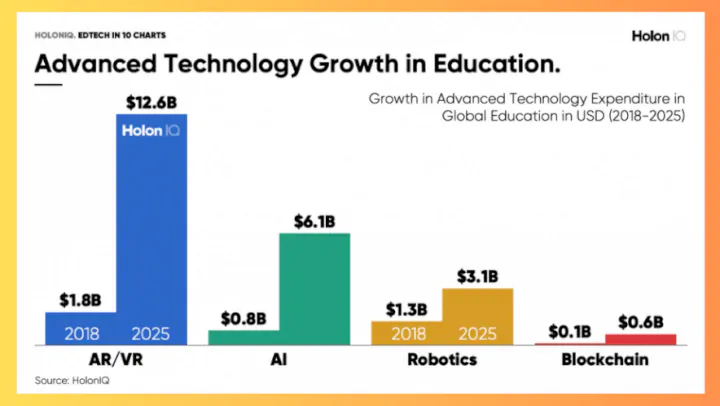 Global perspective. The world realized that disruption in education has a huge impact on social, economic, communication, and financial aspects of the world, in particular jobs, careers, business, etc. The need for integrating information technology as the backbone of all types of systems was necessary.
Business perspective. While businesses around the world lost billions of dollars post-pandemic, the demand for security, communication, collaboration, and interactive media escalated, which today inadvertently has become a constant to help enterprises increase productivity. The need to train people about technologies in everyday work is no longer an option but a necessity.
Academic perspective. To meet the market demand, the education sector was forced to integrate technologies and technological education related to business functions. In particular, platforms and tools for remote teams, using collaborative features in everyday work software, and cloud-based learning management systems have evolved significantly and rapidly.
Development of business education technologies
Seeing the high demand and impact on business education, technologies related to education have been progressing significantly. Companies like Khan Academy, GoSkills, Udemy, and Google have been at the forefront in this regard.
From learning management systems (LMS) to course content, from teaching tools to sophisticated interactive learning media, the world of business education is seeing rapid development to meet the high demand. The latest in this regard is the introduction of AI technology ChatGPT and its variants, which have taken the world by storm. It's no wonder that AI course creation tools have also been developed to enhance learners and educators.
How technology is changing training methods
It's true that the impact of technology in business is mostly positive, but there are challenges too. Likewise, when institutions embrace technology, they undergo a transformation, which can lead to both positive and negative consequences.
Learn more: Change Management: 5 Needs of a Growing Business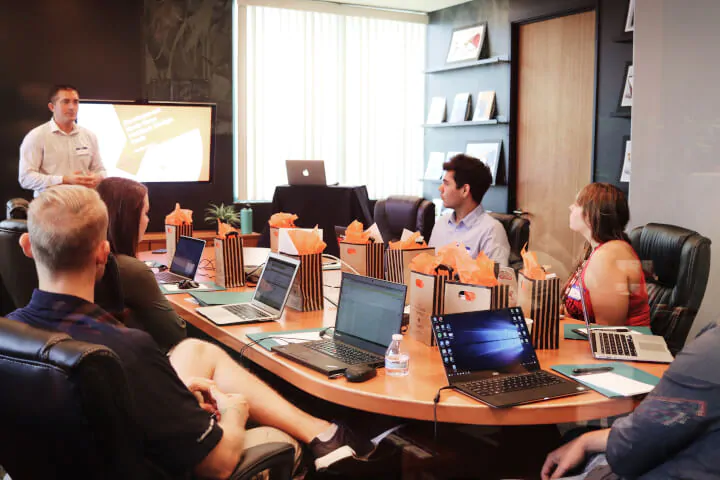 Technology invariably brings changes on various aspects of business areas such as human resources, strategy planning, customer relationship management, business environment, service management, and performance metrics.
- Dr. Pradip Kumar Das, Implication of ICT in Business Education
1. Course creation
One of the most difficult parts of education is course creation. It involves identifying learner needs, expectations, and measurable outcomes. For business educators, this is even more difficult because they have to ensure the practical results of the course.
While courses in management, human resources, finance, etc. are still predominantly focused on traditional concepts, other subjects like communication, accounting, marketing, etc. today have evolved significantly and require considerable learning about the technologies used in these fields. This means that the business instructors first have to learn about and then create courses to demonstrate the practical use of the latest technologies like social media (Facebook, Twitter, LinkedIn), online communication tools (Zoom, Googlemeet, Skype), digital marketing tools (Hootsuite, SEMrush, Buffer), accounting (Quickbooks, Zoho, FreshBooks), and so on.
This dilemma is all but eliminated with AI course creation solutions like GoSkills' Genie.
AI language models can generate content for specific audiences, which is then reviewed by subject matter experts before publication.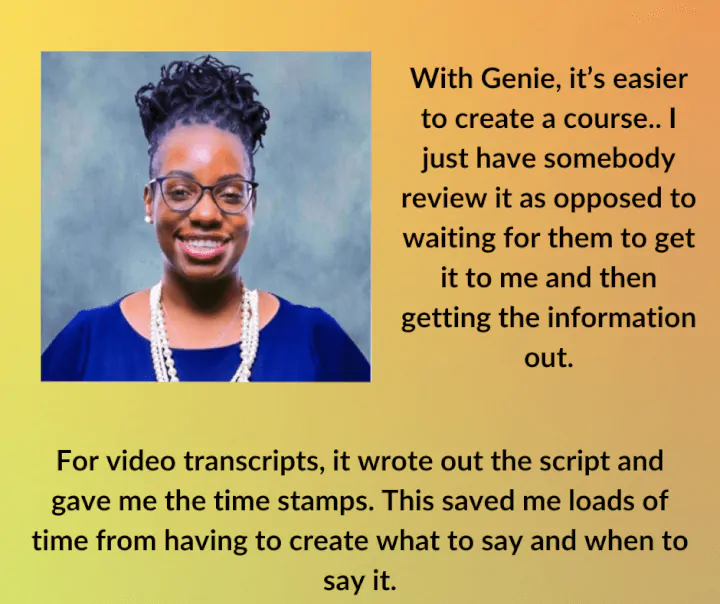 2. Content delivery and classroom learning
The changes don't end there. Next in line is the question of content delivery. Today, there are more accredited business schools delivering online degree courses than before. Institutions and teachers are now used to the trend of "bring your own device". With mobile learning technologies and telecommunication networks that support high-speed internet, students can take lessons anywhere on smartphones, tablets, and laptop computers.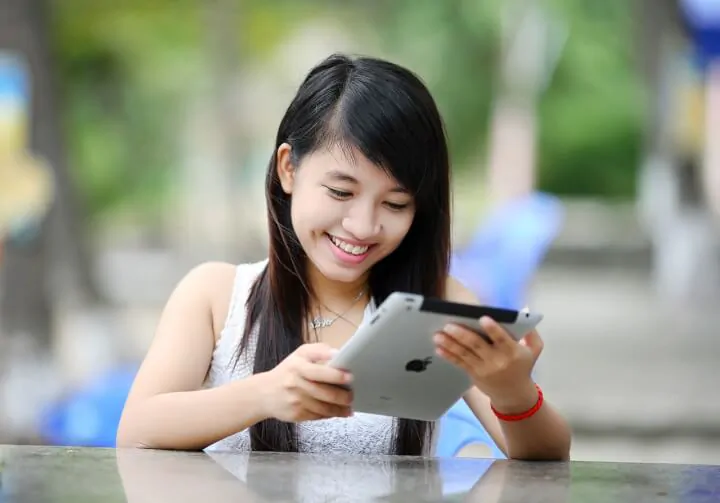 Therefore, for content delivery, sophisticated learning management systems have to be integrated so that learners and educators can meet on the same platform. The challenge is in engaging, monitoring, and ensuring that students are actually absorbing what they are taught because teachers may not know what background their students are coming from and under what circumstances they are learning. Have their students just graduated from school? Are they employees sent by their employers? Are they experienced executives seeking skills development? This is why, especially in courses designed for employee training, there is a need for an efficient LMS technology that can track learning and reward desired behavior since there is no other way for teachers to gauge students on the same scale.
Learn more: What to Look For in an LMS - 12 Things to Consider
A better way to train
It's easier than ever to create, track, and manage team training with the GoSkills LMS.
Start for free
3. Learning outcomes and expectations
This leads to the next point. The importance of business education outcomes is very much dependent on the practicality of their curriculum. Business schools and educators expect the application of learning technologies to accelerate remote learning outcomes, but that is not the case. Interests, aspirations, and needs are all important success factors for meeting stakeholders' expectations, according to an article by AACSB . Because today, up to 35% of MBA generalists enroll online, business school leaders have to strategize carefully about integrating, innovating, and adopting technology to meet students' learning success.
Some of the steps institutions can take include expanding access, inclusivity, and using data-powered, personalized learning. Technologies like video content delivery instead of face-to-face teaching, accessible LMS, flexible learning timings, testing systems, etc., to meet student outcomes and expectations are imperative.
…up to 35% of MBA generalists enroll in online courses.
However, these innovations bring with them a whole set of challenges as well, such as inefficient testing, security breaches, compromised data, the credibility of education standards, lack of engagement, not to mention cost. Meeting high expectations of stakeholders becomes even more difficult when they have to keep up with the fast-paced development of technologies they learn. It is the responsibility of L&D managers to ensure that course objectives and the skills acquired are relevant to learners, and that they keep pace with changes and best practices in their industry, as well as trends in the L&D space.
Learn more: The Ultimate Guide to Developing an Online Training Course
Conclusion
So, what is the conclusion about the impact of technology on business education? To be honest, the race will continue unless there is a seamless system that can bring learners, institutions, and employers to the same level at all times. Educators and employers have to determine key factors that will help learners apply their education on the job, integrate with business functions, and meet organizational goals.
L&D managers play a significant role in helping organizations keep pace, not only with changes within their industry but also with new learning trends and ideas. As the way people learn changes, so should the methods used to help them learn.
Explore how easy it can be to create, deploy, and manage your employee learning and development program in one place with an award-winning LMS.🏆✨