​The rapid progress of technology has brought about drastic transformations in the world around us, resulting in the need to keep up to stay competitive. For an organization to be successful, it must focus on more than profit maximization. Being on a perpetual learning curve means that employee development and team growth are fundamental to carving a spot in your niche for your brand.
Luckily, that's where videos come in: training videos can engage viewers like no other type of content and help deliver information concisely.
The thing is, producing video content for elearning purposes can take time and effort. It is not just about the quality of your information but how you leverage the medium to help viewers understand and retain information consistently.
To help with that, we'll go over some of the most effective types of training videos, talk about how to choose the best one for you, your objectives, and your budget, and provide some insights to help you create pro-level educational videos that you and your organization can benefit from.
Let's jump right in!
1. Teaser videos
As the name hints, teaser videos summarize a more complex topic you'll address with more content. Teasers are dynamic pieces meant to convince viewers to stick around and engage with the rest of your content through brief-but-relevant information about a topic.
By placing one on your homepage, learning platform, or at the beginning of each course, you can introduce the themes you'll talk about, give an overview of the methodology you'll use, and highlight the benefits it provides to the audience.
Team learning can be complex when employees still have other obligations to adhere to, which they're often reluctant to put aside. A small heads-up of what the course offers and how much of their time it'll take can be a great encouragement to motivate them to start learning as soon as possible.
That way, your workforce can take advantage of their available time to the fullest and capitalize on the lessons they find most productive for their work specialization.
2. Instructor-led training videos
Instructor-led are among the most common online training videos you can find, which may be related to how easy they are to create. All you need is a speaker talking to the camera, and you'll have an instructional piece that simulates the environment of a real classroom.
Texts and even audio recordings are valuable educational tools. Still, real people can dramatically impact the learning experience — we tend to feel more motivated when a relatable person shares their knowledge with us.
Moreover, instructor-led videos allow you to use non-verbal communication elements like tone, emphasis, and gestures to convey information more effectively.
We tend to feel more motivated when a relatable person is sharing their knowledge with us.
The downside to this format is the same one most classrooms usually face. If you're not working on engagingly sharing interesting and relevant data, you could end up with a static, boring video that listeners sleep through. To avoid that, combine your recording with assets like graphs, subtitles, quotes, and other inserts to make the topic easier to follow.
3. Animated explainer videos
One of the challenges of online learning today is drawing students in and keeping them away from distractions. Explainers are training videos that use dynamic visuals (often animated) to illustrate a topic while keeping your viewer's attention hooked.
In practice, explainer-type videos make learning for teams more accessible through storytelling techniques. Our brains absorb and retain information in the form of a story better because it encourages imagination, evokes emotions, and makes it easier to relate to.
If you need to explain intricate concepts, list facts, or describe complex procedures, explainers are an excellent go-to type of content. However, the best way to use them is to visually demonstrate a concept that might be difficult for students to understand with just a piece of text, like abstract concepts or processes.
4. How-to training videos
This training video style helps you demonstrate the exact process of a technique or practice, guiding the audience through each step. On top of improving your SEO (because how-to video searches are quite popular these days), creating videos like these can give you a great way to teach viewers a skill or how to carry out a difficult task.
How-to videos provide viewers with the information they need to excel at accomplishing something. Once your employees attempt to replicate that process in their own experience, they internalize it. This allows users to retain that knowledge longer than they would if they were working with a written guide or manual.
The key to compelling how-to videos is not adding many steps or showing anything convoluted, as it can be challenging for viewers to follow all of them later. To ensure viewers can replicate the crucial details, add critical points or a summary of the process at the end of the video, or break down the information across multiple shorter how-tos.
5. Interactive videos
This new video style incorporates interactive elements that allow viewers to engage with the content presented, follow different storylines, and involve themselves in the learning experience through quizzes, panoramic views of an object or environment, hotspots (highlighted clickable elements inside the video, as in the one below), and even branching lesson paths.
Interactive videos provide an excellent employee training method because they can deliver a more immersive elearning experience that allows viewers to experiment and explore the result of their choices.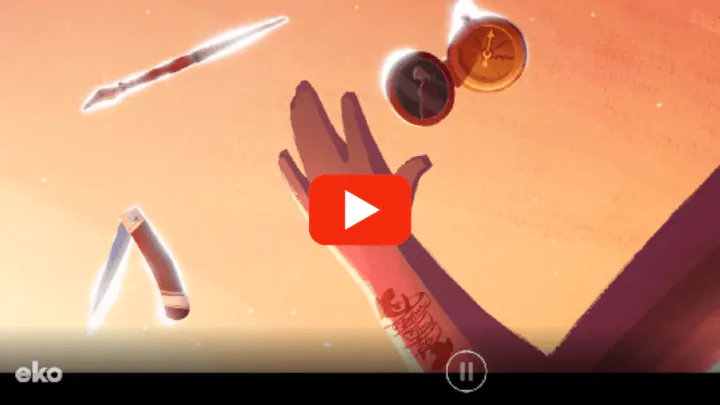 The downside to this technique is that interactive training videos are time and resource-intensive to create. Instead of trying to base your entire team's learning strategy on these videos exclusively, you'll be better served by adding one or two at the end of an extensive course.
6. Screencast videos
Screencast videos, as the name suggests, are training videos that capture what a person does as they complete a set of tasks with a piece of software, using voice-over narration to guide the viewer. With them, you can give coworkers and staff members detailed instructions on specific tasks in a digital environment.
Screencasts often teach viewers how to use new software or guide people through new digital layouts. But they're very effective for many topics, as it's a natural way to teach and explain issues while demonstrating those concepts in real-time when apps are involved.
These instructional screen recordings are an all-in-one online learning tool accommodating various learning styles. You can incorporate visuals, audio, and annotations like drawings to illustrate and complement the explanations in a more practical scenario.
7. Interview videos
Using interviews for elearning may come as a surprise. Still, these training videos give you an ideal format to involve multiple people in the teaching process and spark things by exchanging ideas and points of view.
Interview videos are a more dynamic version of instructor-led videos. You'll have at least two instead of just one person doing all the talking. Mimicking a conversation draws a viewer's attention and allows them to gain insightful information on a subject without demanding much effort.
The best way to take advantage of interviews is to invite an expert on your topic. Then, try to focus your questions on actual industry topics and your speaker's personal experience. The goal is to share a piece of new, unique knowledge with viewers that they won't be able to find anywhere else.
Wrapping Up
Be it for illustrating ideas, describing procedures, or providing examples, training videos are an effective educational tool. Adding videos to your team learning programs can make the development of your employees more enjoyable, engaging, and efficient. Additionally, you have many options, depending on your needs and budget.
Want to boost your team's success?
Learn why training and development matters (and how to do it right)!
Once you've created your video, you can upload it to your learning management system (LMS) and add it to your team's elearning library. Some LMSs have built-in course-building tools that make the "content-to-course" part of the process a no-brainer. Using an LMS to deploy training is a structured way of retaining organizational knowledge and measuring the effectiveness of your training efforts.
The GoSkills LMS allows you to create and deliver engaging lessons efficiently, create learning paths for each team, and track the performance of individuals as they learn.
Book a demo now or sign up for free. 💫🌟
A better way to train
It's easier than ever to track and manage your team's training with the GoSkills LMS.
Start for free