If you want to select the perfect Learning Management System (LMS) for your organization, you'll need to do your homework.
Unfortunately, there is no one-size-fits-all approach because every organization has different priorities and needs. Instead, it's important to carefully consider your end goals, and weigh these up against what each provider has to offer.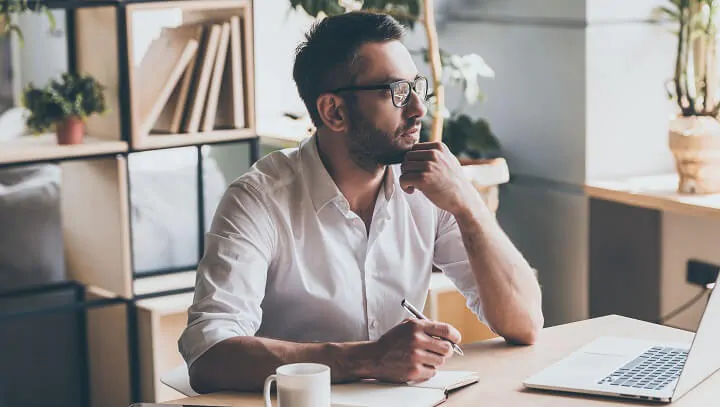 But first, let's briefly cover the basics.
What is an LMS? – An (LMS) is a way to easily deploy e-learning options (most typically online courses) to your workforce and track their progress.
What are the benefits of an LMS? – Learning management systems serve as a one-stop-shop for your employees' learning and development needs. Not only will it streamline your training processes and make it easy to track progress but it can also drive employee engagement and retention.
Who needs an LMS software – Businesses of all sizes, educational institutions, government agencies and organizations, or clubs could all benefit from implementing an LMS.
What types of LMS are available? – There are many different types of LMS available, depending on your organization's needs, priorities, and budget constraints. Options include cloud-based LMS, open-source LMS, and free LMS.
Not sure what to look for in an LMS? This guide will take you through some of the most important considerations you'll need to make.
How do you determine your company's learning needs?
Before you start shopping for an LMS, you'll need to have a solid understanding of your organization's learning requirements:
What skills or qualifications do you want your workforce to obtain?
Will the LMS platform be required to serve employees in several locations and across the globe?
What's your overall budget?
What are the pros and cons of your existing learning and development strategies?
What technical experience does your eLearning team have?
What does your eLearning team expect from an LMS?
Once you've addressed these key questions, it will become much easier to weigh up the benefits and limitations of different systems.

12 things to consider before deciding on an LMS
1. Is it mobile friendly?
If you want uptake to be high, you'll need to ensure that when you select an LMS it is compatible with all devices (including mobile phones) and the resources available can be downloaded.
Employees will much prefer dipping into e-learning courses on their commute or from the comfort of their sofa, which means they won't always have access to the internet or a desktop computer. Failing to accommodate your workforce's preferences into the learning experience will almost definitely mean losing users along the way.
Do your research to find a multiplatform-friendly LMS that will automatically modify for use on any device.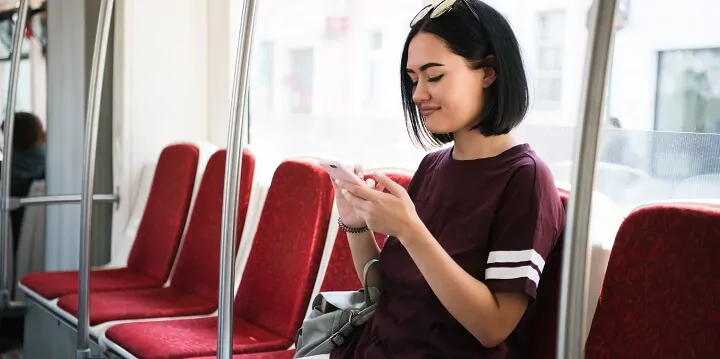 2. Is it user-friendly?
Once you've found your mobile-friendly LMS, you'll need to consider user interface (UI) and user experience (UX). Unsurprisingly, 88 percent of online users claim they wouldn't revisit a site after a bad UX. No doubt your LMS users will feel similarly.
Firstly, navigating an LMS should be intuitive and accessible for your eLearning team, and not require extensive training. Throughout the testing and demo process, collect feedback from your team. Would they be confident using this platform to develop high-quality training courses?
Secondly, the LMS should be straightforward for your employees to navigate. How long will it take to onboard individuals and can they easily choose, access, and complete their chosen courses? It's no use investing time and money into a sophisticated LMS if your employees can't leverage it effectively.
3. Does it integrate with social platforms?
Your organization's perfect LMS is one that integrates with (and tracks the use of) your existing tools, including social media platforms like Twitter, Facebook, and LinkedIn. Users should also be able to access the organization's existing learning resources via the LMS learning platform, whether it's an internal corporate blog page or employee discussion groups.
These kinds of informal social learning will facilitate peer-to-peer interaction, help you to track employee engagement, and provide additional ways for users to achieve course credits. Research has shown that active, collaborative, social, and engaging educational experiences lead to deeper learning, which is why it's important to find an LMS that accommodates this.
4. Does it feature in-built gamification?
Employees love gamification. It's fun, it's engaging, it's motivating, and it's very addictive. Neuroscientists have discovered that game-like elements actually induce feel-good chemicals in your brain.
---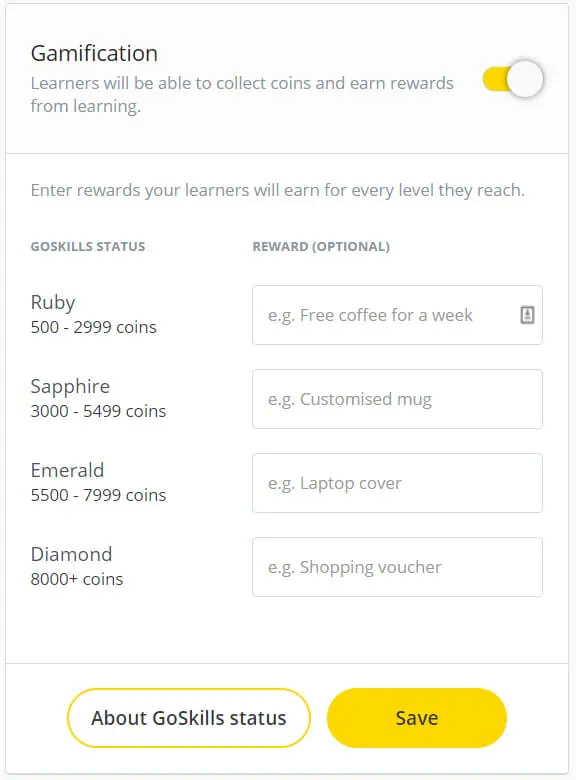 GoSkills LMS gamification
---
Not only will your workforce spend more time using an LMS that incorporates an element of competition, but they'll also retain more information, develop more skills and complete more courses – it's a win-win. An LMS with in-built gamification tools might feature leaderboards, awards, badges, or a points system.
5. What assessment tools are available?
Your LMS should record and report on your users' informal achievements, including how long they are spending using the platform and what content they choose to access. But sometimes you'll also want the option to assign your employees more formal assessments, including situational judgment tests, training exercises, quizzes, and written exams.
Whether they're securing a relevant certification, taking a compliance assessment, or completing mandatory customer-service training, assessments are the quickest and easiest way to test your users' engagement levels, track their progress and provide real-time feedback.
Your organization's leaders will also be equipped with the information to best guide and nurture their teams and quickly identify those ready for additional responsibilities and promotion.
6. Will it integrate easily with your organization's existing platforms?
You don't want your organization's existing systems rendered obsolete as a result of an incompatible LMS. As with your social channels, users should be able to access and communicate on multiple platforms via the LMS.
Be on the lookout for key integration tools like single-sign-on (SSO), which enables multiple application authentication with a single set of credentials. And look out for webhooks, which allow for real-time communication between the LMS and other systems.
7. What is the pricing or licensing structure?
Before you begin experimenting with free trials or demo sessions, make sure you've established your budget. LMS pricing varies hugely depending on the model and vendor you choose, and you'll need to be wary of hidden costs and additional charges. Vendor negotiations will be more straight-forward if you know your limits.
You'll need to ask:
Do you offer a monthly or annual subscription?
What is the price per user?
Is the price cited the final and total amount or are there any additional costs?
What is the upper limit on the number of users and amount of content?
Are there any key features not included in this package? What is the cost of adding these?
What is your cancellation policy?
---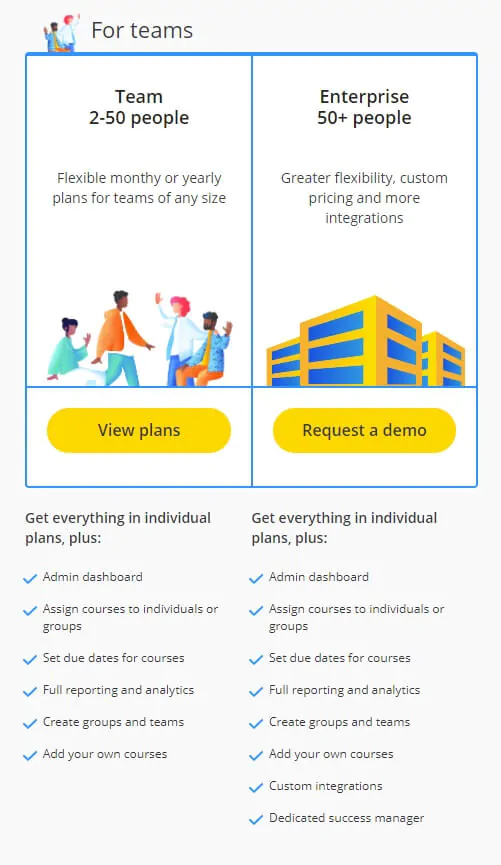 GoSkills business pricing
---
8. Is the software white labeled?
You don't want to implement an LMS with an aesthetic that is incompatible with your organization's brand.
A white label LMS will enable full customization of your platform to align with your organization's color scheme and style and incorporate other key branding features like logos and icons. Aim to achieve cohesion across your platforms and enable your eLearning team to develop courses and material that reflect your organization's style and brand voice.
9. What reporting features are available?
---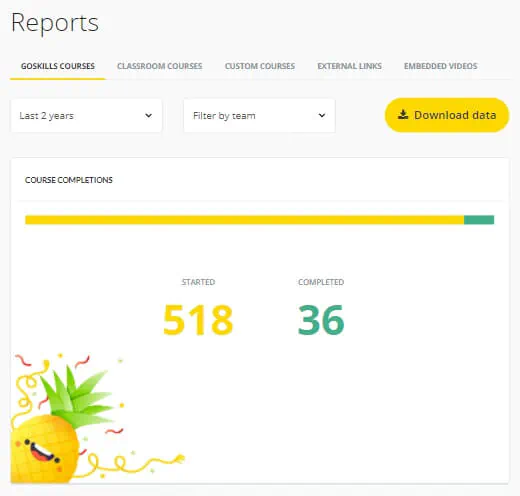 GoSkills LMS' easy-to-understand reports
---
The vast majority of LMSs have pre-installed reporting features, comprising everything from user engagement, compliance and performance to assessment completion rates and progress monitoring.
However, you will need to decide which reporting features will be most useful to your organization and explore the options for customizable reporting. For example, managers and eLearning professionals might like to set up auto-generated weekly reporting to track their team's progress.
They might want to know how long people spend on a particular course, how many attempts it takes to pass an assessment, how often they log in, and how different users rank against each other.
10. What customer support does the solution provider offer?
Will your LMS provider be on hand to provide round-the-clock support? This is something worth raising during your early meetings with a prospective vendor. Will they respond to phone calls and emails once you've signed a contract, or simply redirect you to a generic FAQ page?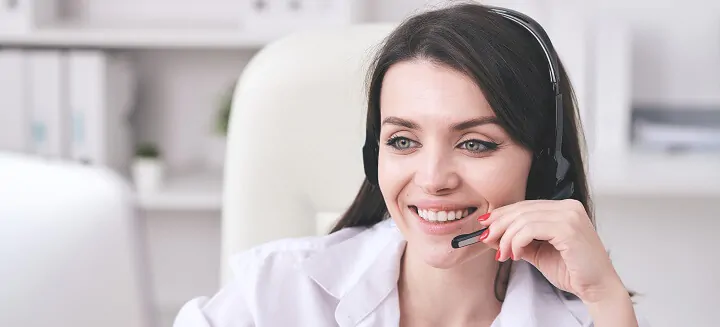 Similarly, you'll want to assess a system's reliability by finding out how frequently technical problems occur and whether the vendor has robust disaster recovery and contingency plans in place.
The best way to obtain reliable information is to seek out reviews from current or past clients. Have they encountered any major issues, and were these quickly and effectively resolved? You can also confirm if the LMS uses the Sharable Content Object Reference Model (SCORM), which outlines technical standards for eLearning products.
11. Does the LMS adhere to your organization's security standards?
Addressing cybersecurity has become a key focus for many organizations with the worldwide information security market expected to reach $170.4 billion in 2022.
But there's no use tightening up your internal processes if you don't demand the same security standards from your suppliers. You will need assurance from prospective vendors that your users' personal data will be protected. What are their security and encryption protocols?
12. Is there scope to expand the service offering in the future?
It's easy to make the mistake of diving in at the deep end by selecting a feature-heavy, high-end LMS you don't actually need. It's a waste of money, time, and effort and an overly complex system may well deter and confuse your workforce.
Start small and focus on your top priorities but be prepared to expand the services you use if and when you need to. It is important to work with an LMS vendor who will allow you to do this.
Having said that, it's still worth choosing an LMS that frequently upgrades its offering to be sure your system will keep up with rapid technology developments. Find out how much it will cost your organization to expand the system's functionality in the future.
---
---
Looking to seamlessly deliver engaging courses and training, while tracking your team's performance with insightful reporting? GoSkills provides a free, cloud-based LMS for teams of any size. Find out more.
A better way to train
It's easier than ever to track and manage your team's training with the GoSkills LMS.
Book a demo