Why having a strong project scheduling technique is important
How many times have you launched into a project, only to realize halfway through you forgot a step? Or, a roadblock came up, and you didn't allocate time for the delay? Or better yet, how many times do fire-drill projects pop up that need to be done ASAP? The truth is, delays and road bumps are inevitable and the impact of a delay in one project doesn't only affect the one project, it affects your entire workload.
Managing multiple projects on a timeline is a challenge no matter what industry you're in. Teams that are already inundated with work, often struggle to add new projects into their workflow while allocating the right resources to ensure success.
The first step to honing in your project scheduling techniques is to power yourself up with the right project management tools. You can visualize, manage and measure resources required to complete each step of a project.
One example of such a tool? A Gantt chart. It helps you visualize your project from a timeline perspective and enables you to set dependencies between tasks. Understanding the relationship between tasks means you can identify potential bottlenecks and add in a strategic cushion to help the project sail smoothly.
And that's only the beginning! Wrike recently released a Professional Services industry benchmark report, where they surveyed 1,000+ leaders to understand their top project management challenges. Below is a section highlighting insights — universally valuable to any industry — into how project teams can improve productivity through optimizing their project scheduling techniques.
Want to be a successful project manager?
Get your free ebook covering the six major aspects all project managers should know!
Project scheduling techniques for professional services: an industry benchmark survey report.
One industry in particular that needs to master project scheduling techniques is the professional services industry. Thanks to technology, this industry is booming. According to the Professional Services Market Global Report, it's forecasted to grow by 5.4% by 2020, reaching almost $5 trillion. The rise of work opportunity entices more competition into the arena. Businesses need to find ways to differentiate themselves and become scaleable to grow in the growing market. One of the best ways to do that is by optimizing your inbound project scheduling workflow.
Professional services teams can no longer rely solely on being highly skilled in their field. Beyond managing multiple projects and clients effectively, today's professionals need tools to help them seamlessly take on new customers while providing a world-class experience. This includes being able to easily track billable hours and translate that time into measurable value.
Key areas of opportunity for professional services
The survey identified three key areas of opportunity for professional service companies. Focusing on these three areas improves customer retention, employee happiness, and boost scalability for your organization:
Project scheduling and resource allocation
Aligned processes that optimize collaboration
Visibility into project status and progress
To stay at the forefront of innovation, team members need to understand how to benchmark and overcome these leading industry obstacles. In the report, Wrike covers all three, but here, we'll highlight the first critical point: Project scheduling and resource allocation.
Project scheduling and resource management
Most professional services teams can relate: You win a client and dive right into their first project. You know exactly what they want, everyone is aligned on the scope, and the plan is moving along seamlessly — until you get halfway through and discover you each had different visions and expectations.
Project setup and managing resources are challenging for many companies. One of the top 3 reasons professional services projects are delayed is due to inaccurate planning and resource management. If you don't master the art of project planning and effectively manage your resources, you're stretched thin when project bottlenecks inevitably occur.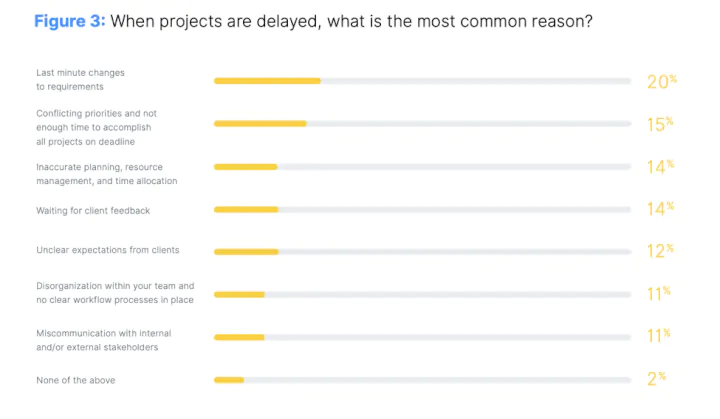 Our survey shows a direct correlation between the inability to kick off projects effectively and delivery delays. Last minute changes to requirements are the #1 reason for project delays. This is no surprise: 32% of respondents report that demand management is challenging or very difficult for their team members.
The #2 reason for project delays is conflicting priorities and not enough time to accomplish all projects on deadline. This is another indicator of poor resource management and project planning. Not only is this detrimental to client satisfaction, but it also causes employee burnout. Our survey shows that 31% of respondents work more than 8 hours a day three days a week — while 18% work 8+ hours every workday.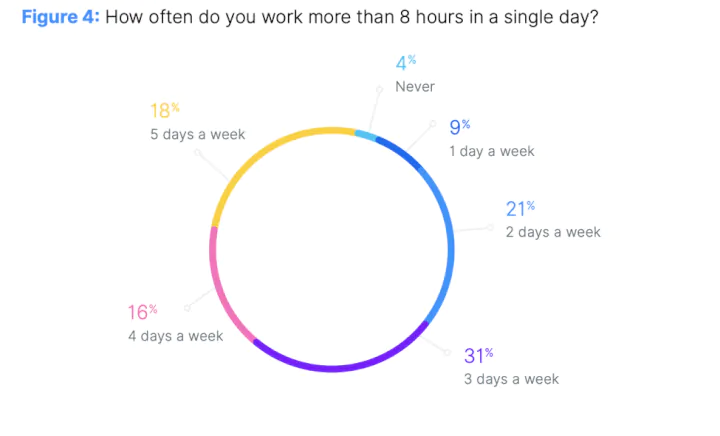 How many hours could be saved — and project delays avoided — with better project planning and resource management? If you want to prevent client churn and employee burnout due to too many changing requirements and not enough time, try incorporating these work management best practices into your project workflow:
Step 1: Use request forms to organize incoming work and ensure all requirements are documented and agreed upon before project kickoff. Aligning expectations from the get-go improves planning accuracy and helps avoid those last-minute changes.
Step 2: Institute project kick-off meetings. During the meeting, define the project process with clients. Determine milestones, responsibilities, and success metrics. Show clients your process for managing project changes. Not only does this set expectations and help you better manage your resources, but it also allows clients to appreciate your forward thinking and feel confident in your expertise.
Step 3: Use effort-centric resource allocation. Indicate and distribute task hours or minutes independently from duration, so team members know exactly what they should work on when. Even if a project is planned across four days, it may not require four full business days to complete. Scheduling tasks without effective effort allocation lead to wasted resources and operating expenses — not to mention team confusion and inefficiencies.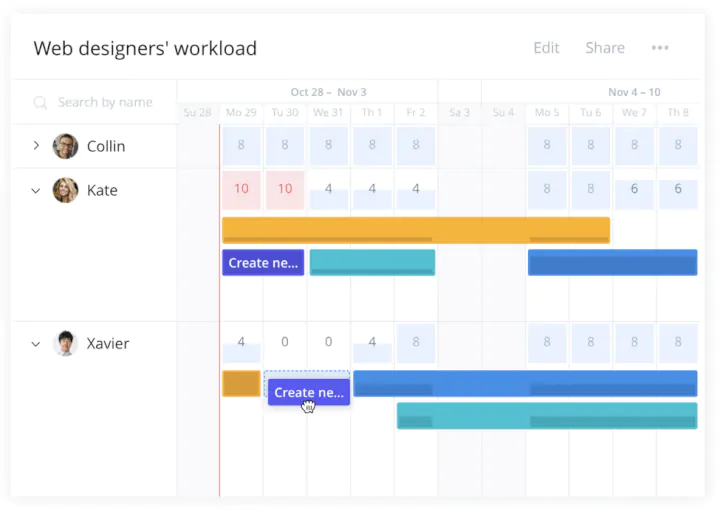 Step 4: Break projects into tasks and subtasks, and use Gantt charts to visualize dependencies. Gantt charts provide a critical path analysis and highlight potential project conflicts that could lead to delays. Be sure to account for these when planning your timelines. As you move through the project, use time tracking and reporting to measure performance, and leverage this information to inform and refine schedules going forward.
Step 5: Track projects in a timeline or calendar view to visualize which initiatives are in progress and coming down the pike. This helps you and your team more effectively prioritize, assign, and schedule tasks.
Learn how to master other critical work management skills
Mastering the art of setting up projects for success, is a skill that helps teams mitigate many of the top work management challenges.
Download Wrike's full survey report to read about the other two areas of opportunity, benchmark your competitive standing, and learn work management strategies to help you rise above the competition.
Over to you
Effectively scheduling projects means more resource hours saved, less client churn, and fewer project delays.
With GoSkills Project Management for Experts course, you will learn how the pros schedule projects, manage resources, and so much more!
Start learning today with a seven day free trial of all GoSkills courses.
Prepare to get certified in project management
Start learning today with GoSkills courses
Start free trial