Work culture is extremely important when it comes to running a business. It's what makes up employees' attitudes, the company's goals, and how customers perceive your brand.
Culture is essential in extracting the best out of employees and bringing your people together through shared values and aspirations. But building a healthy work culture can be challenging. And when you add 'remote' to the mix, the difficulty level increases.
However, as many successful 100% remote companies have demonstrated, building a strong culture in a remote team is not impossible. Through an effective combination of tools, practices, and habits, you can create a culture that's dynamic, positive, solid, and close-knit! Here's how to build culture in a remote team.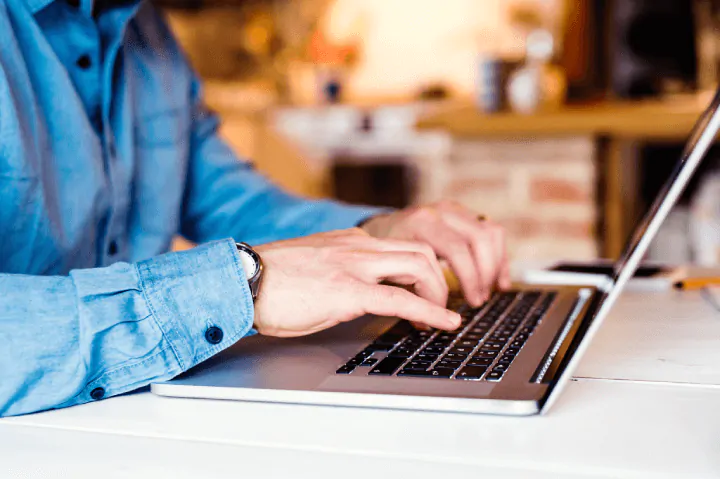 How to build a strong work culture in a remote environment
If you want to build a work culture in a remote team, you need to rethink all your processes – from recruiting all the way to project management. Here are a few strategies you can implement to achieve a great work culture in a remote environment:
1. Recruit a remote team with the right skills
First, you need to understand what attributes you want in your remote team. This will help you in assessing candidates in the recruiting process to ensure they are a culture-add and a culture-fit too.
For a remote team, hire people who are autonomous, independent, and have strong collaboration skills. Experienced candidates may be more ideal because a fresh grad may need more hand-holding, which may not be possible in a remote setup.
For those who had to transition to a remote team due to the COVID-19 pandemic, you might not have been onboarding remote employees who were new to the company, but rather transitioning your team to working from home.
While you may not have vetted their remote working skills when you hired them, from working with them in person you already know they have the right skills to complete their tasks, communicate clearly, and contribute to the team. You can help make their transition to remote work as smooth as possible through effective training, so your team can continue being as productive as usual in their new environment.
2. Pay extra attention to training
When you hire people, it's your responsibility to ensure that they have the right tools and resources required to do their job well. Here are some things you can do to ensure your new remote hire is fully onboarded:
Develop a plan
Joining a company as a remote worker can feel like you've been thrown into the deep end. Having an entire agenda mapped out will reduce any anxiety new hires may have.
Rather than just focusing on their first week of work, instead develop a plan for the next 30, 60, or 90 days. This will help the employee get aligned with the expectation of the role.
Onboarding remote workers can take longer than usual as they aren't physically present. Think about all the processes they will need to learn, the people they should know within the existing team, and projects they will be working on. Then, map this out in an agenda and set up the meetings.
Implement training and progress tracking
While many companies have been thrown into remote work rather quickly during the pandemic, this doesn't lessen the need for training your team on how to be remote. It is essential that everyone knows how they will be communicating and completing their work so that everything continues to run smoothly.
Make sure your employees know how to use any new software or tools they will be using, for example if you have implemented Slack or Microsoft Teams as a new way to communicate. Advice on their home office set-up would also be appreciated. Training could be implemented via online courses, or you could hold virtual team meetings or webinars to take questions and get everybody up to speed.
A free learning management system like the GoSkills LMS can be helpful here, as this makes it easy for managers to track employees' training and progress, all in one place. If you are new to the concept of an LMS, you might find this article helpful.
Ask for feedback
Onboarding remote workers isn't easy. If it's something you haven't done too often, you might not have aced the onboarding process the first time around. So, get feedback from each remote employee about the recruitment process as to what worked and what didn't. This will help you improve your process for your future remote hires.
You can apply the same logic to your workers transitioning to remote work. Ask everyone for their feedback on how things have gone so far, so you can refine and improve your process. If you think people might be more honest anonymously, then let them submit their feedback through an anonymous survey or feedback form.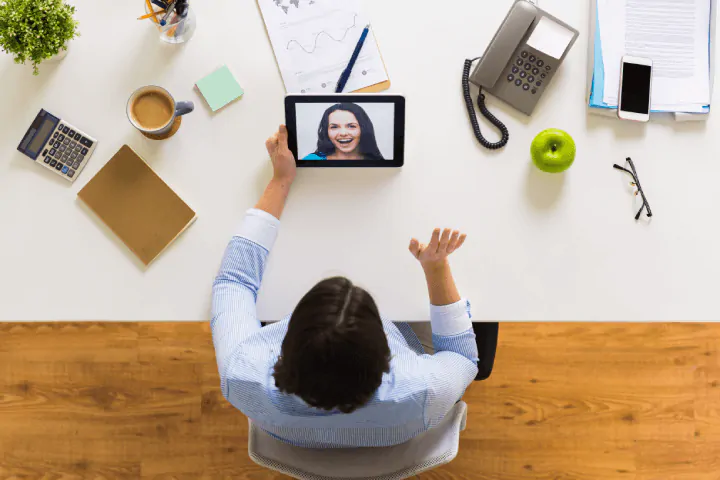 Help build personal connections
If you have new hires, ask your existing team to reach out to them and introduce themselves. You can set up virtual catch ups with each team member, so the new hires get to know their workmates faster.
New hires understandably can have a lot of questions. To avoid confusion, establish their manager as the first point of contact, and designate specific people they should ask about certain things, such as Steve for tech support, or Joanne for scheduling.
For a team transitioning to working remotely, it can be hard to lose that personal contact and water cooler chat that helps create work culture. It would be wise to set up regular team calls for work related issues and projects, but also virtual catchups where the team can talk about non-work related matters. Many find solace by talking to their coworkers – talking about the news, or any topics they might like. This will help maintain the camaraderie between team members and as an added bonus, help keep the conversations in your Slack channels focused on work.
3. Create an environment for better communication
Your company may have a set of values shared by everyone working in the organization. But, that's not enough if you want to build a strong, effective remote culture. These values have to be embedded in everyone and everything. You may have to incorporate rituals to reinforce certain behaviors. Consider these pointers when creating an environment of openness and transparency:
Outline your goals and values as a team
Work together with your colleagues to create a mission, core values, and vision and virtually share the document with everyone. Ensure that the employees' personal goals and KPIs are aligned to it. Track their performance monthly or quarterly.
Set up team meetings
Setting up recurring team meetings is crucial. It helps you establish a pace for projects and track their progress. Virtual team meetings can be run just as effectively, if not more than, in-person meetings. Make it clear who will be running the meeting, who should attend, and who should prepare what. Utilize screen sharing applications found in tools like Slack, Zoom, and Skype so that everyone is literally on the same page.
Document all decisions
Create a virtual platform for each project where every small change, decision, update, etc. are documented. Share this document with all the people working on the project. So, if anyone from the team is absent, they just need to access the virtual platform to help understand the current status of the project without the feeling of being left out. Tools like Trello, Project Manager and Asana are great for this.
Prioritize meaningful work
In a remote team, it's easy for workers to feel like they need to respond to work requests immediately to show that they are actively engaged. Not all work that is given to your team needs urgent attention. Prioritization is essential for meaningful work. Give enough time for the employees to do priority work without any interruptions, and make it clear what Priority 1 tasks are.
Stay engaged
Consider creative ways to stay in touch. Hosting a virtual breakfast session or happy hour is an excellent idea. Team members from the same field can discuss challenges and brainstorm. Try incorporating some team building activities during your regular meetings. You can also consider a communication platform where employees, in-house and remote, can interact informally. Apps and integrations like Donut can routinely match employees up for a virtual coffee (or donut) break.
Plan a mentorship program
If you want to build trust and a sense of belonging in your remote team, then you should be creating a culture where you help people learn from their peers and grow with them. Incorporate activities that encourage growth, leadership, and fellowship. Set up review meetings to discuss each employee's performance and set metrics to measure progress.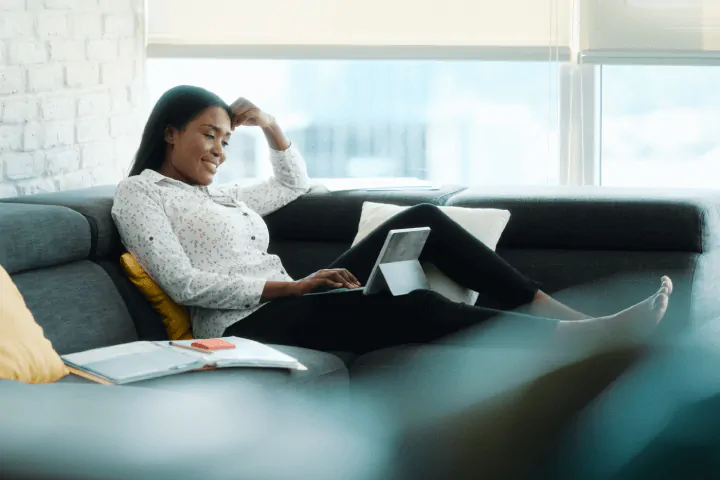 Over to you
Building a strong work culture in a remote team may be challenging, but it's necessary to create a work environment where your employees actually enjoy going to work. Creating this environment can result in higher engagement, productivity, and retention, which are the goals of every successful company. We hope the advice above can help you build a strong culture in your remote team, whether your team is adjusting to working from home, or you have been remote for a while.
The GoSkills LMS is the ideal solution to train your remote team and help them stay productive. You can upload custom courses, use classroom courses to track attendance to virtual lessons and live streams, and the GoSkills award-winning course library is an optional add-on.
It's free to sign up and add unlimited learners to the GoSkills LMS, so you can provide your team with the essential skills and information they need while working from home.
Train any size team
It's easier than ever to track and manage your team's training with the GoSkills LMS.
Start for free