Long gone are the days of having to be at a specific venue, at a certain time to attend work training with your colleagues. As more and more teams start working from home, whether it's full-time or just a few days a week, the need for remote learning increases.
Since 2005, the number of people regularly working from home who aren't self-employed has risen by 159%. Research has shown a remote workforce is a happier, more productive, and more engaged group of people, despite some of the challenges that come with it. Since the onset of the pandemic in 2020, many companies have transitioned to working remotely for the forseeable future.
Working remotely isn't a trend anymore - it's here to stay, and with it the need for continuous learning and development opportunities for all staff (including those working remotely). You want your employees to keep learning and progressing their skill set, to keep them engaged and productive while working from home. So let's get into the benefits of remote learning for your team.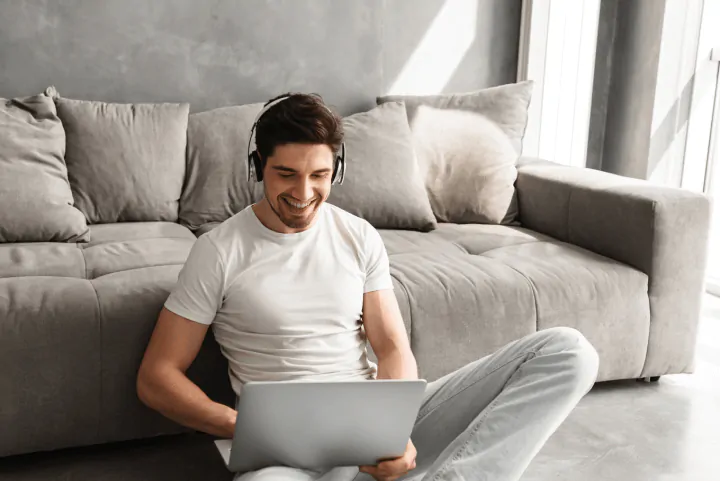 What is remote learning?
Remote learning (also known as distance learning) allows people who aren't in a physical location to access online learning materials. Training solutions like Learning Management Sytems (LMSs) make it easy for organizations to implement these online learning opportunities for their staff, all within one platform (so no need for separate logins or software systems!).

"But I have a great traditional learning and development plan in place that has been working fine", I hear you say. But have you thought about the continuity of that training if your staff needs to work from home without much warning? It might be that some of your team need to work from home because their children are sick or it's school holidays.
Having remote learning implemented means these employees won't miss out on valuable learning and development opportunities. It makes both the learning and working environment more flexible for your staff. In turn, it'll help build a stronger culture within your remote team.
Benefits of remote learning
One of the main benefits of remote learning for both you and your employees is that it allows for both individualized and group training for all staff, no matter where they are located. It saves both organizations and staff time and money because training can be done where, and when the learner prefers. So no need for hiring expensive venues or taking a group of people off their day job for a day to attend training.
Remote learning means increased access to development opportunities for your employees as well as flexibility. Employees can choose to do bite-sized learning, where and when it suits them. Microlearning courses are short, focused lessons designed to meet a specific learning objective. Lessons are between three to six minutes long and are often made up of rich media such as videos, quizzes, and games. Overall, remote learning can mean a more learner-centered approach for your staff, high-quality content and courses, and new ways of interaction which can lead to more engagement.
For employers, remote learning means a cost-effective and high-quality way to drive professional development in the workplace. There's a broader scope for training because it can be done from anywhere and at any time, so it's not confined to working hours.
How to successfully implement remote learning
Here are a few things you can do to make the implementation of your remote working strategy a successful venture, and avoid any pitfalls.
Know your employees (and therefore learners)
Not everybody learns the same way. In the same way you would have hired different people to fulfill different roles within your organization, you'll also find that Sharon in your team prefers to learn differently to Max across the hall.
Choosing the right type of training for your team depends on many things; what their training needs are, how they learn, what the goal of training is, your budget, and how much time you want to spend on training. Some people prefer visual learning (learning by seeing), others auditory (learning by hearing) or kinaesthetic learning (learning by doing).
Bonus tip; do a learner's assessment of your employees. Once you know what way they prefer to learn, try and make a learning and development plan suited for them individually. That way you get the return on investment. When staff feel more engaged and supported in their learning, their intake of new information is usually higher.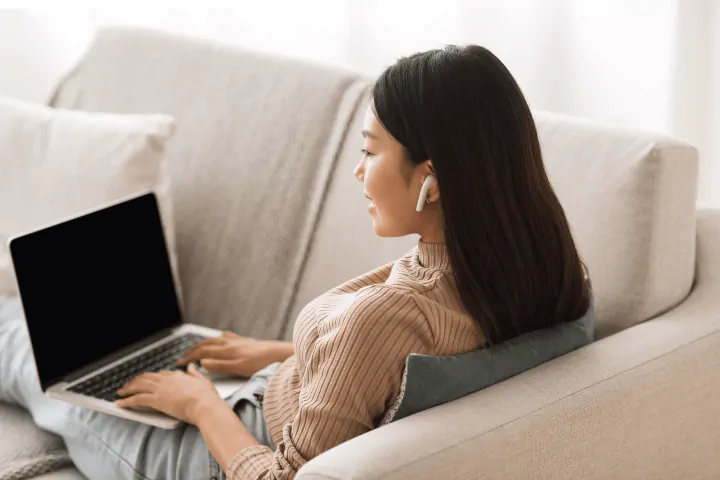 Make learning accessible
Some of your employees might prefer to access learning content via their phones, while others may prefer viewing it on their laptops. Keeping that in mind when creating your remote learning plan will help to design a plan as widely accessible as possible, to all staff. Make sure that the LMS that you choose to implement is mobile responsive (such as the GoSkills LMS).
When you're searching for the right fit for your organization, there are a few questions that would be good to ask before committing to anything:
How big is your team? Some software charges per person or group, so that's something to be mindful of.
What's your budget? That one speaks for itself.
What learning features are important to you and your team? It might be a good idea to include your team in the process of figuring this out and get them to give their input. Also, once you've decided on one piece of software, get your team to try it out and test it. They're the ones who have to use it often, so if they don't like it, that's money down the drain.
Keep employees engaged by making learning social and interactive
The world is your oyster here. Really. Think role-playing, workshops, quizzes, demonstrations and small group studies. Interactive (or active) training is a very hands-on way of learning, actively involving employees in their own learning experience.
Using games and challenges to impact employee behavior is the key to gamification. It works by turning learning into a game, motivating staff by giving them the opportunity to gain recognition and rewards and by providing real-time feedback. This may be in the form of badges earned for unlocking a level of achievement, quizzes, and leaderboards for healthy competition amongst colleagues.
Good examples of successful games in the workplace are ones that are personalized to whoever is playing it with the opportunity to grow and do increasingly more difficult challenges. And let's not forget, adding a bit of humor to the game doesn't hurt.
Make learning convenient
With remote learning, the premise is that your employees can learn at any time, from anywhere. If you're setting up rules around when they can log in to spend time on their work-related courses, you're not doing it right.
That said, if you have your employees learn remotely, it might be useful to implement some extra features to keep them engaged. It's not quite "out of sight, out of mind", but sometimes it helps to give a little nudge.
Setting up notifications to encourage training is a great way to increase engagement. When a staff member is enrolled in a course, they are sent an email or phone notification to tell them it's time to learn some new stuff. Other notifications can be set up too, for instance, to remind employees that their course due dates are looming.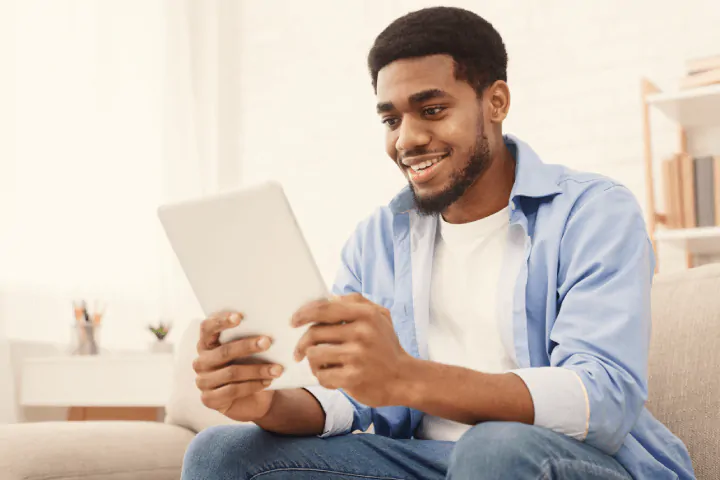 Monitor learning engagement and progress
When you can't monitor your employees' learning progress by observation, because you're not all in the same office, a good LMS is invaluable. It allows you to track your staff's learning progress, and it does the same for learners, allowing them to see the way they're tracking, what areas they need more help with and what topics they're exceeding on. Look for an LMS that allows for feedback, multiple types of questions and tests, quizzes with automated feedback and extensive reporting features for managers.
When possible offer blended learning options
Some people learn best in a classroom-style training, with an instructor. But it might be more beneficial to a larger cross-section of staff and be more cost-effective to combine online learning with face-to-face education.
Enter blended learning: a mix of the two. To you as an employer, blended learning has the benefit of providing a more personalized learning experience to your employees with something for everyone, saving time on planning out curricula and being able to track engagement and more easily identify skill gaps.
For your employees, blended learning has the benefits of being accessible and flexible by allowing staff to learn in their own time and remotely. It accommodates different types of learners better than traditional classroom training because employees have the opportunity to learn in-person as well as access resources online to optimize their learning experience. It gives you greater flexibility and sets you up for online learning should any of your staff need to work from home again.
The investment will pay off
Implementing remote learning for your team has many benefits. From increased learning accessibility, higher engagement through different social and interactive options to more convenience around learning (where and when employees like) and an easy way to track learner progress for managers. Especially in uncertain and unsettling times, it's good to know you've got a system set up to ensure learning and development continuity.
Whether your company has made the switch to remote working for the short or long term, the GoSkills LMS can help your team gain essential skills, and keep them productive. You can upload your own courses and resources, and access GoSkills' award-winning course library. It's easy to monitor and track your team's progress with clear reporting and analytics.
Are you ready to make the move to remote learning for your team? Try out the GoSkills LMS today - it's free to sign up and add unlimited learners!
Train any size team
It's easier than ever to track and manage your team's training with the GoSkills LMS.
Start for free