Download your challenge data
Start working on the Excel challenge with this data workbook
---
It's time for another Excel challenge!
This time, we'll need to put our lookup skills to the test - specifically XLOOKUP. Here's what to do:
First, watch the challenge video and read the instructions below the video.
Review the previously published video(s) and article(s) suggested.
Download the Excel worksheet you will use to complete the challenge tasks.
Put yourself to the test!
Want to chat about your approach and process with other Excel-heads? Join our Slack channel to share your insights and questions with like-minded learners.
The challenge
---
---
Here's the scenario to be solved from the download file:
Download your challenge data
Start working on the Excel challenge with this data workbook
The bookstore on the corner has their book database entered in an Excel workbook table. The store owner wants to be able to query a Book ID and extract that entire row from the database.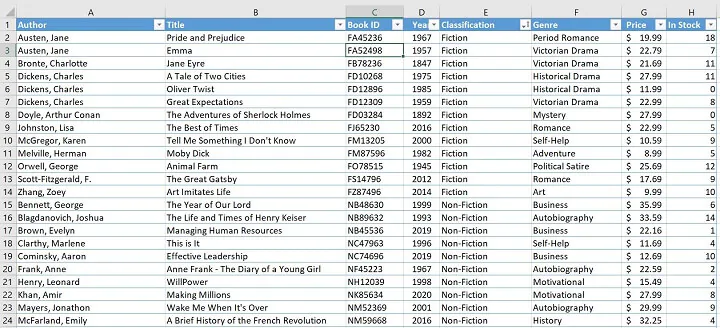 She also wants to minimize input errors by having employees select the Book ID from a dropdown list in cell A2. She knows how to create dropdown lists, but is having trouble setting up one which expands or contracts dynamically as books are added and removed from the database.
Once you've helped her with that, write a formula in row 5 that uses the selected Book ID to pull the correct row from the Database.
There's more than one way to approach this, but what's the most efficient XLOOKUP solution to this problem? If you don't have Microsoft 365, no worries. Use Office Online and you'll have access to the XLOOKUP function.
Need a refresher? Check out these videos, then you're ready to tackle this task.
And for you Excel whizzes out there - tell us what alternative worksheet functions can be used to complete this challenge.
Have fun!
The solution
---
---
We hope you'll enjoy taking part in this challenge!
Stay tuned to the GoSkills Excel Resource hub for more Excel challenges, and check out our range of expert-led Excel courses for all skill levels to further sharpen your skills.
If you enjoyed this challenge, try the Basic and Advanced Excel course to help you learn more essential formulas, functions, and practical real-world Excel skills.
Ready to become a certified Excel ninja?
Start learning for free with GoSkills courses
Start free trial