Finances. Love them or hate them, they're a core pillar of any successful company. And, when you work as part of a small to medium-sized business, you're sure to have some interaction with those numbers – whether you're the one actually responsible for keeping an eye on the money or not.
Maybe your only involvement is something as limited as filing your own expense report or submitting invoices from contractors or vendors that you work with.
Or, perhaps you're far more in touch with the finances – such as being an owner of the business or someone who works in the accounting department.
Whatever camp you fall into, this rule holds true: Solid accounting software will go a long way in keeping things streamlined and organized within your company. And, the better handle you have on the numbers, ultimately the more successful you'll be.
With so many options out there, how can you zone in on the accounting software or solution that's the best fit for your small or medium-sized business? We've rounded up five solid choices for you right here so that you can weigh your options and settle on the best tool for you.
Interested in Finance?
Learn all about it in our comprehensive (and free) ebook!
1. Intuit QuickBooks
When you think of the term "accounting software," QuickBooks is likely one of the first to pop into your mind. And for good reason – QuickBooks has so many features and tools that will help you stay on top of your accounting and invoicing.
QuickBooks has different plans ranging from self-employed to small business or enterprise, which is the end of the spectrum you'll want to aim for when you aren't an independent contractor.
The software does everything you'd expect it to do – from tracking income and expenses to running payroll to generating helpful reports so that you can get a better grasp on how the company is performing financially.
Yes, QuickBooks is chock-full of features that you'll find useful. But, arguably one of the best things this software has going for it is its level of user-friendliness. The tool is comprehensive, but not bloated, cluttered, or difficult to navigate. Everything is intuitive, which means nobody on your team will be wondering about where and how to get the information they need.
Additionally, with solutions like a mobile app and QuickBooks online, you can have access to your important accounting information wherever you are – and not just on your desktop.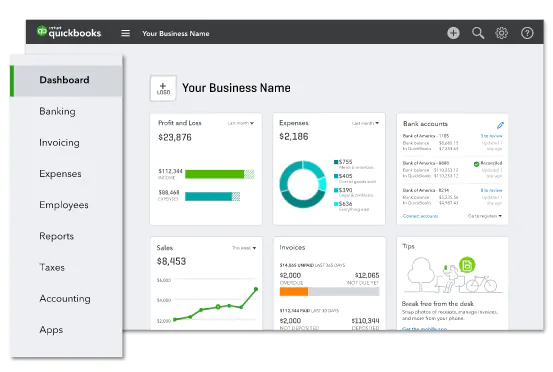 Image source
Price: Small business plans begin at $24 per month.
2. Xero
Xero is another popular accounting option for many businesses. It offers many of the same features as QuickBooks and places a high value on mobility and accessibility – meaning you can download the Xero app for both iOS and Android.
Much like any other accounting software, you'll find the functions, reports, and tools that you would expect to see to keep your business running.
One great advantage of Xero is that it provides functionality to have numerous different users access your account at no additional charge, which is great if you have several different people (such as a CPA and different employees) who would need to get their hands on that software.
When comparing Xero to QuickBooks, it's important to note that – since Xero isn't quite as well-established as QuickBooks – there aren't nearly as many advisors who can help you. That's an important consideration to make, particularly if you're hoping for a lot of help in getting up and running.
While Xero plans begin at a cheaper price point than QuickBooks, you'll need to pay extra to have access to features like payroll. Xero does offer a 30-day free trial for those who are interested in trying it out.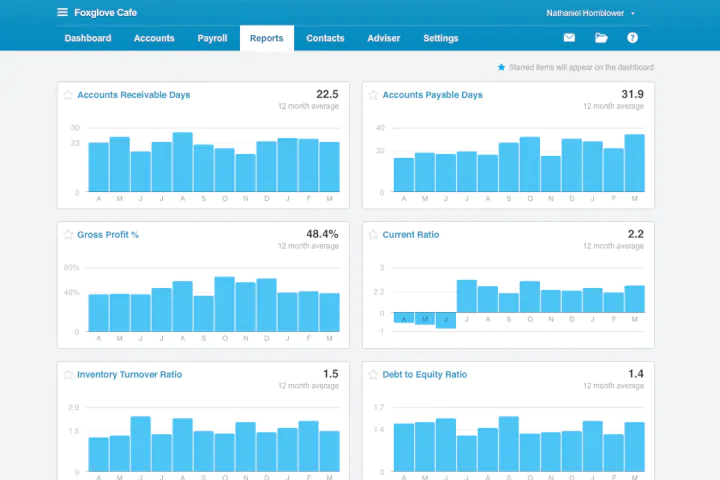 Image source
Price: Plans begin at $9 per month.
3. MYOB
MYOB (which cleverly stands for "Mind Your Own Business") is a solution that you might not be as familiar with. Based in Australia, it's another viable accounting option for many small to medium-sized businesses, particularly those who also operate out of Australia.
This is because MYOB offers features that ensure tax compliance in-hand with the Australian Taxation Office.
Even for businesses who don't call Australia home, MYOB has plenty of other features that are worthy of appreciation – including the convenience of linking your bank accounts or sending invoices and managing contacts directly from your phone.
Plans are reasonably priced. And, stepping up to the AccountRight level plan even gives you the option to manage two separate businesses from one account.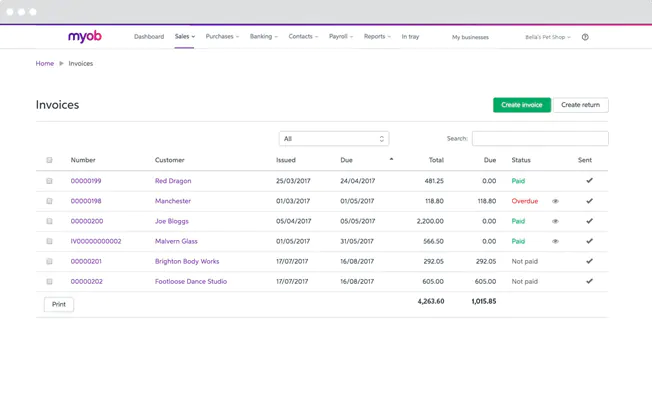 Image source
Price: Plans begin at $25 per month.
4. FreshBooks
One thing that makes FreshBooks stand out is the fact that it lives in the cloud (regardless of which plan level you choose!) – meaning you can access your information conveniently and securely from anywhere that you are.
A few FreshBooks features you're sure to find helpful? You can set-up automatic late payment reminders and fees if you'd like. Additionally, you have the option to see when a client has viewed an invoice – meaning you don't have to worry about whether or not it's floating off in cyberspace.
With a variety of different plans to choose from, you're sure to be able to find one to help you streamline accounting and free up more time.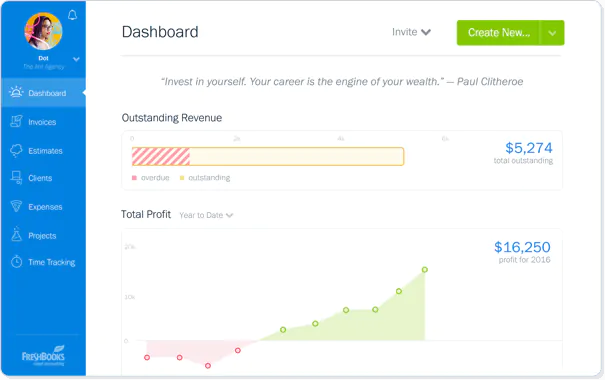 Image Source
Price: Plans begin at $15 per month.
5. Wave
While Wave is best known by freelancers and independent contractors, the platform does offer functionality for small businesses and startups who have fewer than 10 employees.
If there's one thing that most users appreciate about Wave, it's the ease of use. Wave prides itself on the fact that it wasn't designed for accountants, so you won't be confused by a bunch of jargon or bloated features.
Wave makes it easy to get the information you most want to see – from cash balances to invoice status – without the distraction of tools that you'll never actually touch.
Arguably the best part about Wave? It's completely free. However, be forewarned that you'll need to pay in order to access additional features like payroll.
All in all, Wave is a great solution to get started. But, if you're aiming to grow at a rapid pace, you might want to opt for a slightly more expensive and comprehensive accounting software that can grow along with you.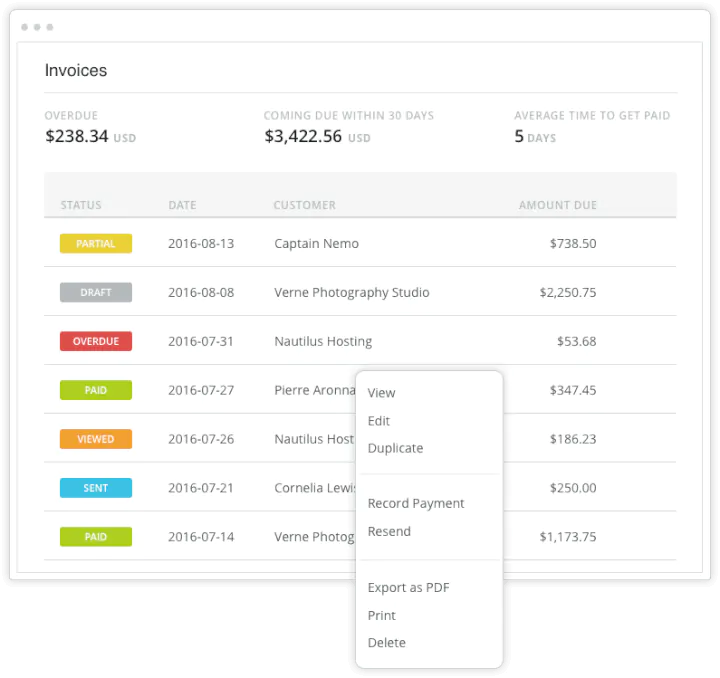 Image source
Price: Free!
Over to you
When it comes to selecting accounting software that will work best for your small or medium-sized business' team, you have no shortage of options.
Use the above information to carefully consider your choices, and you're sure to land on the best one for you. If you're looking for real customer reviews before you make your decision, check out G2's list of the best accounting software.
Start learning essential finance skills today
Get started for free with GoSkills courses
Start free trial