A Learning Management System (LMS) sounds like a training platform only a large enterprise would use. But this is where you could miss out on giving your small business a competitive edge.
An LMS is critical for small businesses, startups, and teams of any size to upskill, reskill, and be more productive.
Picture a scenario where you hire someone new. You can use an LMS solution to onboard them without hiccups, give them new skills and close the skills gap, educate them on all industry compliances, and get them up and running in a shorter time. The same LMS can then upskill them as they progress through the ranks.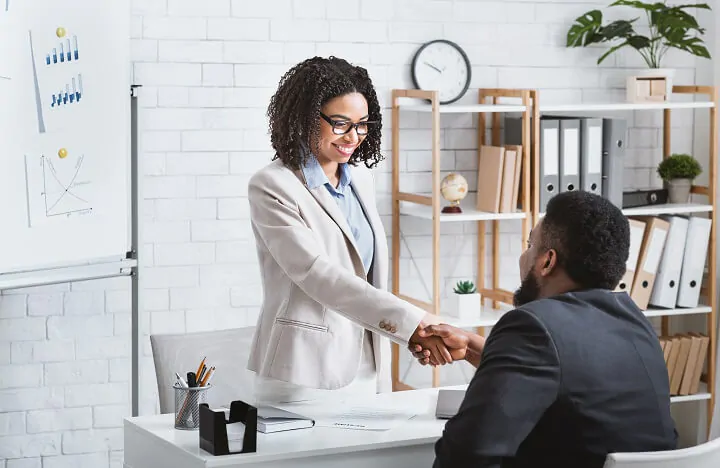 There are different types of LMS platforms, and the best LMS for small business is one that caters specifically to your needs, not just those of large enterprise clients.
The best small business LMSs are not only time savers but can also give you a good return on the investment you make on it. So, let's look at the key factors you should look for when you decide to deploy an LMS for your small business.
1. User limits
The learning needs of a small business may not be that different from a large corporate, but it can be difficult to find LMS software that offers pricing for a low number of learners. Many LMS platforms price their features based on a high minimum number of learners, and even at the lowest price tier, small businesses would be paying for extra licenses they will not be able to utilize.
Look for an LMS that has a generous free trial or freemium model, and allows you to select features, as your small business may not need the full array. Most importantly, make sure that your LMS does not require you to have a higher minimum number of learners than you have to train.
The GoSkills LMS is free for teams of any size, has no hefty set up fees, and comes with optional add ons like off the shelf courses, making it an ideal choice for small businesses.
2. Budget
What is your online training budget? This is the first critical factor that will decide your choice. Different LMS providers offer variable tiers on their services. They can also offer a price per user instead of a package subscription. The former can be ideal if your training needs expand in the future.
LMS packages can also offer feature-specific pricing. This can help you avoid paying for features that you might not need right now. Remember, prices can be tough to decipher, so a needs-based assessment will help you focus on the optimum amount to spend.
If you are wary of picking a paid LMS straight away, first look for a free LMS for a small business.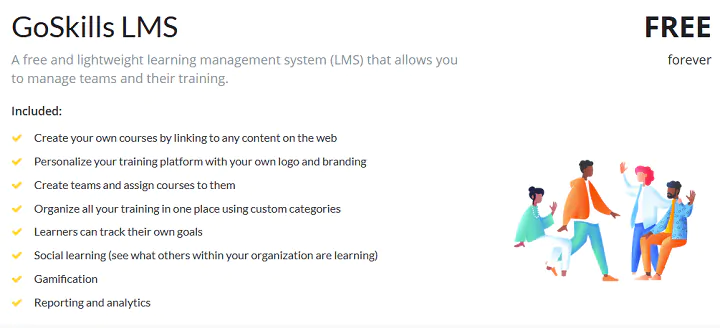 3. Scope of content
Once the basic decisions are out of the way, the eventual success of the training will depend completely on the content. The content can differ for new employees who you want to just onboard and the workforce who need continuous training.
A learning needs assessment exercise will help you decide on the scope of the content. If the content is standardized across the organization, then a pre-packaged LMS can work well. Otherwise, you might need to choose an LMS that allows you to create original content and update it when necessary.
4. Cost of content
Developing your own content is time-intensive and costly. A 2020 study found that time, budget, and the headcount of the talent team were the biggest constraints to the design and development of elearning content.
Small businesses can benefit from pre-packaged content for essential office skills and soft skills. Several learning platforms like GoSkills already offer a wide swathe of off-the-shelf courses that you do not need to customize for the individual learner. You can simply assign the different courses to different teams or individuals.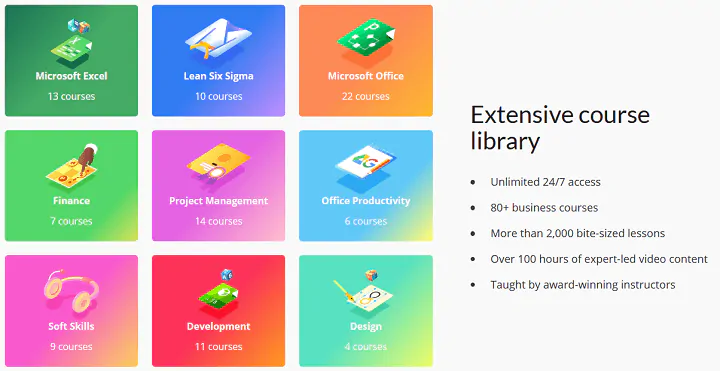 An LMS that allows you to import training materials (like slides, video, documents, SCORM courses, and PDF files) can reduce the need but won't cover your entire training needs. An in-house elearning content developer is necessary for proprietary and specialized content, or you can work with an LMS provider to help you develop custom courses.
5. Easy to configure
As a small business, you don't have the man hours to set up the LMS. A small business will want the learning to be up and running in minutes and without a set of complicated rules. Learning in the cloud is as simple as logging into an elearning website from the browser.
6. Learning styles
Employees can have different approaches to how they process information. An LMS needs to adapt to the different learning styles of the students, and not vice versa, to be efficient.
The age of the participants can also be a factor beyond the usual visual, auditory, reading/writing, and kinesthetic preferences. For instance, younger learners might prefer mobile videos and social sharing over reading.
Older participants might like microlearning as they multitask at home and office.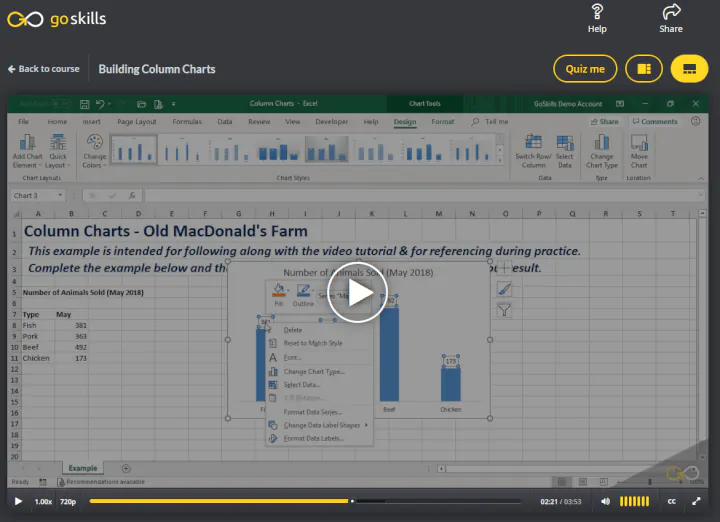 Not all learners fit into one category, so an adaptive LMS should support learning across several learning modalities. Check if the service supports a wider variety of learning assets.
7. Accessibility from anywhere
A cross-platform LMS will work on any platform, including mobile devices. This will reduce your implementation costs and anyone can learn on the move from anywhere. Cloud-based learning management systems offer remote learning by default.
8. Collaboration
Hybrid workplaces are becoming the norm now. Still, teams might prefer learning together instead of self-directed learning. An LMS that offers blended learning (online learning and instructor-led) over the cloud is the best of both worlds.
A Gallup study found that learning together is more effective than going it alone:
"[...] as many people participate in remote education from their homes or preferred settings of choice, often while dressed down, a sense of inclusion is rapidly created."
9. Progress tracking
You can only improve what you track. Narrow down on an LMS that helps you monitor the learning goals of your business. An LMS with good analytics will help you identify problem areas and those employees who might need further training. Quickly spotting successful learners will enable you to empower them in the right roles.
10. Future needs
Choose an LMS that will be a part of the business for a long time. Do developers update it on a schedule? Does that platform have enough traction in your industry? Has it considered new trends, for instance, social learning and gamification for business learning?

A custom-built learning management system is tempting but not ideal for a small business. Also, some well-known LMS systems may have a worldwide user base but can have hidden costs that come to the fore after you implement them.
So, look at your future needs and choose an LMS that will scale with your business needs. Any industry accreditation and awards in its track record can help give some assurance to make your decision easier.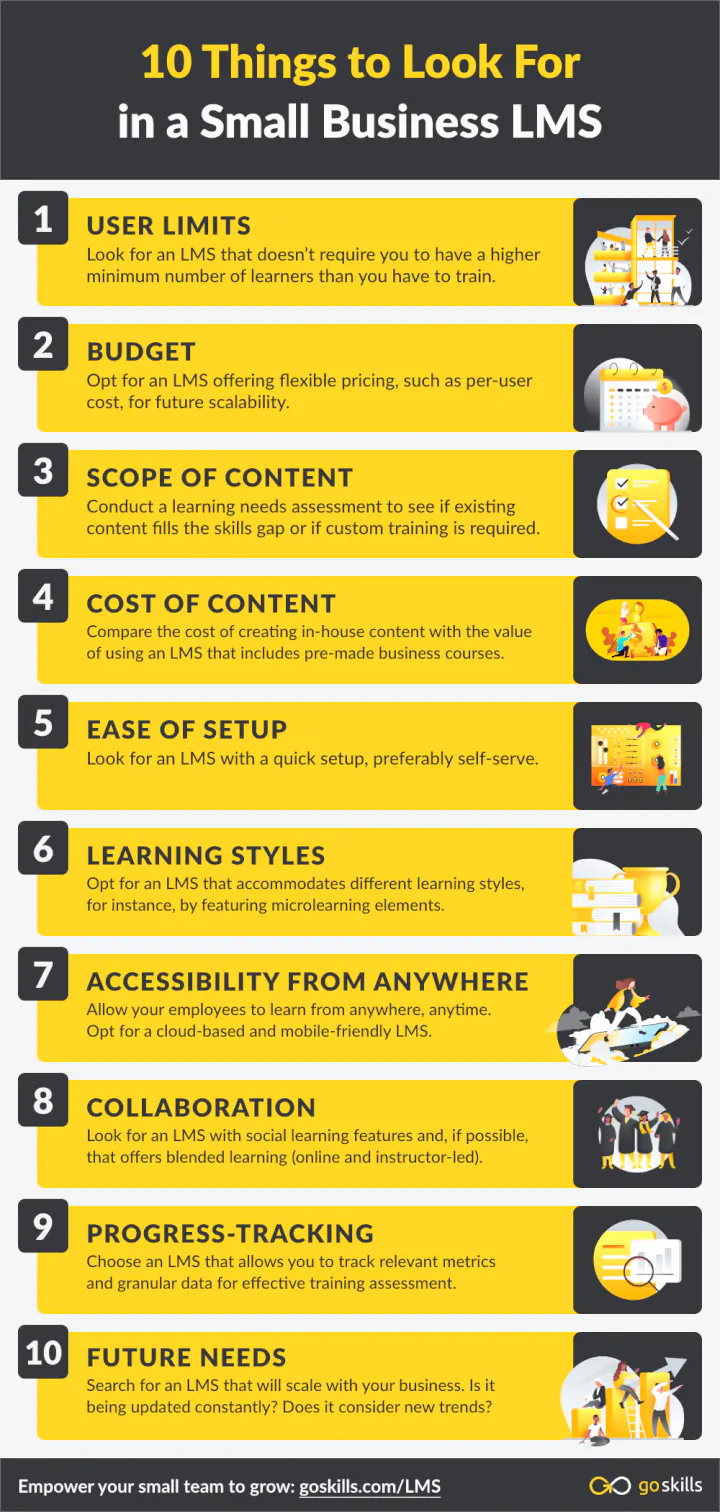 The best LMS for small business
A greater number of features won't make a learning management system the best fit for a small organization. The tool should fit the culture and not the other way round.
There are several other factors that will decide the best small business LMS (like SCORM compliance, industry certifications, integration with third-party tools, etc.), but the above ten are a good trigger for you to start thinking about the right tool for you.
Explore the GoSkills LMS today for your small business. With no user minimums, no hidden fees, and optional upgrades like off-the-shelf courses, GoSkills is the ideal choice to train your team.
Train any size team
It's easier than ever to track and manage your team's training with the GoSkills LMS.
Start for free