Technology advancements have rapidly evolved the business world as we know it.
Communication and flexibility have increased, collaboration has become more efficient, and working remotely is no longer an unrealistic perk; it's the new norm.
As more and more business professionals are no longer co-located, it's more important than ever to be up to date with the latest remote work tools to help you work from home with confidence.
Perhaps the most crucial tool, and one that you can't get very far without, is video conferencing software. The use of video conferencing eliminates the need for in-person meetings and face-to-face communication, however, there are quite a few differences that you should be aware of before jumping right into it.
You'll need to understand video conferencing etiquette, how to set up the proper equipment, and how to lead a virtual meeting with no issues. It might sound a bit intimidating, but don't worry. This article will walk you through the 11 best video conferencing tips and tricks to help you seamlessly hold a virtual meeting.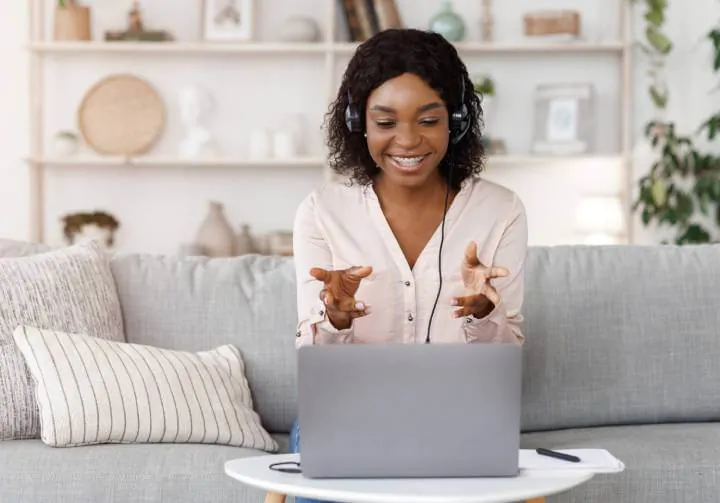 11 top video conferencing tips and tricks
Whether you're new to remote work or you're just looking to brush up on best practices, this article will teach you everything you need to know about how to use video conferencing software, what you should be aware of before joining a meeting, and how to come across just as confident and as effective as you typically would if you were in the boardroom.
If you're managing a team, you might like to share these tips with your employees to help your virtual meetings run smoothly.
Let's get started.
1. Test your technology before you begin
First things first. Test everything, and I mean everything before you begin your video conference call. You should perform a quick test run to ensure the software is working just as it should. If you need some additional assistance, read up on how to use Zoom or whichever software you're using before you start fumbling with the settings and making it harder for yourself.
You might find that your laptop's internal microphone doesn't work, or your video quality is terrible. If you're regularly participating in video calls, it's worth it to invest in additional video conferencing equipment such as a microphone or external camera. Not only will you look and sound more professional, but you won't ever have to worry about technical difficulties with your laptop again.
2. Dress professionally
Looking professional means something different to everyone. If you're feeling unsure, your best bet is to dress up rather than dress down. Keep in mind that your typical in-office dress code should still be observed, especially if you're on a video conference call with your manager or people you need to impress.
Should you find yourself conducting or having interviews remotely, you will absolutely need to dress nicely. If you would typically wear a suit and tie, wear a suit and tie. Standard interview protocol doesn't go out the window just because you aren't speaking in person. With that being said, remote interviews are tricky, and your outfit isn't the only thing you should worry about. Take a look at these top video interview tips to ensure that you have all of your bases covered.
3. Prepare as you would for any other meeting
One of the worst mistakes someone can make when leading a virtual meeting is being unprepared. There's nothing worse than fumbling through files, internet tabs, or a messy desktop while your participants have to sit and wait for you. If you have documents to share, have them pulled up and ready to go.
Make sure the meeting runs as smoothly as possible by preparing an agenda and referencing it often. Without having in-person cues and body language to go off of, it can be easy for a situation that typically wouldn't be awkward in-person to turn awkward fast. Long pauses and lack of eye contact can be hard to avoid during a video conference call, so having a detailed outline of how you want your meeting to go so you can lead with confidence will save you from those uncomfortable moments down the line. Consider utilizing a meeting management software to help you do this.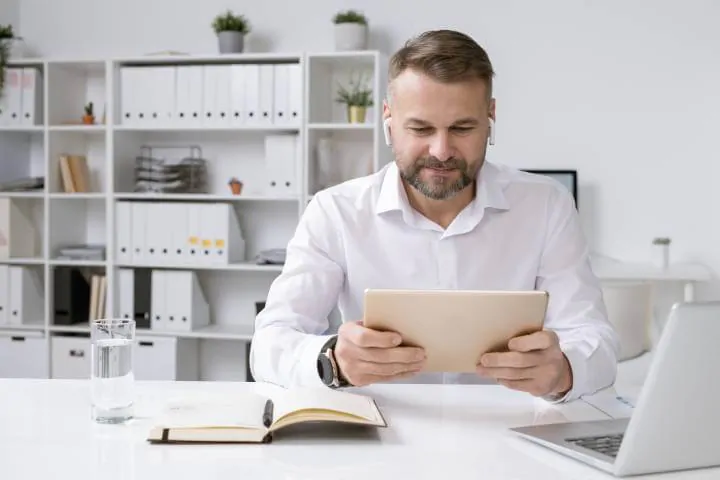 4. Remove clutter and distractions from your background
Remote work comes with a slew of interesting work "desks". Whether you prefer to work in your spare bedroom, home office, back patio, or basement, it's important that your background is free of clutter and distractions.
You would be surprised how quickly meeting participants can lose focus on the presenter and direct their attention to the colleague with the kids running wild or dogs playing with toys in the background. Think of each participant's video box as a television. If there's something going on in your box that isn't just you sitting and staring, you're causing a distraction.
This also goes for the inanimate items in your background. If you're in a bedroom, make sure the bed is made. If you're in the basement, take-down any embarrassing or non-work appropriate items from the wall behind you. Remember that you're still at work even if you're in your basement. Do your best to create a professional environment with what you have.
5. Limit your fidgeting
With all of that being said, you shouldn't be a distraction yourself. Don't eat during a meeting (unless it's a lunch meeting of course), stay off of your phone, don't engage with other people around you even if you're on mute, and keep eye contact with the webcam or with whoever is speaking. It's easy to lose focus when you're in your home environment, but for the sake of everyone else in the meeting, do your best to be attentive and alert. If you're struggling to stay on track, learn the best ways to be productive while you're working from home.
6. Have great lighting
This is a no brainer, but make sure that the location of your video conference call has great lighting. This means you shouldn't have any sun streaks on your face or be backlit. Low lighting is not favorable either. If you can't get the lighting you need from the space you're in, bring in another source of consistent lighting, such as your living room lamp or a newly purchased fluorescent ring light if you've invested in a more robust home office set up.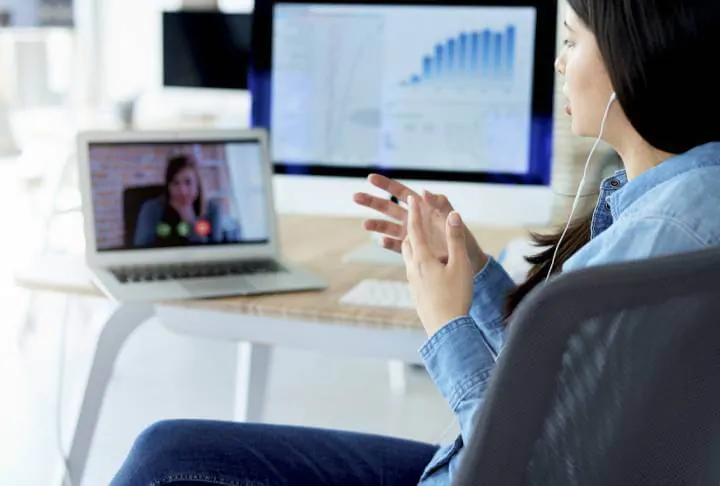 7. Ensure your internet connection is speedy
As with all types of video streaming, a strong and reliable internet connection is crucial. Test your wifi beforehand to ensure that your network can support video conferencing. If it can't, consider using an ethernet cable for a more stable connection or a wifi extender if your wifi doesn't reach where it needs to.
If you run into internet problems, keep in mind that you may have to turn off your webcam to improve the overall performance of your connection. If it's really bad, you may have to log off the video call altogether and dial in using your cell phone.
8. Organize your desktop before sharing your screen
There really is nothing more embarrassing than sharing your screen for all of your colleagues to discover that you forgot to close out of a personal conversation on Slack or a questionable tab was left open. Do yourself a favor and clean everything up before you start the meeting. Make sure that everything that needs to be pulled up for the meeting is ready, and everything that doesn't need to be there is out of sight.
9. Turn off your notifications
Now that your desktop is clear and ready for the meeting, you should turn off your notifications. This ensures that you won't receive any interrupting alerts or preview messages that appear while you're sharing your screen. There is nothing more annoying than constant pings from your social media, instant messaging, or lead scoring software going off.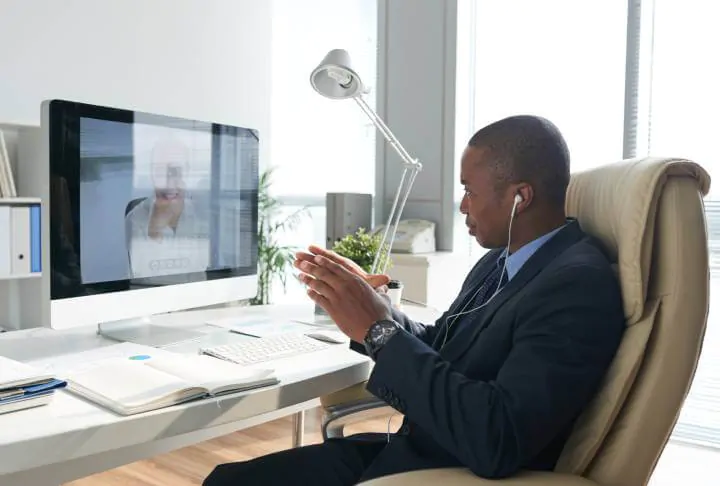 10. Always mute yourself when you're not speaking
Mute yourself when you're not speaking. It's the cardinal rule of video conferencing etiquette. This rule is easy to follow in theory, but maybe not so easy in practice. You wouldn't believe how many people forget to mute their microphones and force their entire group of meeting participants to listen to annoying background noises, dogs barking, feedback, and who knows what else!
"Can everyone mute themselves, please?" is a common question that usually has to be repeated over and over again until everyone gets the memo. Don't be one of those people. Mute yourself when you're listening, and unmute yourself when you're speaking. It's as simple as that.
11. Take advantage of the video conference features
The greatest advantages of video conferencing are all of the features that come with it. There are chat boxes to use if you don't want to interrupt the current conversation being had, polls, screen sharing, record options, branding features, webinar modes, and so much more. These features enhance your meetings in ways that could never be done in-person. Use them to your advantage.
Every video conference software boasts different perks, so compare all of them to discover which one is right for you. For example, Zoom and Skype are two of the most popular solutions on the market, but they have many differences. Make sure you do adequate research to ensure that the solution you choose has everything you and your team need.
Over to you
Working remotely has plenty of perks, but it can be difficult to get in your groove when you're no longer meeting with anyone face-to-face. Use these 11 video conferencing tips and tricks to put your best foot forward in your next virtual meeting. By doing so, you'll appear confident while getting your message across flawlessly.
Help your remote team stay productive, connected, and learning with the GoSkills training platform. With GoSkills, you can add your own courses and materials, link to your live or recorded Zoom training and meetings, and get access to our award-winning course library. It's free to sign up and add an unlimited number of learners. Start training your team today!
Train any size team
It's easier than ever to track and manage your team's training with the GoSkills LMS.
Start for free