The 2020 pandemic left its mark on the global workforce, resulting in many companies choosing to switch to the hybrid model, with employees working both from home and in the office. This includes big names like Amazon, where employees have the option to work from home two days a week.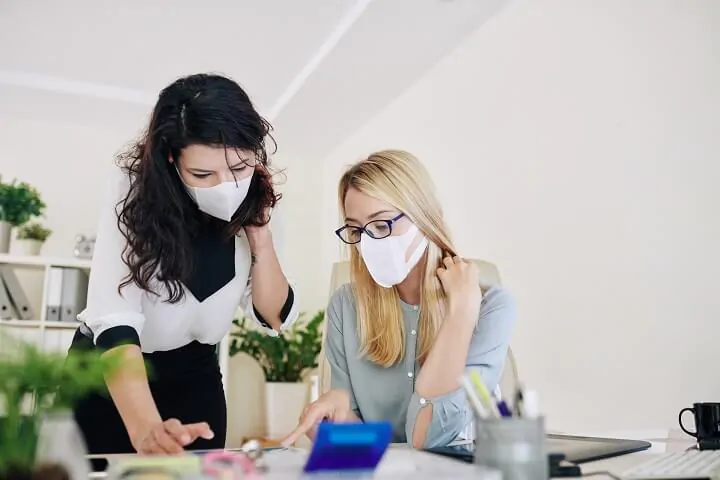 The hybrid working model is a new frontier for many businesses, and it's understandable that today's managers may need guidelines on how to lead their employees effectively in a hybrid environment.
How can companies ensure employees stay productive and collaborate both at home and in the office? How can managers treat every worker fairly, regardless of where they are clocked in that day? This article gives practical guidance on how to manage a hybrid team effectively to boost productivity and morale.
Understanding the hybrid team
Most businesses are still trying to decide what their hybrid model of working will look like. Indeed, hybrid work policies can vary widely from company to company.
In some cases, departments set in-office and away days for each team. At other companies, every employee is remote or in the office on set days. Some companies may only allow one remote workday per week, while others have offered their employees the option to work from home indefinitely if they wish.
Pros and cons of hybrid work
In order to establish your hybrid working policies, it's helpful to understand some of the advantages and disadvantages of this work model.
A few pros of managing a hybrid team include:
Increased employee satisfaction, which leads to higher engagement.
Reduced staff turnover rates, which means lower hiring costs.
A larger talent pool to hire from, as many workers actively seek out companies with remote working options.
A recent study confirms these advantages. The team at WeWork surveyed 1,000 C-suite and 1,000 non-C-suite employees to learn about their remote work preferences. More than half (53 percent) wanted to work in an office three days or fewer each week. Furthermore, 95 percent of employees wanted at least some control over when and where they work.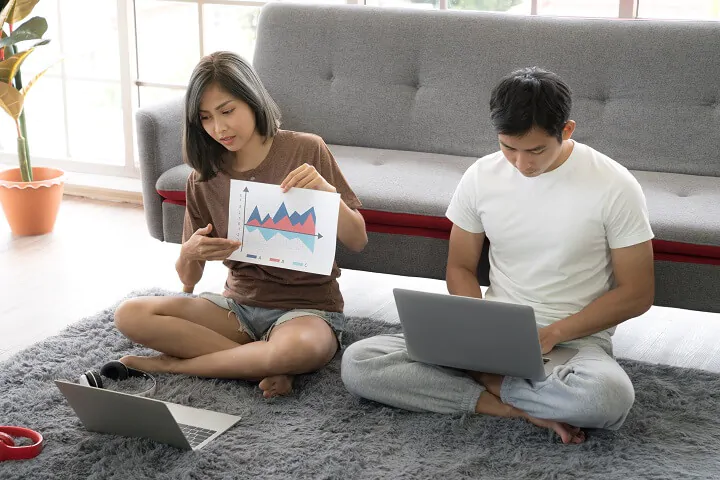 That being said, there are certainly some drawbacks to setting up a hybrid environment. Here are a few cons of choosing this way of working:
Hybrid workers can feel disconnected and 'left out' when they are working remotely.
Without the right guidelines, hybrid work can still be perceived as inflexible by employees.
Communication gaps are more likely to occur when employees are distributed.
There's less visibility for managers, making it more challenging to manage their teams.
It can be difficult to achieve leadership buy-in in hybrid work structures.
The same WeWork survey mentioned above highlighted how employees admitted they are easily distracted when working from home and they find time management to be more difficult. A third of respondents in the C-Suite group said it is hard to manage employees who are working from home.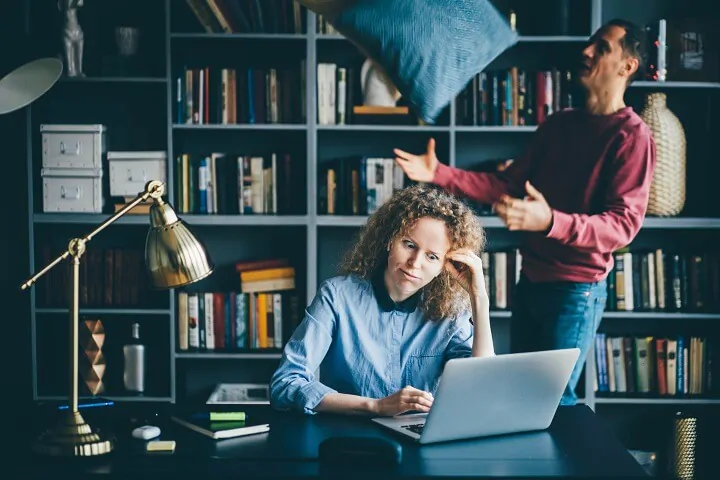 With this information in mind, it's important for managers to create policies that allow for flexible work while also reducing communication gaps and effectively managing the time and activities of your employees.
How to successfully manage a hybrid team
Every company is different — and so is every team. However, there are some hybrid working best practices you can follow as you transition into a hybrid work model.
1. Foster a remote-first culture
A remote-first culture means that remote workers aren't excluded or ignored. Create dial-in numbers for video calls, send out detailed meeting notes after every meeting, and embrace perks that benefit both office-based and remote teams.
2. Practice asynchronous communication
Asynchronous communication happens when you send out a message without expecting an immediate response.
While you might expect someone to respond to a chat message immediately, there's typically a longer response window for email messages or voicemails. Practicing asynchronous communication creates an equitable work environment for team members in different time zones.
3. Invest in the right tools
The pandemic has created an explosion of tools that foster communication in remote work environments. See how your office can benefit from better video conferencing options or digital project management tools.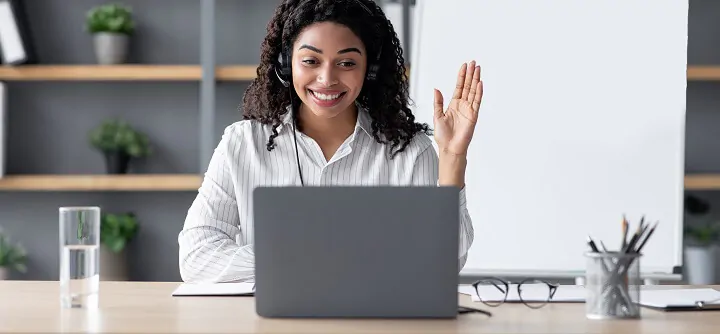 4. Create a schedule
A hybrid environment doesn't mean employees can come and go as they please. Allow your employees to choose when they are in the office, then create a clear schedule so you know who is working remotely and when. This way managers and employees can plan accordingly when scheduling meetings and other team activities.
5. Focus on information parity
Everyone on a hybrid team should have access to the same information. If your remote employees miss an in-person meeting, make sure the meeting notes are available and public. Missed information causes misinformation and distrust within your team.
6. Develop relevant leadership skills
Every executive has room to grow. Challenge yourself to improve your leadership skills, especially the ones that have proven vital during the pandemic. According to the communications experts at 4PSA in "How to Continue Being a Great Leader During the Pandemic," these include:
Practicing compassion and emotional intelligence.
Rallying your team around a shared core mission.
Communicating transparently whenever possible.
Being flexible and adaptable in all decision-making.
7. Trust your employees
Trust that every employee works in your best interest. If your employees believe in your mission and feel respected, they will give you their best.
8. Regularly offer and solicit feedback
Practice two-way feedback, where you receive advice along with giving it. This way employees feel safe speaking up when they have good ideas and understand that the feedback you offer is meant to help them grow.
9. Provide opportunities for social connection
Friendships and positive work relationships are part of our basic human needs. Look for ways to engage in-person and remote staff. For example, consider moving birthday celebrations or team-building activities to days when more people are in the office. If most people work remotely on Fridays, avoiding hosting events on that day.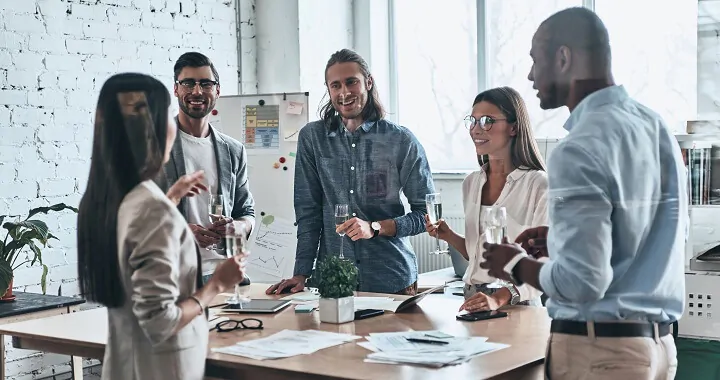 10. Be flexible
You don't have to get the hybrid model right the first time. Listen to your team and collect feedback. Together, you can create a fair policy that works for everyone.
You likely already have many of the tools under your belt for leading in a hybrid world. As long as you stay adaptable and incorporate these hybrid working best practices, you'll have everything it takes to make your employees stay engaged and productive in this new work environment.
Develop the skills to lead your team
A good policy can guide your team as they transition to a hybrid model. However, it's the managers, not the policies themselves, that drive success in the hybrid environment. If you want to improve your skills and set yourself up for success, consider taking an online course to prepare yourself for the new workforce.
At GoSkills, we have multiple relevant courses for hybrid managers, including team leadership and project management training. Let us upskill you so you can lead your team as they return to the office in the new hybrid world.
Become a better leader
Start learning for free with GoSkills courses
Start free trial