Google Docs is extremely convenient for collaborating with others and automatically backing up your important work.
But if you want software to go against the likes of Microsoft Word, Docs needs a bit of customizing to enjoy all the features you need at your fingertips.
This is where Google Docs add ons come in. The arsenal of useful, time-saving, and fun add-ons available can catapult your simple page to a professional but aesthetic document.
Here are some of the essential add-ons you should install to boost your productivity with Google Docs.
---
Want more productivity tips?
Take your productivity to the next level with our comprehensive (and free) ebook!
---
How to install an add-on in Google Docs
Google Docs has partnered with third-party developers for building a rich gallery of add-ons. You can access all available add-ons from the toolbar.
First, go to Add-ons > Get Add-ons.

There are more than 300 add-ons to choose from, both free and paid.
The default view lists all the add-ons. Click on the menu icon in the upper left (the icon with three lines) to open a drop down menu where you can filter by category, or search for an add-on with the search bar on the right.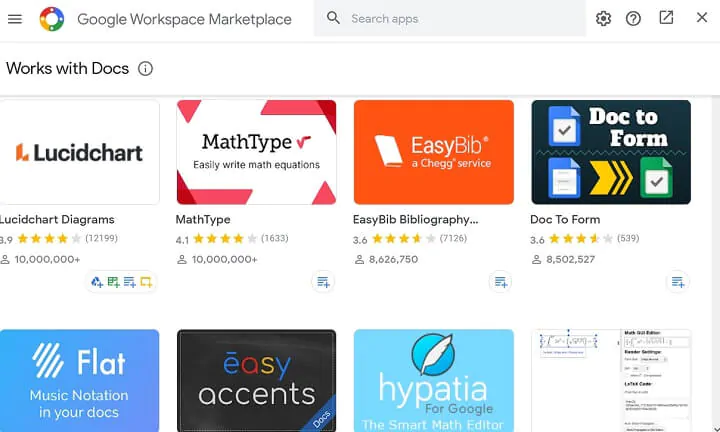 Found the add-on you like?
Click on the card to learn more about it. Read the reviews and check the rating before you decide to install the add-on.
Every add-on asks for specific permissions so that they can work with the data. Make sure you fully understand the permissions and trust the developer before installing any add-on.
When you've decided, click the blue button that says "Install" to install the add-on.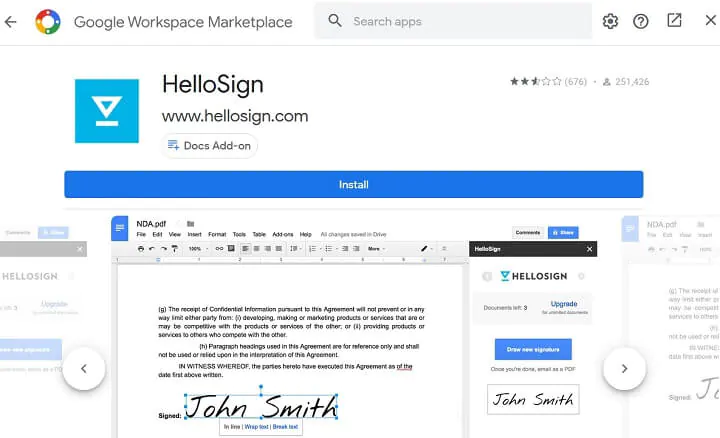 Essential Google Docs add ons for productivity
Your definition of productivity could differ from the person next to you. So, your choice of productivity add-ons will depend on the nature of work you do.
That said, this list of essential Google Docs add ons covers the basic task assigned to the word processor — writing a professional text document.
Price: Free

Key Benefit: Create an index of your document quickly.
A user base of more than a million users says that this Google Docs add-on is doing something right. The popular productivity add-on is a must-have if you create long professional documents.
It scans your document for headings and subheadings. Then, it creates a compact index, just like a table of contents in a book. Now you can easily jump to any part with a simple click on the table of links.
Use it with Google's default Document Outline feature to structure your work for final presentation.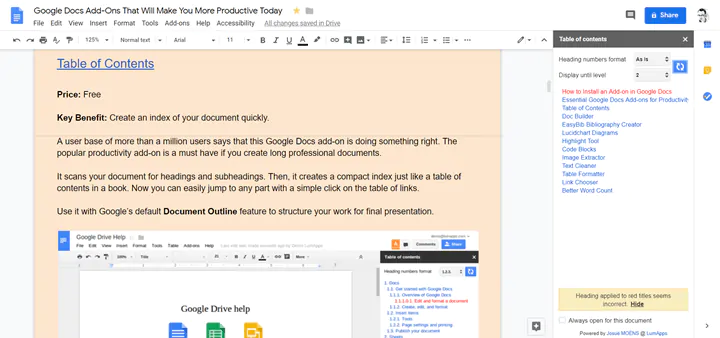 Price: Free

Key Benefit: Save time typing the same thing with reusable text snippets.
Why type the same words or phrases again and again? Doc Builder is a Google Docs add-on that saves your frequently used text snippets, which you can insert in any document.
You can also use special merge rules to import and use data in your Google Docs. Combine this snippet manager with your most-used Google Drive template to save a lot of time.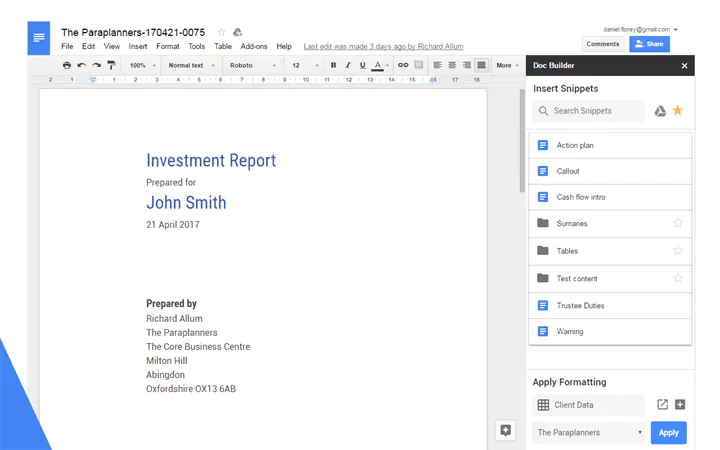 Price: Free

Key Benefit: Create a bibliography for your research paper quickly.
It can be a student essay or a research paper. Serious documents need a bibliography to credit their sources. Google Docs has an in-built citation tool within the Explore sidebar. But EasyBib is more powerful with support for MLA, APA, Chicago, Harvard, and over 7K other styles.
EasyBib and other citation managers make it convenient, but always double check your citations manually too as they can make or break your paper.
Price: Free

Key Benefit: Add visual polish to your documents in one click.
This is one must-install add-on for you if you miss Microsoft Word's styling powers. The add-on gives you 20 styling options that you can apply with a single click.
You can style the entire document or pick selected sections. But do note that unlike Word, you still cannot create custom styles and save them with this add-on.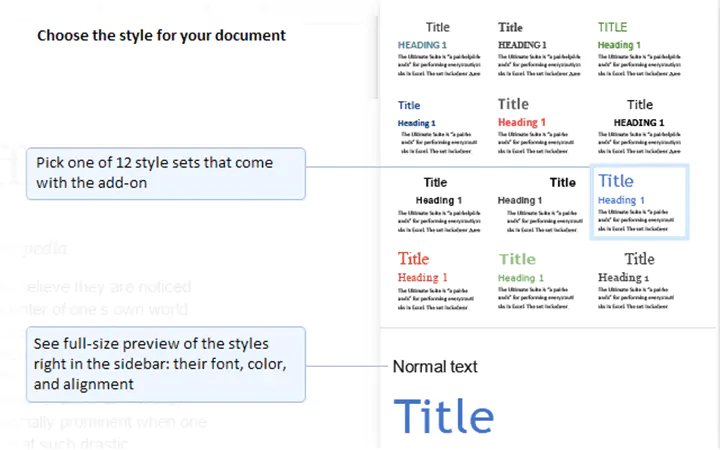 Price: Free

Key Benefit: Style footnotes according to your document.
Google Docs does not have a default styling option for footnotes. Footnote Style is another key add-on for choosing the best style and customizing a footnote according to the guidelines.
Thanks to this add-on, you can change the look of all your footnotes in one sweep. Also, save your preferences and re-use them in other documents to save time.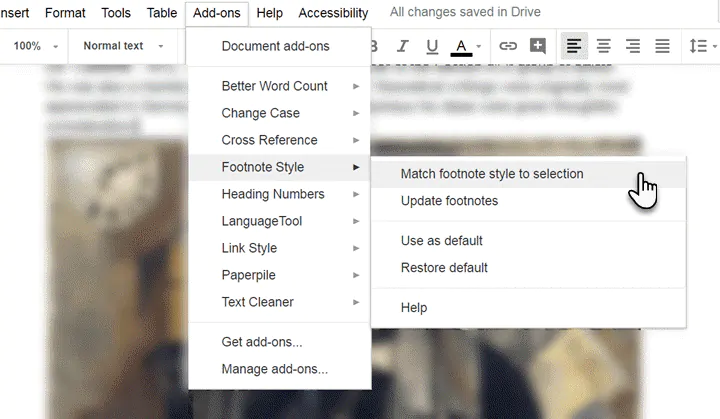 Price: Free

Key Benefit: A set of thirteen tools to handle minor text formatting jobs.
I said "minor." But some of those formatting jobs can take care of pesky problems. Doc Tools can change case, highlight text, sort tables and lists, change numbers to text, and more.
Not all conversions worked smoothly for me. But if it's a work in progress then the Google Docs add-on could help make you a bit more productive with the little things.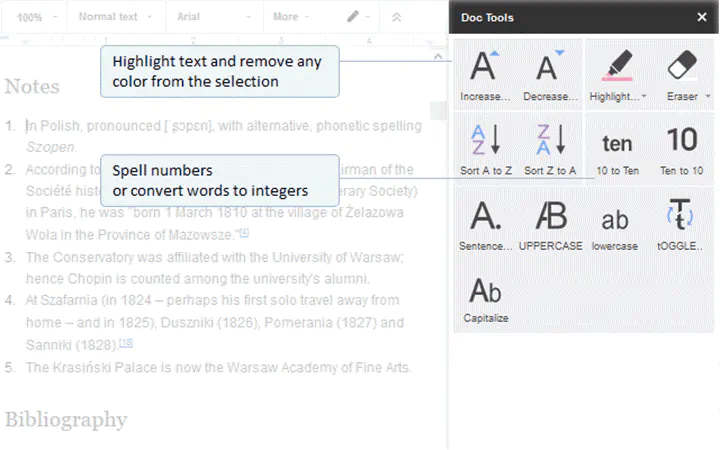 Price: Free, Pro Plans

Key Benefit: Make your document more visual with flowchart, wireframes, mind maps, and more.
Lucidchart is one of the best tools for visual communication with diagrams. You can be clearer about your process with simple flowcharts, rich technical diagrams, and everything in-between.
For instance, you might want to show a simple hierarchy to your class or explain a business process to your client. You just need to drag and drop shapes onto the canvas and begin your diagramming project.
Price: Free

Key Benefit: Markup specific text with highlights.
A document highlighter is one of the simplest tools you can imagine when you want to process some text. Google Docs has highlight colors in the toolbar, but it doesn't feel that natural. The Highlight Tool Google Docs add-on steps in with a better set of features.
The Highlighter add-on allows you to create different sets of highlighters for different tasks and save them. Collaboration is built-in and you can export the highlighted text to a separate document by sequence or by color. Highlight and un-highlight with a click on a button.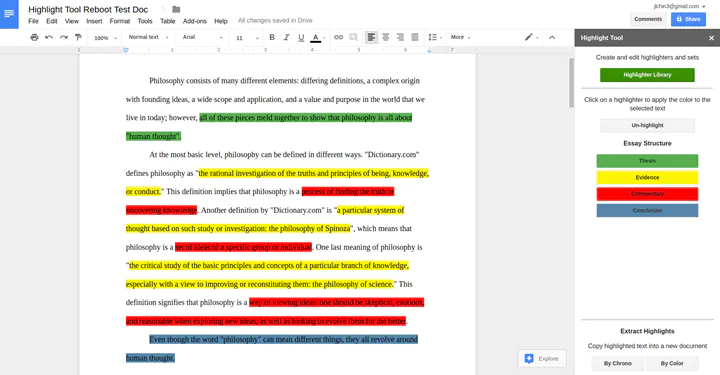 Price: Free

Key Benefit: Make code blocks in a Google document.
A document editor isn't a coding textpad. But it can be used for non-development tasks like collaborative documentation and notes for technical interviews.
Use Code Blocks to insert code snippets into a Google document. Code Blocks can detect language automatically or you can do it manually too.
Code Blocks supports all the basic requirements of a code editor like syntax highlighting and code preview before you update the document.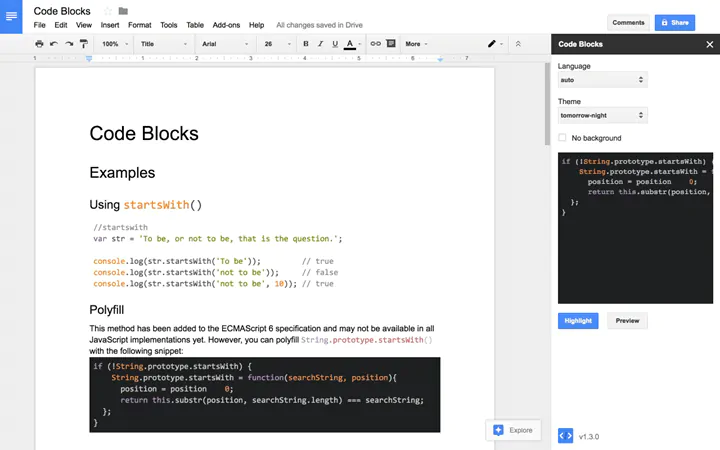 Price: Free

Key Benefit: Convert a Google Doc to Markdown or HTML.
Many version control systems and online text tools accept Markdown as the preferred format. This simple add-on enables you to use Google Docs with all its features and then convert the content into readable Markdown syntax.
You don't have to move between Markdown editors. Try it to convert old HTML based docs to updated Markdown documents. Do note that the add-on works on the entire document and not a selected section for the conversion.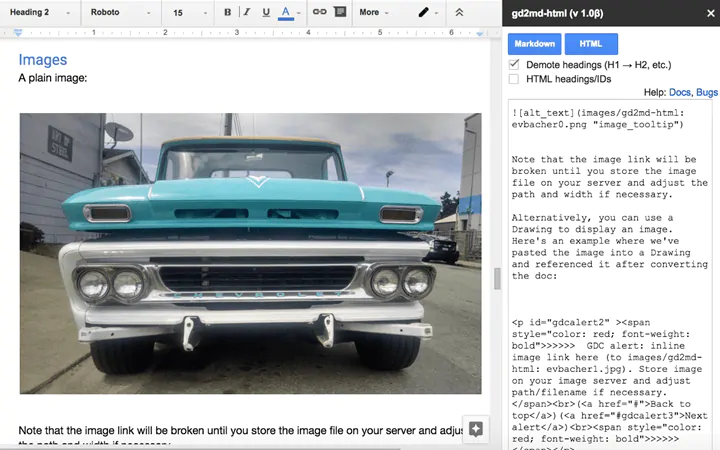 Price: Free

Key Benefit: Clear unnecessary formatting from any text.
Copy and paste any text and it might arrive with the formatting you don't need. The Text Cleaner Google Docs add-on does the simple job of cleaning up the text.
You can remove formatting from selected areas or choose to erase specific types of formatting like line breaks, multiple spaces, or tabs.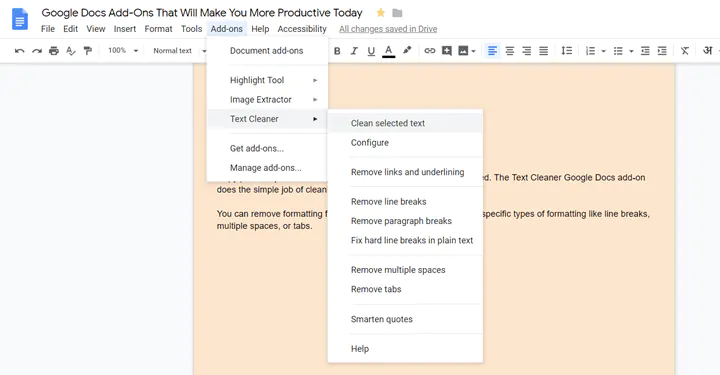 Price: Free, Premium version available

Key Benefit: Correctly use words with the right accents.
Easy Accents is one of those little guys whose utility you can easily overlook until you need to precisely use a foreign word (think French) with the right diacritical mark.
This add-on supports all the major languages. You can also use it to add math and logic marks. Use a symbol often? Create a custom list of accent marks to speed up your work.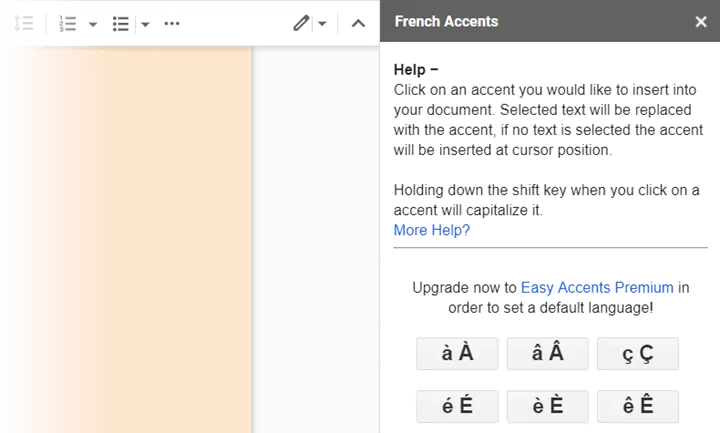 Price: Free

Key Benefit: Find synonyms, related words, adjectives, and rhymes.
Use the word or phrase under your cursor to search for its synonym or for any other usage. OneLook Thesaurus saves you from the trouble of opening another tab or depending on Google's dictionary alone.
The add-on is a thesaurus on steroids with options to return other word relationships like common adjectives, triggers, and rhymes too.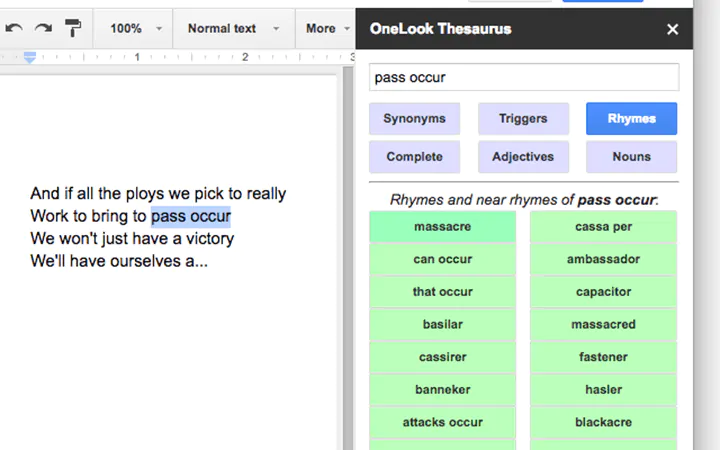 Price: Free

Key Benefit: Brings knowledge into Google Docs with a click.
You would think that Google Search is more than enough for research. But no, Wolfram Alpha is also another search alternative for facts and numbers you may need to cite.
Want to mention historical stats of an event? Or get information about a chemical compound for a class homework? Just type the exact phrase in the document, select it, then click the Compute Selection option in the Wolfram Alpha add-on.
Wolfram Alpha could qualify as one of the most productive add-ons for school and college students in any discipline. There's a similar add-on available for Google Sheets too.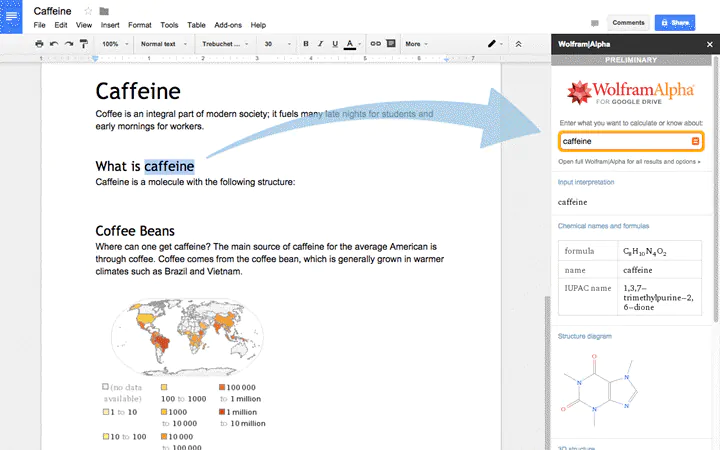 Price: Free

Key Benefit: Free, Premium
You are finally done with your document. But a typo or a grammatical error could undo all your hard work. You need a second pair of eyes to scan the document for errors and this is where Language Tool comes in with its grammar and spell checker.
It proofreads your content in English, French, Spanish, German, Polish, and more than 15 other languages. The free account limits you to 20,000 characters per check. So, select and proofread across your document. The premium version extends it to 40,000 characters per check and more features.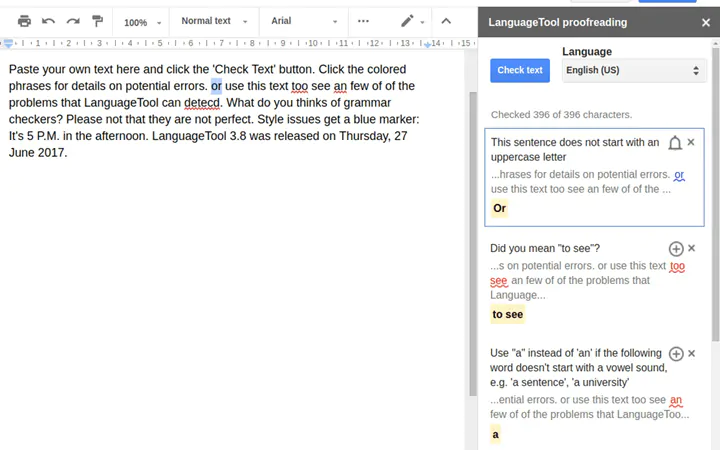 Also: Try the Consistency Checker add-on for proofreading your documents again.
Price: Free, Paid

Key Benefit: Easy to use electronic signatures for secure documents.
You can boost the validity of a digital document with an electronic signature. The problem is in finding a good one that also allows you go paperless for important documents. Hello Sign is a marquee name when it comes to business class esignatures that are legal and binding.
You can request signatures from potential clients too. The free version allows you to add signatures on three documents each month. Premium plans give you unlimited signing requests, templates, and other advanced features like audit trails.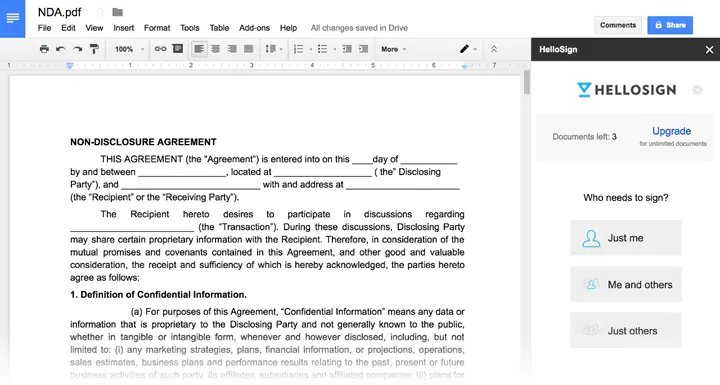 Make beautiful documents
We hope you found this list of essential Google Docs add ons useful and will use them to create more professional, beautiful documents.
Don't be afraid to explore and try new add-ons you come across, and gradually build a menu of helpful assistants that make you more productive every day.
To learn more Google Docs tips and tricks to boost your productivity, try the GoSkills Google Drive course now.
Want to be more productive?
Start learning for free with GoSkills courses
Start free trial