The world of freelancing is constantly evolving, so keeping yourself organized is not an option. It's a must!
There's a constant hunt to find the best tools for freelancers. From the to-do list application to communication platforms, they all come in handy when it comes to making sure you're productive and deliver results for your clients.
Working for yourself demands a lot of responsibility, and with that comes accountability.
Want to learn more?
Take your Microsoft Office skills to the next level with our comprehensive (and free) ebook!
Managing workload is one of the biggest skills freelancers need to keep their eye on. Tools help to maintain demand, improve workflow and improve client relationships by easing stress for freelancers giving them the ideal situation moving forward.
There are a host of areas you'll need to be aware of when freelancing and many that newbie freelancers don't think about, but all equally valuable to ongoing improvement:
Mindfulness - Respecting your energy levels and mental health pays off. For new freelancers, creating a balance will help as you dedicate more time to your work.
Productivity - Optimising the time you spend is valuable. Using simple resources to tally time spent with clients, note-taking for your countless meetings and organizing your to-do list will make you feel much stronger in your work.
Learning - Taking in and absorbing the world around you throughout your journey will provide a constant flow of insights to apply as you move forward.
Finance - Managing finances and reducing costs where you can provide a host of benefits and reduce stress when it comes to money management.
Communication - Whether you work with in-person clients or remote clients, chances are you'll need to keep in touch. Keeping these channels strong and consistent will help you in optimizing your workload.
Bonus: Are you looking for a gift for the remote worker in your life? Check out our gift guide for people who work from home.
Let's start this off with the mindfulness resources.
Mindfulness is one of the many areas that people tend to skip past, but taking control of your stress levels and managing your mental health can help to reduce illness time and work-related stress incidents.
Mindfulness
1. Oak Meditation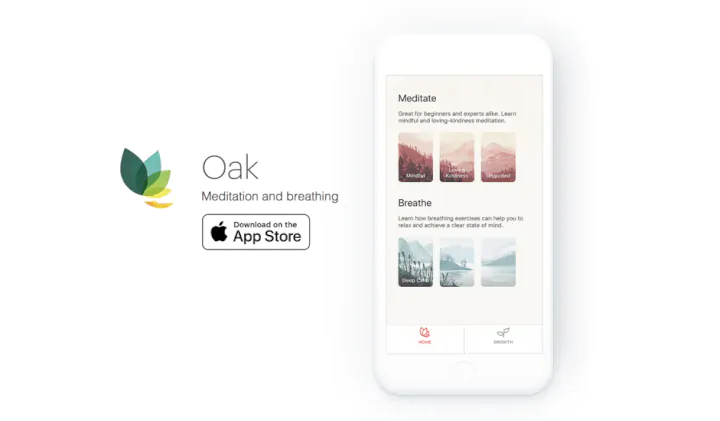 Best For: Freelancers and remote workers looking to reduce stress and anxiety during the workday with simple meditation practices.
Cost: Free on iOS.
Download for iOS here.
Oak Meditation is one of the many meditation apps designed to help you reduce stress throughout your day. Meditation is a healthy habit to introduce as a freelancer helping to stimulate focused work and retain productivity across your day by taking a timed pause. There's even a timer for breathing with exercises to help you take a moment out!
2. Workfrom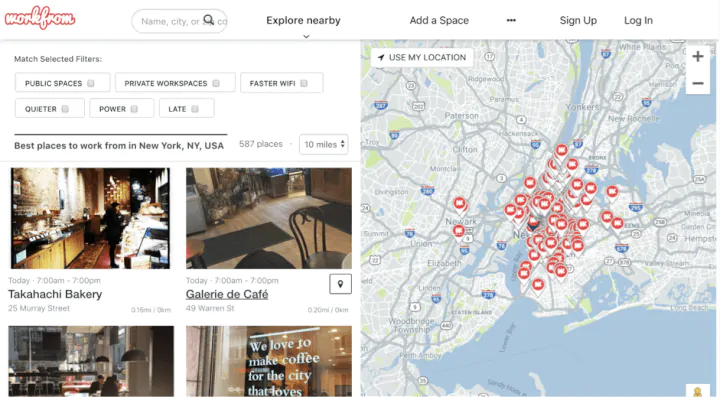 Best For: Freelancers bored of working from home and looking to explore nearby cities or towns for co-working or coffee spaces.
Cost: Free to use.
Download for iOS, or Android at the website.
Workfrom evolved from the popular work-from-anywhere movement. Many remote workers tend to stay at home because of the comfort and improved productivity. Workfrom introduces a host of new places to work, from the nearby shops to the world's largest cities' co-working spaces.
It offers a map-like experience to help you discover what's good in your city and a way for you to spice up your routine. Highly recommended! The ideal mindful way to explore the world whilst working. Check out this guide to find out about the different marketing jobs you can do remotely.
3. Noizio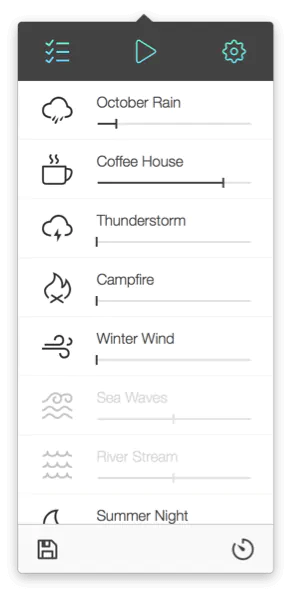 Best For: Freelancers or remote workers who work from home and use music to create an atmosphere to help them get things done.
Cost: iOS: $0.99, Mac: $2.99, or via the Setapp subscription ($14.99 per month).
Noizio is a unique application providing sound equalizer technology allowing you to re-create sounds. Whether it's a busy coffee shop or a peaceful garden, the background noise helps many freelancers to stay focused by creating a sound environment that lifts their productivity. It's a healthy habit to introduce into your home routine and improve the likelihood of improved workflow for those who already listen to music.
4. Asana Rebel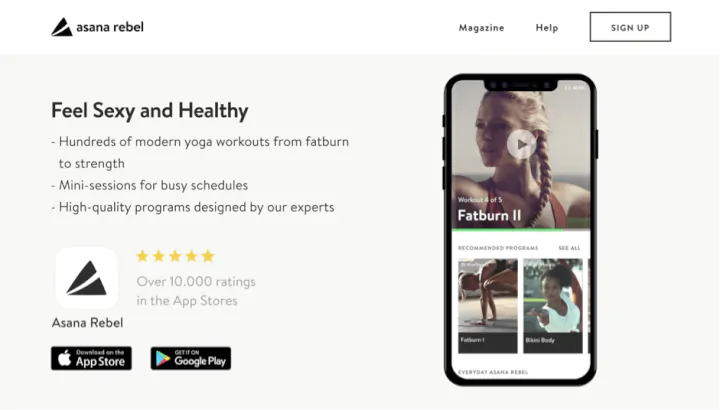 Best For: Those looking to get a dose of exercise in their daily routine at home, without the need to visit a gym or pay for an expensive yoga teacher.
Cost: Free (limited), premium prices vary from $9.99 per month.
For those who like to work at home, the importance of movement cannot be overemphasized. If you're stuck at a desk and simply need a 5-minute session, Asana Rebel provides the perfect opportunity to help you get some much-needed exercise. All this, without the need for a commute to the gym or even the need for any equipment to be dragged out of your closet.
5. Lifesum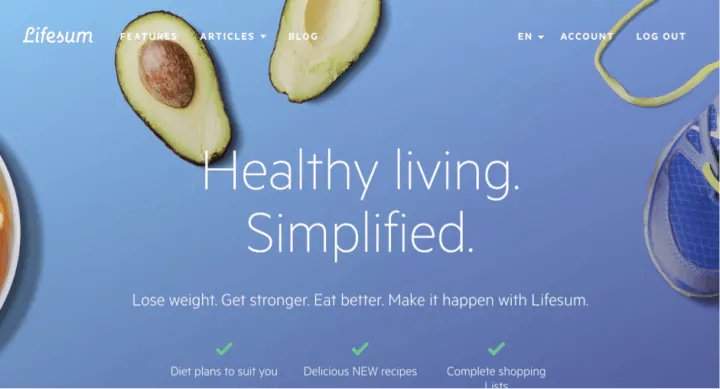 Best For: Those conscious of over-eating or eating poorly during the workday.
Cost: Free (limited), with $8.99 premium per month.
Download for iOS and Android here.
Lifesum provides those who struggle with their food habits about making healthier choices. This sounds, again, strange to be recommending for a freelancer, but being at home and having access to coffee shop cakes, with no boss judging you, can be damaging to your health.
Tracking food can help to make more efficient choices for your diet and as we all know, the healthier we eat, the better we feel, and the better we feel, the better the quality of our work.
Productivity
Now onto the productivity section, the one you've all been waiting for!
Productivity tools can be fundamental to helping you and your team get things done across the day. Making sure you have tools that match your needs, and features that help you build the best relationships is vital. Let's dive into a range of tools to help you find your ninja mode.
Let's jump into the best productivity applications for freelancers.
6. Notion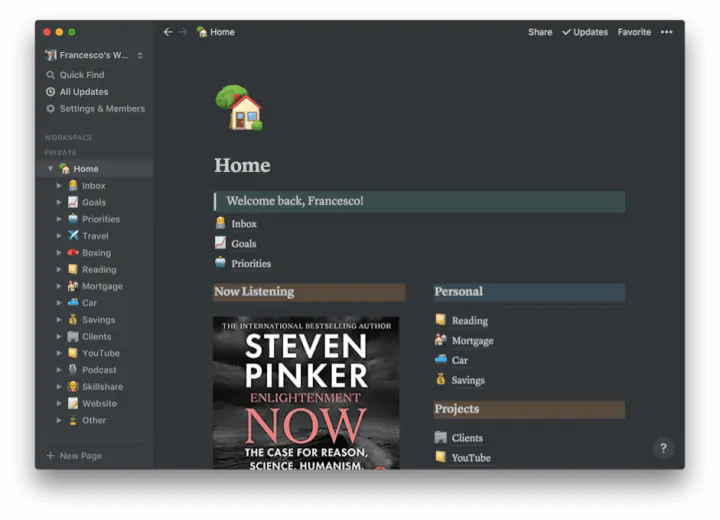 Best For: Those looking to organise their personal productivity by creating a workspace that helps plan and get things done
Cost: Free (limited), plans from $4 per user, per month.
Download for iOS, Android, Mac & Windows here.
Notion is one of the fastest growing productivity software right now. The workspace provides a range of functionality allowing both personal and team productivity. Features include a to-do list, boards for organising, table management, note-taking toolkit, calendar and so much more. Many people are finding Notion complex to get started but once they've found their way of using it they have applauded the application for its abilities.
7. Calendly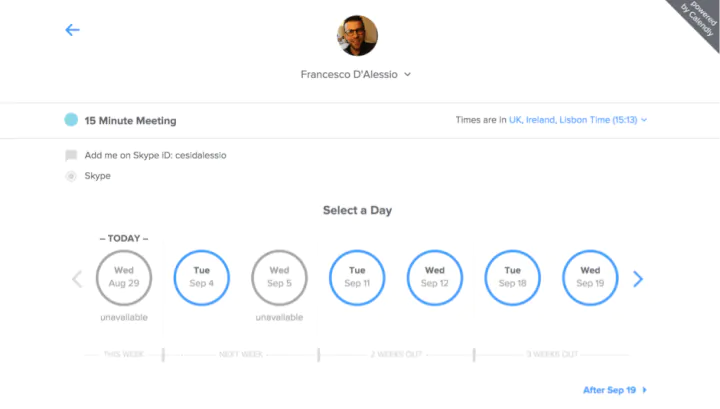 Best For: Looking for times/dates to meet
Cost: Free (limited), prices from $8 per user, per month.
Set-up Calendly for Web: here.
Calendly is becoming more and more popular as many realise how much time they spend on communicating around meeting times. With this figure on the rise, Calendly has allowed users to send a simple link to showcase free slots in their calendar for the recipient to book with no fuss. Perfect for freelancers and remote workers looking to avoid complication.
8. Trello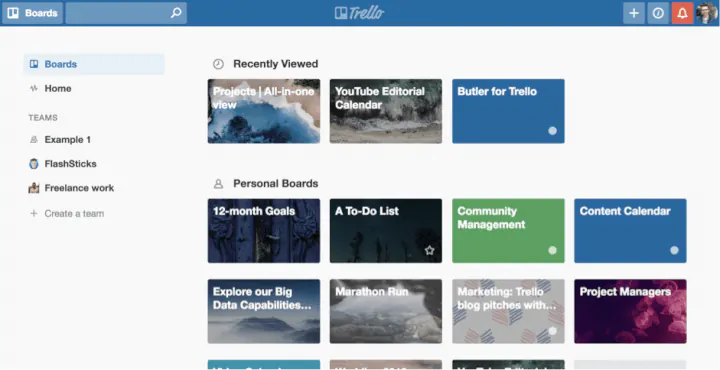 Best For: Those who want to organise and manage projects without the complexity of project management resources.
Cost: Free, with Business Class priced at $9.99 per month, per user.
Download for iOS, Mac, Android, and Web here.
Trello is a great tool for freelancers looking to use the traditional kanban method for planning their workload and managing a team's. It's ideal for professionals that are looking for a simple tool with the ability, later, to add more advanced functionality, buried inside of Trello's plugins that can be installed on any of the Trello boards.
Bonus: Check out this Video on how easy it is to plan an event in Trello:
9. Bear Notes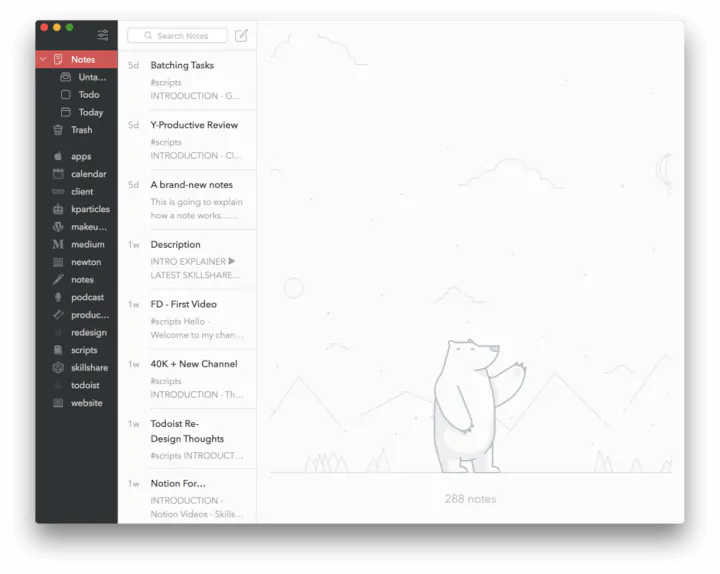 Best For: Those looking for a distraction-free writing experience without the pressure of organizing notes into advanced notebook layouts.
Cost: Free, with Bear Pro costing $14.99 per year.
Download for iOS and Mac here.
Bear is one of the rising stars for Mac and iOS users. Giving users the ability to take notes and organise them using hashtags, a very 21st century way to organise. The minimal experience is one of the things many people rave about when using Bear. Well worth it if you've recently become an avid writer or minimal writer.
Bonus: Check out my in-depth rundown of the app here:
10. Toggl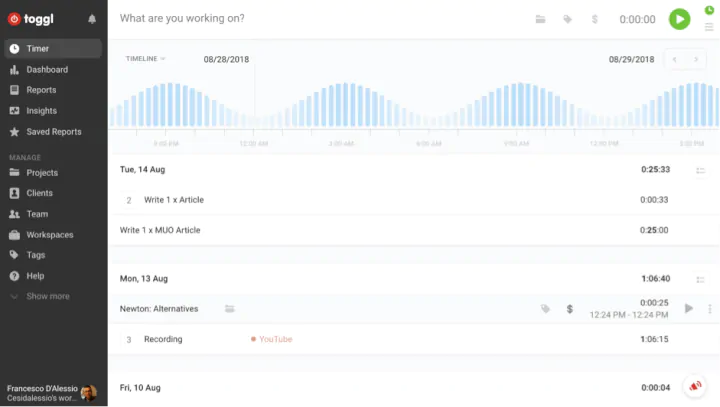 Best For: Those looking to capture the time spent on tasks and per client to reduce wasted time and bill each client for how much time allocated.
Cost: Free, with prices starting from $10 per user, per month.
Download for iOS, Mac, Android, and Web here.
Toggl is a well-created time tracking resource allowing you to capture where you spend your time across your work filled day. As a freelancer tallying all of the client's tasks and working out where time was spent will help to improve your accounting and finetune your work. Toggl is used by millions of professionals, in and outside of teams to manage their time, with the option to add team members at any time.
11. Calendars 5 by Readdle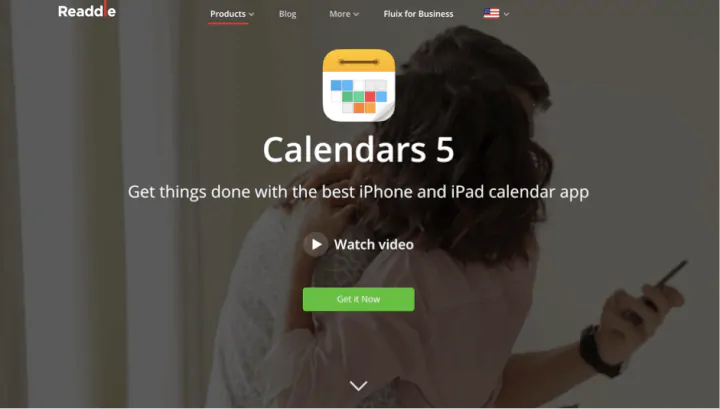 Best For: Those who love Apple Calendar and want to go a step further.
Cost: $6.99 one-off fee.
Download for iOS: here.
Calendars 5 for iOS is a great way to upgrade your calendar on your iPhone or iPad. Once you've imported your Google or Apple calendars, get started by viewing your calendar in many different ways to help improve your relationship with your calendar application. There's also a spot to add tasks if it's something you like to see together, events and to-dos.
Bonus: Check out my video on how to use the Calendar 5 app here:
12. Todoist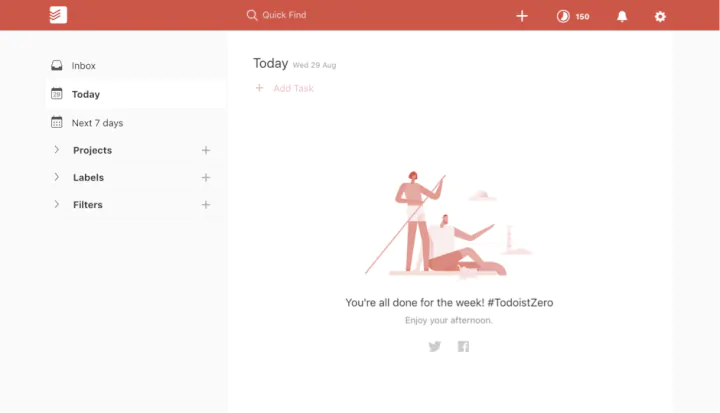 Best For: Keeping track of important to-do's and managing your week ahead.
Cost: Free, or $29.99 per year for premium.
Download for iOS, Android, Mac, Windows, and Web: here.
Todoist is the king of the to-do list applications. For those not rocking a to-do list application, this will blow you out of the water by allowing you to tally tasks, manage projects, coordinate deadlines and visualise what's up next all within the app. Never miss a task. We've covered Todoist in the Essential Productivity Training course, so you can explore it further and learn how to master it with GoSkills.
Bonus: Check out this lesson to see how to set up your Todoist:
13. Timing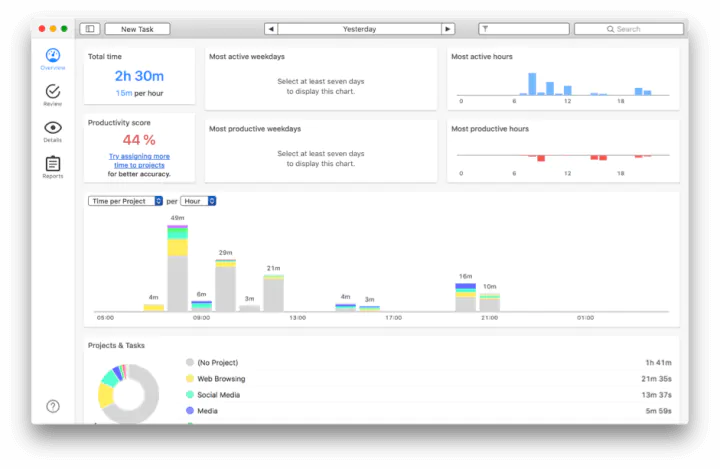 Best For: Those who stress about procrastination and analyse how they spend their time.
Cost: From $39 one-off on MacOS, available via Setapp subscription ($14.99 per month).
Download for MacOS here.
Timing 2 comes with a good reputation from its users. The ability to visualise where you spend your time on your computer comes in handy when you are looking for ways to reduce procrastination and up the ante on improving success as a freelancer. Timing 2's dashboard helps to build a picture of what you visited across your day in a snazzy timeline view.
14. Hours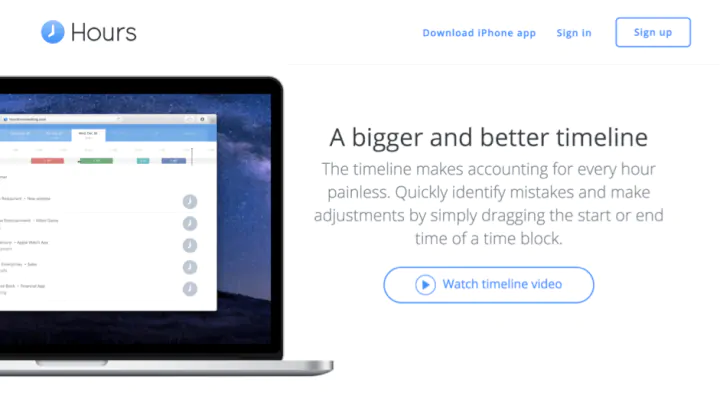 Best For: For those looking to tally the hours they spend for themselves or with their remote team and analyse this data in detail.
Cost: Free on iOS (unlimited), $8.00 per user, per month.
Download for iOS and Web here.
Hours, which is mentioned inside of the Essential Productivity Training course is the perfect companion for newbie time-trackers. On iOS, it's free, giving you an easy-to-use starting point to tally how you spend your time across your day. Viewing the dashboard on the web will help you see exactly how much time was spent where and provide you with the ultimate way to improve your efforts as a freelancer.
15. Freedom
Best For: Those worrying about procrastination getting in the way of their client work
Cost: $29.99 per year.
Download for Mac, Windows, iOS: here.
Freedom gives anyone the opportunity to shut down certain sites and apps in order to focus on work. Many students praise this application for helping them get through procrastination intense study sessions. Freedom blocks the sites distracting you, set manually by you, and helps you to work towards your goals instead of keeping the options open for you.
16. BeFocused Pro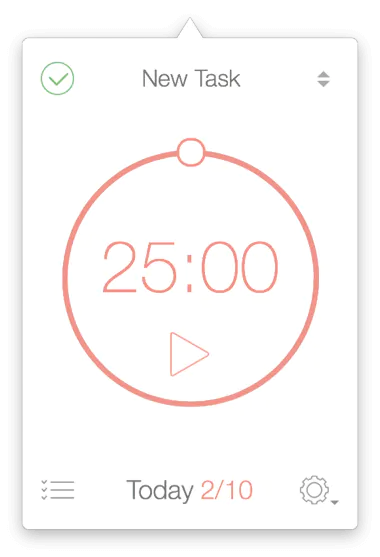 Best For: Those looking to work in shorter stints and get things done across their day.
Cost: From $4.99 on Mac, included Setapp subscription ($14.99 per month).
Download for MacOS and iOS here.
BeFocused Pro is a favourite for many MacOS fans of the Pomodoro Technique. For those who don't know, the technique is simple to weave into your routine. 25-minute working blocks with 5-minute breaks, these cycles help to intensify work and improve outcomes by planning in breaks and avoiding distractions. BeFocused Pro sits on your menu bar and allows you to time and tally the success of your cycles.
17. Fantastical 2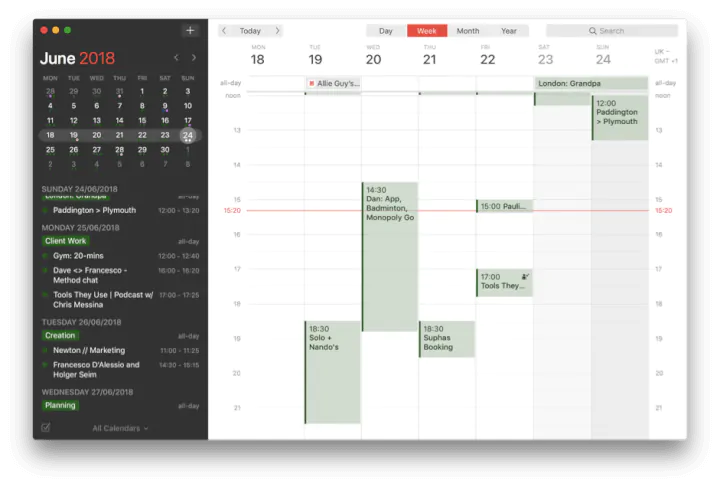 Best For: Those looking for a beautiful, fast input calendar application for iOS and Mac.
Cost: $49.99 per Mac, $9.99 per iOS download.
Download for iOS and Mac: here.
Fantastical 2 is a favourite calendar experience for many, allowing users to do a range of things. The two most notable things are the remarkable ease of use of the application with tonnes of customisation available, and the ability to input calendar events using something called natural language input. Perfect for those on the go looking to save time.
18. monday.com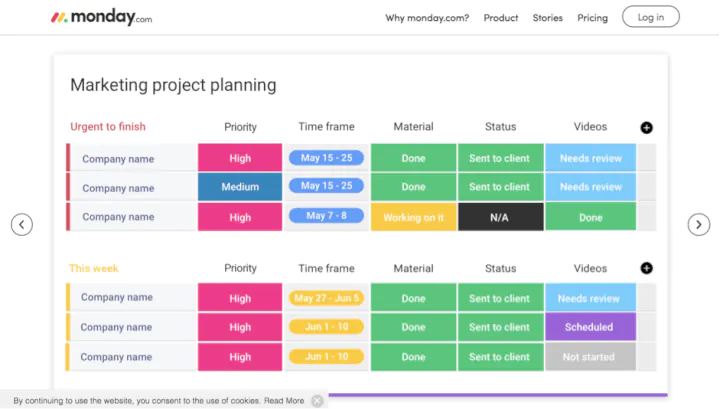 Best For: Remote workers and freelancers looking to get their teams organised and ready for big and small projects
Cost: Ranging from $25 per month onwards.
Download for iOS, Android, Mac and Web here.
monday.com app is one of the most popular project management applications right now. Many remote workers and even freelancers are heading here to organise their own activities and projects in an effort to keep organised. The board layouts allow you to customise your experience bringing the wonders of productivity through templates and viewing options.
19. Evernote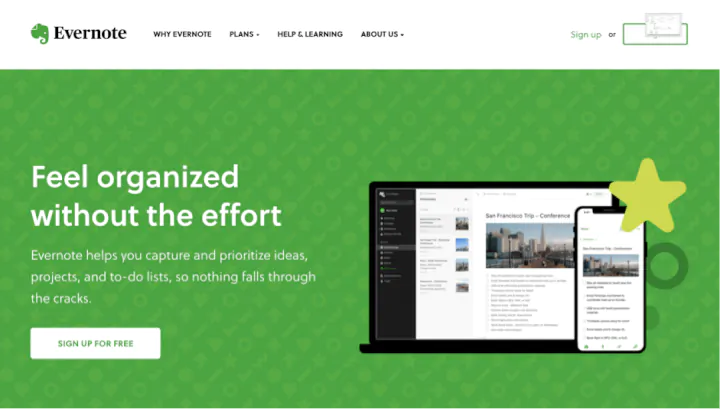 Best For: Those who need a reliable, notebook-focused note-taking application.
Cost: Free (limited to 2 devices), from $4.99 per month, premium.
Download for iOS, Android, Mac, Windows and Web here.
If you haven't heard of Evernote, where have you been?! Evernote is used by over 100M people worldwide and currently remains the most used note-taking application. People use Evernote in so many different ways to tally notes, manage projects and keep track of things they never want to forget. With features like Web Clipper, Inbox and Notebooks, you can really take your organisation to the next level and keep ahead of the game as a freelancer.
Bonus: Check out this lesson on how to set up an Evernote account:
20. Airtable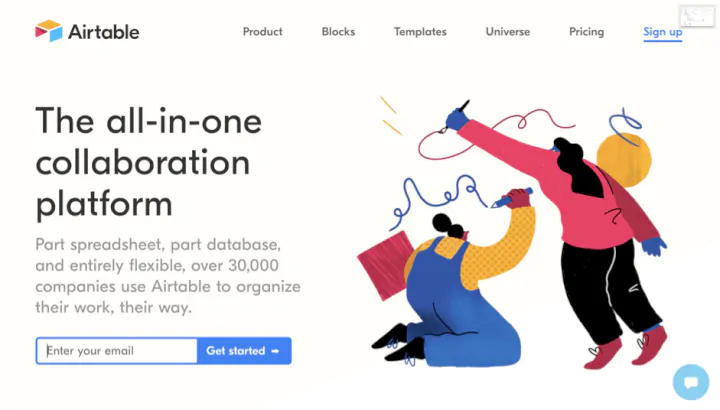 Best For: Managing projects and activities within a team or as an individual.
Cost: Free (limited), Pro from $10 per month.
Download for iOS, Android, Mac and Windows here.
Airtable is one of the most progressive project management applications out there, with a host of features for teams and individual professionals to organise their work. Blocks help to expand your experience by adding a layer of tools and apps, perfect for adding integrations like Maps, matrix tools and so much more.
This is perfect for teams and even personal productivity.
21. Backlog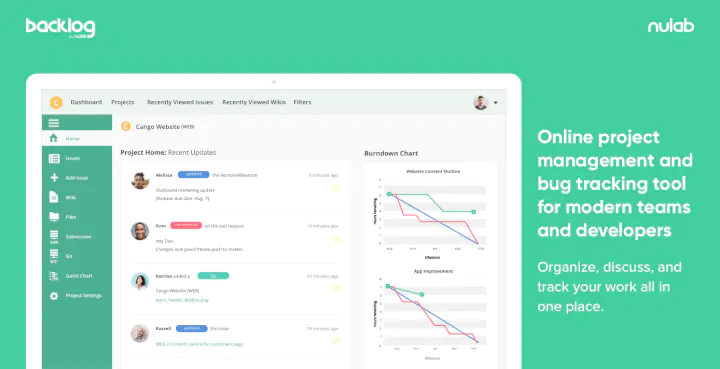 Best for: Remote workers, freelancers, software developers, and project managers looking for a tool that brings project management, issue tracking, and version control together under one app.
Cost: Free, with paid plans starting at $35 per month.
Backlog is an all-in-one project and code management tool. Combining project management, bug tracking, and version control, Backlog brings project and code management together at last. Assign, track, and release code right alongside regular project work with built-in Git and SVN repositories. Kanban-style boards for each project make it easy to view every task as they move through your workflow. With features like Wikis, file sharing, Gantt charts, burndown charts, and custom statuses, you can visually manage your entire project from beginning to end.

Backlog enables you to collaborate with stakeholders and clients on one connected platform. And the iOS and Android apps keep you in-the-loop wherever you go.
Bonus: Check this video to learn more about Backlog
Learning
Continuing to learn is one of the most valuable investments of your time as a freelancer, whether it's a new course here on GoSkills or proceeding with a new book, it's time well spent if it makes you more money, reduces stress or manages your workload more efficiently. Learning is the one thing you should always make time for along your journey.
22. Blinkist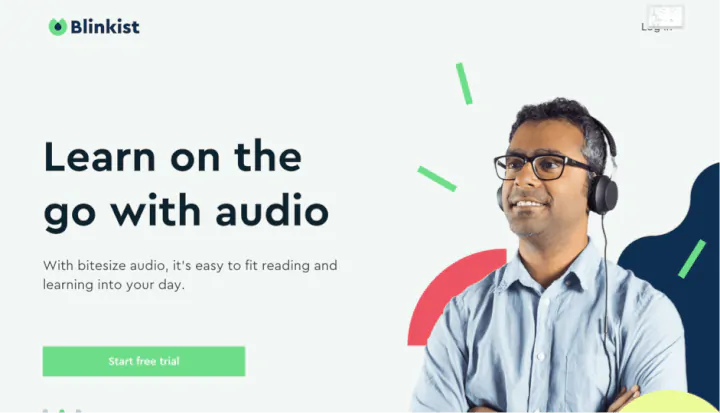 Best For: Time-poor professionals looking to gobble up the best bits of a book.
Cost: $79.99 per year, with monthly options.
Download for iOS and Android here.
Blinkist is one of the most exciting apps of 2018, allowing users to listen to books within 15-minutes by condensing them into takeaways. From Getting Things Done to Tools of Titans, the Blinkist library is vast and will help to improve your insights in a shorter period of time. Read a full book on your commute every morning and take control of your learning.
Bonus: Check out my video on how I like to use the Blinkist app here:
23. Castro 3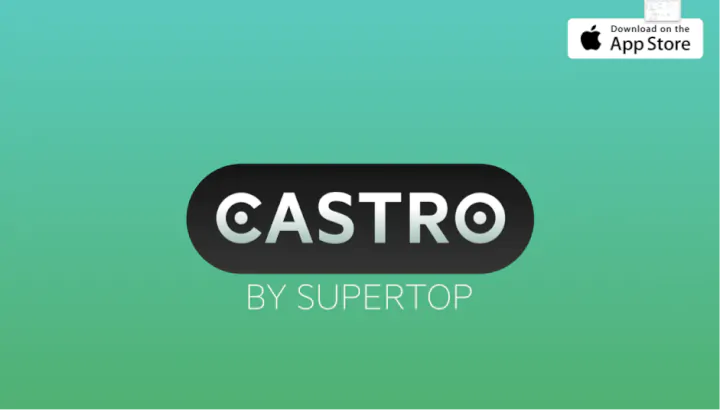 Best For: Podcast lovers looking for a manageable way to view their subscriptions.
Cost: Free, with Castro Plus $8.99 per year.
Download for iOS here.
Castro is a very attractive application allowing you to subscribe to podcasts and triage incoming subscriptions. As all podcast lovers know, you can get carried away adding podcasts, but filtering them is tough in conventional applications like Apple Podcasts. Manage podcasts with an inbox inside of Castro and take control of what's next.
24. Audible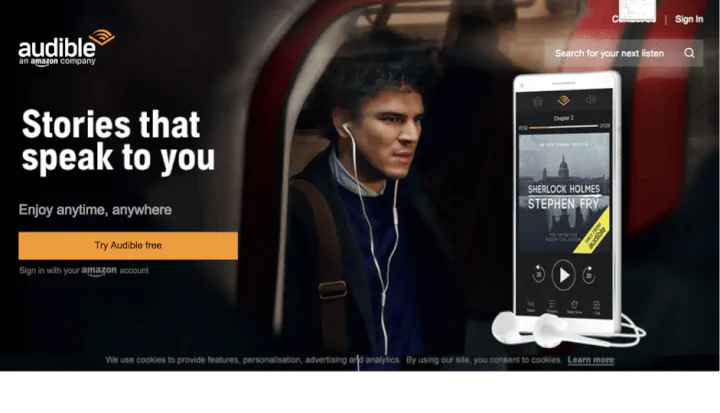 Best For: Slow readers who don't get time to read physical books
Cost: From $7.99 per month, equates to 1 credit monthly.
Download for iOS and Android here.
Audible is one of those applications that sit in a lot of people's home screens but never gets used. Once you get used to Audible, audiobooks become a great way to consume books. Getting through two books a month can be a fantastic way to learn rapidly from the best experts in the freelancing and marketing spaces, in an effort to improve your business or self-employment efforts by hearing stories from experts.
Finance
Taking control of your finances is one of the very important elements of freelancing or working remotely. Keeping track of how and where you spend your money will help when it comes to filling your tax returns, year on year. Here's a few apps that have helped many freelancers take finance into their own hands.
25. Wave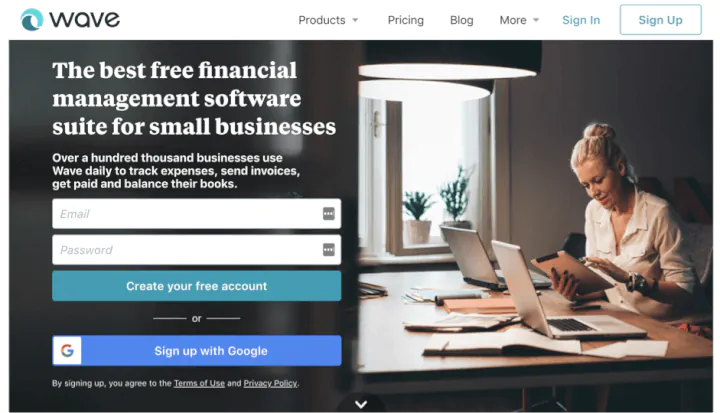 Best For: Those who want to send invoices, calculate their sales and transactions and see yearly reports, without the huge cost of accounting software.
Cost: Free, with fees for payment via invoices.
Download for iOS and Android here.
Wave is one of the first freelancing software I discovered. Using it to manage my accounting and send invoices worked really well. It's a great starting point for freelancers to consider when it comes to improving their accounting process, making sure to save valuable monetary information and get clients to pay efficiently. Custom invoices makes the experience even easier to use and track all within Wave too.
26. Xero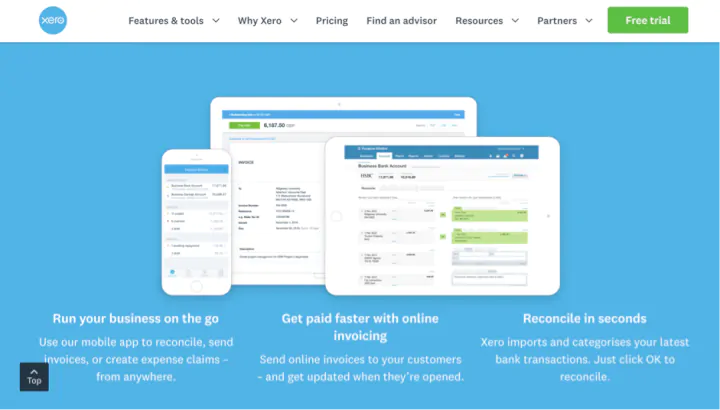 Best For: Those looking to go a step further and manage their accounts using accountancy grade software and reconcile bank transactions.
Cost: Free Trial, prices start from $10 per month, peruse.
Download for iOS and Android here.
Xero is a step up, providing its users with the ability to send invoices, reconcile bank transactions, create reports, liaise with accountants and take control of summarised accounts. Many recommend Xero, and it's a favourite within the accounting community, which might make your clients happier when they come to payment.
Communication
Despite being a freelancer or remote worker, there's still a level of communication that you'll need with clients and team members. Being able to chat on your own time, without distractions, makes things so much easier. These are some great tools for connecting!
27. Twist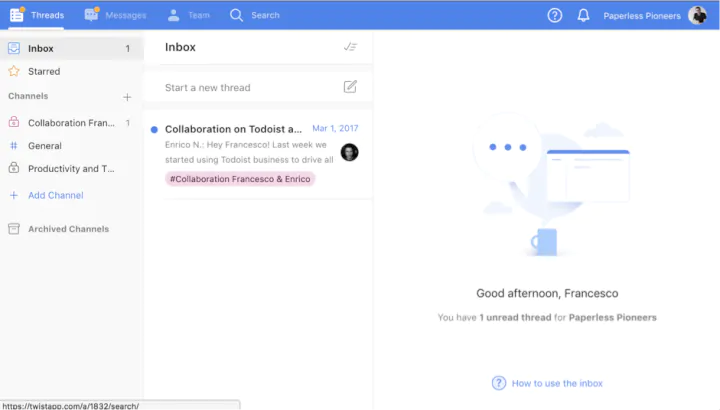 Best For: Those fed up with Slack's intensive style of communication or who need to real-time message with team members, mindful of projects.

Cost: Free (limited), $4 per user, per month (annual fee).
Download for Mac, Windows, iOS, and Android here.
Twist aims to be the mindful communication tool in the team messaging space. Whilst Slack prides itself on being always on; Twist tries to tone down real-time communication with teams by providing a communication platform that respects personal time and starts conversations around threads, versus channels, for smoother consumption. Well worth a try!
Bonus: Check out my video about using Twist here:
28. Zoom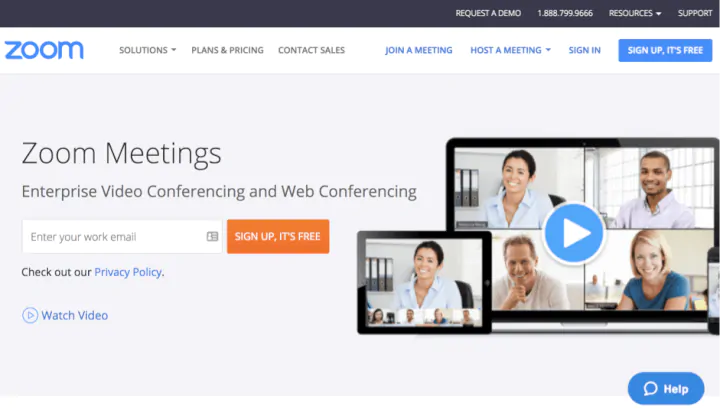 Best For: Those who want smooth, video conferencing one on one.
Cost: Free for personal meetings, varied pricing for teams.
Download for Mac, Windows here.
Zoom is one of the most popular tools for video conferencing. For personal meetings, it's perfect, from hosting 100 participants to the 1:1 conversations, you can have as many calls as you like, both audio and video. Perfect for quick or long conversations.
If you're looking for real customer reviews of Zoom, or to see more options, check out this list of the best video conferencing software.
29. Squadhelp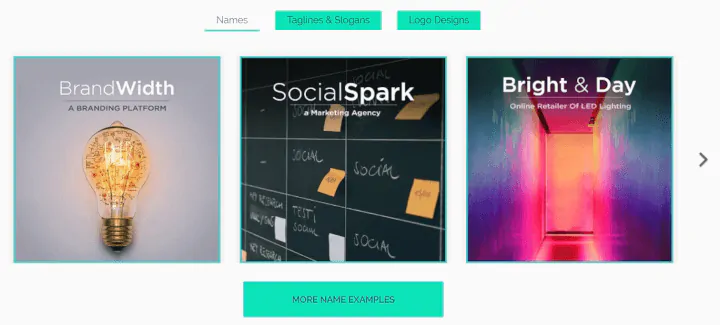 Best For: Freelancers, startups, small businesses and brands who are trying to name a business or need crowdsourced logos and business name ideas at an affordable price. You can also become a Squadhelp creative and make extra income by participating in a contest.
Cost: Contests start at $199.
If you're a freelancer and need help naming your brand, or ideas for naming your client's brand or product, try Squadhelp. Squadhelp is the world's #1 naming platform, offering agency-level validation services and a diverse, robust group of creatives to supply you with ideas. They also offer a hand-picked selection of premium domains for sale.
30. Invoice Simple
Best For: Freelancers who want to create and send brand-friendly invoices in minutes, either from the web or through a convenient app.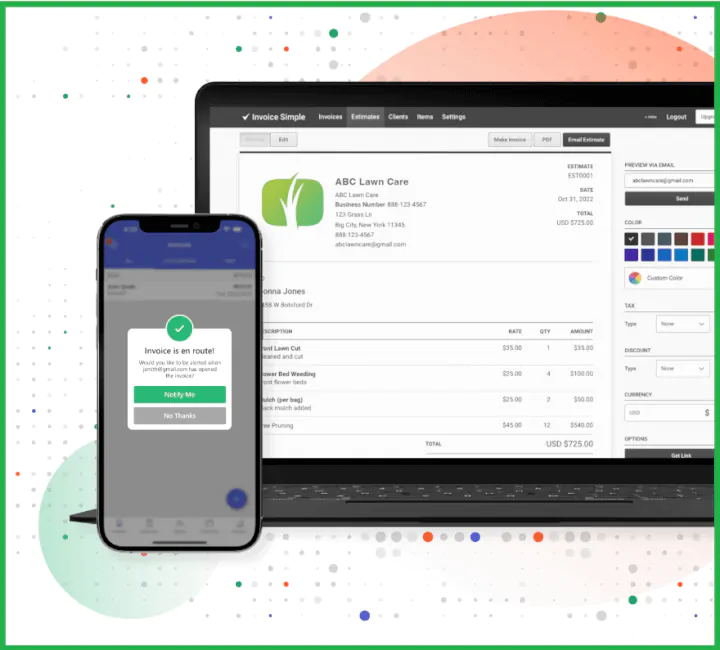 Cost: Free trial, prices start at $6.99 per month with up to 3 invoices per month.
Download for Mac, Windows, iOS, and Android here.
If you want to make invoicing the simplest thing you'll do all day, then consider using Invoice Simple. Not only can this tool create estimates and invoices instantly, but it can also effortlessly accept payments online from a secure channel. Freelancers who need to inject their brand into their invoices can do so with Invoice Simple's templates. And if you hate typing in the same thing over and over again, you can use this tool to save your invoice items. It'll even keep track of your invoices, so you'll never miss a due date.
Conclusion
All of these tools for freelancers will help you on your journey, and taking advantage of using these applications will save you time, effort and stress.
If you are considering going freelance, check out this guide on how to become a freelance web developer. Already working for yourself? Check out these 6 time management tips for remote workers.
If you liked the apps that have been mentioned here, you'll love our course on Essential Productivity Training.
Bonus: Check out our favorite productivity podcasts!
Want to be more productive?
Start learning for free with GoSkills courses
Start free trial