We make split-second judgments about everything around us, all the time. We form opinions about people in 1/10th of a second and we make our minds up about websites in 0.05 seconds.
With such a short time to make a good first impression, the design of your product, experience, and service really counts.
Think about learners interacting with the learning software you use, and the learning and development strategy you've put in place. Are they engaged? Do they enjoy using the tools you have on offer? How can you improve the elearning experience for them?

Elearning design covers all those important decisions early on in the process of developing an elearning strategy. Equally important is knowing your audience and the way they prefer to learn.
A great elearning design is functional, effective, and visually attractive. Above all, it is simple and easy to use. But before you run off to design your elearning experience for your employees, let's go through some of the key points to consider first.
How to create great elearning design
Successfully designing a course for your employees doesn't happen overnight. It takes time to get all your ducks in a row and do your groundwork before you start designing. Here are a few steps to follow for a smooth elearning design and development process:
Get to know your employees
It's so important to know your audience before designing anything, from elearning courses to cars and homes (and literally anything else you can think of). If you want your elearning experience to be engaging and relevant to your staff, you need to first know how they prefer to learn and what's important to them.
Start with this, and work your way through to what you want them to learn. Include key objectives, think about the stakeholders involved in your organization (tip: show them some elearning design examples) as well as budgets and timeframes.

Think about what devices your employees will use to do their course work on. Are they more likely to learn behind their computer at work or their laptop or phone at home? Or will they be using a tablet or screen reader? Thinking about these aspects of your employees' learning experience early will pay off later.

Design for the purpose of simplicity and efficiency
Once you have a clear idea of the learning objectives for your organization, it's time to work those into a visual design for your course. Less is definitely more in this situation.
Think about the essentials you want to get across and focus on those, instead of overwhelming your staff with numerous choices, different functionalities, and overall distracting design.
Though it may seem like a small decision, the choice in type of font for readability and visual aesthetics is an important one.

Great elearning design is simple. Make your learning experience uncluttered by using white space — and more of it than you think you should. It creates an easy to navigate space that amplifies whatever you want your learner to focus on, instead of scattering their attention with unnecessary clutter.
Make text easy to read, not just visually by putting dark letters on a lighter background, but also in the way it's written. Write in short sentences, use plain language, and write in an active voice. Use headings to clearly define sections and to make the text easier to skim through.
Make efficient use of images
Images definitely serve their purpose, but don't overdo it for the sake of adding visuals to a page. There's a fine line between too many and too little visuals.
The key is to strike a good balance between the text ratio vs the image ratio. And make sure the images serve a purpose, visualizing some of what you're trying to say in the text or clarifying a point. Make sure whatever images you use don't take people away from the learning experience. Having to open images in a new browser is a no-go.
Another benefit of using images the right way is that you can engage your learner's emotions, more easily than through written words.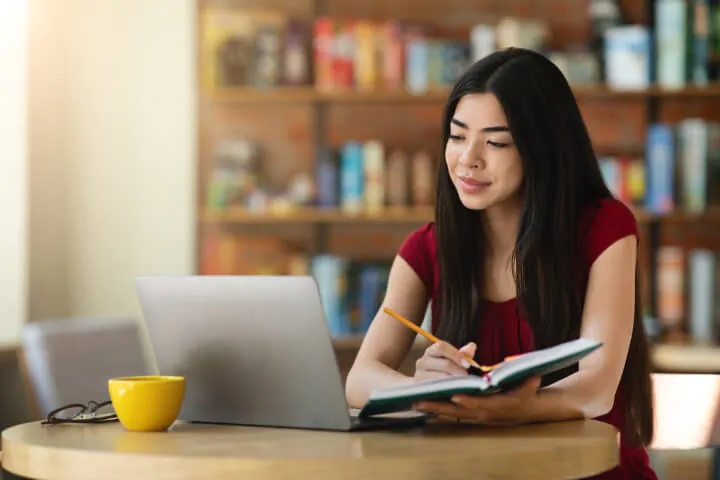 Emotions have a big influence on our cognitive processes. So if your employees are emotionally engaged with your learning experience, it's more likely they'll retain more information, pay better attention, and experience increased motivation.
What images you choose to include in your course is up to you, but it helps to figure out what emotions you want the image to provoke and whether it's relevant to the course material and to your employees.
Make your material skimmable
Who wants to read a long block of text? That's right, no one.
You can write shorter sentences and paragraphs as well as use headers to divide the text. You can also use icons and shapes to make it easier for your employees to skim the page for the information they're after.
---
Other tips: You can use arrows to point attention to a certain part of the course, or you can use other shapes such as vertical lines to put emphasis on a block of text or a quote.
---
A common misunderstanding of making a page skimmable is that in doing so, people will skip certain parts of the text and not retain all the information you'd want them to. Though surely some people will do this regardless of whether you make the page skimmable or not, it's not the purpose.
A lot of people learn better with microlearning. This approach basically cuts a course into bite-sized pieces so that you can learn when you want or where you want, instead of being tied to a specific place or time to learn.
Make use of design tools
There are a ton of instructional design software tools out there that you can use for elearning design to create great elearning content. You can either use this content on its own as a stand-alone online course, or you can integrate it into a larger corporate platform such as the GoSkills LMS. We've rounded some design tools up for you:
Adobe Captivate
Who doesn't know Adobe? They've created instructional design software that helps you make responsive elearning content. You can take previously non-mobile courses and turn them into mobile learning content that your employees can access anywhere, at any time.

Maintain and update regularly
How demotivating is it to log into a course to find it's got your organization's old logo on it, or it doesn't include the new vision and mission?
You want your employees to feel excited about the opportunities you provide them, and great learning experiences are a part of that. Once you've got a great elearning design down pat, it's important to maintain it and regularly update it to make sure it stays relevant and up to date.

Pay particular attention to outdated course material, of course, but also to often overlooked parts of your elearning space such as outdated or broken links and logos. If you're showing people and their email addresses, make sure they're up to date too.
Conclusion
Great design is simple. It doesn't matter what you're designing, all the best design examples across the board have that one key aspect in common.
To get the best course uptake and increase learning retention among your employees, your elearning courses need to be engaging, effective, simple, and fun.
Following the steps above will help you to streamline the process, work through the kinks, and create an end result that your employees will love.
With the GoSkills LMS, you can upload your own custom courses, get access to GoSkills' award-winning course library, and easily track employee progress. Try GoSkills out today, it's free for an unlimited number of learners.
Train any size team
It's easier than ever to track and manage your team's training with the GoSkills LMS.
Start for free