Are you an educator or trainer who is looking to boost the quality of your training materials? Then you are probably looking for an elearning authoring tools comparison. This article will outline the pros and cons of some of the best authoring tools on the market so you can choose the solution that's right for you!
Elearning has radically transformed the education and training sectors. It has become a massive industry in the past decade, and various forecasts (such as this and this) calculate the global elearning market to be worth at least US$300 billion by 2025.
Yet in a deeper sense, elearning is priceless for students and teachers who have found a new way of discovering the world, sharing knowledge, and building skills.
For K-12 schoolers, college students, corporate trainees, and other types of learners, the elearning platform offers an affordable, convenient, and effective way to learn and practice new skills. For grade school educators, corporate trainers, coaches, and other types of teachers, on the other hand, elearning makes it possible to create, fine-tune, standardize, manage, scale, and track courses with unsurpassed capabilities and precision.
If you are a teacher or trainer looking to develop courses so you can share specialized knowledge, teach new skills, onboard or train apprentices in your craft, the elearning path is a practical solution offering numerous benefits.
Elearning materials are highly flexible. They can include any media (audio, video, text notes, PDFs, spreadsheets, presentations, animation, gamified quizzes, assessment exams, etc.) and can be experienced any time and anywhere, over any device (desktop computers, tablets, smartphones). They can stand alone as digital online courses, or can be integrated into larger academic or corporate Learning Management Systems (LMS) such as GoSkills LMS.
Elearning authoring tools help to create these learning materials, and in this article, we will do an elearning authoring tools comparison so you know exactly which one to choose to fit your needs.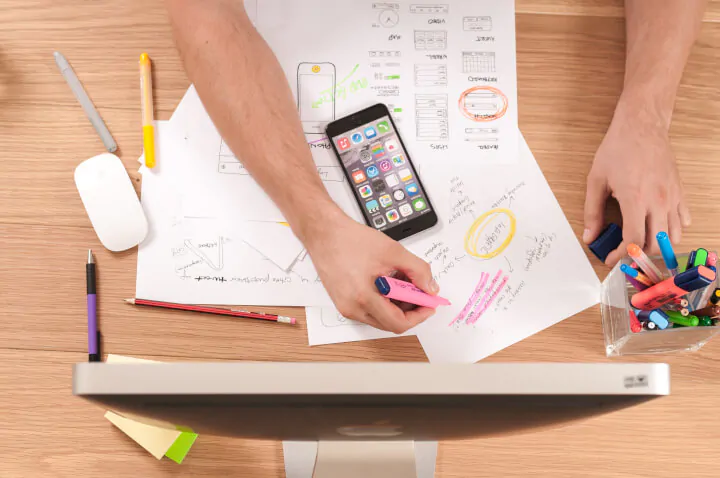 How exactly do you create an elearning course?
DIY videos on YouTube are raw examples of digital learning. Virtually anyone with a specific skill and a video camera can make them. That's well and good but contemporary elearning goes farther. You just don't leave learners hanging. You ensure that they get the best mix and type of materials so they can learn faster and reinforce new knowledge. Similar to brick-and-mortar classes, you also need to periodically assess your students' skill progression through quizzes and exams to make sure they are on track and learning efficiently.
Elearning course authoring tools will help you achieve all of that and more. You can create and publish professional-grade instructional videos or presentation-type materials while also integrating a robust learning support system that provides superior convenience, visibility, and impact — for both student and teacher.
Not all digital course authoring tools are equal though, which is why we need an elearning course authoring tools comparison. Because some require a steep learning curve to deliver high-quality output while a few enable just about anyone to start right away and begin teaching students with decent learning materials. But whether you are a veteran or a novice developer of digital courses, consider the following features and functions as the baseline requirements for a good course-authoring tool:
Create/manage multimedia content (video, audio, presentations, rich text documents)
Import content from common presentation software such as PowerPoint, Google Slides, and Keynote
Mobile-optimized
Drag and Drop UI
Web-cam enabled
Notification-capable
Screen-recording functionality
Enable both online and local publishing/storage
Allow courseware preview
Embed and open resources such as notes, manuals, webpages, online surveys, and ebooks.
Allow customizable learning paths
Gamification-ready
Robust authoring asset library (including canvas/screen templates, gamification elements, quiz samples, fonts, images, GIFs, and videos)
Enable personalized quizzes and assessment exams
Enables publication to various platforms such as YouTube, LinkedIn, iOS, and Android.
Compliance/interoperability with Learning Management Systems via SCORM (Shareable Content Object Reference Model) and other common standards
Given the dozens of solutions in the market, selecting the courseware authoring tool for your project or business can be a challenge. So we made it a lot easier for you by gathering reviews and making a shortlist of the best options.
Bonus: Thinking about creating your own training courses? Learn how with the ADDIE Model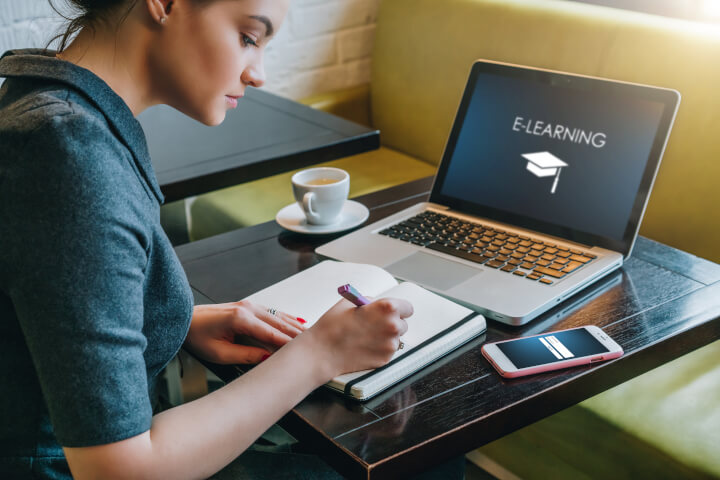 Here are some of the finest course authoring tools that can help anyone achieve their elearning objectives:
Articulate 360 is an end-to-end course authoring platform for web and mobile with a notably simple (drag-and-drop) but responsive UI. This stand-alone solution encourages the use of graphics and enables a high level of interactivity to boost learner engagement. The suite includes the award-winning authoring services Storyline 360 and Rise 360, plus Content Library 360 (an asset library of 4.5+ million), Review 360 (a feedback gathering app), and Training 360 (an app for facilitating live webinars).
Pros
Built-in touchscreen functionality
Large and active user and support community
Robust asset library (including themes and characters)
Cons
Relatively high pricing
Reportedly exhibits rendering issues and other bugs, especially when used in older or low-powered computers
Pricing
Tiered pricing for companies and freelancers, with discounts for academic institutions. Prices start at US$999 per year per individual freelancers and US$499 for individual educators
30-day free trial available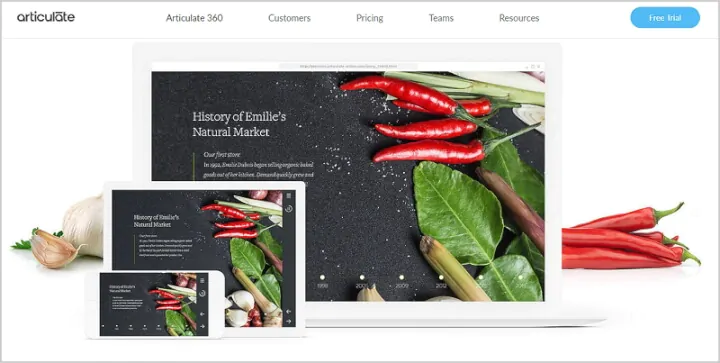 This is a course-authoring tool with a strong brand behind it as well as the practical capabilities to reinforce a legacy of design excellence. In addition to creating highly immersive elearning content and interactive videos, Adobe Captivate can also be used to build compelling software demos and cross-convert different media formats such as HTML5, Small Web Formats (.swf), MP4, and Microsoft PowerPoint (.ppt)
Pros
Latest version supports Virtual Reality (VR)
Retina/high-resolution display support
Popularity among digital designers given its Adobe pedigree
Great tool for media format conversions
Responsive design (desktop + tablet + mobile support)
SCORM-compliant
Cons
Steep learning curve to master complex UI
Pricing
Subscription rate at US$33.99 per month
Perpetual license at US$1,299
Student & teacher Edition at US$399.00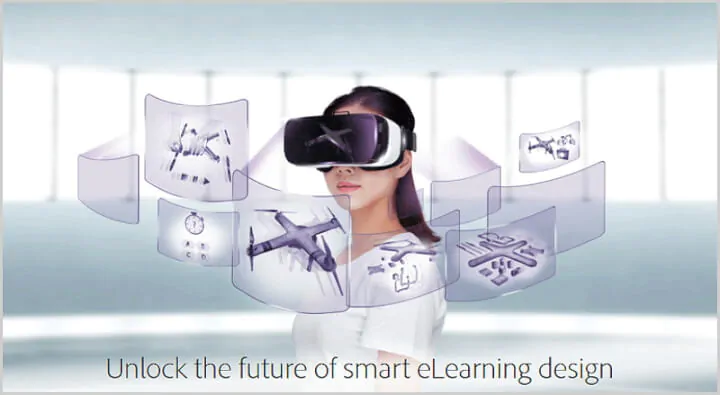 Elucidat provides an easy way to create web-based instructional materials that render well on any online device — be it a desktop computer, a tablet, or a smartphone. It is supported by a decent asset library that includes images, templates, and themes to facilitate compelling experiences and build consistent branding.
Pros
Ease of use with drag-and-drop UI
Comes with basic gamification features
Decent theme and image library
Responsive design (desktop, tablet, phone)
White-labeled for full user branding
Has native coursework monitoring and analytics for learner skill progression
Cons
No offline functionality
Reportedly steep custom pricing
Pricing
Quote available upon request
Free trial available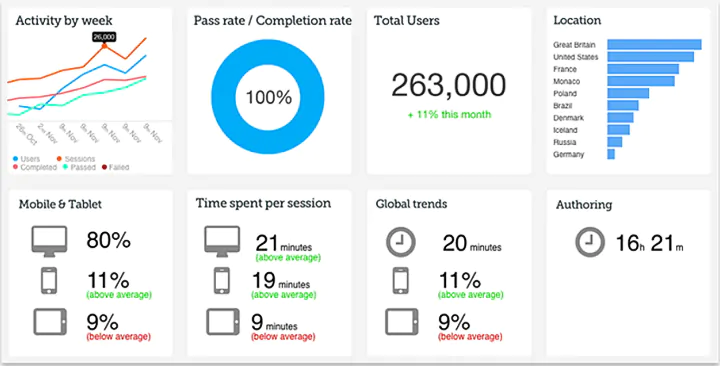 Marketed as "the most user-friendly elearning authoring software for teams," Easygenerator works just as its name suggests — easy. Launched in 2013, this solution has been adopted in 100+ countries and by all types of organizations including Nielsen, Kellogg's, Takeda, T-Mobile, and Drake University.
Pros
Highly intuitive and simple (WYSIWYG) user interface
Responsive design (desktop/mobile-ready)
SCORM-compliant and HTML5 support
Cons
Limited customization options compared to the competition
Steep pricing for individuals and small companies
Pricing
Prices start at US$82 per month
Free trial available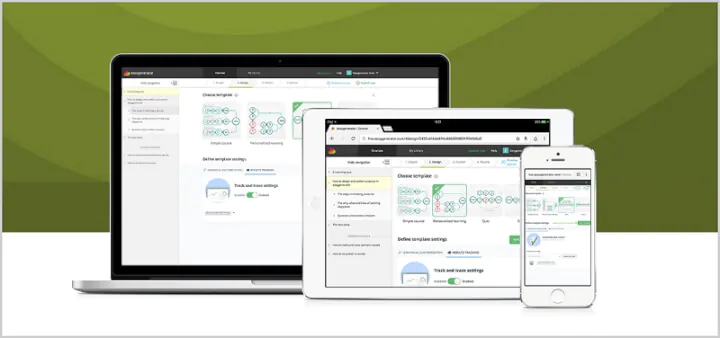 Enabling course developers to create and distribute content within minutes, gomo provides a three-pronged and separately priced elearning service: A) authoring, B) hosting with analytics, and C) video content management. gomo adopts a cloud-based, responsive (HTML5), and mobile-first design mantra, making it easier not only to create highly interactive and immersive learning experiences but also to track, measure, and optimize the digital learning process.
Pros
Easy to learn and deploy for course authors
Highly accessible and responsive (anywhere, anytime, on any device) for learners
Cons
Comparatively steep pricing: base price covers only authoring services
User-reported authentication and log-in issues
Pricing
Prices start at US$1035 per year (excludes hosting and video services)
Free 21-day trial period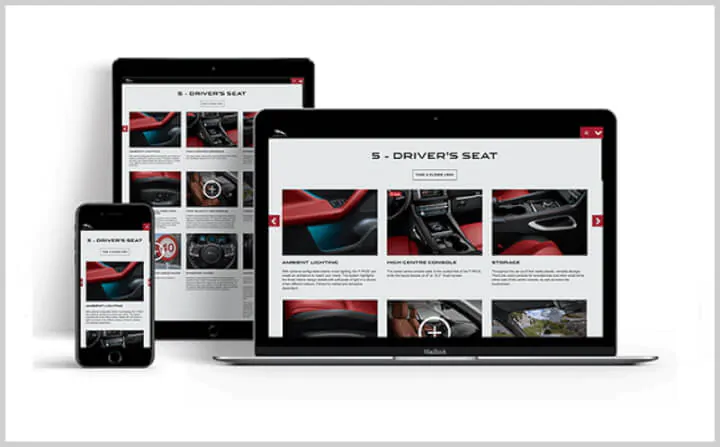 Blackboard Learn provides a stable authoring, tracking, and learning environment for students and course developers. It can be adapted for academic and corporate use; and can be accessed via desktop or mobile devices.
Pros
High-efficiency levels when it comes to both the authoring and learning processes
Enables tight collaboration among learners, instructors, and course developers
Excellent accessibility features
Multiple integrations with one of the broadest partner networks in its class
Cons
Reported rendering issues on some Android devices
Less than ideal aesthetics
Pricing
Custom pricing, available upon request
Free trial available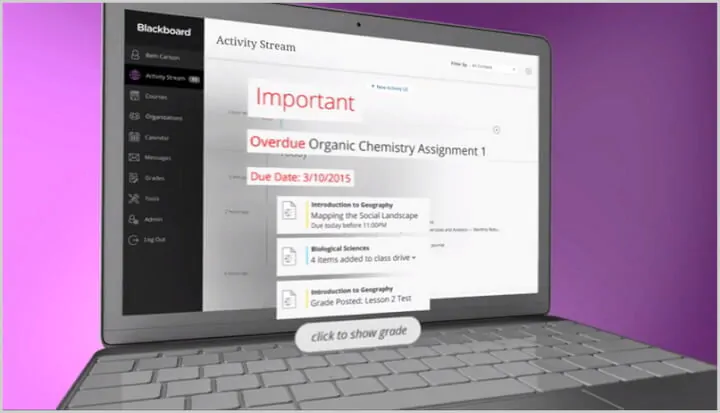 Purposely designed for the MOOC (massive open online course) ecosystem, Brightspace is a flexible authoring tool that can support any learning environment — from K-12 classrooms to corporate training programs. This solution has every feature you'd look for in a decent LMS: cloud-based, mobile-first design, notifications, social media integrations, and a high degree of personalization.
Pros
Full integration with popular productivity solutions such as Microsoft 365 and Google Apps for Work
Provides highly personalized experiences and learning paths via a predictive modeling engine called Degree Compass
Good accessibility features
Cons
Duplication of native tools
Moderately steep learning curve for both students and instructors
Pricing
Quote upon request
30-day free trial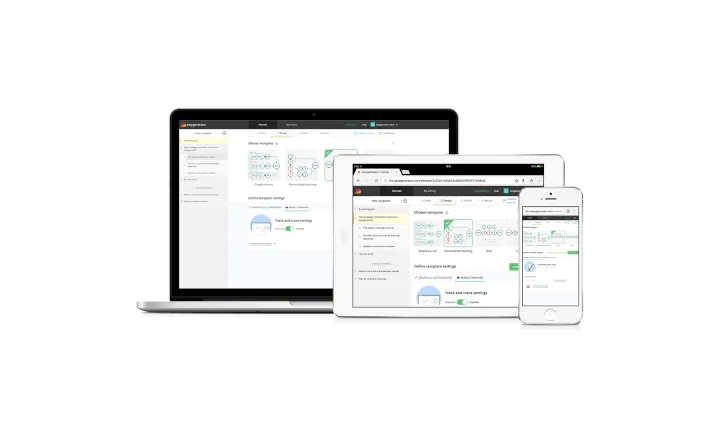 Canvas is a reliable LMS with a widely spread and thriving online learning community. If you need proof that it works, just visit the Canvas Network. The site showcases Canvas' convincing aesthetics, practical functionalities, and popularity among universities, colleges, K-12 schools, and other learning institutions. Canvas is used by nearly 20 million students and teachers around the world.
Pros
Robust support network that includes numerous adopters
Proven business case
Cons
Admin tasks and functions take some time to learn
Reported occurrence of random glitches
Pricing
Quote upon request
Free trial available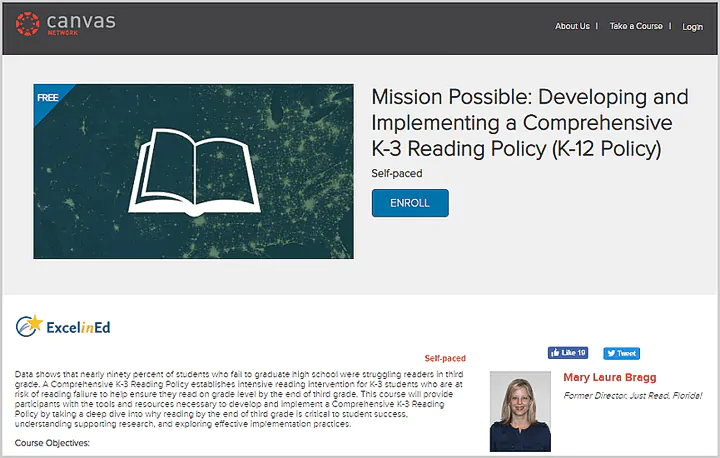 Edmodo is a robust and widely used academic elearning platform that runs on a freemium model. It can be used for free by students, parents, teachers and school administrators. The free package comes with unlimited document storage space, mobile access, and easy integration with standard productivity tools such as Microsoft Office and Google Apps. On the other hand, it offers a premium service for universities, school districts, and large companies looking for advanced features such as gamification, instructional coursework monitoring tools, data analytics, and priority customer support.
Pros
Free to use
Simple UI
No storage cap.
Has a broad user community serving as an extended learning and support space
Cons
Technical glitches reported on the mobile version
Some reviews noted the lack of sophisticated features for university/post-graduate level, implying that Edmodo is best for K-12 learners and teachers
Pricing
Basic features are free to use
Premium pricing for institutions and businesses looking for advanced features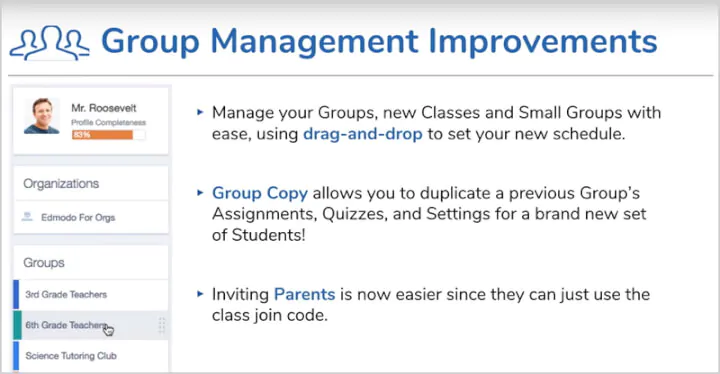 Developed by a global tech giant and running within a robust ecosystem of related services and apps, Google Classroom is a free and dependable web-based service that takes class assignments, grading, collaboration, and communication to the cloud. Using existing productivity apps (such as Drive, Calendar, Docs, Sheets, and Slides) Google Classroom helps transition brick-and-mortar classes into a paperless digital and mobile environment.
Pros
Free range of services
Ease of use and access
Support for collaboration
Email and mobile notifications
Free document storage space via Google Drive
Helps conserve the environment by pushing for paperless classrooms
Cons
Not purposely designed as a course-authoring tool, much less a full-fledged Learning Management System
Lacks synchronization features beyond the Google ecosystem
Lack of automated assessment exams and quizzes
Google's troubled history concerning user data
Pricing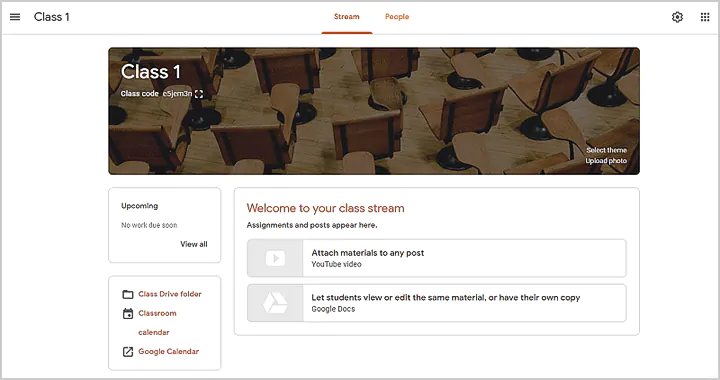 The iSpring Suite is a PowerPoint-based authoring solution that enables course developers to create immersive slide-based instructional content, quizzes, presentations, and interactive learning materials for the web environment (HTML5). It also supports screencasts, surveys, and training videos. iSpring complies with several elearning standards including SCORM and Tin Can.
Pros
Runs as a simple PowerPoint add-in
Courses can be experienced on any device
Robust asset libraries
Interoperability with third-party LMS
Offline mobile access for sustained learning
Enables live webinars in addition to pre-recorded courses
Unlimited storage for courses, videos, and other documents
Cons
Requires intermediate to advanced proficiency in PowerPoint
Works only for Windows OS (you need to install one if you're using a Mac)
Limited content customization features and video editing capabilities compared to leading players
Pricing
Annual license at US$970 (discounts and special pricing available)
Free trial available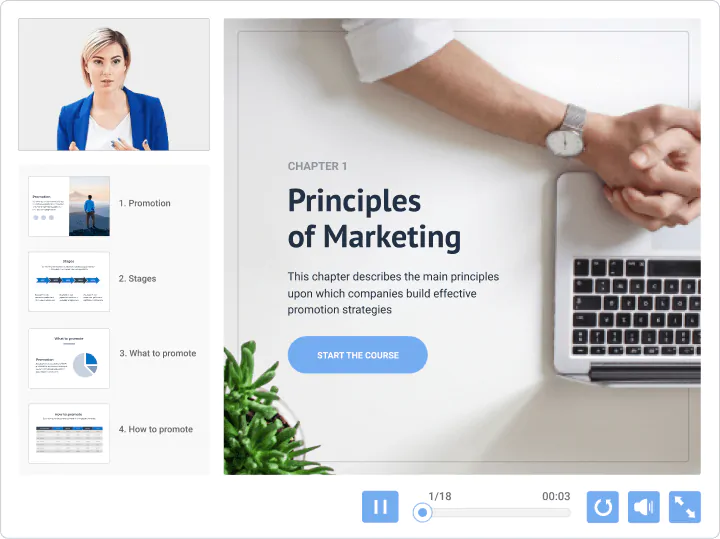 Moodle is an open-source, on-premise Learning Management System that is free to use and expand by anyone. Developed in Australia and purposely designed for blended distance learning, Moodle has been adopted by numerous schools, universities, and businesses around the world. Available in nearly a hundred languages, the platform provides course authoring and user collaboration tools set within a simple drag-and-drop interface.
Pros
Open source (no vendor lockdown)
Free to use and expand
Simple and easy (but dated) UI
On-premise architecture (might also be construed as a disadvantage in some situations)
Cons
Occasional crashes reported
UI looks outdated; needs rehashing
Very limited customization capabilities
Low number of third-party integrations
On-premise architecture (might also be construed as a benefit in some situations)
Pricing
Open source and free to use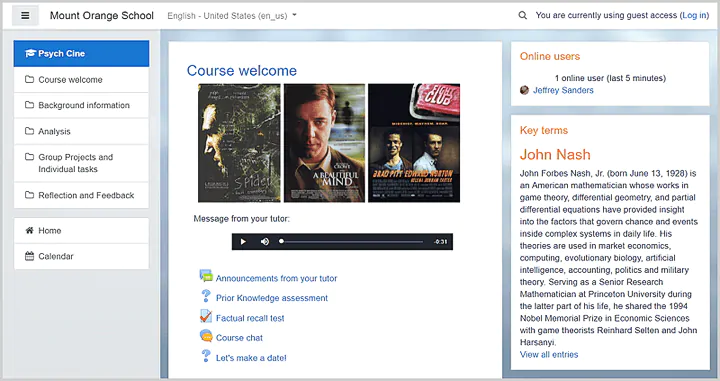 Conclusion
Knowledge and skills have always been the most valuable currencies in any economy. But in a world where technological innovation, business disruptions, and workplace transformation are persistent elements, a hot skill today can easily get a cold market reception tomorrow. A rusty or obsolete talent simply cannot generate the same value as up-to-date knowledge or a new but highly relevant skill.
That is why the demand for learning management systems, digital courses, and elearning platforms continue to rise in both the education and corporate sectors. Students, professionals, and other types of learners should keep all their skills in a constant state of improvement.
Obviously, opportunities abound if you are a trainer, teacher, or course developer for a specialized skill or body of knowledge. All you need to thrive in the skill economy is to find the right course-authoring tools that will help you teach, train, and develop the next generation of learners.
Want a flexible LMS to host your new course content?
Check out the GoSkills LMS for a flexible Learning Management System to host your newly created course content. Not only can you easily import your own courses, but you can also assign, manage, and track the progress of your team all within the GoSkills LMS for free.
Train any size team
It's easier than ever to track and manage your team's training with the GoSkills LMS.
Book a demo