According to an article by Glassdoor, the average hiring manager spends 6 seconds reading a resume. So, when it comes to your application documents, sometimes looks do matter.
Imagine you have two resumes in front of you. One with a wall of text in fonts and colors you can hardly read with contact details or references you can't seem to locate. The other with ample white space, one or two easy-to-read fonts, and information that's clearly segregated.
Which resume are you more inclined to read?
If your resume could do with some smartening, look no further. We've compiled 25+ free illustrator resume templates that let your credentials shine!
Get your free resume templates
Get one step closer to the 'yes' pile with these eye-catching resume templates.
1. Black and white resume template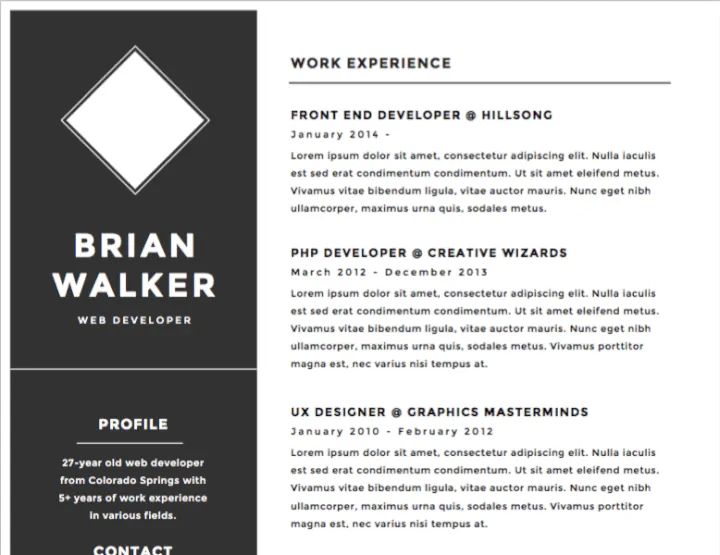 Monochromatic and striking, this resume is sure to leave an impression. The template comes with space to enclose a reference.
2. Clean resume template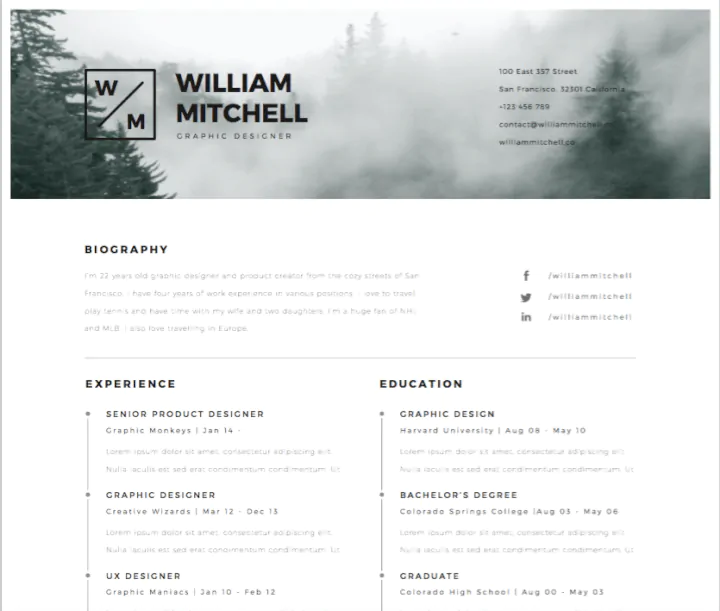 This illustrator resume template is ideal for those who prefer clean lines and minimalistic design.
3. Retro resume template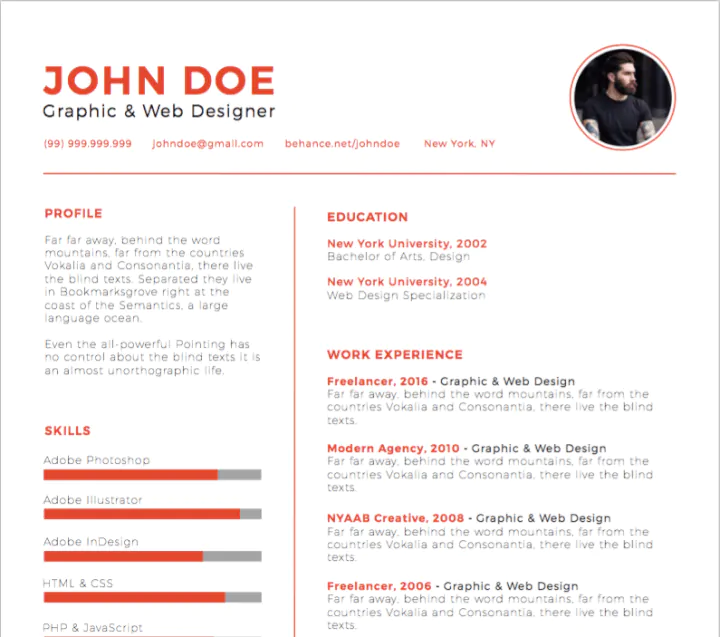 This retro resume template combines a minimalistic layout with a retro color palette of orange and dark grey.
4. Performer resume template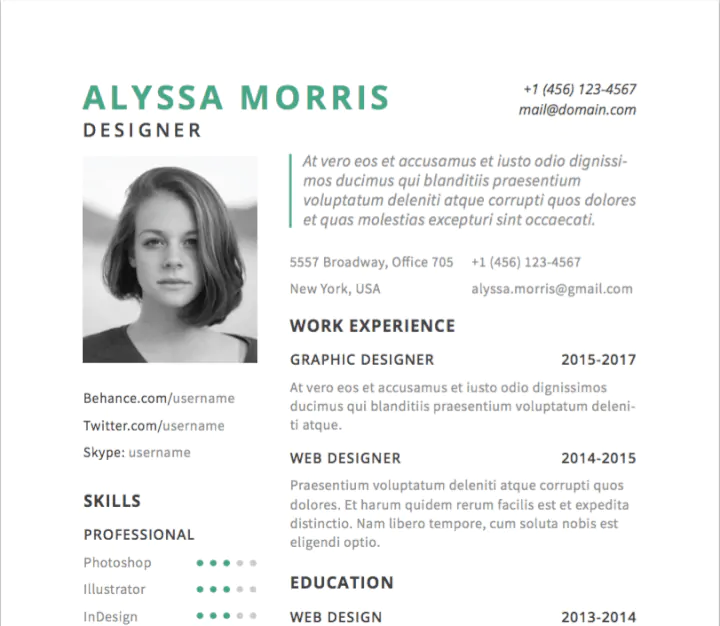 This understated illustrator resume template has two features that make it ideal for performers: a space for a headshot and a short intro.
5. Simple resume template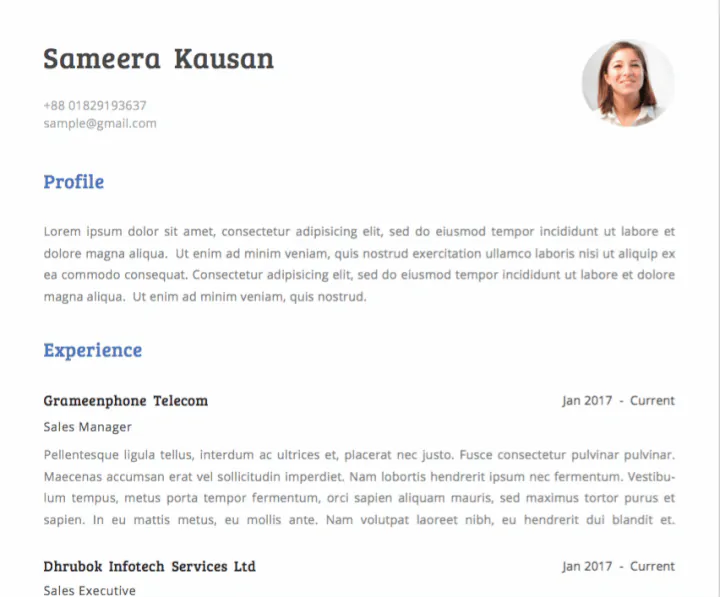 This template is handy for job seekers who are applying for roles in more formal industries.
6. Iconographic resume template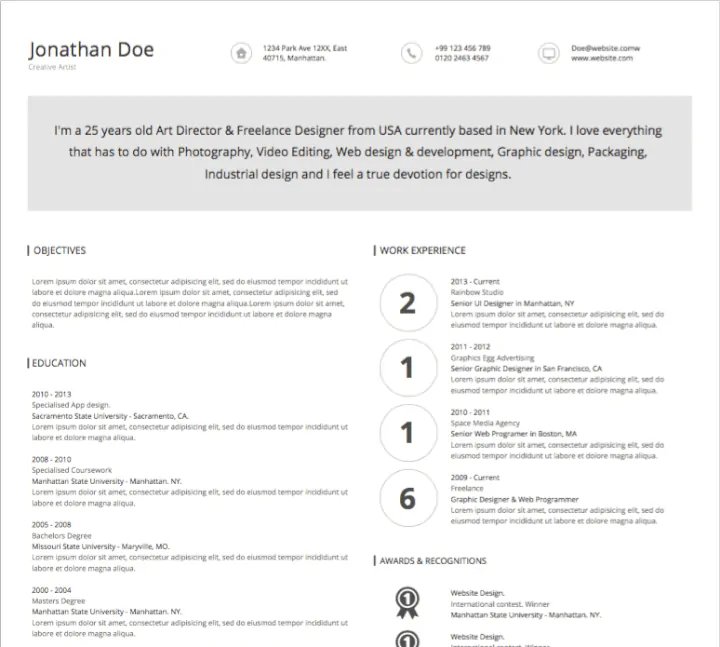 This simple resume template uses icons and symbols to delineate and add characters to each section.
7. Image header resume template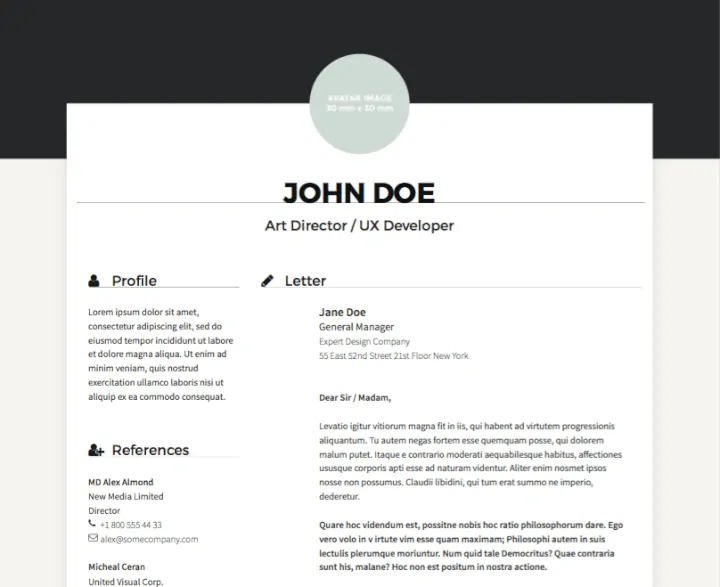 Ideal for those working in a creative field, this resume template lets you display your photography or vector art as a header.
8. Monochromatic resume template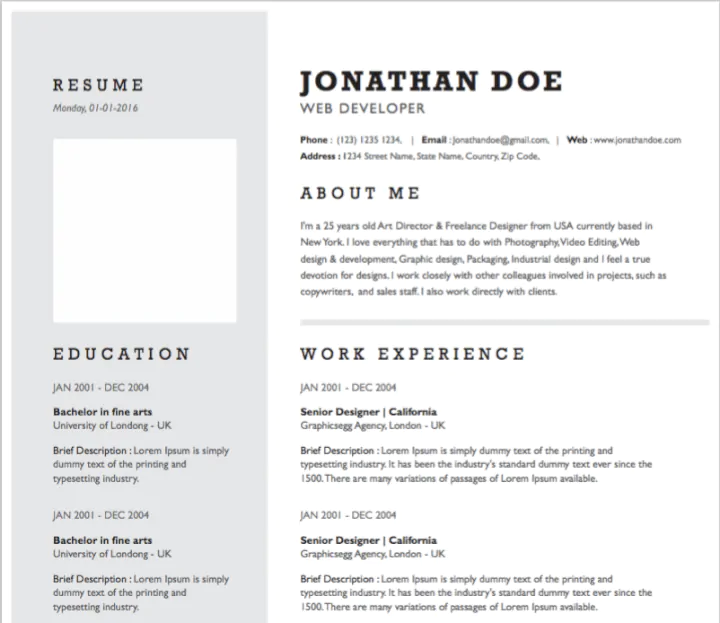 Elegant and monochromatic, this resume template comes with an accompanying cover letter and business card template.
9. Green accent resume template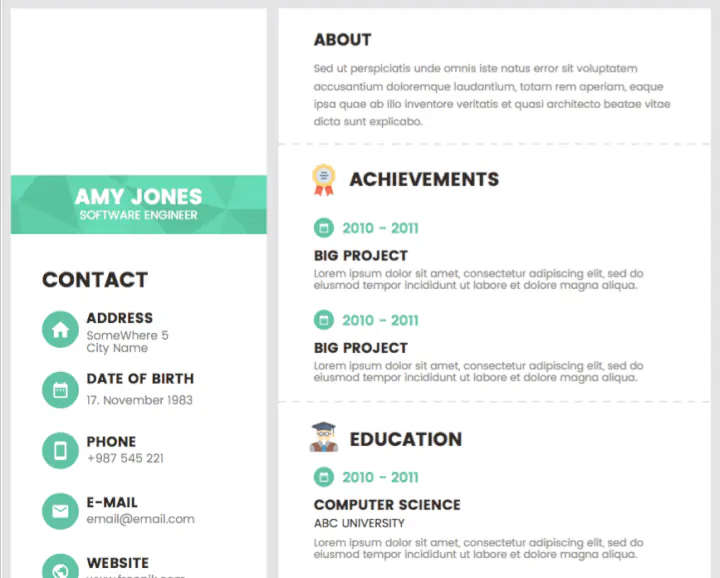 This illustrator template lets you present your language skills with the respective country flag.
10. Creative director resume template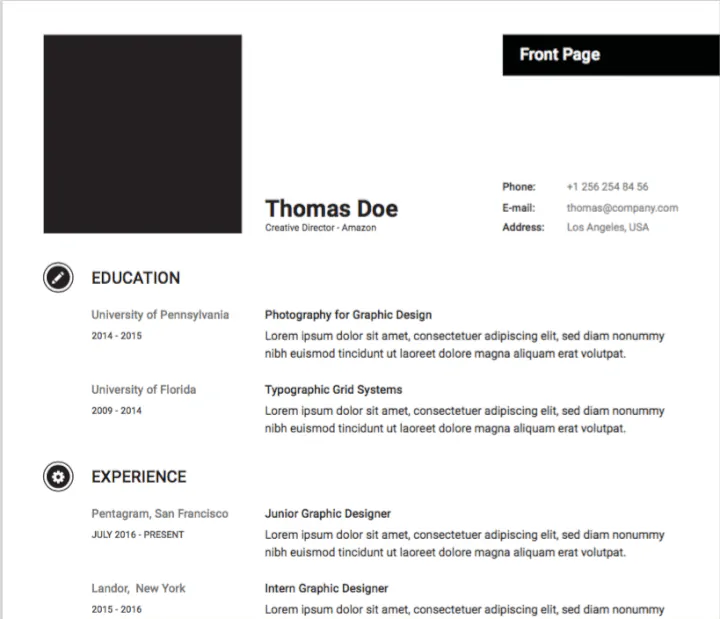 This template has space for portfolio highlights and comes with a matching cover letter.
11. Civil engineering resume template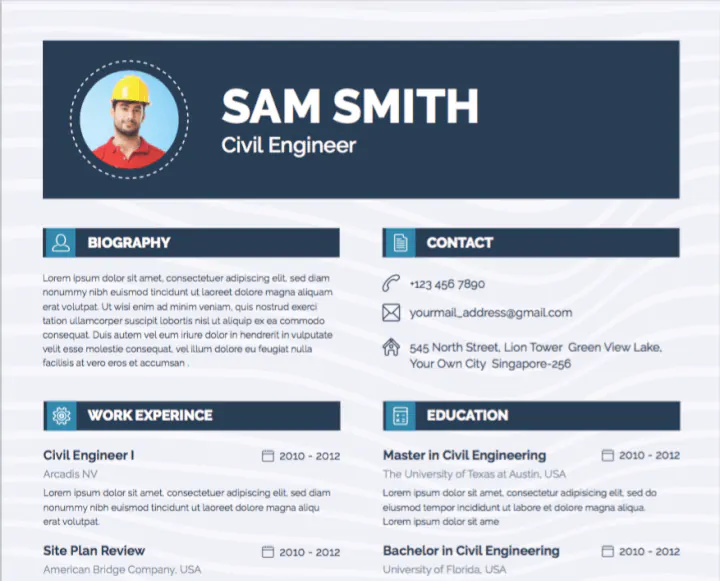 Named the 'civil engineering' resume, this template is great for civil engineers and non-civil engineers alike! Like the creative director resume, this template comes with a section to display your portfolio highlights.
12. Lawyer resume template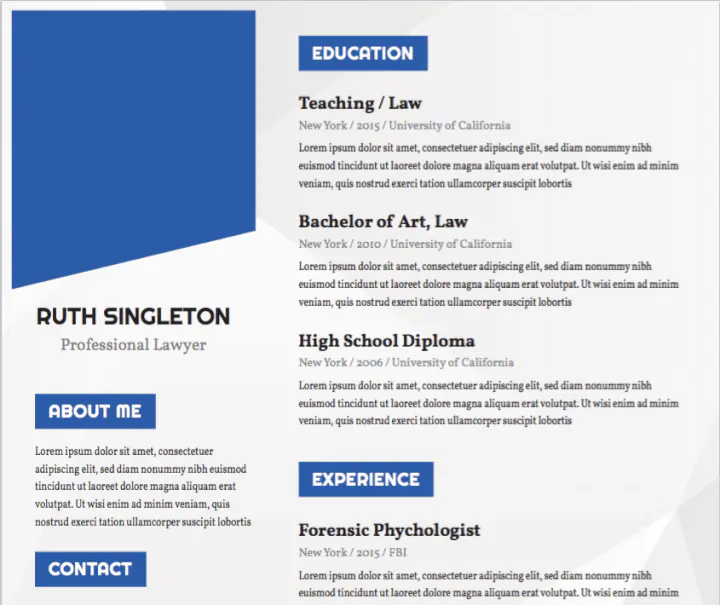 This no-frills resume template has space for a headshot and an introduction, too.
13. Fresher resume template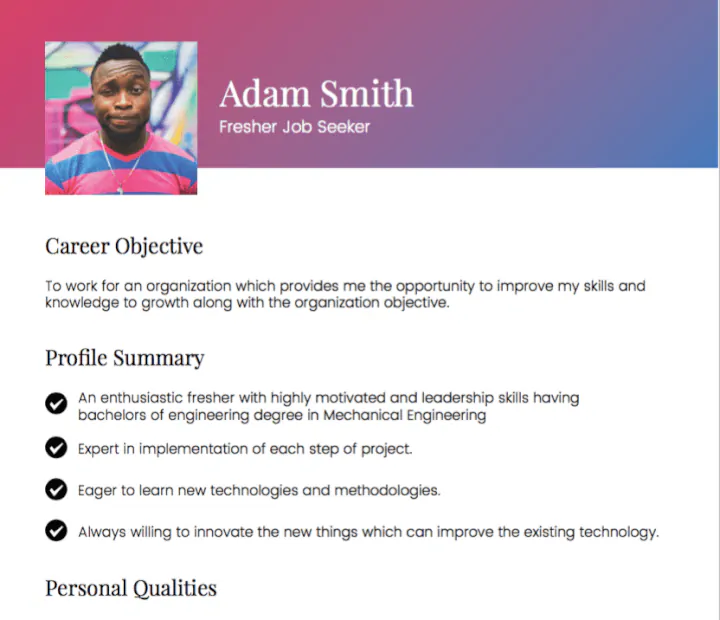 This resume is Ideal for those who are looking for their first internship or job. The template contains sections for: career objectives, a profile summary, personal qualities, technical qualifications, projects, and achievements.
14. Minimalistic resume template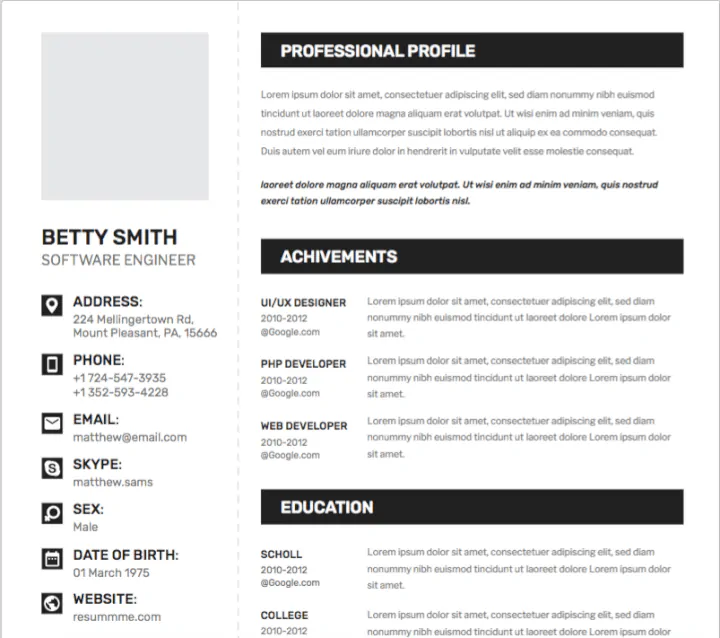 This illustrator template has an achievements section, which is a handy way to demonstrate your strength and capability to prospective employers.
15. Doctor resume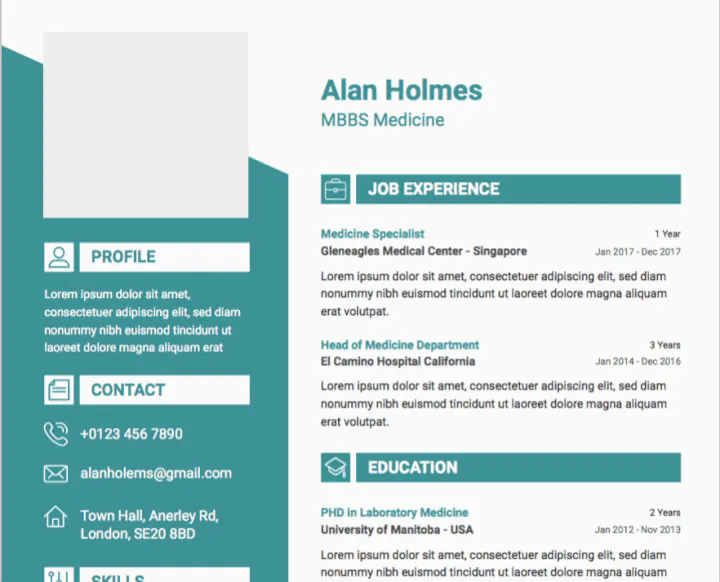 Named the 'Doctor' resume, this template comes in seafoam green and includes a section for any recognition or awards you may have received.
16. Classic resume template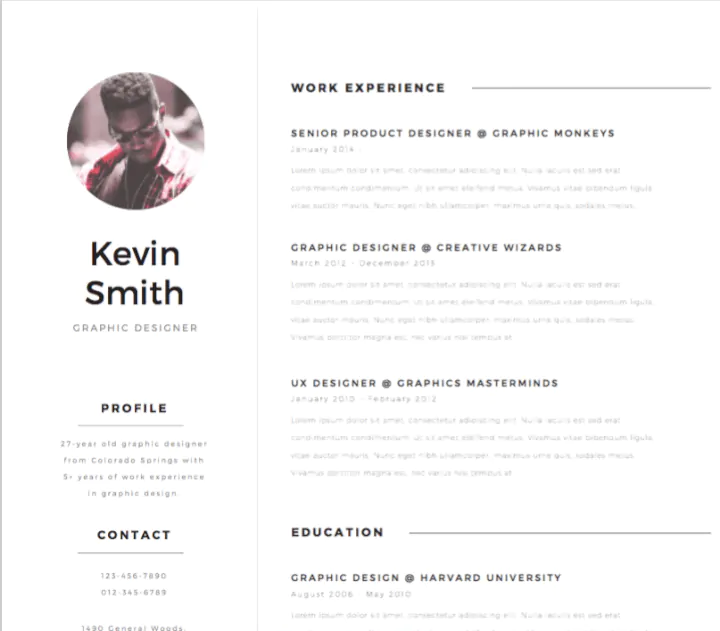 This resume template is creative yet professional. Ideal for job seekers applying to jobs in more formal industries.
17. Dark blue resume template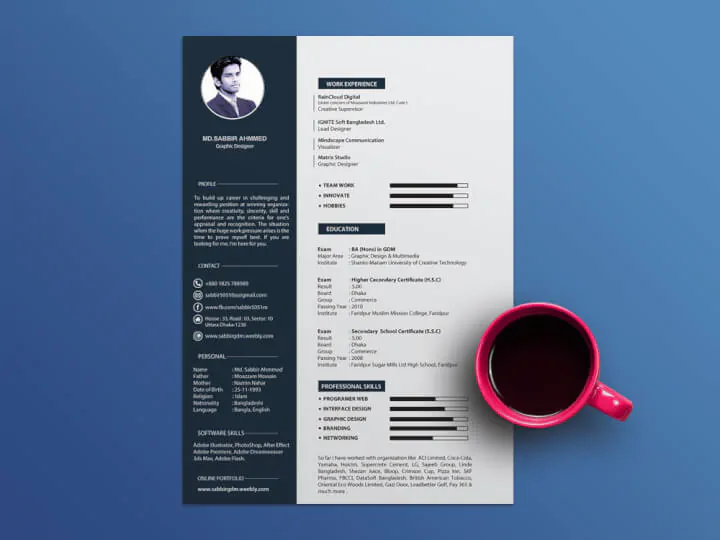 This dark blue accented resume displays your work experience and education in a vertical timeline format.
18. Artistic resume template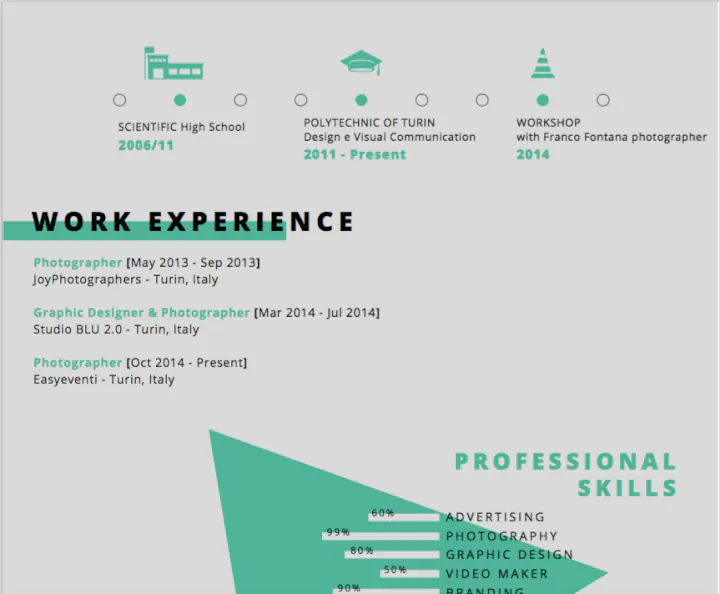 This design-oriented resume template is unconventional and gives you plenty of room to curate the information you'd like to share.
19. Laconic resume template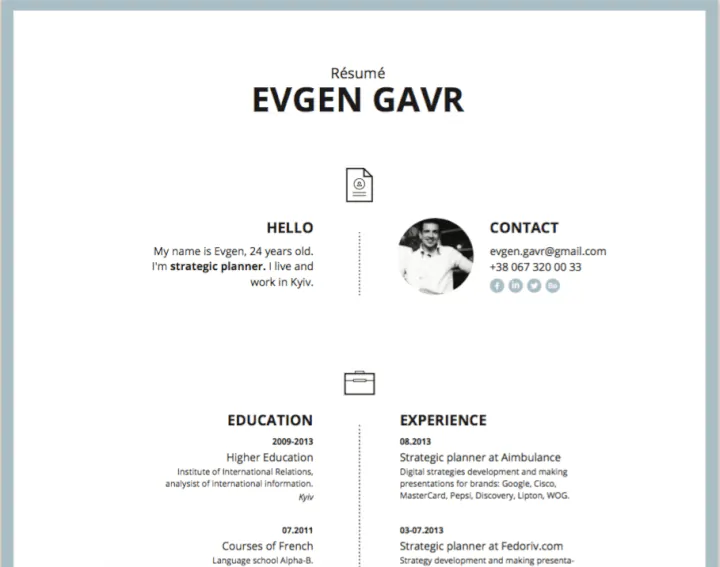 Ideal for wordsmiths who can distil their ideas to a few sentences, this illustrator template is heavy handed on the white space, which keeps the design and textual elements crisp.
20. Infographic resume template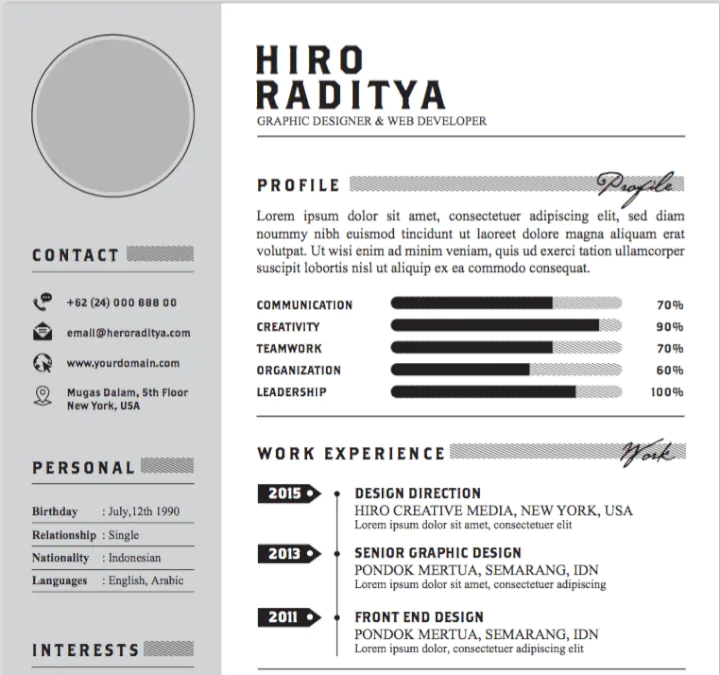 The grayscale color scheme balances fun and professionalism in this infographic resume template.
21. Timeline resume template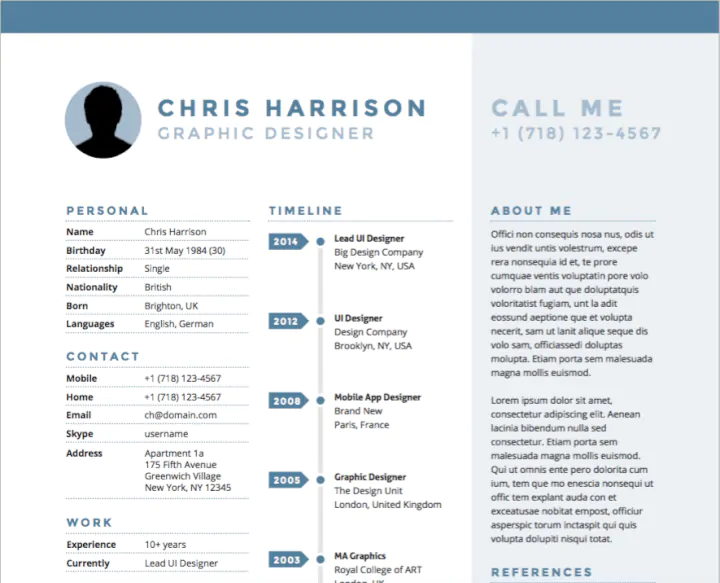 Ideal for career changers or those who have spent time away from the workforce– this resume template gives you ample room to write about your experience.
22. Blue accented resume template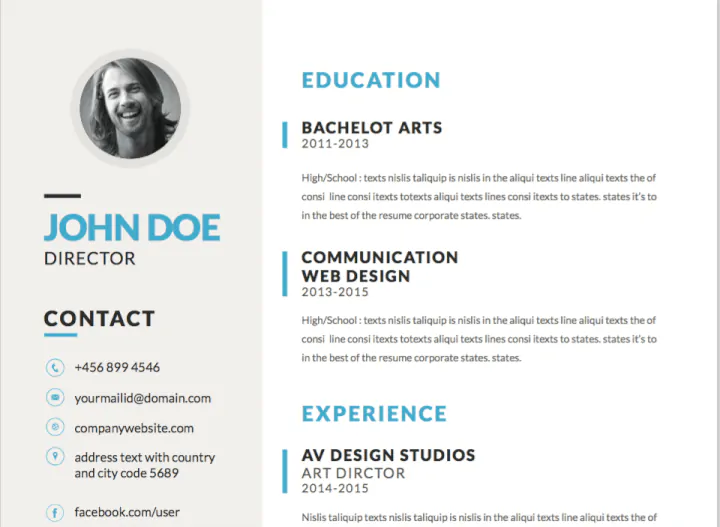 This elegant resume template has accents of blue that segregate your information.
23. Yellow resume template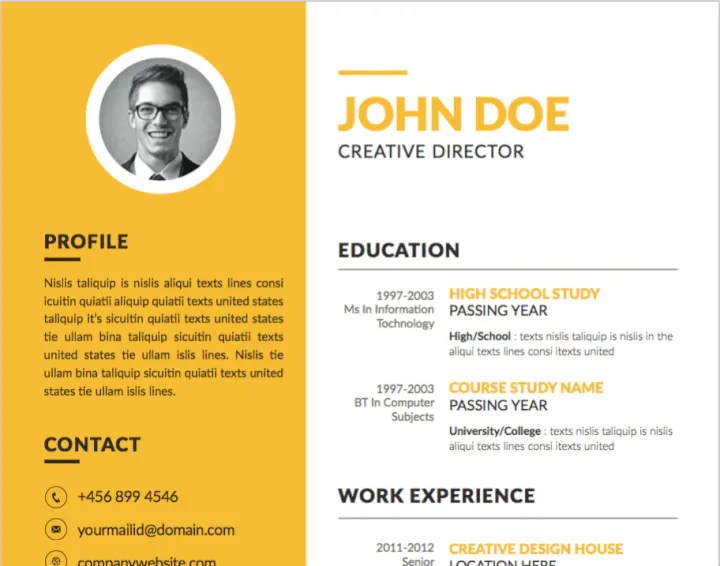 This template injects sunny personality into your job application. Ideal for those looking for jobs in creative or creative-adjacent industries
24. Multi-discipline infographic template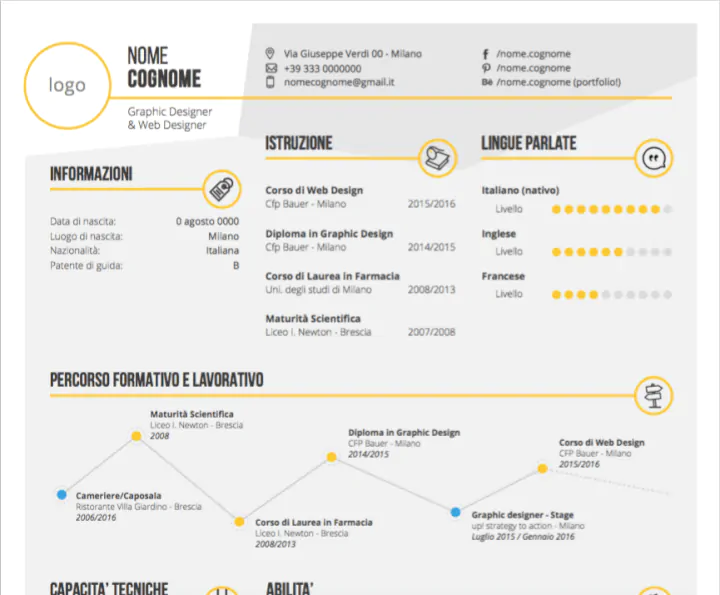 This template is ideal if you're skilled in a number of disciplines or software and want a visual way of representing it.
25. Red accent resume template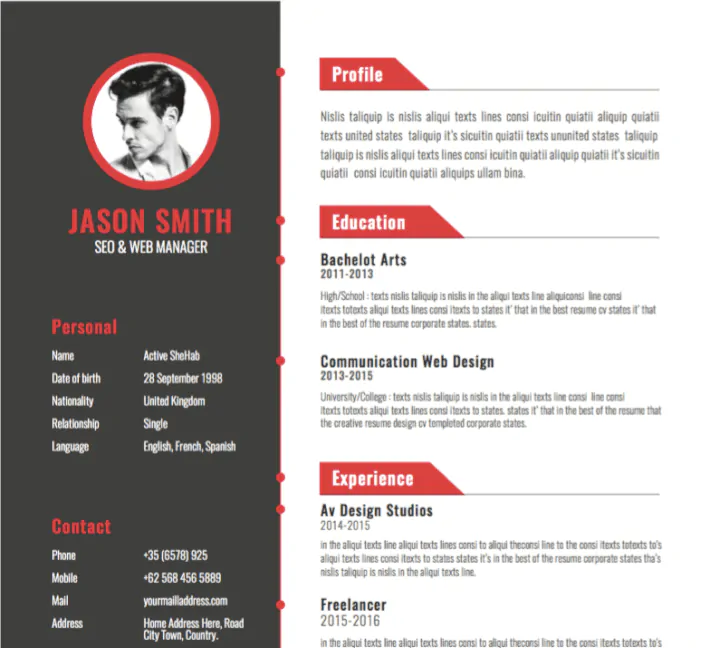 This resume template is ideal if you've had some time away from the workplace, are pivoting industries, or are a fresh grad.
26. Colored waves resume template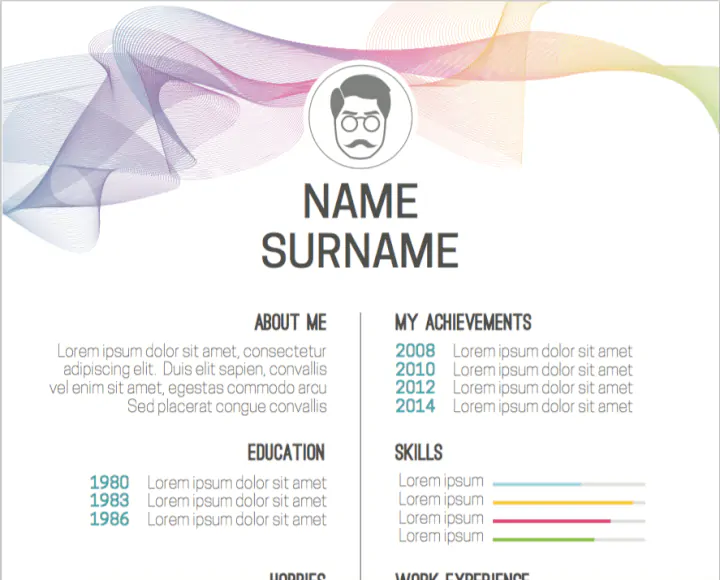 Designed by Freepik, this resume template features a colored wave vector that snakes its way around your credentials.
27. Bubble resume template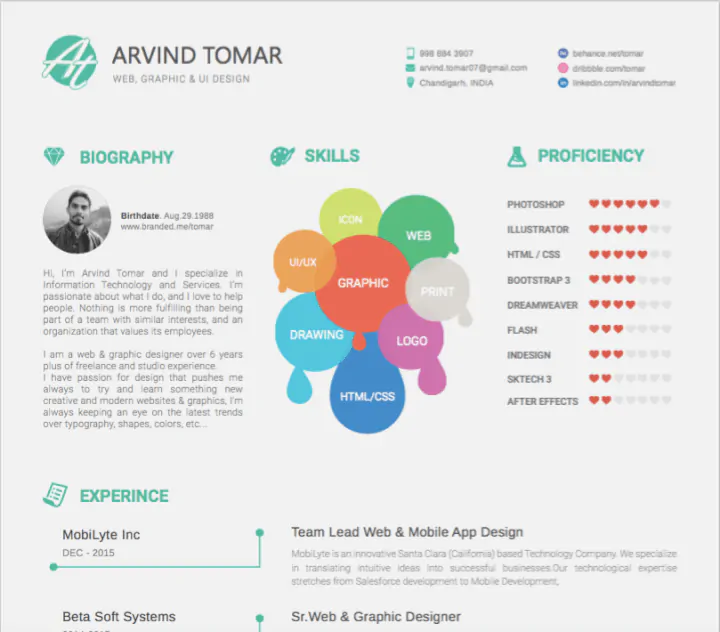 This simple infographic resume template uses pops of color to make your skills stand out.
28. Bright resume template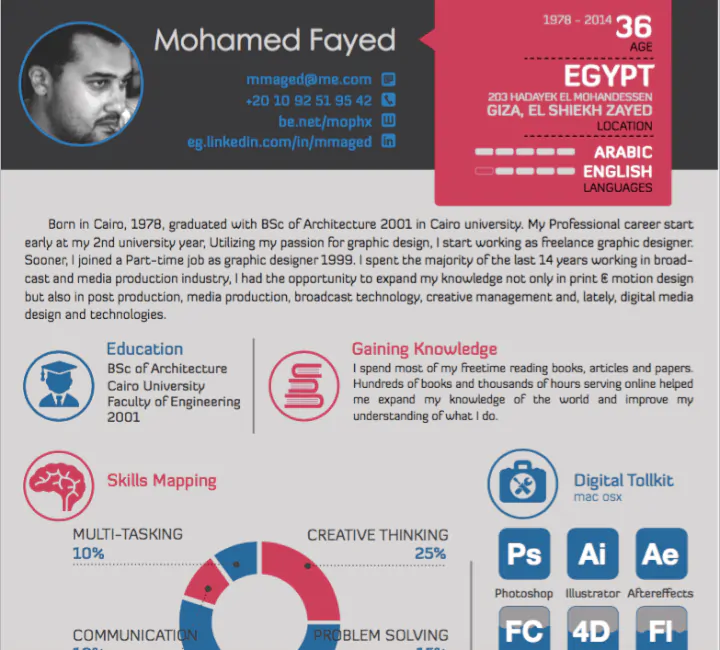 This brightly colored infographic-style template is ideal for if you want your resume to stand out on your hiring manager's desk.
Can't decide on one? We have zipped all the resumes in a convenient-to-download file, just enter your email, and the resumes will make their way to your inbox.
Remember, when selecting a resume, choose a design that sits most in line with the type of job or company you are applying for. A good rule of thumb is to select a template that is as creative (or as formal) as the role you're applying for. A text-heavy, monochromatic resume template isn't as appropriate for a design-based role. Similarly, a colorful infographic resume template may not fare well on a corporate hiring manager's desk.
Ace the interview
Check out our Photoshop resume template resource (it includes a step-by-step guide to editing the document, too!)
Already have your resume sorted? Check out our article on the most common graphic design interview questions and the best ways to answer them. As well as these free business card templates so that you can impress every step of the way.
New to Illustrator or need a refresher?
Sign up for our Illustrator - Basic course, which features 41 practical tutorials taught by Eric Vasquez, visual designer for Major League Baseball.
Level up your skills
Start learning for free with GoSkills courses
Start free trial