Technical skills are a crucial part of a candidate's qualifications for any job. If you're applying for a role that requires a strong command of Photoshop, your resume is a great opportunity to showcase your design skills and convince employers that you're the right candidate for the position.
In this article, we'll go over all the best ways to make your Photoshop skills stand out on your resume so you can land that interview.
Want to learn more about graphic design?
Download the beginner's guide now!
Highlight your skills in all the right places
The simplest way to demonstrate your Photoshop design skills on your resume is to highlight them effectively throughout your resume sections.
Here are the three key resume sections you should use to show employers you're a Photoshop pro.
👉Resume summary
Your resume summary is a short introductory paragraph at the top of your resume that gives readers a quick overview of your qualifications.
Since employers often skim resumes pretty quickly, your resume summary is a great place to highlight all the key information you want to get across at a glance. If Photoshop is one of those top skills you need for the position, include it.
Here's an example of a resume summary that shows employers the candidate's Photoshop experience:
Highly skilled graphic designer with 5+ years of experience, consistently producing captivating visuals and bringing concepts to life. Executed a successful rebranding campaign for a global company, leveraging advanced Photoshop techniques to craft visually stunning brand assets that resulted in a remarkable 20% boost in brand awareness and established a strong visual identity. Committed to pushing creative boundaries and delivering exceptional results.
👉Professional experience section
Your professional experience section is the perfect place to provide a little context and show how you've used your Photoshop skills in previous roles.
Here are a few tips for maximizing the impact of your work experience section:
Frame your experience in terms of accomplishments – what were you able to produce using your skills and what impact did it have for the company?
Use action verbs to start each bullet point and resume adjectives that describe your role – these show employers how you work, not just what you've done.
Incorporate hard numbers where possible – using numbers demonstrates the tangible results you delivered and makes you a more memorable candidate.
Here are a few examples of bullet points to include in your professional experience section that show employers you're a Photoshop master:
Designed a successful social media campaign, utilizing Photoshop to create eye-catching graphics that generated a 30% increase in followers and brand reach.
Collaborated with a team of designers to develop a comprehensive brand identity for a major client, utilizing Photoshop to design flyers, posters, packaging, and other marketing assets that received industry recognition and contributed to a 25% growth in market share.
Developed and maintained a comprehensive library of Photoshop templates, streamlining design processes and increasing team efficiency by 20%.
Conducted Photoshop training sessions for colleagues, equipping them with essential skills to enhance their design capabilities and ensuring consistent brand representation across all projects.
👉Skills section
Your resume should also include a skills section where you list 8–10 of your most relevant skills. If you're applying for a role that requires a lot of technical skills like graphic design, keep this section mostly focused on your hard skills.
If you want to get specific, you can include particular Photoshop skills, like compositing, 3D editing, retouching and restoration, or advanced brush techniques.
To show your specific proficiency levels in each skill, you can try searching for some free templates that are designed to highlight your skills. Many resume templates include skill bars that you can adjust to reflect your level of expertise, which can be a great way to communicate your abilities to potential employers and make your resume more visually interesting.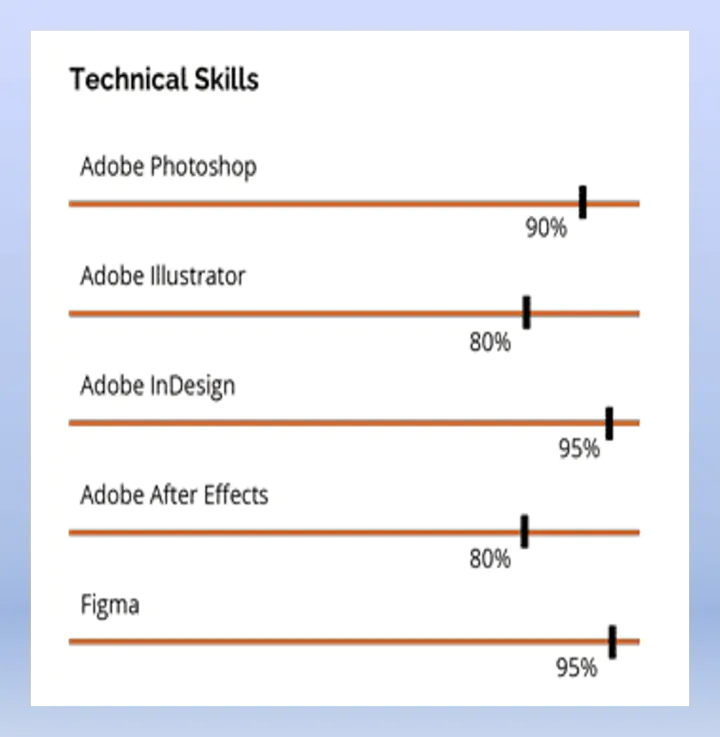 ---
Use Photoshop to create your resume
Using Photoshop in the resume-making process can be an excellent way to demonstrate your skill set to employers, present them with something tangible, and start a conversation in your interview.
But before we discuss how to use Photoshop to make your resume, let's address when to use a Photoshop resume.
When submitting a resume, it's important to choose the right file type. Below is a basic guide for which file type to choose.
Use a Photoshop resume when:

Stick to a Word document when:

The company you're applying to requests a PDF file
You're displaying the Photoshop resume on your website or portfolio
You're emailing the resume directly to a recruiter or hiring manager
If you need to brush up on your Photoshop skills before diving in, taking a Beginner or Advanced Photoshop course is an easy way to get a refresh.
---
Level up your skills
Start learning for free with GoSkills courses
Start free trial
---
Making your resume in Photoshop
If you decide to make your resume from start to finish using Photoshop, follow these steps to ensure your finished product is professional and well-designed:
1. Define the size of your document
The first thing you need to do when creating your resume in Photoshop is choose the right size. When you open a new document, select Print and choose letter size.
Letter size is equal to 2550 x 3300 px, or 8.5 x 11 inches (at 300 ppi).

2. Set your margins
After choosing the right size for your resume, set your margins to ensure you only add content to the printable areas of your document.
To do this, use your margins to create a 100 px margin all the way around the border of your resume. You can set your margins by going to View → Guides and then selecting New Guide Layout.

3. Choose your layout and background
Now that you've got your document and margins set, it's time to make the most crucial design choice for your Photoshop resume: layout.
Do you want your resume to have one or two columns? Do you want a sidebar that contains your name and contact information, or do you want to feature those elements in a header?
Try to visualize where you want each section of your resume and create a solid plan before you start adding elements to your resume.
Once you've decided, you can create the perfect background for your resume. Keep it simple so it doesn't distract readers or make your resume look busy.
4. Color palette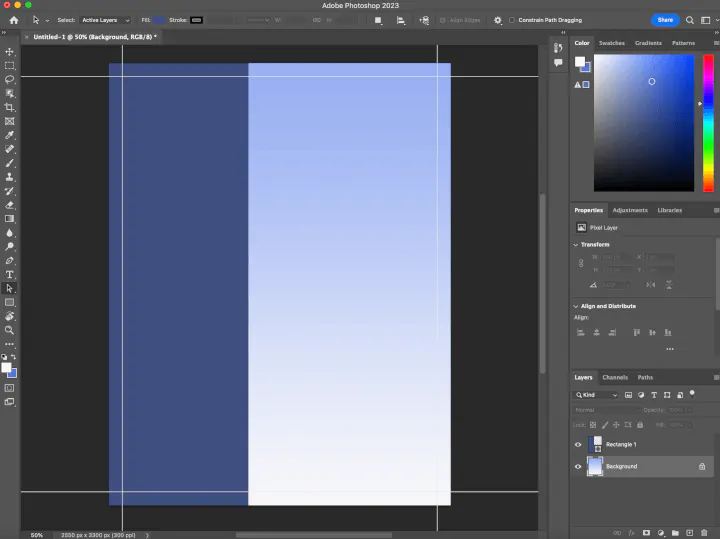 When creating your design, choose a color palette that's appropriate for the industry you're applying for work in.
If the company is modern and creative, you can make bold choices and opt for brighter shades like coral or teal. If you're applying to a company that's quite traditional, it's best to stick to darker, muted tones and classic colors like blue or maroon. Tools like Coolors can help you choose a stunning color palette that'll turn heads.
5. Fonts & hierarchy
Once your basic design is created, it's time to start adding your content. As a tip, it's helpful to have everything pre-written before you start creating your resume in Photoshop so you know how much content you have and how you want it to fit.
When you're creating the headings for each section, make sure to use a font hierarchy. Here's an easy-to-follow guide:
| Content | Font size |
| --- | --- |
| Your name | 24 pt |
| Section headings | 14 pt |
| Regular text | 10 pt |
Choose fonts that are easy to read, like sans serif fonts. For headings, it's okay to choose a font that's a bit more creative – just make sure it doesn't affect the readability or make your resume look less professional.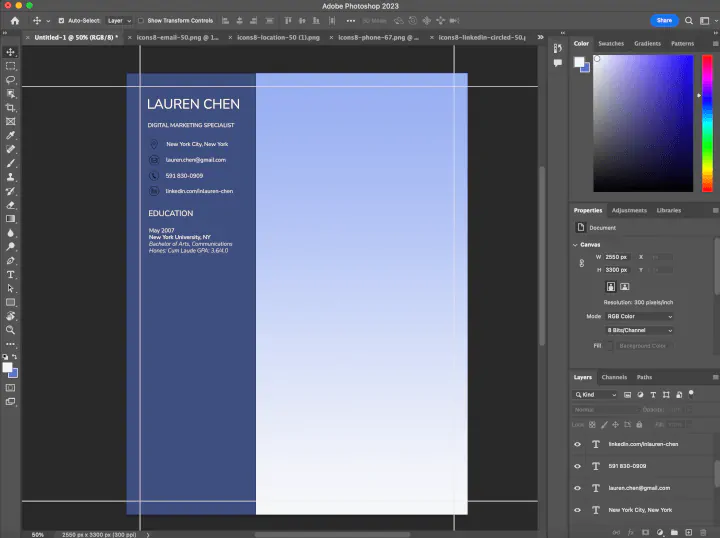 If you don't want to build the whole resume from scratch, consider using a pre-made Photoshop resume template that you can adjust to fit your style instead.
Making your resume in Word
If you want to stick with a Word document, but still incorporate some Photoshop elements, here are a couple of things you can do to put those skills to use:
Add a Photoshop resume background or banner
One thing you can do is create the background for your resume in Photoshop and then export it as a file to use in your Word document.
However, if you import the background as an image, you'll have to set your margins to zero and insert your content using text boxes.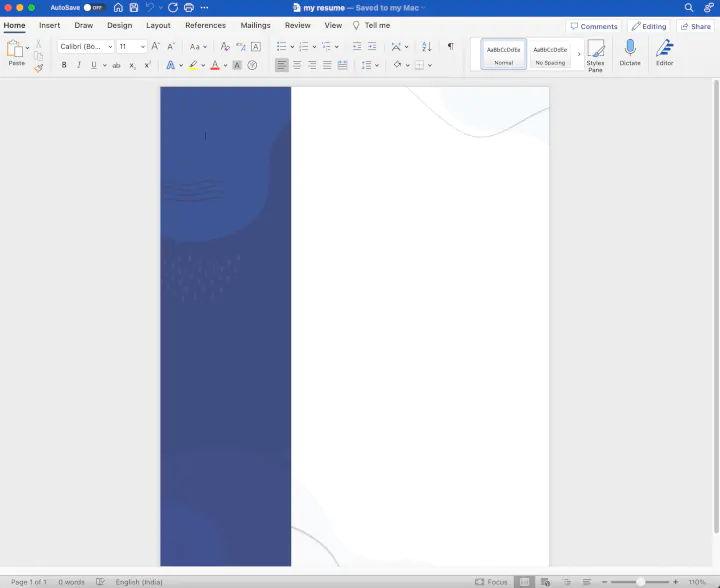 Similarly, you can choose to create just a banner for your resume.

---
Connect employers with your work
The best way to show employers what you're capable of is to let them see your work.
While your resume can be a great place to demonstrate your Photoshop skills, the best way to show employers what you're capable of is to let them see your work. Here's how:
Include a portfolio or website
If you have past Photoshop creations to display, let employers see them by including a link to your online portfolio or professional website along with your contact information.
Link to professional social media accounts
If you've created content for social media using Photoshop, including a link to your relevant social media profiles is a powerful way to show employers what you can do.
Just make sure that your social media profiles are up-to-date and professional before adding those links.
---
Key Takeaways
Now you know how to show off your Photoshop skills on your resume. Here are some reminders:
Highlight your Photoshop skills throughout your resume, using numbers and strong adjectives to demonstrate your achievements.
Consider using Photoshop to create a visually appealing and professional resume.
Choose the right file type (PDF or Word) based on the company's preference.
Connect employers with your work by including links to your online portfolio or professional social media accounts.
Level up your skills
Start learning for free with GoSkills courses
Start free trial