Adobe's software suite is the gold standard when it comes to creating or editing graphics. Knowing each applications strengths and weaknesses is key in order to make the most out of the suite.
In some cases, using the wrong software application can result in wasted time (and frustration) when using tools that aren't as powerful.
In this article, we compare Illustrator vs Photoshop vs InDesign. I will take you through the merits and challenges that come with each application as well as a guide to choosing the best software for your creation.
Want to learn more about graphic design?
Download the beginner's guide now!
Illustrator
Originally created in 1987, Illustrator is Adobe's vector graphic software. Vector graphics, as opposed to raster-based graphics, use paths instead of dots (or pixels) to represent images. The distance between paths is calculated by an algorithm, so if you scale an image up or down, the quality remains the same.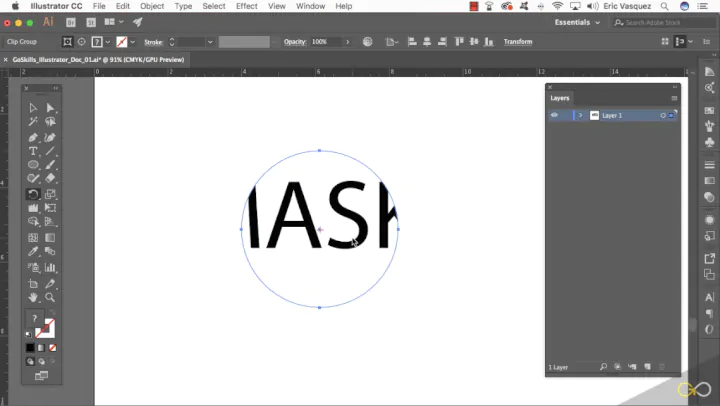 Pros:
Graphics can be scaled up or down without loss in resolution
Multiple, flexible artboards
Object selection
Can place raster or pixel-based images created in photoshop
Cons:
Modifying existing images is quite difficult
Not ideal when creating multipage documents
Photoshop
Photoshop is Adobe's raster graphic creation and editing software. Raster graphics are based on dots (or pixels) and are easier to modify because you have control over each pixel.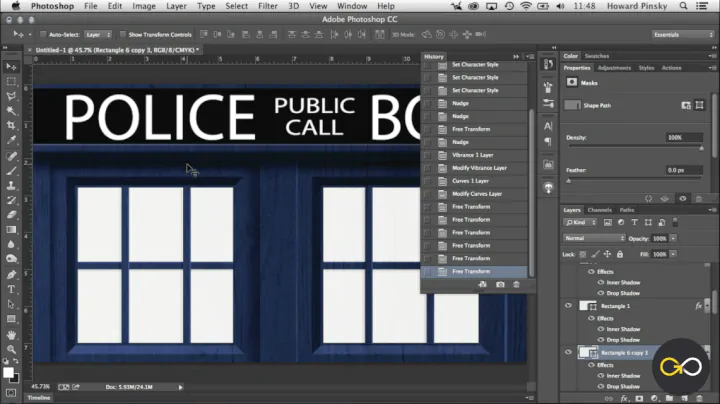 Pros:
Best when editing already existing images or graphics
Can easily modify common file types (think JPEG, GIF, PNG, TIF etc)
It can also add graphics, filters, text, and animation to videos
Cons:
Single canvas
Graphics created on Photoshop aren't ideal when scaling up or down. Your computer estimates where pixels should go which often results in jagged edges or pixelation
Not ideal when creating multipage documents
InDesign
InDesign is Adobe's desktop publishing software. Primarily used to layout designs and images for print (e.g. brochures, magazines, and flyers etc), it can also be used to create simple vector designs.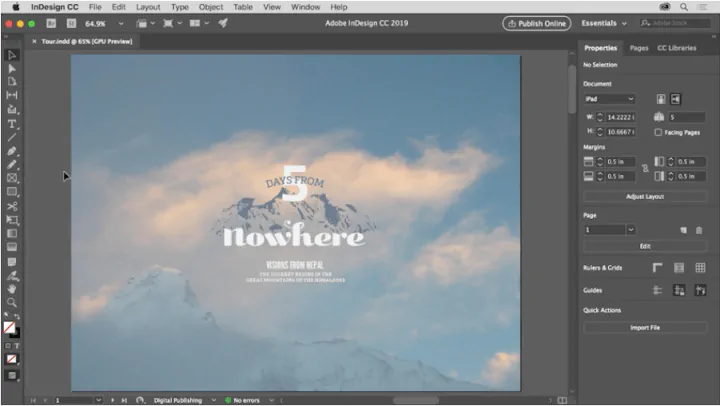 Pros:
The software is optimized to work with commercial printers. InDesign files are packaged so printers have your fonts and images
Best for creating multi-page documents. You can set up master layouts to easily unify a series of pages and easily and intuitively number pages.
Better equipped to work with large sums of text than Illustrator
Cons:
Its capabilities are limited when it comes to creating vector graphics.
You aren't able to edit raster-based graphics
What should I use if I'm...
Editing photos
Photoshop skills are your friend when it comes to editing existing images. The software started off as a retouching application in 1990, and since then it has expanded and updated its toolkit, making it easier than ever to manipulate highlights or shadows, blur blemishes, or color correct.
Web design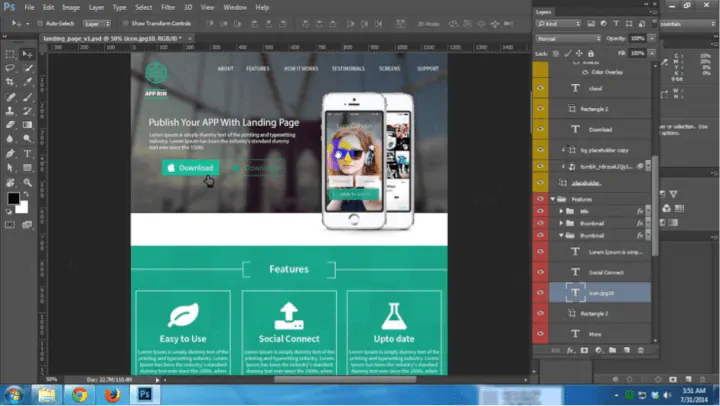 Image source
Go with Photoshop when creating web pages or banners for social media because you will have the guarantee that your work is web-optimized and the right size.
Creating digital art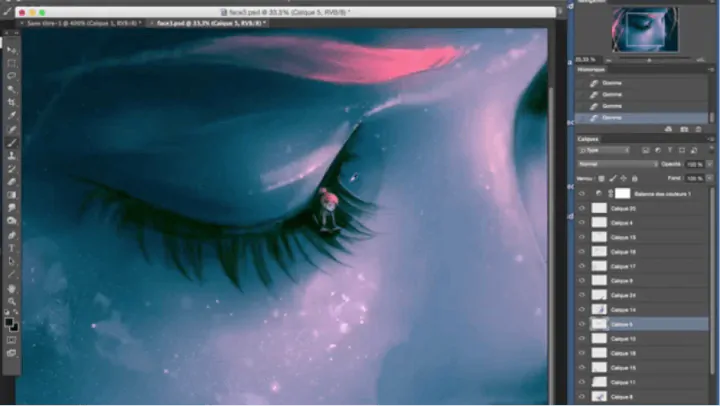 Image source
This is a toss-up between Illustrator and Photoshop and dependent on your preference.
Illustrator is great If you're looking to create crisp, graphical illustrations that can scale up.
Photoshop is ideal if you're looking to create detailed photo-based illustrations and would like pixel-level control over your output.
Wireframing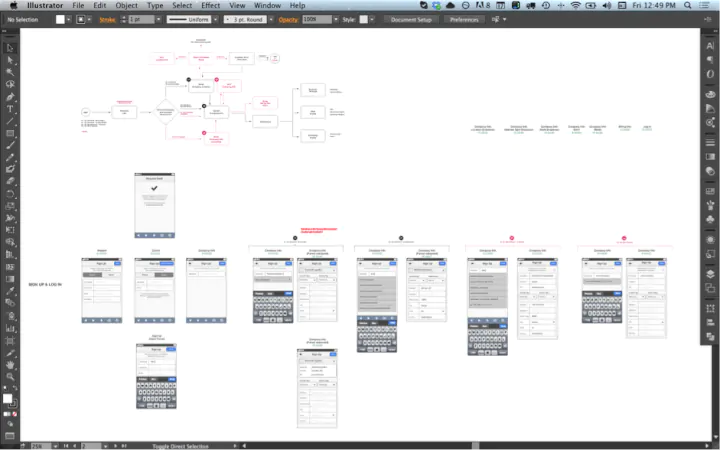 Image Source
If you're designing a user interface or wireframe, Illustrator is handy because you can easily scale and move objects around. The software application also has a library of icons that can be used and modified.
Creating a logo, icon, or brand mascot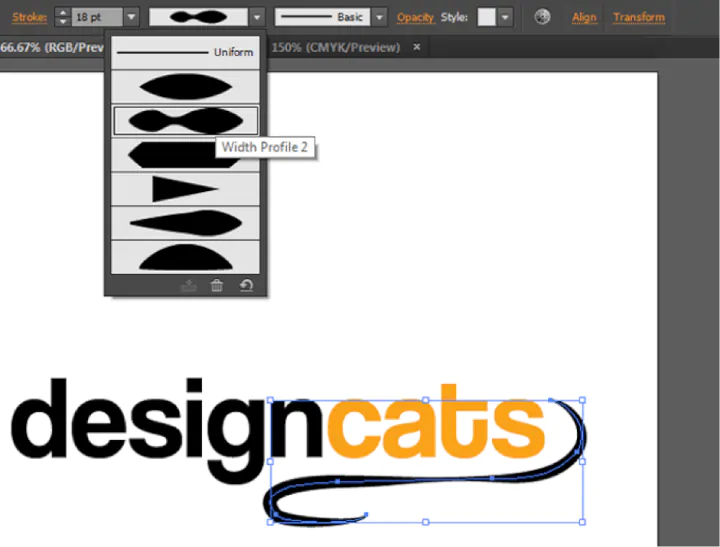 Image Source
When creating branding materials, you will likely want something that looks great blown up on a billboard or business card. Enter Illustrator. Your creations will be vector-based, which ensures that your branding stays looking crisp in every size. The software also offers multiple artboards, allowing you to brainstorm and refine ideas on the same file.
Creating business cards or flyers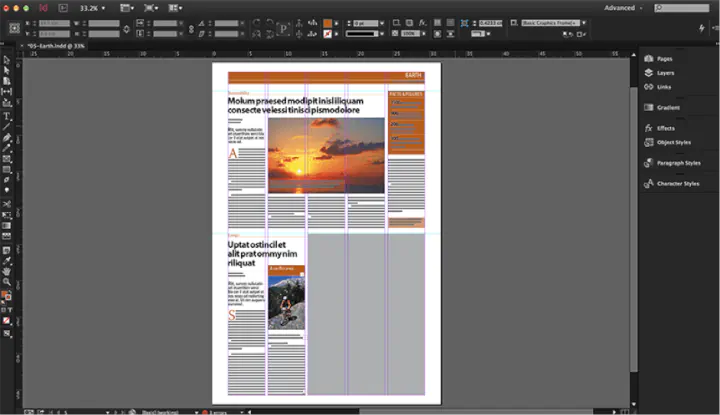 Image Source: InDesign
This can be done on Illustrator or InDesign, my personal preference is for Illustrator as you have greater flexibility when creating graphics.
Multi-page documents (brochures, ebooks etc)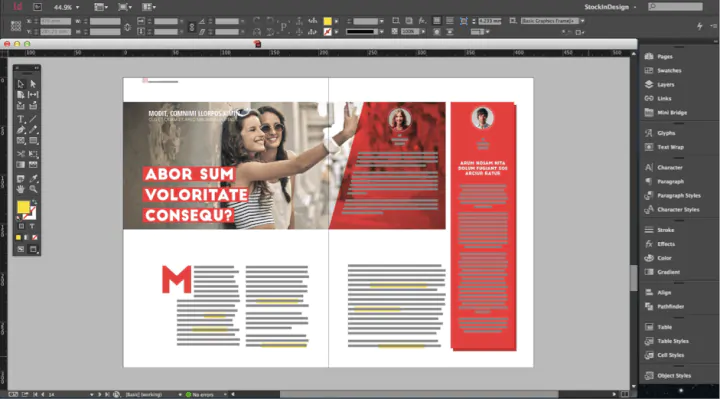 Image source
While InDesign doesn't have much capability when it comes to editing or creating individual graphics, its power comes from being able to easily layout and rearrange pages of text and images.
It integrates with Adobe digital publishing solution, allowing you to create interactive ebooks and magazines.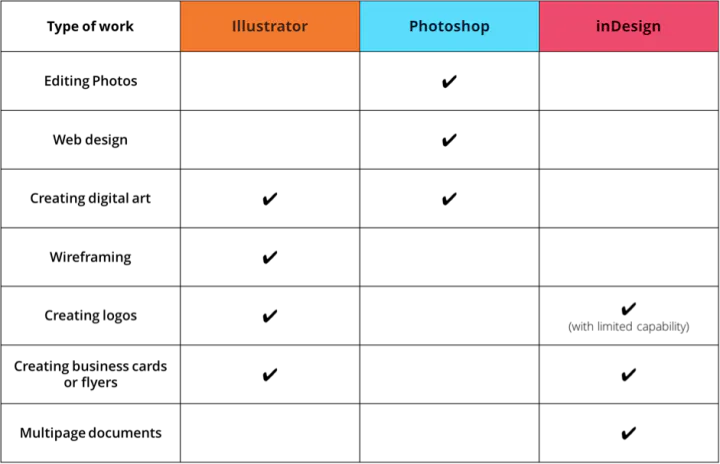 Conclusion
When it comes to Adobe Illustrator vs Photoshop vs InDesign, it's up to your personal preference. Some say Photoshop is easier to learn, but you'd be wasting your time using it to create a brochure or a logo. Similarly, Illustrator may be the safer bet when it comes to creating graphics of any size, but you lose out on creative filters and tools Photoshop has to offer and the ability to create layouts and templates in InDesign. Finally, what you gain in functionality with InDesign (e.g. layouts, compatibility with raster and vector graphics), you lose in power.
For these reasons, it's abundantly clear that these software applications were intended to be used together. While you may have a favourite, knowing when and how to use them in conjunction will take your graphic design skills to the next level.
Ready to boost your design skills? Try GoSkills award-winning design courses!
Looking for some ready to use templates for Illustrator or Photoshop? Find what you are looking for here:
Illustrator Business Card Templates
Level up your skills
Start learning for free with GoSkills courses
Start free trial