Whether you use Microsoft Outlook at work or for personal use, there is a spectacular range of Outlook add-ins available to help you conquer your everyday tasks.
We've rounded up the 20 best Outlook add-ins to help you boost your productivity and make your email workflow easier than ever.
Almost all add-ins are for your productivity, but we have listed a few for collaboration, communication, and a few for fun too! And yes, you can use most of them for free without paying a cent.
Remember: You will find most of the add-ins in the AppSource. But there are some which are available from third-party developers only.
Outlook add-ins for productivity
Cost: Free
Key Benefit: Pin the Outlook Calendar to your desktop.
To get things done, you should schedule it. The Outlook on the Desktop add-in pins the calendar on the desktop, so you don't have to launch and click through Outlook's screens. You can customize the size and opacity to your liking.
To stay on top, the add-in allows you to switch from the calendar to other views like the inbox, contacts, tasks, and notes.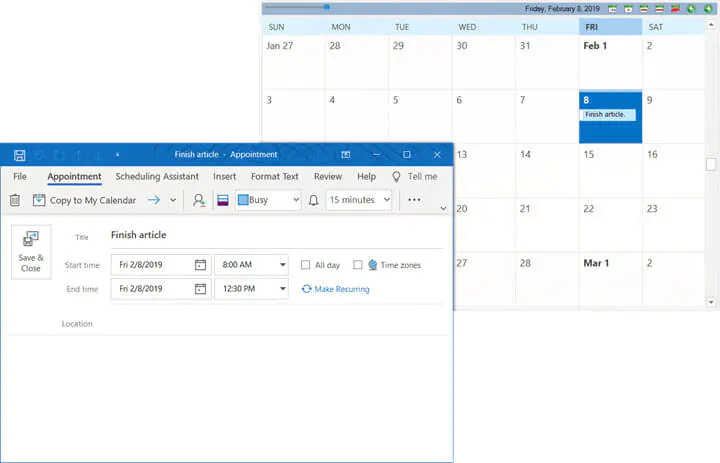 Cost: Free, with premium plans
Key Benefit: Write better emails without grammar and spelling errors.
If your Outlook is meant for professional emails, then Grammarly is a must-have add-in. Remember all your email etiquette and then use Grammarly to proofread your mail before you hit send. But it's more than a spellchecker.
Grammarly is a smart tool. As you keep using Grammarly, it can also enhance your writing by spotting your common mistakes. Grammarly Premium offers advanced checks but the free version is good enough for everyday use.
Cost: Free
Key Benefit: Set up alerts for specific messages in your Outlook folders.
Think of Advanced Folder Watch as an automatic filter that follows your rules to list down all critical emails. The rules are created with a wizard and you have complete control over them.
The add-in sits in your inbox and watches the predefined folders for the right conversations. The notification system can then remind you with a pop-up or curate the filtered emails in a special folder.
Advanced Folders Watch works with Outlook 2016, 2019, and Microsoft 365.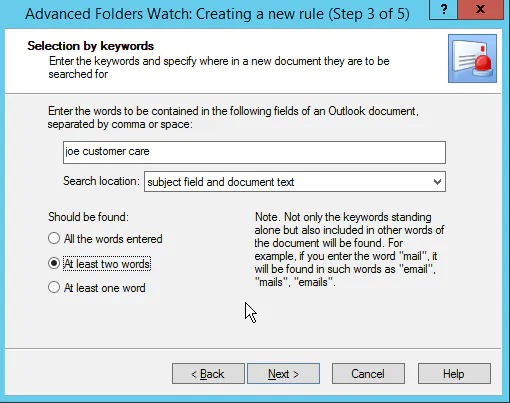 Cost: Free
Key Benefit: Save time by reusing common text snippets in your emails.
Text Lighting is a powerful version of "Canned Responses" in Gmail. You can save the text snippets you commonly write and then reuse them in other emails.
The Outlook add-in can also set up conditional responses based on different variables you use to reply to messages. You can use different templates for the kind of responses you want to send.
Text Lightning works with Outlook 2016, 2019, and Microsoft 365.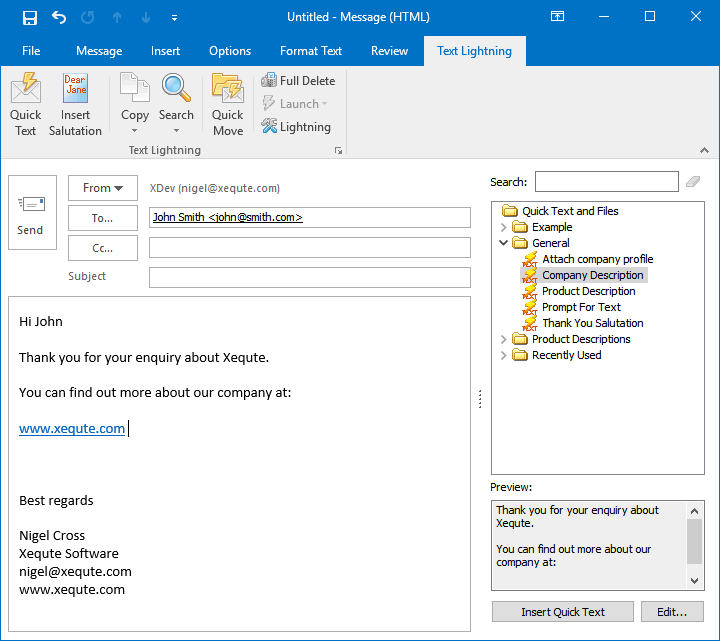 Cost: Free, with paid plans
Key Benefit: Organize notes and attachments in this ultra popular note-taking tool.
A crowded inbox can drown out valuable information. You need an information manager like Evernote to store the important bits when working on a project. The Evernote add-in lets you clip email messages and attachments from Outlook directly into Evernote.
Your Evernote notebook can also be the hub if you want to attach notes from Evernote to an email. Let's also remember that Evernote allows you to share your notebooks with others.
Evernote works on Outlook Web and Outlook desktop versions.
Cost: Free, with paid plans
Key Benefit: Easily schedule your emails at later times.
Outlook allows you to delay or schedule email messages. But there are a few other features in Boomerang that make it a useful email assistant. For instance, you can track which links have been clicked in your email, and follow up if no one has opened them yet.
Boomerang has four tiers of subscriptions. You can try the free version out before you decide to upgrade.
Cost: Free
Key Benefit: Stay safe from scammers and phishers.
Scammers know how to scrape your email id and bombard you with phishing emails. Outlook has its own anti-phishing feature, but it helps to have a second sentinel. Mr. Post is the shield that tells you whether the email being read is safe.
Artificial intelligence and advanced email analysis techniques help protect your inbox against reckless clicks. The add-in also helps to visualize the meta-information in the email headers.
Mr. Post works with Outlook Web and Outlook desktop versions.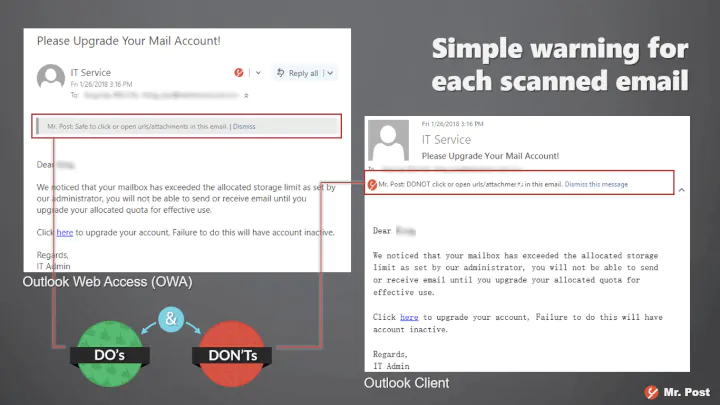 Cost: Free
Key Benefit: Send and receive money without leaving your inbox.
PayPal needs no introduction. You can use the PayPal web app or the mobile app to send money to someone or use the convenience of this add-in within your email.
The add-in lives inside your inbox. Open the PayPal app, choose a friend, and send the money using the email address that Outlook autofill's for you. All relevant information about your transaction flows back into your inbox.
PayPal works with Outlook Web and Outlook desktop versions.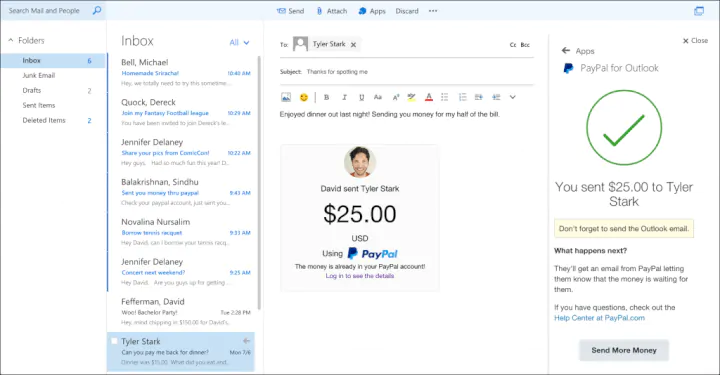 Cost: Free
Key Benefit: Set up independent signatures for different recipients and accounts.
Outlook allows you to create one or more signatures for your multiple accounts. But if you are someone who likes to attach a different signature for different people, then Custom Signatures is for you. This add-in also works with Outlook Online.
Custom Signatures supports both plain text emails and HTML emails. No signature data is stored outside. The add-in displays a sponsored ad in the task pane.
Custom Signatures works with Outlook Web and Outlook desktop versions.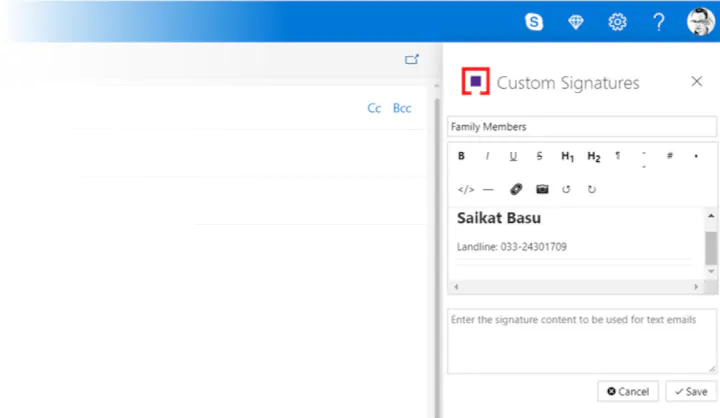 Outlook add-ins for collaboration
Cost: Free, with paid plans
Key Benefit: Share large files from the cloud instead of attaching them.
You might wonder about the need to use Dropbox when Outlook has a more seamless relationship with OneDrive. But your or your collaborator's preference for Dropbox should negate that debate. Use this Outlook add-in to share files of any size.
Thanks to the cloud, you can also access any file in Dropbox from anywhere and attach it to your emails.
This add-in works with Outlook Web, Outlook 2019, Outlook 2016, and 2013. So far, this add-in does not seem to support Outlook 365.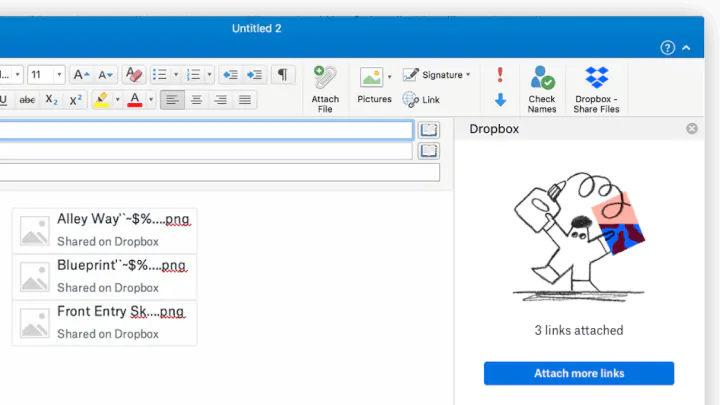 Cost: Free, with paid plans
Key Benefit: Create actionable tasks from your emails on Trello.
Trello is a powerful project management tool with its Kanban-styled boards and cards. This makes it to our list of the best Outlook add-ins because with this installed, you do not have to leave your inbox to create cards with descriptions and due dates.
With a click on the Trello button, you can quickly create a card, select a board and the place for the card. You can add a due date before you save the card.
The Trello add-in works with Outlook Web and Outlook desktop versions.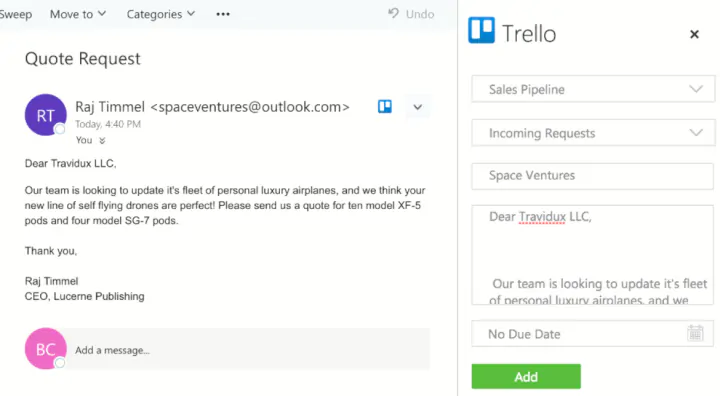 Cost: Free, with paid plans
Key Benefit: Convert emails into tasks and flexible project boards.
Turn emails into tasks and you don't have to worry about follow-ups. Outlook allows you to convert emails into tasks by default, but MeisterTask takes it up a notch. It's a complete task management system with better team features built in. It's also more visual.
With MeisterTask, you can create flexible project boards. The add-in converts emails into actionable tasks and automatically inserts them in the project and section of your choice.
MeisterTask offers a free "Basic" plan with unlimited tasks, projects, and collaborators, which includes up to 2 integrations. The "Pro" plan is available for $7.50 per user/month without restrictions.
Cost: Free, and paid plans
Key Benefit: Control your shared documents with real-time feedback.
Email attachments have their limitations. You must consider security too while sending proprietary business documents. DocSend solves the problems of attachment size and security with its solution.
You can share files up to 250MB with a simple, secure web link. Complete control even after hitting send, instant "read" notifications, and page-by-page analytics tells you who has opened the attachment and which parts have caught their eye.
DocSend works with Outlook Web and the Outlook desktop versions.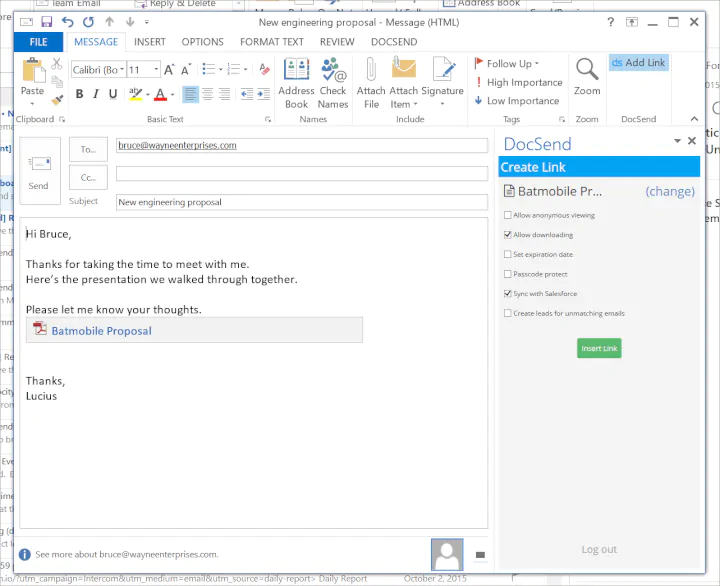 Cost: Free
Key Benefit: Find the best time to meet automatically
Online collaboration plays second fiddle to real-time meetings. FindTime makes it easy to find that one slot in your busy schedule when everyone on your team can meet. It is a meeting scheduler that removes the hassle of back-and-forth emails to find a common time.
Propose a few time slots and allow everyone to vote. FindTime finds the one that works best and sends out the meeting invite to the team.
FindTime works with Outlook Web and Microsoft 365. Everyone does not need to have it installed as it works with email.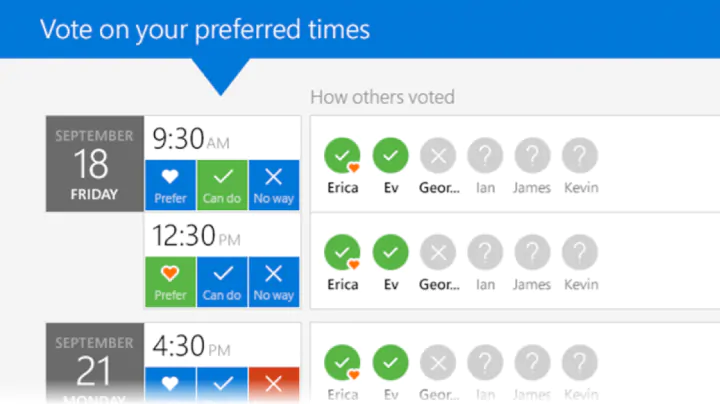 Outlook add-ins for communication
Cost: Free
Key Benefit: Decipher emails in a foreign language.
Majority of your email conversations might be in English. But some emails just might pop up in a foreign language. The official Translator for Outlook add-in from Microsoft can translate all these messages on the fly.
Just install it once and use it across all your Outlook clients. The Microsoft Translator service is the engine behind this add-in. Microsoft says that all data transmissions are secured via SSL, and are never stored, sampled, or shared.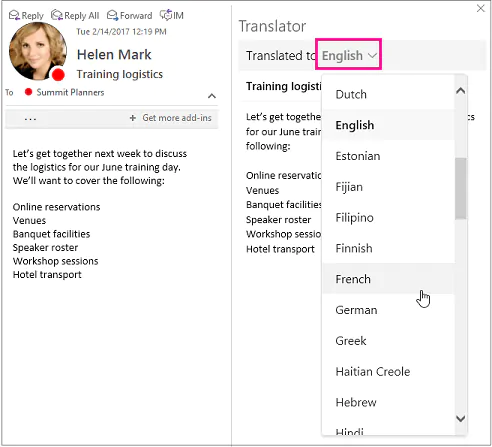 Cost: Free, and paid plans
Key Benefit: Host video or audio meetings at the press of a button.
Zoom is a handy alternative to Skype for hosting meetings with a remote team. With the Zoom Outlook plugin, you can schedule meetings, start meetings instantly, invite participants to meetings, and also schedule a meeting on behalf of another Zoom host.
The meeting platform allows you to hold video conferences or audio-only meetings for the camera shy. Zoom is integrated with the Outlook calendar and also supports screen sharing among its collaboration tools.
The basic free plan comes with restrictions but can be a good starter solution for small teams.
Cost: Free, with premium plans
Key Benefit: Content snipper to help collect and share information.
You need an information manager to solve the problem of information overload on the web. Sorc'd is an Outlook add-in that will help you discover snippets of content, organize it in one place, and share it with your team.
With Sorc'd you can discover nuggets of valuable information and then store it for later use in your communication emails. Think of it as a research tool, or a method to make your emails stronger.
The Sorc'd add-in works with Outlook Web and Outlook desktop versions.
Outlook add-ins for fun
Cost: Free
Key Benefit: Add in some fun with animated GIFs.
Responding to business emails with animated GIFs might not be a great idea. But who said you can't have some fun with the personal ones?
Also, you can use well-placed Giphy animations if you use Outlook to design any promotional newsletters, which is why this makes it to our list of best Outlook add-ins.
Use the add-in to search for a GIF. Insert it directly into your email with a click on the GIF you like. Maybe, just make sure it is SFW (The GIPHY search settings can help you filter out the undesirable ones).
Outlook Mail on the web has a GIF search tool powered by Bing too. But you might like GIPHY more.
The GIPHY add-in works with Outlook Web and Outlook desktop versions.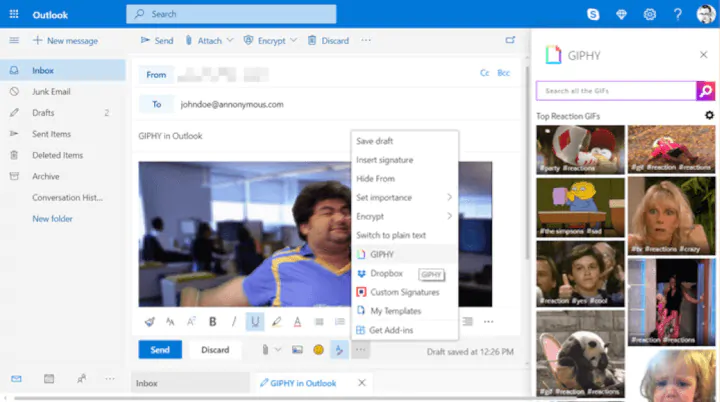 Cost: Free
Key Benefit: Use the largest collection of emojis on the web.
Emojis are now an extension of the alphabet we use to communicate. Outlook Mail on the web has its own button for inserting emojis, so this add-in is an extra. It uses the world's largest emoji set (EmojiOne) of nearly 3000 emojis. You can pick out different skin tones if your emails need to be more individualized.
It opens in a task pane on the right. The Emojis add-in works only with Exchange, Microsoft 365, or Outlook.com accounts, not IMAP or POP accounts.
The Emojis add-in works with Outlook Web and Outlook desktop versions.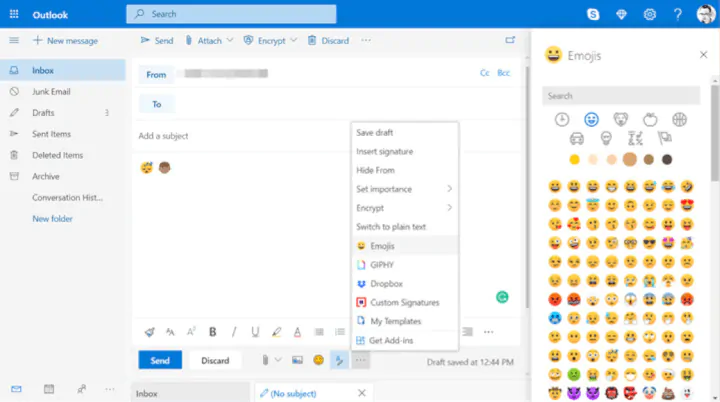 Cost: Free
Key Benefit: Quickly find a restaurant to meet and eat at.
Is a restaurant finder at odds with your inbox? Maybe not, considering how many deals are closed over a nice meal. The Zomato add-in helps you insert restaurant information into emails, or into meeting invites when scheduling work appointments or just making weekend plans with friends.
The tool gives you the full experience of using Zomato for finding that perfect restaurant. This add-in works with Outlook.com only.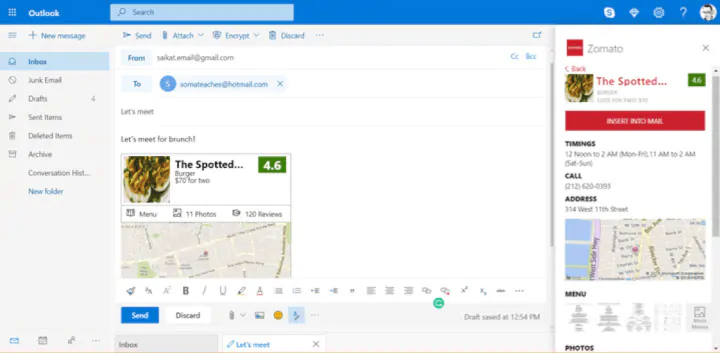 Get to Inbox Zero with the right add-ins
Email management requires handling your mail with a plan. Pick the best Outlook add-ins for your workflow, and they will be like little gremlins chipping away toward Inbox Zero. Everyone has different needs and that will decide on their choice of add-ins.
Learn more about how to become a pro with this Microsoft Outlook course or start mastering the full Microsoft Office Suite.
Want add-ins for your other Microsoft software? Check out our list of the 50 best Excel add-ins and our top 20 Microsoft Word add-ins.
Want to learn more?
Take your Microsoft Office skills to the next level with our comprehensive (and free) ebook!
Ready to master Microsoft Office?
Start learning for free with GoSkills courses
Start free trial