Looking for a platform where your team can chat, socialize, call, and collaborate? Microsoft Teams is packed with features that will engage the team and help drive productivity. In this article, we'll explore some of these Microsoft Teams features.
---

---
What is Microsoft Teams?
Microsoft Teams is a communication platform and teamwork hub designed for use in the workplace, with friends and family, or in schools.
As a workplace tool, Teams helps to keep employees connected and organized. It drives increased productivity through a variety of features including video conferencing, file sharing, group and one-to-one instant messaging, integrated apps, and screen sharing.
With assets, data, and integrated applications all stored in one place, users spend less time switching between multiple programs and more time actively working and collaborating. According to one report, the time an employee might otherwise have spent "app switching" amounts to between 15 and 25 minutes each day.
Teams is fully integrated with Microsoft 365, which includes services like Word and Excel. It also accommodates a wide range of third-party integrations and enables users to create and integrate their own apps via the Teams developer platform. These features make it easy for organizations to tailor the platform to meet their specific needs.
How do I get Microsoft Teams?
Teams is accessed via a web browser, desktop app, or mobile app. You can download the Microsoft Teams desktop and mobile app here. A free version of the platform is available, with pricing plans starting at $5 per month, per user.
How to use Microsoft Teams
Check out our tutorial on how to use Microsoft Teams for tips on how to access and use Teams' most popular features.
Users of the platform can create any number of Teams, which brings different groups of people together based on specific work projects, common interests, or workplace functions. For example, a Team might consist of an organization's entire marketing department or a handful of employees with a specific shared interest.
Channels with a more specific focus are created within each Team. Via these channels, users can chat, upload files, and work on them together in real-time. They can also schedule meetings and integrate relevant apps and services.
Chat history, files, and recordings of meetings are stored via Microsoft's OneDrive cloud storage and a local SharePoint. This makes it easy for users to access and share the latest information whenever they need to.
1. Video conferencing
Teams' video conferencing service has grown increasingly sophisticated in recent months. It allows you to chat with up to 10,000 people at once, whether they are part of your organization or an external party, and offers unlimited call time.
Other innovative features include custom backgrounds, live captions, meeting recording, screen sharing, shared digital whiteboard, hand raising, and real-time noise suppression (which filters background noise to retain only speech signals). Meeting attendees can also open, view, and edit documents during calls.
One of the latest additions to video conferencing on Teams is Breakout Rooms. Available from the end of November 2020, this feature will enable meetings to be broken into smaller focus groups.
Once live, users can access it by checking the "Turn on new meeting experience" box in General Settings, and then restarting Teams. The Breakout Room option will appear for meeting organizers next to the Raise hand icon.
2. Tabs
The Tabs feature, which is visible at the top of every conversation, gives you quick and easy access to your most-used tools, services, and files. The two types of tabs available are static tabs, which support individual users, and configurable tabs, which form part of your Teams channel and can deliver content within group chats.
To add a tab, select + on the tab bar, choose the type of tab you want to add, assign a name to the tab, and then save it.
3. Status options
Until very recently, you had the option to set your Teams status to Available, Busy, or Away.
Now Teams has added a new status option, which allows you to "Appear Offline" for a set amount of time so your teammates won't assume you are available to chat.
Colleagues will still have the option to send messages to someone who appears offline but the feature will likely minimize the frequency of communication when you want to focus on your to-do list or enjoy a moment of respite.
4. Tasks
Tasks was recently launched to replace To Do and Planner — combining the functionality of both applications in one. It is available via desktop, web, and mobile. The Tasks bot enables users to create a task from any message, making it easy to manage individual and group to-do lists and prioritize workloads.
Users can access Tasks via the Teams App tab. To create a new task, click on the three dots that appear next to any message, click More actions, and then Create task. Task lists are divided into My tasks and Shared plans, which differentiate between a user's individual tasks and tasks an entire team is working towards.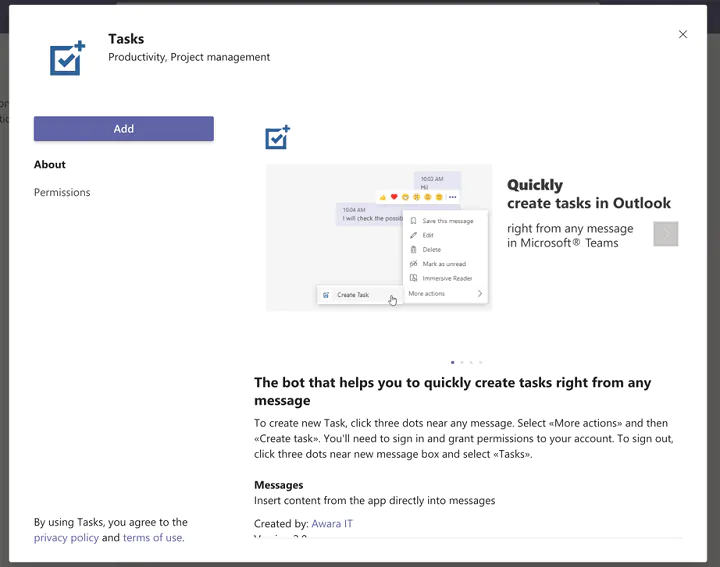 5. Together mode
After the outbreak of COVID-19, many organizations were thrown into the hitherto unknown realm of remote working, and with very little warning.
This has presented several challenges for leaders, not least the need to maintain employee morale and a culture of collaboration. Teams' Together mode is one small way for your team to feel a greater sense of camaraderie and closeness.
Launched in the summer, Together mode uses AI segmentation technology to project your avatar into a virtual lecture room with other meeting attendees, which creates a shared virtual environment. This feature is designed to reduce meeting fatigue and makes it easier for attendees to follow conversations, identify social cues, and interject.
6. Microsoft Immersive Reader
This feature might well have been designed with educational institutions in mind but it also serves an important purpose in the workplace.
The Immersive Reader can read aloud any text within Teams at various speeds. It's a useful tool to have on those occasions when you're struggling to concentrate or engage with the information on the screen.
It also allows you to focus your attention elsewhere while you listen or simply give your eyes a rest from constant screen time. It is also an important tool for employees with visual impairment.
To access this feature, click on the three dots next to the message you want to be read aloud and choose the reader from the drop-down menu.
7. Slash commands
Slash commands will help you to navigate Microsoft Teams more efficiently. These can be used to:
Update your status
Instantly access new information (/WhatsNew)
Find the most recent files uploaded to your Teams channels (/Files)
Call someone in your team (/Call)
Directly access a specific channel (/GoTo)
To use slash commands, simply enter "/" into the search bar and a range of options will appear.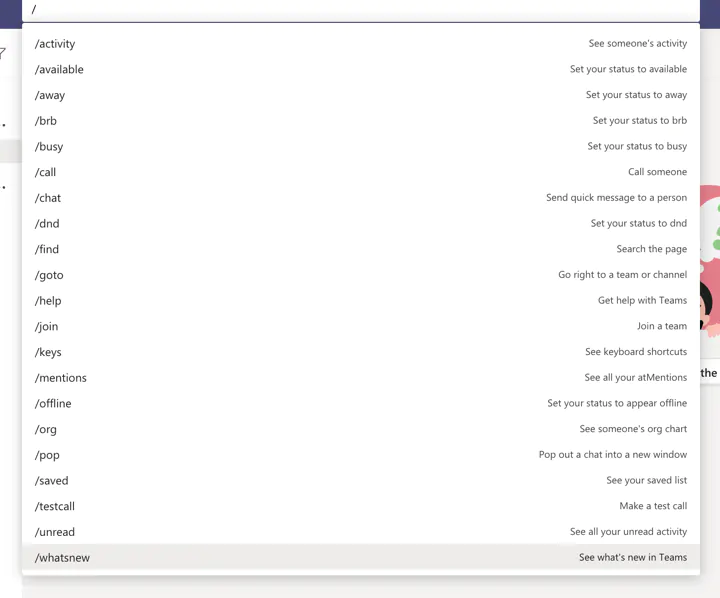 8. Virtual commute
One of the biggest challenges when it comes to remote working is establishing a healthy work-life balance. When you work from your sofa or kitchen table, it's all too easy for the days to blur into nights. Before you know it, you're still churning through emails at 9 pm.
Teams has come up with a novel approach for users to better manage their daily schedule. Virtual Commute will be available in the first half of 2022.
With the understanding that many employees use their commuting time to switch off, relax, read a book, prepare for the day ahead, or disconnect at the end of the day, this feature allows you to schedule time in your calendar for a virtual commute.
A study from Microsoft found that commuting time can increase employee productivity by 12 percent to 15 percent.
9. Security
Security is a key differentiator for Teams, with the platform adhering to the same security and data protection standards as Microsoft 365.
Teams enforces two-factor authentication and single sign-on through Active Directory. All data is encrypted and user accounts are managed via Office 365's Admin console.
Teams administrators also have the option to reduce access to sensitive information, set boundaries to limit which team members can communicate with one another, and establish Private Channels.
10. TellMe Bot
Introduced in June 2020, TellMe Bot leverages Artificial Intelligence and Microsoft GRAPH to collect and relay information from within Microsoft 365 products. TellMe Bot is quickly installed via the Teams app tab and grants users instant and easy access to key information about the entire organization. Queries the TellMe Bot can answer include:
What are my upcoming meetings?
Find expert by [job title]
Find availability of [name]
Alongside the TellMe Bot, Teams has several other bots offering various services including the Polly Bot for polling employees and the Statsbot which delivers scheduled reports.
11. Instant messaging
Teams instant messaging and group chat features make it easy to communicate with your colleagues. It reduces the need for constant emailing and enables a more laid-back and social approach to workplace communication.
Instant messaging takes place within your Teams channels with the option to use emojis, gifs, memes, send praise, upload files, and use @mentions to target specific team members.
If you type @channel before you send a message, everyone in the thread will be alerted that you have posted something new. Messages can be marked as Important or Urgent, with the latter giving you the option to alert recipients every 2-20 minutes.
How does Microsoft Teams hold up against similar workplace tools?
Not sure which collaboration platform works best for you? It really depends on what you're looking for.
Microsoft Teams vs Slack
Teams launched in 2017, four years after Slack — but has certainly given its predecessor a run for its money. As of April 2020, amid the COVID-19 pandemic, Teams' daily active users rose to 75 million. In November, Microsoft announced that Teams reached 115 million daily active users.
Slack provides many of the same services as Teams, including chat and video capabilities. The tools are similarly priced and both are fairly intuitive to navigate, but there are some key differences.
Teams allows for up to 250 participants on a video call and Slack caps it at 15. The same goes for file sharing with Slack limiting file uploads to 1GB compared with Teams' 15GB limit.
On the other hand, Slack offers 800 third-party integrations, while Teams offers significantly fewer.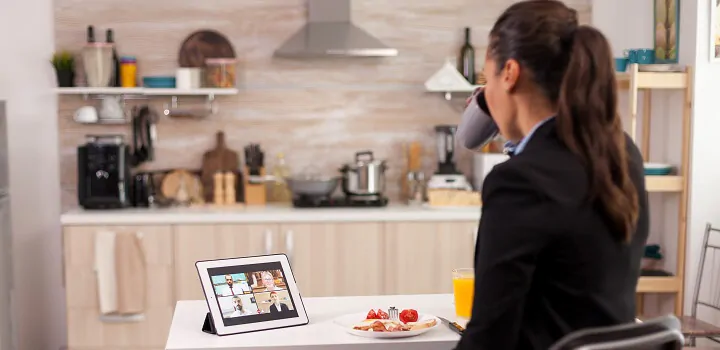 Microsoft Teams vs Skype and Zoom
The popularity of videoconferencing tools like Zoom and Skype skyrocketed at the beginning of the pandemic, largely off the back of the sudden shift to remote working.
Teams, Zoom, and Skype each provide a range of services for videoconferencing although the latter two feature a more expansive range of technical integrations.
A key factor that sets Teams apart from competitors like Zoom or Skype is its integration with tools such as Outlook email and calendar, as well as Microsoft's 365 suite. For many organizations, this centralized one-stop-shop approach is what appeals. Zoom and Skype, on the other hand, are perhaps better tools to use when communicating with external parties.
One survey found that 85 percent of users have adopted more than one collaboration platform to best cater to their needs.
Ultimately, the choice you make will depend on the size of your team and your organization's priorities.
Get up to speed with Microsoft Teams
Want to learn more about essential Microsoft Teams features and tools? Check out GoSkills' Microsoft Teams training here. The course covers all the basics of using Teams, including installing and customizing the app, working with files and documents, and making calls.
Get your team up to speed with GoSkills' award-winning course library and learning management system. Try it for free today.
Train any size team
It's easier than ever to track and manage your team's training with the GoSkills LMS.
Start for free