Microsoft Teams is a chat-based collaboration app for teamwork. It's a space for co-workers to share documents, conduct online meetings, store files, and work on projects together in a cloud environment.
It's a great platform, but what makes it even better is Microsoft Teams integrations: an option to integrate external apps without ever having to exit Teams and toggle between platforms.
This article will explore 19 of the best app integrations for Microsoft Teams. If you're looking for tips on using Teams better, check out our resource on how to use Microsoft Teams.
---
---
How to access Microsoft Teams integrations
There are two easy ways to access the Apps menu in Teams:
Click on the Apps icon in the left-hand menu bar to access the full app menu.
Click the plus sign in the top navigation menu to pin a tool to the top of a channel.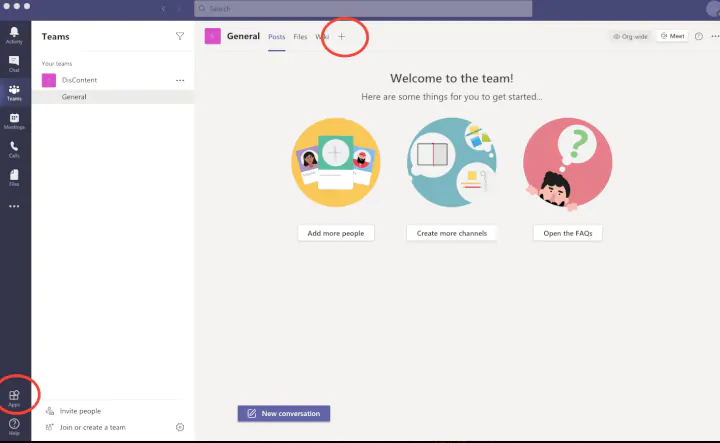 How to find and select apps
Clicking the Apps icon brings up the full menu of apps: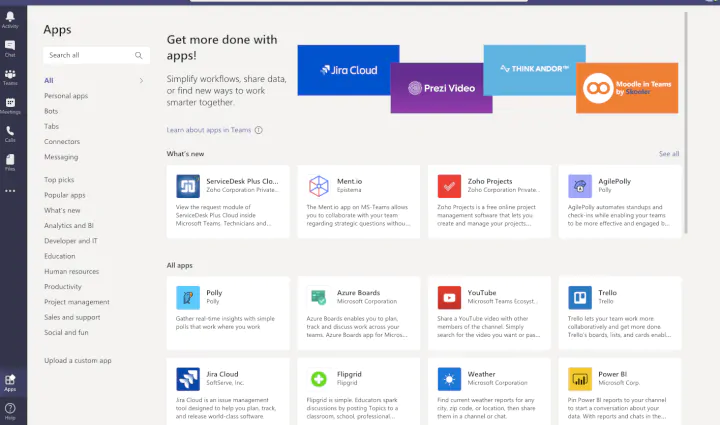 As you can see, there's a dizzying array of apps (over 600 and counting) available, which can make a specific app a little difficult to find. Luckily, the menu on the left-hand side of the page organizes the apps into categories such as Education, Human Resources, and Productivity.
Other ways to navigate include clicking on "Top Picks" or "Popular Apps" to find out what others are using, or searching by type such as Personal apps, Bots, or Connectors.
19 of the best app integrations
Let's look at 19 of the top app integrations for Microsoft Teams.
Generally, an integration can involve two aspects:
A "Connector" which means changes made in a third-party platform are sent to nominated Teams channels in the form of notifications.
Full integration, which means the app (or bot) is embedded into Teams chats or channels. The integrated app will generally look and feel the same as using it outside of Teams.
Project management
Project management app Monday.com's recently released MS Teams integration allows its users to bring its famously colorful boards into Teams. Projects can be managed straight from the MS Teams tabs, with all updates synchronized across both platforms.
Benefits: Keep users up to date with what's happening on Monday without having to toggle between platforms.
Cost: This integration requires a Monday.com account. Pricing plans start at $39 per month for the Basic option.
Trello is a project management app that arranges its information in flexible boards, lists, and cards. Changes made in Trello can be sent to channels as notifications via a Connector.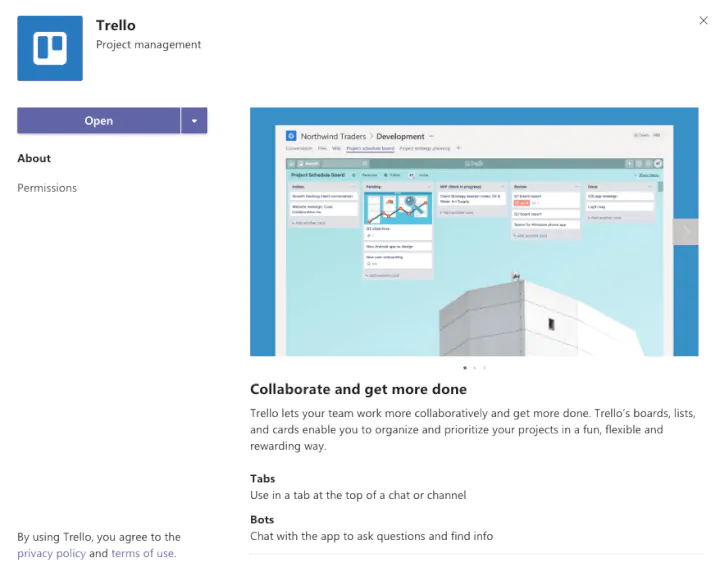 Benefits: Adding Trello as a tab to a channel allows users to manage boards within MS Teams without having to switch platforms.
Cost: Trello's free option gives users unlimited boards, cards, and lists. But it limits attachments to 10 MB per file. Business Class offers 250 MB file attachments for US$9.99 per member, per month.
Collaboration
A digital notebook or note-taking program, OneNote encourages free-form information gathering and collaboration via notes, drawings, screenshot clippings, and audio recordings.
OneNote's Microsoft Team integrations means the app can be used in a tab, in a chat or channel.
Benefits: One of the most popular integrations on Microsoft Teams, OneNote is a great way to easily capture ideas in multiple digital formats.
Cost: The free edition of OneNote has no limits on the number of notes created and synced, and includes 15 GB of OneDrive storage space.
Agile teams love whiteboards and sticky notes, which is why it's unsurprising that Miro has come up with an online collaborative whiteboard platform complete with digital sticky notes. Miro boards can be embedded into Microsoft Teams tabs, and a Connector pushes activity from the Miro account into Teams chat to keep everyone up to date.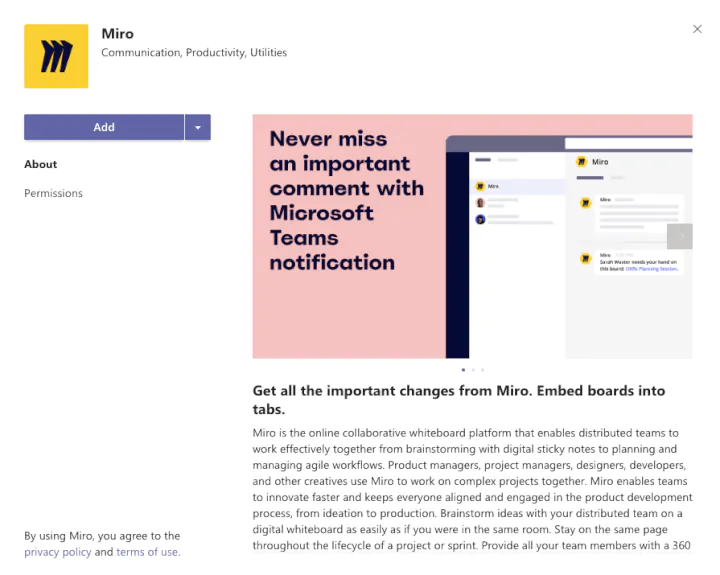 Benefits: Great for brainstorming, managing agile workflows, and complex project management.
Cost: Users must have an active Miro account to use the integration. A free option includes three editable boards, while unlimited boards are available for US$8 per member, per month.
Idea Management Software Viima encourages innovation by capturing co-workers' ideas, presenting them to the team for comment, then streamlines the process of analyzing, prioritizing, and developing ideas in a highly transparent and efficient way.
Benefits: A great way to capture ideas and innovation across a remote team.
Cost: Viima is free for up to 50 users. Users need an active Viima account to use the Microsoft Teams Integration.
Meetings
This scheduling app cuts the time taken to arrange meetings with internal and external contacts by eliminating the need for messages going back and forth. The app publishes users' calendars and available times to approved contacts so they can see when you are available.
Benefits: Save time by letting others see when you're available before a meeting is arranged.
Cost: US$2.50 per person, per month for users who connect a calendar.
Another integration built to help Agile teams, Dailybot runs daily stand-up meetings where it asks every team member three questions:
What did you achieve yesterday?
What are you going to work on today?
Do you have any blockers?
It then posts a report to a nominated channel to help managers and co-workers know what everyone is up to.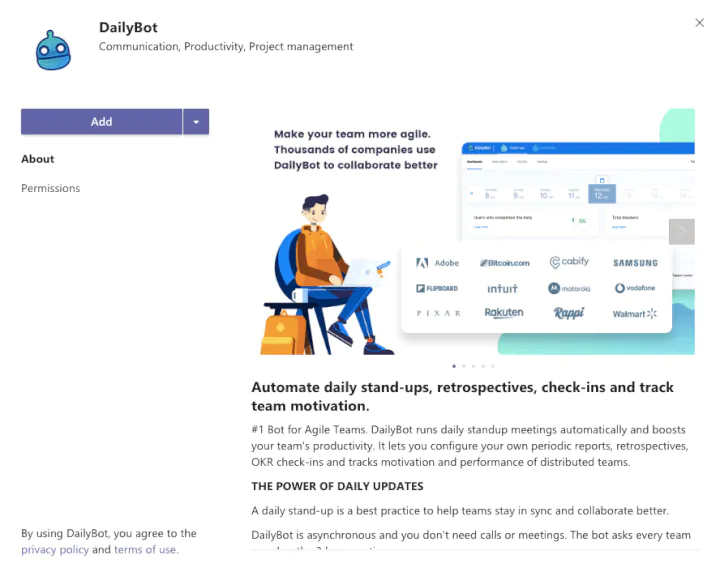 Benefits: Boosts the productivity, efficiency, and motivation of Agile teams.
Cost: Free, although users can pay to unlock features such as history and leaderboards.
Polling
Polly is a tool that helps managers capture quick decisions and crowdsource feedback from their teams in real-time. Polly allows users to create simple polls and surveys within Teams without the need to visit an external app.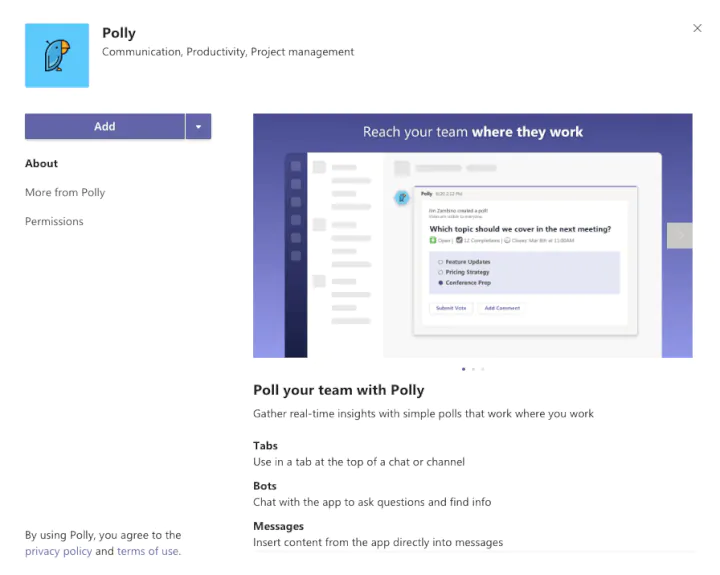 Benefits: Polly was designed with a focus on speed and convenience to avoid survey fatigue and create a culture of continuous, quick polling.
Cost: Single question surveys are free. For multi-question surveys, pricing starts at US$19 per month.
This integration brings Surveymonkey polls, quizzes, and pulse surveys into Microsoft Teams chats and channels. In general, Surveymonkey tends to be used for longer-form polls, although it can also be used for micro-polling (like Polly).
Benefits: With its 20-year history, Surveymonkey is a very familiar polling tool for many organizations. The Teams integration means users will not have to learn to navigate a new type of polling tool.
Cost: Surveymonkey's Basic plan is free. Companies can unlock benefits such as white-label surveys and more responses with paid plans.
Presentations
This integration lets users create highly engaging videos by showing them alongside their content and graphics — a bit like a newsreader. Easy to make with designer templates, the videos can be posted directly into chats and channels.
Benefits: Prezi allows users to quickly create impressive, attention-grabbing videos without the need for advanced video-editing skills.
Cost: Business plans start at US$15 per month.
This integration enables HR managers to design their perfect new hire experience, engage new hires, and make it easy to manage onboarding. The Enboarder integration brings this technology into the MS Teams environment.
Benefits: Enboarder improves the employee experience to boost retention while giving managers of new hires timely nudges to remind them of their onboarding tasks.
Cost: Get in touch with Enboarder to discuss price plans and organize a demo.
Communication
Suitable for multilingual teams, the TranslateIt! bot supports more than a hundred languages. Users can set the bot to translate messages in a channel or group chat, or mention @TranslateIt at the end of a message to receive an instant translation.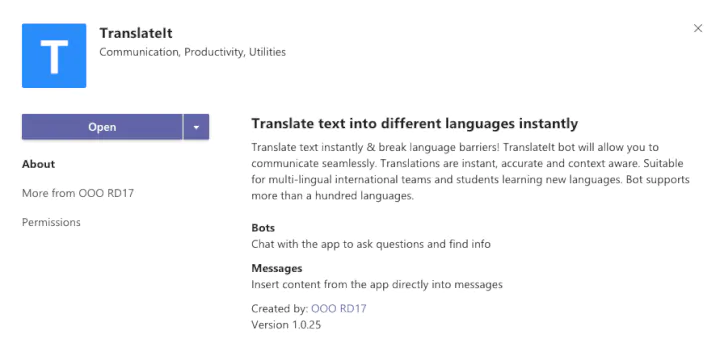 Benefits: Allows communication with overseas-based clients and team members.
Cost: Subscriptions cost US$1 per month.
Motivation and recognition
A tool for integrating team recognition into company culture, Hi5 was designed to be a fun and easy way to give and receive recognition. It includes insights on culture and performance with reports, leaderboards, and dashboards.
Benefits: Improves recognition, engagement, and motivation for individuals and teams.
Cost: Free for up to 10 users, then price plans start at US$3 per user, per month.
Bucketlist takes remote reward and recognition beyond the usual digital badges to include real rewards, with 4000 items available across 20 countries.
Benefits: Integrates with MS Teams to introduce tangible rewards for milestones, achievements, and jobs well done.
Cost: Free trial available. Contact Bucketlist Rewards for price plans.
Described as advanced enterprise gamification software, Centrical helps companies incorporate engagement and recognition into all parts of their business to drive motivation.
The integration brings Central's personal challenges, competitions, quest-based activities, and game narratives into Microsoft Teams.
Benefits: Makes Microsoft Teams more exciting. Offers real-time performance tracking and improved employee engagement through goal-setting and gamification.
Cost: Starts at US$35 per user, per month.
Wellness
Integrates with co-workers' health apps and fitness devices to help run fitness challenges in Microsoft Teams. Workout time and steps are tracked and ranked on a leaderboard.
Benefits: Promotes health in a fun and competitive way within the Teams platform. The Health Hero 'wellness sidekick' helps create a happier and healthier workforce through engagement in health, fitness, and mindfulness.
Cost: Contact Health Hero to discuss price plans.
With guidelines and instructions around COVID-19 safety changing frequently, this app can be used to communicate and update co-workers with the latest essential information within the Teams platform.
It includes COVID-19 news updates from around the world and tips for travelers.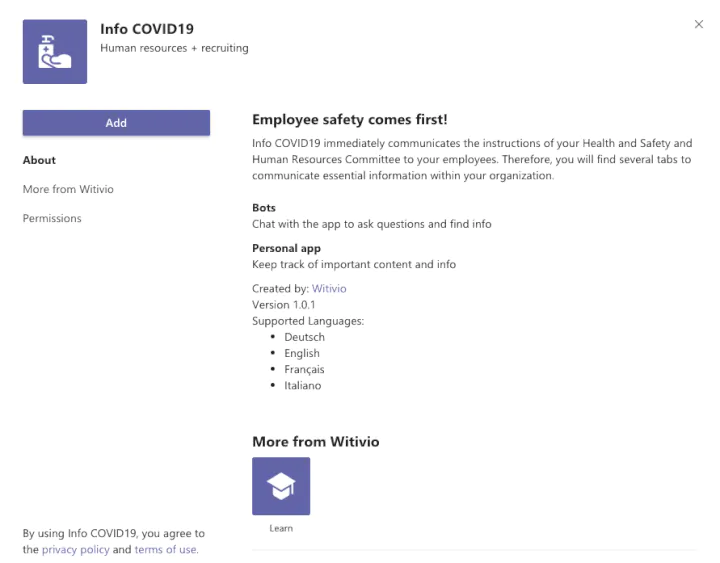 Benefits: Pushes essential health and safety information to where workers are likely to read it (in Microsoft Teams) rather than expecting them to search for it elsewhere.
Cost: Free.
Security
This is a password management tool that enables the secure sharing of passwords within Teams. DBit generates encrypted passwords that automatically expire after a few minutes and are removed from the cloud server's memory.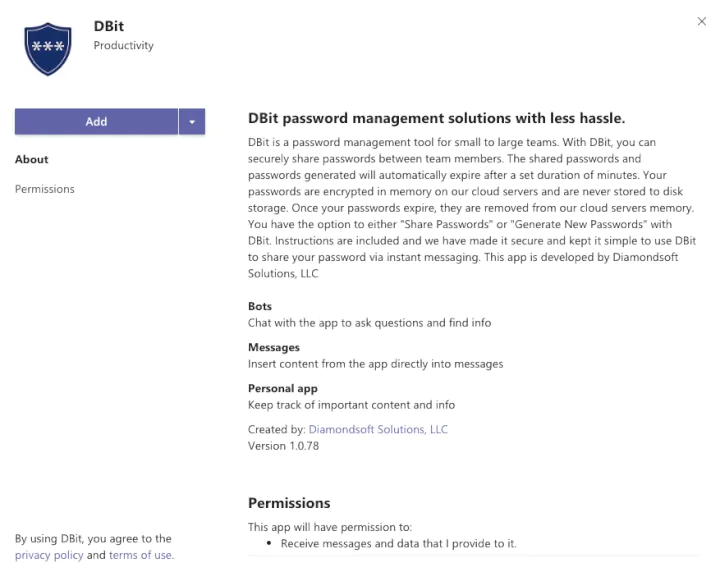 Benefits: In a time when there are heightened online security threats, this tool is a source of reassurance especially for teams working remotely.
Cost: Free
Hours tracking
You can track holiday leave and shift days, plan for remote working, organize shifts, and track hours worked on projects. Remote teams can use AttendanceBot to clock in and out, creating and exporting timesheets from within Microsoft Teams.
Benefits: Users can just send @attendancebot a message such as "vacation from 1 Jan to 5 Jan" and it will apply for leave approval, change your status on MS Teams, and set up an autoreply for you.
Cost: Starts at US$2 per user, per month for basic leave management.
Boost your Microsoft Teams productivity
Teams is a fairly powerful tool on its own. However, with these high-powered Microsoft Teams integrations, you're able to achieve so much more.
If you're looking to supercharge your Microsoft Teams skills, look no further than our Microsoft Teams Training course.
A better way to train
It's easier than ever to track and manage your team's training with the GoSkills LMS.
Book a demo